Top 20
Best Indian restaurants in San Francisco
In the US, the best indian restaurants in San Francisco are not as many as in LA or New Jersey. There are lots of them but I have created a list of the best 20 here. There are so many restaurants that got closed due to covid which never reopened again. But most of them recovered and still offer north and south indian foods. Whether you prefer vegetarian foods or nonvegetarian foods the list contains all. There are some high ends restaurants that are a little pricey but some offer homemade foods at a very affordable price and some at very cheap rate too.
If you prefer to eat chaats or more like indian street foods there are restaurants that started doing that and now they are serving thali or plates at a very cheap rate that you can't get anywhere. There are some restaurants that only offer south indian foods or only north indian foods only. The best indian restaurants in San Francisco are in the downtown, bay area, or union square. If you are missing indian foods or just shifted from any part of us to San Francisco this is a must-read.
Explore our other articles on the best restaurant in USA
Best indian restaurants in colorado
Best indian restaurants in los angeles
Indian restaurants in new jersey
Top 20 best Indian restaurants in San Francisco
1. Rooh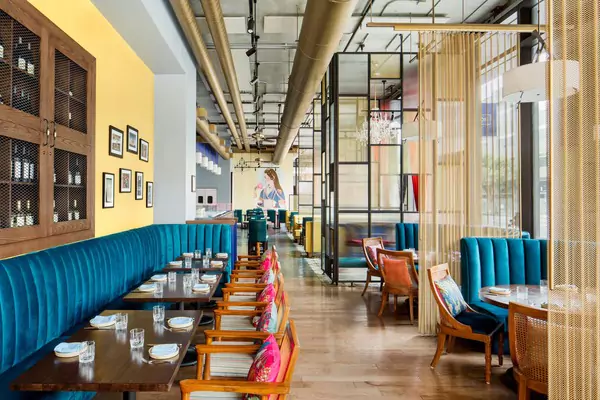 Did you put the ROOH on the wishlist, not yet! then hurry. If you're a true foodie who constantly craves the vibrant aromas and flavors of India, then you cannot miss out on this best indian restaurant in san francisco. Rooh inspires by the vibrancy of the culture, art, and music, as well as the innovative spirit of modern India.
Their restaurant's ambiance their service is top notch and when you add their unique dishes and special cocktail based on Ayurveda and prepared with homemade shrubs, Indian spices, and artisanal spirits. The first stateside offering from India's Good Times Group, ROOH is a bright, polished gem addition to the SoMa(South of Market) scene.
As the menu here follows ayurvedic (holistic medicine) principles the dishes like tuna bhel puffed rice snack with avocado and tamarind gel or one of the city's best new fried chicken are mind-blowing. For the best value, opt for a meal of delicious small plates, like the piquant paneer chili, coated in crispy shreds of kataifi noodles. Wrap up with the exquisite carrot halwa cake, accented by cardamom kulfi and yogurt mousse.
Address: 333 Brannan Street Suite #150 San Francisco, CA 94107
Phone: (415) 525-4174
Email: info@roohsf.com
Website: www.roohrestaurants.com
2. Udupi Palace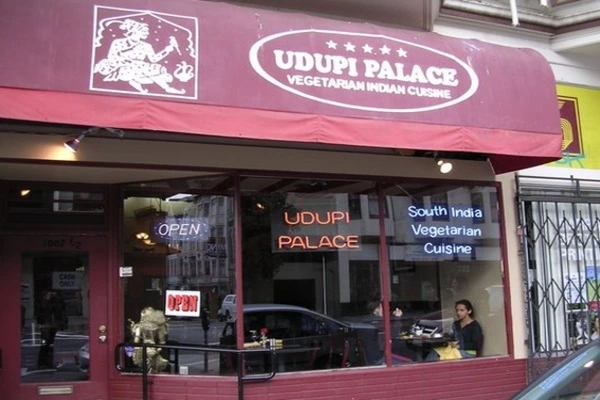 Udupi Palace is the best South Indian restaurant in Gerrard Street. This is the place for pure vegetarian cuisine like Saag paneer that's heavier on spinach and dosas are as big as they come with sambar and coconut, tomato, and ginger chutneys.
They have a big curry and soup section as well as serve idli and Uttapam too. They have added north indian items to their menu too in special dinners they have chana batura, malabar parotta, puri or chapati bhaji, and samosa chat, veg pakora. First-timers can opt for the South Indian thali, a sampler platter that includes rice, various curries, soup, and dessert. If casually popping in for a meal is too much for you to handle, don't stress. Udupi Palace also runs a solid takeout operation. From soups to thick curries, samosa to lassi, everything is listed on their menu to settle your food carvings.
Address:1007 Valencia St. San Francisco CA, 94110
Phone: (415) 970-8000
Email: eat@udupisf.com
Website: https://udupisf.com/
3. Keeva India Kitchen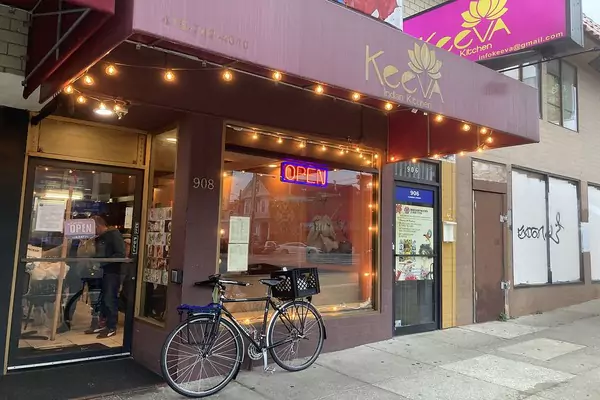 Located in Inner Richmond, just below the Golden Gate Bridge, Keeva is famous here for their chicken, lamb, goat, seafood, and vegetable curries that don't hold back on the spice (you can also order them mild). satisfying heat that lingers in the mouth, and a few bites of the creamy coconut fish curry might make your eyes water.
From beverages to the lunch platter, they serve both vegetarian and non-vegetarian so you have plenty of options to choose from hence Keeva's spectacular locale guarantees many repeat customers. Due to a relaxed environment that sets the right mood for casual dining, romantic dates, or family celebrations. Signature dishes that will satisfy any cravings are chicken tikka masala, lamb curry, goat curry, lamb vindaloo, palak paneer, and tandoor grilled chicken cooked in creamy tomato sauce. Another reason you'll find us here is to pick up a to-go order of their tandoori chicken wings—they're gorgeously charred and nicely smoky—before dinner at home or a picnic at nearby Golden Gate Park.
Address: 908 Clement St San Francisco, CA 94118
Phone: (415) 742-4010
Website: www.keevasf.com
4. Pakwan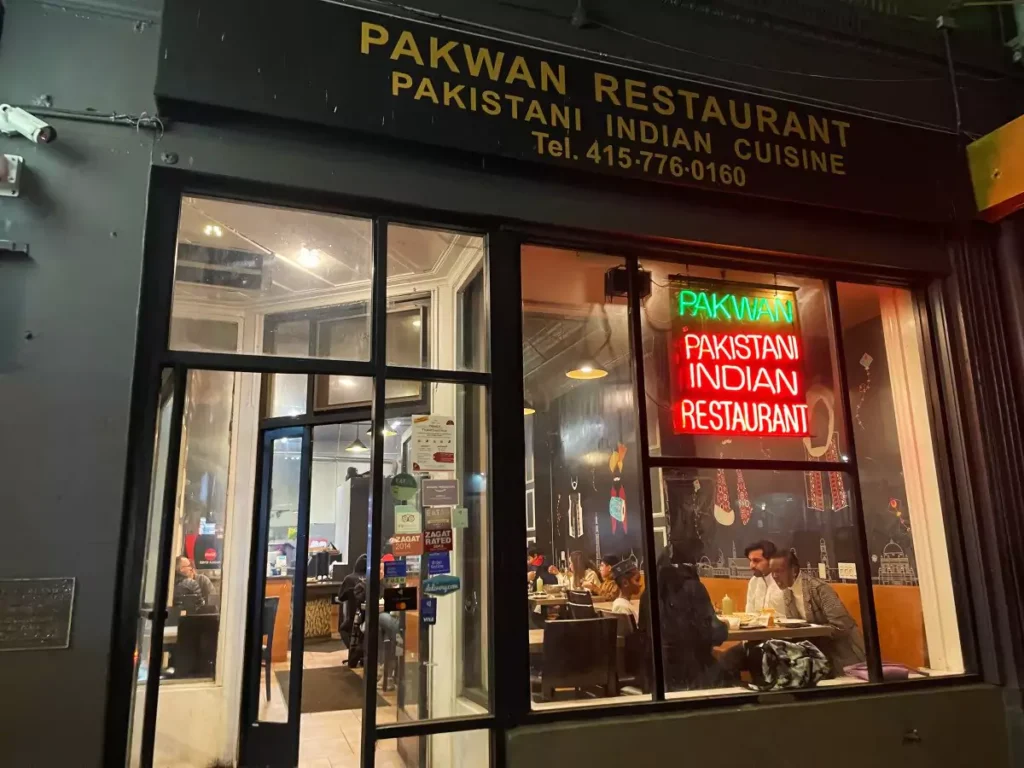 If you are in San Francisco or in the East Bay, and looking to taste the best unmissably large biriyanis then Pakwan the best indian restaurant san francisco bay area is for you, although they have no great ambiance just simple decor, each grain of rice glistens with flavoring, and there is plenty of charred spices incorporated in the dish that makes you feel like heaven.
They offer top-quality spicy food with great taste at an average price. the menu features dishes such as biryanis, kebabs, curries, and samosas and they have a big section of vegetarian curries like began bartha. Pakwan is always packed with people passing around plates heaped with things like tikka masala, and waiting in line (order at the counter). But walk in, and you'll easily secure a table for that spontaneous Monday night dinner or catch-up with friends.
Address: 3180-82 16th St, San Francisco, CA 94103
Phone: (415) 255-2440
Email: Danialshahbaz@gmail.com
Website: https://pakwanrestaurant.com/
5. Besharam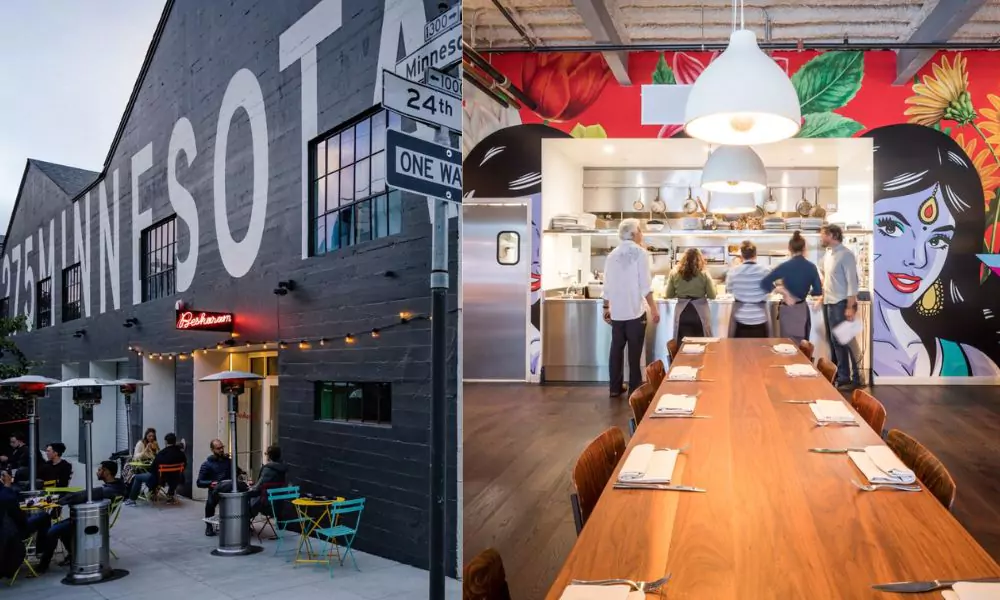 Besharam as its name suggests, the chef and co-owner Heena Patel serves dishes that are unique combinations and across all plant-based sections of the menu, you'll find that Besharam pulls from the Make-Your-Own-Rules playbook. Some mention worthy are like blue cheese in the parathas, and bitter melon in the sticky chutney, garlicky pea shoots and raita are heaped atop tender Impossible kebabs and mint-infused tamarind water for Drunken Pani Puri(the crispy pani puri contains actual gin) and more.
Four sections highlight flavors from major cities in Gujarat, each with a handful of vegetarian small plates and mains. Mix and match, or stick with one region—just don't expect a traditional Gujarati spread. I'd recommend playing roulette with the menu, as the odds of picking a winner are extremely high. The wine list and beverage program are thoughtfully composed to complement the menu with cocktails drawing inspiration from the kitchen spice cabinet. the restaurant is also located in an area that doesn't get a lot of foot traffic, as the neon Besharam sign points the way so expect easygoing dinners.
Address: 1275 Minnesota St, San Francisco, CA 94107
Phone: (415) 580-7662
Email: info@beshramsf.com
Website: www.besharamrestaurant.com
6. Little Delhi Restaurant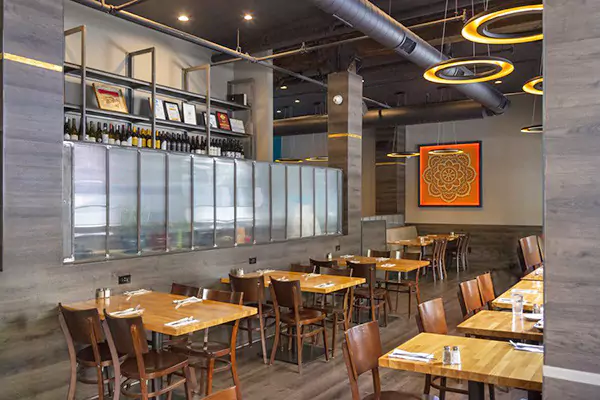 Are you missing out on Delhi foods, Little Delhi got you here.
This restaurant serves dishes at a very affordable rate and is one of the best indian restaurant near union square san francisco if you drive a couple of minutes from downtown. As their interior is designed in a very traditional style with enough space it is ideal for group dining. The best dishes they serve are saag paneer, chicken tandoori but don't miss their non-veg Biryanis and the assorted Kebabs. Apart from this, they have varieties of appetizers like bread, salads, soups, and more.
Address: 83 Eddy St San Francisco, CA 94102
Phone: 415 398-3173
Email: littledelhisf@gmail.com
Website: https://www.little-delhi.com/
7. Aslam's Rasoi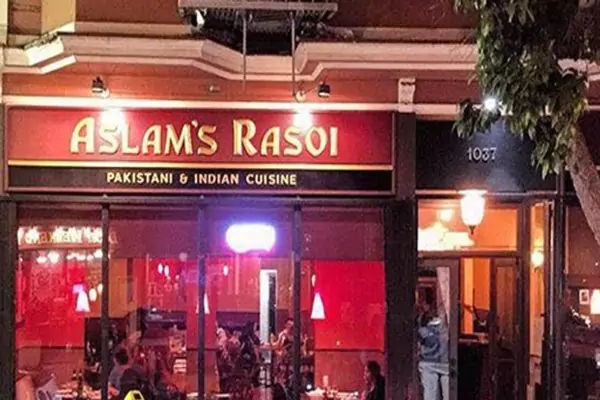 Aslam's Rasoi is another one of the best indian restaurants in san francisco as it is run by family-owned chef Mohammed Aslam, whose skilled staff serves mostly north indian foods. Customers can dine in a comfortable interior decorated in an eclectic style.
He creates fusion dishes with north indian dishes which takes the flavors to a new height some of these dishes are chickpea fritters stuffed with seafood, fresh-baked naan infused with ingredients like goat cheese, fruit, nuts, basil, and peppers, and curried lamb chops, which are slow-cooked with ginger, onions, saffron, and garlic. At last, you can have a mug of mug of cardamom-cinnamon-fennel-spiced homemade chai to change the taste. Try their Murgh Masala and Traditional chicken curry in exotic spices.
Address: 1037 Valencia Street San Francisco, CA 94110
Phone: (415) 695-0599
Email: aslamsrasoi@best
Website: https://www.aslamsrasoi.com/
8. Curry Up Now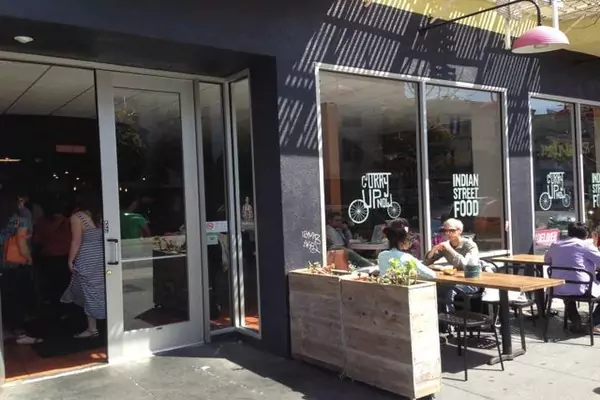 Curry Up Now started with one lone truck to five and now they have eighteen fixed restaurants including this one as they give the franchise so it will increase day by day. But this san francisco location serves mainly affordable indian street foods with vegan and gluten-free options.
Their eight-item thali platter, Naughty Naan (topped with mozzarella, caramelized onions, shaved jalapeño and a choice of protein), the Deconstructed Paneer Samosa (garbanzo beans, pico, and chutney dressed with mini samosas and either chicken paneer or lamb) and the Sexy Ries (cross-cut sweet potato fries, cheese topped with chicken tikka masala or paneer tikka masala). They have crossover Indian food like chicken tikka masala burrito, with a whole-wheat tortilla and brown rice. In beverages, you have Three types of mango lassi and in dessert gulab jamun and "Hot Balls On Ice" with a heaping scoop of kulfi.
Address: 659 Valencia St, San Francisco, CA 94110
Phone: 415-944-4141
Email: info@curryupnow.com
Website: https://www.curryupnow.com
9. Amber India Restaurant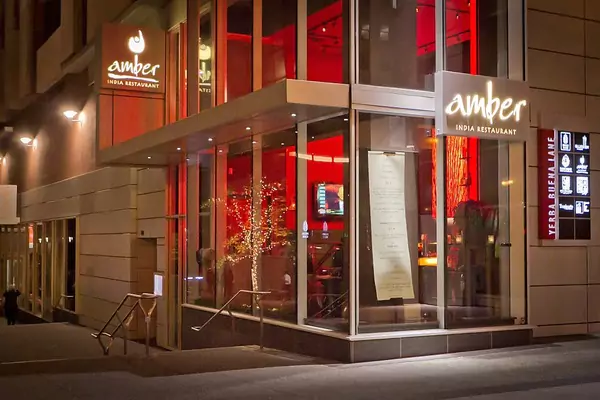 if you are looking for the best indian restaurant san francisco bay area, look no more Amber India is the best upscale indian restaurant in san francisco. They provide traditional indian dishes with a great ambiance and service to match.
An inspired selection of wine, beer, and craft cocktails is specifically designed to complement the menu. As in San Francisco, most restaurants don't have buffet options this restaurant offers both a daily lunch buffet and a weekend "endless brunch buffet," putting it in a category all its own. They have a split-level three-story restaurant that can accommodate 140 people but if you are in the mood for a party friends or family or even a business gathering, they have private dining options for up to 25 people. You must try their manchego stuffed version of Naan with a Hyderabadi chicken biryani meal with a kala jamun at last.
Address: 25 Yerba Buena Lane, San Francisco, CA 94103
Phone: (415) 777-0500
Email: info.sf@amber-india.com
Website: https://www.amber-india.com/
10. Shalimar Restaurant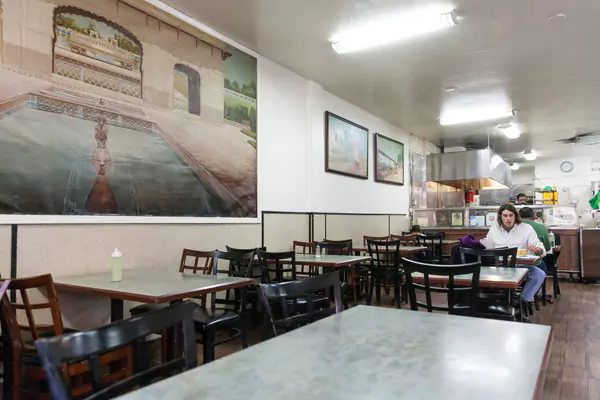 Shalimar Restaurant is one of the best pakistani and indian restaurants san francisco downtown where you can experience a great variety of both indian and pakistani culture.
As it is an inexpensive indian restaurant that offers authentic north indian foods with very friendly staff. They offer homemade foods with casual dining whether it's vegetarian food like Saag paneer or paneer masala or non-vegetarian made from chicken, lamb, and beef that include chicken tikka masala complemented by garlic naan bread, chicken and beef kebabs, onion kulcha, goat curry, and goat biryani. They offer Dine-In, Pickup, and Delivery options to best serve your needs.
Address: 532 Jones Street, San Francisco, CA 94102
Phone: (415)928-0333
Email: mohammad.hammad@shalimarrestaurant.com
Website: https://shalimarrestaurants.us/
11. Curry Leaf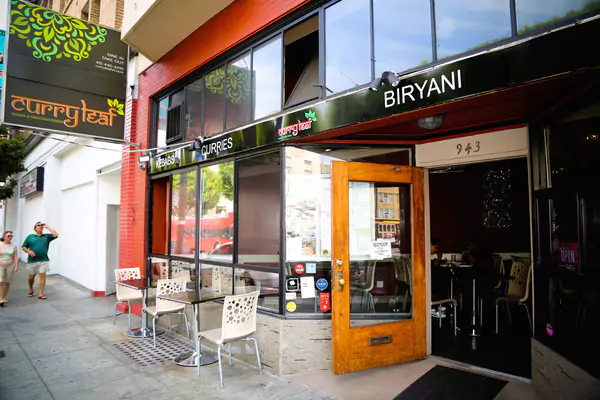 Are you a tandoori lover then Curry Leaf is for you. This restaurant is a good choice for indian and pakistani food lovers with a vast menu serving both vegetarian and non-vegetarian dishes (serving only Halal/Zabihah meats).
They also create custom dishes for you if you told them what to cook, some of the veg dishes are aloo palak, palak paneer, began bharta, daal, or saag chana and the non-veg dishes made of chicken, lamb, tandoor are chicken tikka masala, tandoori fish and lamb vindaloo. Some of their specialties are Chicken karahi, lamb curry, beef nihari, and bhindi masala. They also serve samosa, pakora, mango lassi, masala chai, kheer, and gulab jamun.
Address: 943 Columbus Ave San Francisco, CA 94133
Phone: 415-440-4293
Email: info@curryleafinsf.com
Website: https://curryleafinsf.com/
12. Tara Indian Cuisine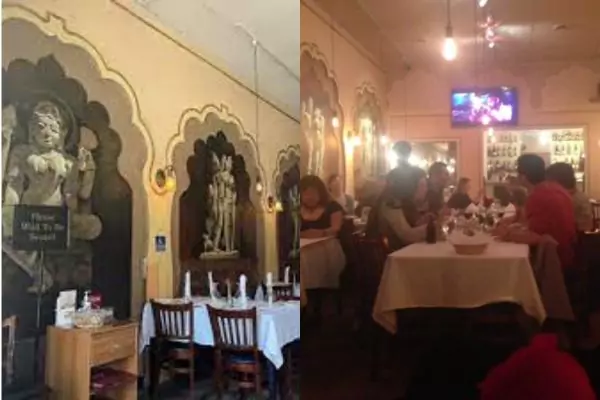 On their website Tara Indian Cuisine said that their restaurant is known for its modern interpretation of traditional and classic dishes and their insistence on only using high quality fresh ingredients.
Locals in San Francisco raved about the Salmon tandoori and the fabulous vegetarian options offered. In the interior, they have white tablecloths and fresh flowers with indian goddess statues displayed on the walls and yellow lights creating warming and inviting dining options. All their meals have complimentary papadam with chutney and sauces. Their special thali includes pappadam, samosas, saag paneer, rice, naan, raita, and kheer along with one to two additional main dishes costs around $35 for veg and $43 for non-veg.
Address: 2217 Market Street San Francisco, CA 94114
Phone: (415) 861 6655
Website: https://taraindiansf.com/
13. Vik's Chaat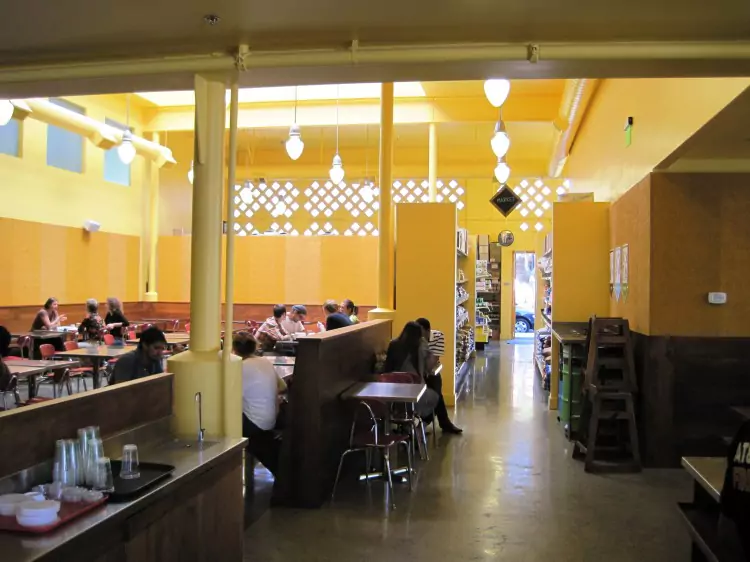 As the name infers Vik's Chaat is famous for its tongue-tickling, mouthwatering roadside snack specially samosa chaat. This joint mostly spotlights south indian street foods as it is more of an air-conditioned cafeteria style with friendly staff caring about hygiene too.
They also offer very affordable ever-changing daily lunch specials for $15 including tandoori chicken/fish/lamb/prawn, basmati rice, dal, raita, and papadum, and don't forget their chole bhature, dahi pakori, bhel puri, sev puri, and uttapam straight from the owner Amod Chopra's childhood memories. At last, you can have rasgulla, gulab jamun, ras malai, or kulfi falooda. In drinks, they have different lassi and chai.
Address: 2390 4th St. Berkeley, CA 94710
Phone: 510-644-4432
Website: https://vikschaat.com/
14. Viva Goa Indian Cuisine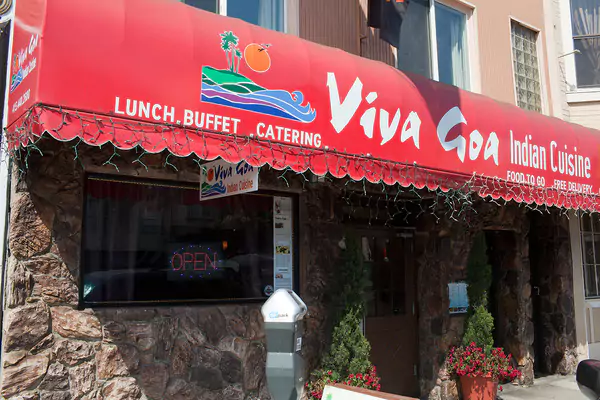 Viva Goa Indian Cuisine is the only indian restaurant in san francisco that offers food from the indian region of goa meaning food with lots of seafood, rich with coconut and redolent with warm spices such as clove and cinnamon.
As it is never too packed because of plenty of tables available with beautiful decor and a calm atmosphere as well as cool service makes guests feel relaxed here.
You can order your food as a takeaway. They have chicken tikka, garlic naans, and Goan fish curry with desserts like yogurt, and kulfi or beverages like mango lassi, coffee, and tea. Their specialties are the prawn xacuti which is a coconut-heavy Goan curry that's complex and slightly sweet, and loaded with a generous helping of shrimp, tandoori fish, navrattan korma, and much more.
Address: 2420 Lombard Street, San Francisco, CA 94123
Phone: 415-440-2600
Website: https://www.vivagoaindiancuisine.com/
15. Saffron Grill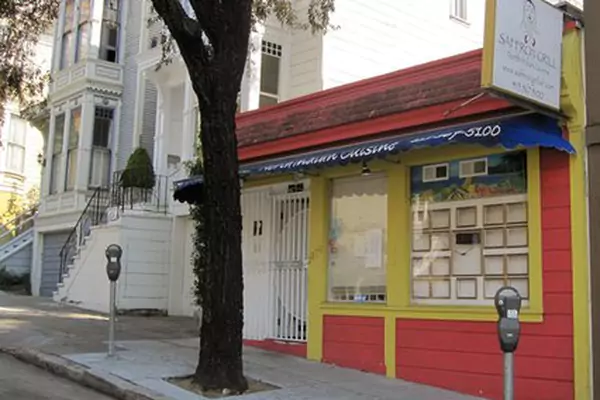 Saffron Grill run by Ajeet Mehta and his father-in-law, chef Ganesh Bankoti who works at the Taj Hotel in New Delhi offers classic indian dishes here. It gets shut down in covid but it's open again.
Their menu features, all three types of curries section chicken, lamb, and seafood as well as a tandoori entrees section, a vegetables section that has sag paneer, malai kofta paneer, and a breads section which has roti, naan, paratha, rice and biryanis section as well as beverages, appetizers and desserts sections. Nothing can be better than trying perfectly cooked butter chicken, lamb vindaloo, and chicken tikka. It's a must to order delicious wine or good beer while visiting this place and you can get a takeout too.
Address: 1279 Fulton St, San Francisco, CA-94117
Phone: (415 ) 567-5100
Email: saffrongrillprint@gmail.com
Website: http://www.saffrongrillsanfrancisco.com/
16. Tilak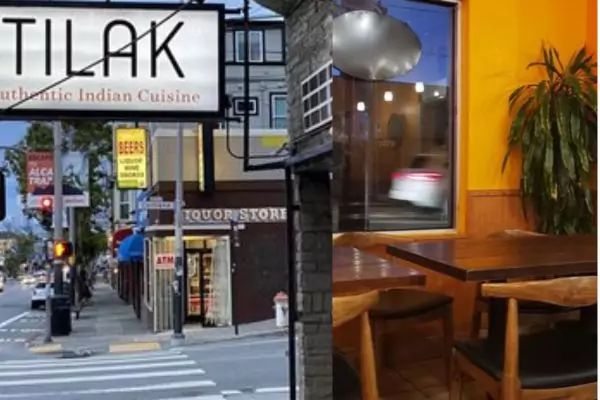 Tilak indian cuisine is famous for chaats like dahi poori chaat, curries, and tandoor crafted authentically by chef Tilak himself. This restaurant's interior has bright orange walls and friendly staff who'll make you want to stay a while more.
If you are a vegetarian try their Paneer Tikka Masala or if you like non-veg Masala Lamb Racks is for you which comes as a larger serving so you can enjoy with your friends too. Their food comes at an affordable rate. This restaurant should be recommended for good yogurt. Delicious marsala, beer, or house wine are worth a try here. Guests visit Tilak to order great mango lassi or good tea.
Address: 3501 Mission Street San Francisco, CA 94110
Phone: (415) 647-4036
Website: https://tilaksf.com/
17. A Desi Cafe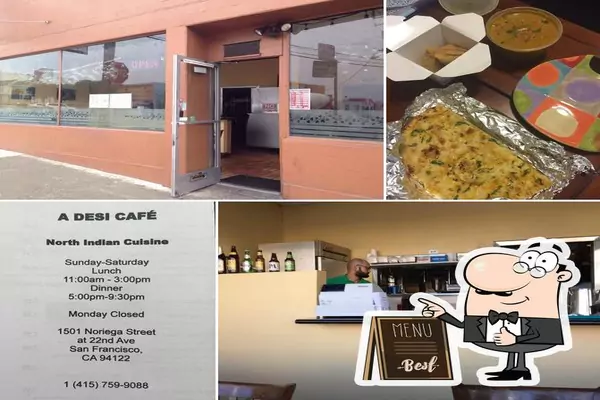 If you are looking for a quiet ambiance and homey decor with affordable pricing for north indian cuisine, A Desi Cafe is for you.
They serve both vegetarian and non-vegetarian foods as some dishes like Chicken Achari are the most ordered online and eaten in the restaurant.
Even though they serve all sections like tandoori, chicken, lamb, and seafood but their guddu de karahi, butter chicken and chicken tikka masala and navratan korma, paneer shashlik in veg are the ones that are loved more by the customers. In their bread section, they have different types of naan, paratha, roti, and rice and biryani section they have basmati rice with all non-veg. Most customers love their wine mainly Taj Mahal Premium Lager and Flying Horse Royal Lager Beer.
Address: 1501 Noriega St, San Francisco, CA 94122,
Phone: 415-759-9088
Website: https://www.adesicafe.com/
18. Chaat Corner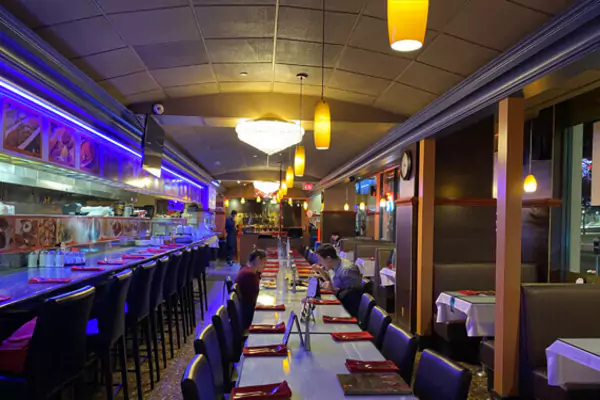 Chaat Corner is the best indian pakistani restaurant in san francisco that is famous for its chaat.
When you visit their restaurant you can observe their clean environment, best customer service, and good hygiene control in all aspects as they also mentioned on their website. They offer both veg and non-veg so you don't have to worry if you have friends and colleagues who only eat veg. In their wrap section you have paneer wrap, veggie wrap, paneer tikka masala roll for vegan and for non-veg you have every version of fish, chicken, lamb, and tandoori which are very much liked by their customers. They have a very big menu as they also cater office lunches, birthdays, fundraisers, corporate events, and social celebrations like weddings and rehearsal dinners of any kind.
Address: 320 3rd St, San Francisco, CA 94107
Phone: (415) 979-9946
Email: info@chaatcorneronline.com
Website: https://www.chaatcornersanfrancisco.com
19. Kasa Indian Eatery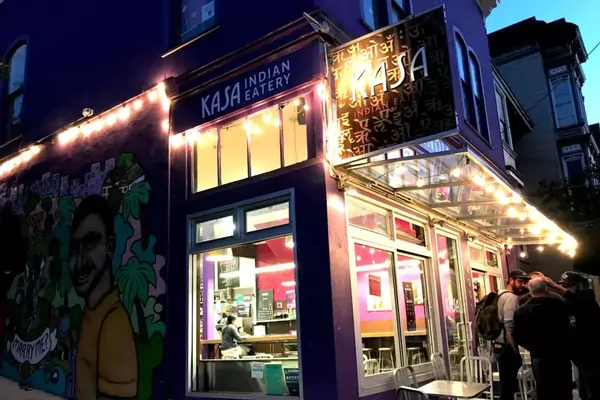 Kasa Indian is the best indian restaurant san francisco bay area as it provides fresh indian foods at very affordable prices which is the motto of its chef and owner British-born lawyer-turned-mother-turned-chef Anamika Khanna.
To provide fresh foods to their customers she created a limited menu. Their Thali combo plate and Mango lassi are the most ordered by their customers. In the snacks section, they have chaat, pakora, papadum with chutney, and kati roll section with all vegetable dishes in the Entree section with bread and sides, and the desserts section too having naan, paratha, roti, and Gulab Jamun, and strawberry cheesecake slice respectively.
Address: 320 3rd St, San Francisco, CA 94107
Phone: (415) 979-9946
Email: info@kasaindian.com
Website: https://www.kasaindian.com
20. Roti Indian Bistro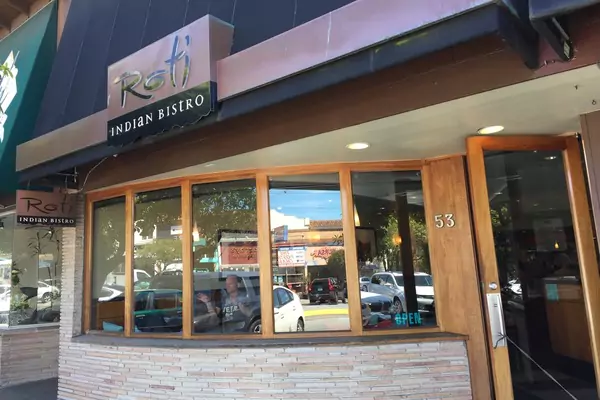 As the restaurant's name hints, Roti Indian Bistro serves a variety of bread with delicious curries.
Fresh breads are available from the tandoor, a mesquite-fired clay oven unique to Indian cooking. Even though they named the restaurant after roti(indian bread) the curry is tastier than all of the restaurants in san francisco. This high end indian restaurant san francisco located 10 miles from downtown offers both north indian taste in tandoori meat dishes which is cooked on slow flame and south indian taste in vegetarian curries or in non-veg try out the murgh Madras (chicken curry cooked with coconut and golden raisins) respectively.
Address: 53 West Portal Ave San Francisco, CA 94127
Phone: 415-665-7684
Email: rotibistro@gmail.com
Website: https://rotibistrosf.com
Conclusion
Most of the best indian restaurants in San Francisco offer online delivery through uber eats, GrubHub, postmates and doordash. As some restaurants get closed during the lockdown in Covid but they offer food only through delivery as their restaurant never opened like Ritu, August-1 Five, and Dosa but only Dosa provide online delivery. Some restaurants offer wine if you like meals with that but most of them are not still they are worth checking out as they offer some of the best indian foods in San Francisco.