Top 20
Fun Things to do in Alaska
There are many places in Alaska having stunning natural beauty, people go from all over the world for fun things to do in Alaska. Tourists will have a great time exploring the many intriguing sites and activities available in this stunning state. Whale watching, hiking, fishing, dog sledding, kayaking, and bird viewing are just a few of the many popular activities available in Alaska. Incredible landscapes and unusual animals can be seen in the state's many national parks and wildlife reserves.
Alaska is well-known for more than just its seafood, though the state also draws visitors for its beautiful landscapes, rich culture, and the chance to see the dazzling Northern Lights. Alaska is a fantastic choice for a holiday whether you're an avid hiker, camper, or just someone who appreciates a stunning landscape, welcoming folks, and a wide variety of things to do. The best time to visit Alaska is between mid-June and mid-September.
You can also read our related articles mentioned below:
List of Top Adventurous Activities to Indulge in Alaska
Summer in Alaska offers a unique and adventurous experience unlike any other. There is no shortage of adventurous activities in Alaska, from hiking, kayaking, and camping to glacier climbing, heli-skiing, and wildlife watching. In this article, we will explore some of the top places to visit in Alaska for adventurous activities. So, grab your gear, and let's get ready for an unforgettable Alaskan adventure. Here are a few ideas for your summer adventure in Alaska.
1. Experience Flightseeing Tour at Talkeetna Denali National Park,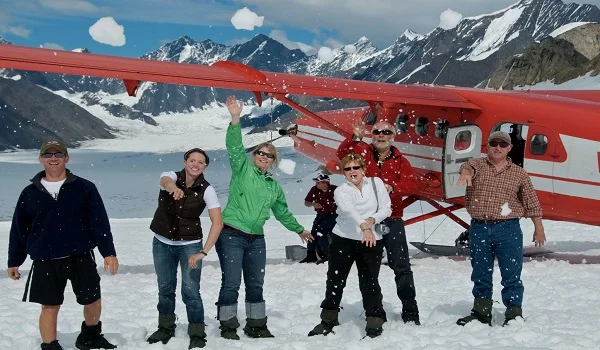 Take a scenic trip over the Alaskan wilderness and get a bird's-eye view of Denali. Fly above glaciers, valleys, and rivers, and even land and stroll on a glacier if you so choose. The price includes pick-up and drop-off, as well as a headset with live commentary. Smaller planes are used for Denali flightseeing trips, which provide breathtaking aerial views of the Alaska Range, including Denali, the highest peak in North America. Talkeetna, or Denali National Park, is the starting point for this adventure. There are plenty of fun things to do in Alaska, in Denali national park.
The price of a fly-over Denali is mainly determined by how long the journey is and where it goes. Talkeetna Air Taxi's Southside Explorer is the shortest flight option. The whole price of this excursion for the upcoming 2023 season is $285 per person. The Tour, which includes a glacier landing, is the company's most luxurious offering. The total price of this vacation in the 2023 calendar year is $609.90. You can see how much the cost of a vacation might change depending on your preferences.
Address:14212 E, Second StreetPO Box 73, Talkeetna AK 99676
Phone: (907) 733-2218
Website: www.talkeetnaair.com/
2. Enjoy Denali Raft Adventures,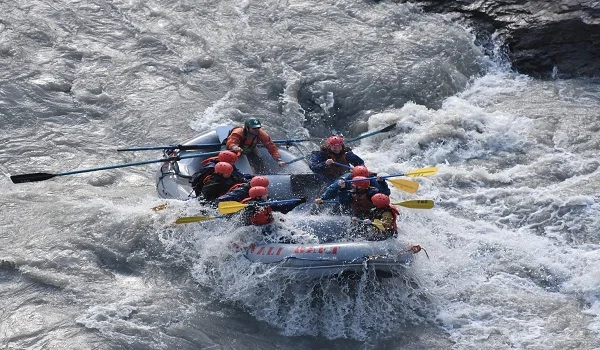 One of the most fun things to do in Alaska is to go on a rafting adventure for that, we provide Whitewater and gentle water rafting expeditions of two hours to an entire day beginning at the entrance to Denali National Park in Alaska. Denali Raft Adventures, Inc. has been locally owned and operated by the same family on the Nenana River since 1974. Located on the Parks Highway at Mile 238, just a half-mile north of the Denali National Park entrance.
We offer shuttle service to and from the river as well as nearby lodging; guides with extensive experience, rafts, Gore-Tex dry suits for maximum comfort, neoprene boots, and a Coast Guard-approved life jacket. Join us on the Nenana River for a rafting adventure that will leave you with unforgettable memories.
Address: Mile 238, Parks Hwy, Denali National Park and Preserve, AK 99755, United States
Phone: +1 907-683-2234
Website: www.denaliraft.com/
3. Denali Park Zipline Adventure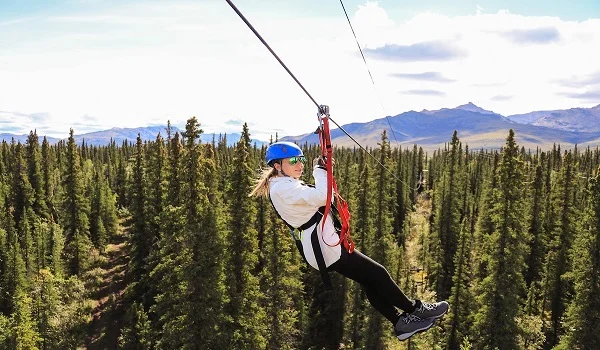 Fly high over the tundra and the famous Denali panorama as you whiz through the Alaskan boreal forest. Those looking to elevate their outdoor experience to new heights would love the airborne excursion. A zipline consists of a cable strung between two fixed locations (in our instance, trees and poles), and a trolley linked to the participant that zips along the cable.
A person can travel along the cable, or zip, from one end to the other, and land on a platform at the terminal point. An experienced guide will lead you through seven zip lines and six suspension bridges on this high-octane circuit. You will not need any prior knowledge, as a safety orientation will be provided before you begin
Address: Mile 238.6 Parks Highway Denali National Park and Preserve, AK 99755, United States,
Phone: +1 907-683-2947
Website: www.denalizipline.com/
4. Denali Wilderness ATV Adventure Tour 2.5-Hour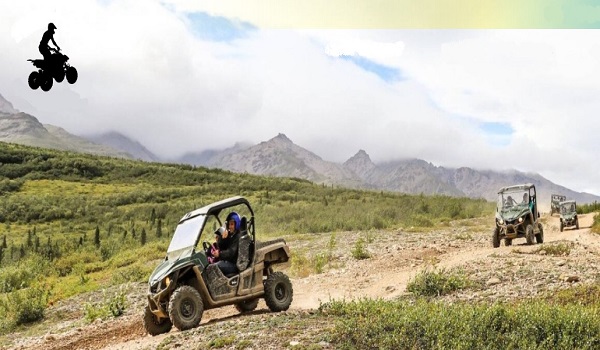 Whether you're a seasoned ATVer or just starting out, this adventure in Alaska will be one you'll never forget. You'll go at speeds of up to 30 mph along trails surrounding Denali National Park, stopping at stunning 360-degree overlooks with views of the Alaska Range, Otto Lake, and the Healy Valley. Explore the creeks and rivers, and maybe even take a dip if the weather permits. Experienced experts show you the best spots to take pictures of the harsh landscape.
Professional, well-versed guides lead all of the Denali ATV tours. There is always a tour leader in the front of the group and a backup leader in the back. A second guide will be on hand in the event that the tour group is particularly large or if the day is particularly dusty. There is a lot of wildlife in the area, so keep an eye out for moose.
Address: 1/2 MILE FROM THE DENALI NATIONAL PARK ENTRANCE
Phone: 907-683-4288
Website: www.denaliatv.com/
5. The Juneau Wildlife Whale Watching & Mendenhall Glacier,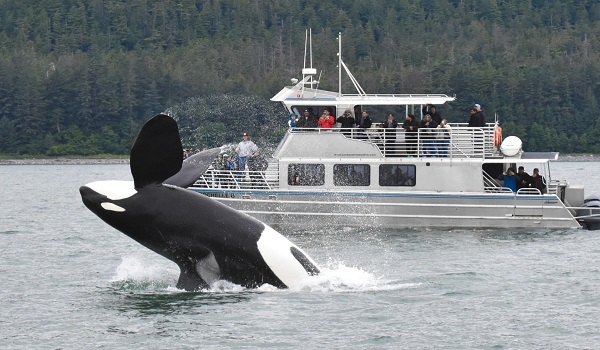 The Juneau Wildlife Whale View & Mendenhall Glacier offers an unforgettable experience. The spectacular natural splendor of Alaska at its finest on the Juneau Wildlife Whale Watching and Mendenhall Glacier tour. On a whale-watching trip, guests can view majestic humpback whales as they playfully interact with one another and swim effortlessly over the clear waters. Both the majestic whales in their natural environment and the breathtaking Mendenhall Glacier may be seen on this tour. It's both instructive and exciting because the guides know so much about whales and their habitats and conservation efforts.
The trip proceeds to the beautiful Mendenhall Glacier after an exciting meeting with these peaceful giants. The glacier's vast ice field, towering icefalls, and iridescent blue tones make for a breathtaking scene. One of the most fun things to do in Alaska is whale watching, where you can witness these majestic creatures in their natural habitat and Enjoy the raw beauty of the Alaskan wilderness.
Address: 800 Glacier Avenue, Suite 201 Juneau, Alaska 99801
Phone: (907) 586-2201
Website: www.traveljuneau.com/
6. Climbing Mount McKinley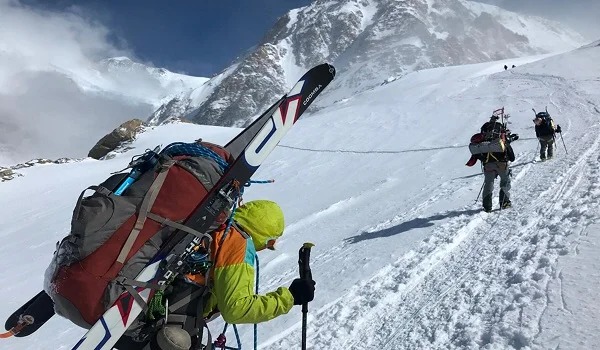 Climbing Mount McKinley is a thrilling challenge that tests the limits of human strength and perseverance. This spectacular mountain, also known as Denali, rises in the heart of Alaska and is the tallest peak in all of North America. It's snowy summits and ice slopes make climbing them difficult even for experts. Planning, fitness, and mental fortitude are all necessities on the climb to the summit of McKinley. Climbers who brave the perilous glaciers and exposed ridges are rewarded with breathtaking views of unspoiled nature.
Climbers in Alaska are often overcome with awe at the sight of the state's immense glaciers, frozen lakes, and steep valleys. The ascent is not completely risk-free, though. The perseverance of mountaineers is constantly put to the test by elements such as the weather, avalanches, and altitude sickness.
Mailing address: Denali National Park and Preserve, Alaska, USA
Phone: 907 683-9532
Website: www.nps.gov/
7. Go fishing at Ship Creek,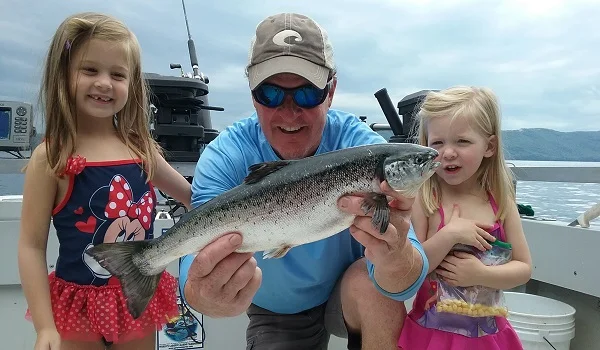 The excitement of catching fish in Ship Creek is entwined with the beauty of nature. The five things to do in Alaska anchorage are to catch the different kinds of salmon, including the king and silver, which can be found in the waters accessible to anglers. Trout, grayling, and Arctic char are a few of the other fish that can be spotted here. Ship Creek near Anchorage, Alaska, is a popular destination for anglers of all ability levels.
You can expect to catch a wide variety of salmon, including the illustrious King Salmon, when you cast your line. Ship Creek provides the ideal location for a relaxing day of fishing thanks to its serene atmosphere and breathtaking mountain backdrop. This fishing trip in the midst of Alaska's wilderness is sure to be a highlight of anyone's travels, whether they're seasoned anglers or first-time adventurers. There are many other fun things to do in Alaska.
Address: 111 W Ship Creek Ave, Anchorage, AK 99501, United States
Phone: +1-9072764118
Website: www.alaska.org/
8. Visit the house of Santa Claus in the North Pole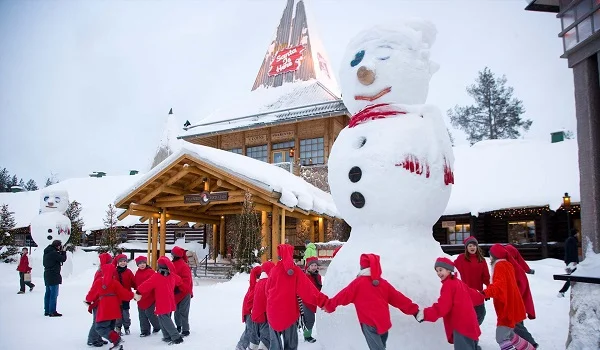 While you're out exploring, stop by The Sweet Shop for some delectable fudge, coffee, cookies, chocolates, or candy, and don't forget your camera to capture the moment. Within the structure, you can find a number of one-of-a-kind photo ops and interesting exhibits. Don't forget to get your photo taken with the big guy himself, Santa Claus! Take a break from the cold and have a seat in Santa's sleigh, which is parked outside in front of the World's Largest Santa, a life-size, three-dimensional statue of Santa that stands at about 50 feet in height.
Murals and intriguing display windows decorate the building's facade, while more pleasant surprises can be found around the grounds. Now that you've found the ideal present, you may send off your greeting cards and letters to loved ones back home with a North Pole postmark, courtesy of Santa Claus House.
Address: 101 St. Nicholas Dr., North Pole, Alaska 99705
Phone:1-907-488-2200
Website: www.santaclaushouse.com/
9. Aurora Express Bed and Breakfast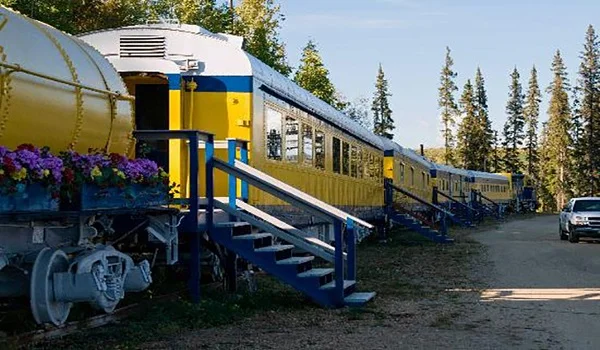 The Aurora Express Bed and Breakfast give you the opportunity to spend the night inside a real, stationary locomotive. It is housed in a haphazard collection of train cars. The idea to use cabooses, sleeper cars, and dining compartments as housing for intrepid travelers first came to a woman who had the desire of owning a railway. She started collecting these items on her property.
The Aurora Express Bed & Breakfast is one of Alaska's most unique tourist destinations as a result of this. How about spending the night on a train that isn't going anywhere if you're looking for something a little more adventurous than your typical hotel?
Address: 1550 Chena Ridge Rd, Fairbanks, AK 99709, United States
Phone: +1 907-474-0949
Website: www.alaska.org/
10. Fun Family Enjoy at Running Reindeer Ranch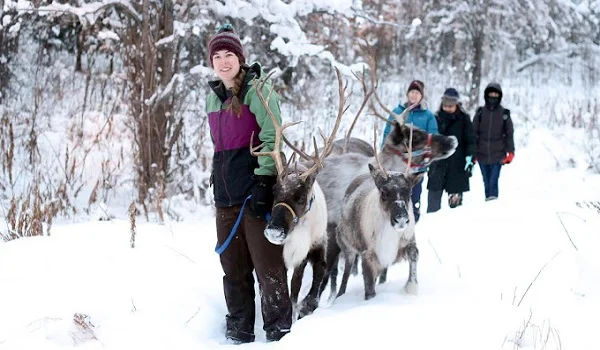 The ranch has a beautiful herd of reindeer that roams a large area of untouched land. The beautiful scenery and rustic feel of the ranch give guests a unique experience. Here, people can see free-roaming reindeer, which are beautiful and quick to watch as they move through the harsh environment. Reindeer boat rides, feedings, and tours are just some of the ways that people can learn about these amazing animals.
At the Running Reindeer Ranch in Alaska, you can experience all of the magic and beauty of the Arctic. The idea for Doug and Jane's Running Reindeer Ranch came from their daughter Robin, who wanted a horse. Robin asked Jane for some goats or sheep after she rejected her initial proposal. The family settled on reindeer as a more suitable mammal for the Arctic. In October of 2007, Ruby and Moon joined the family as the first reindeer.
11. North End Park,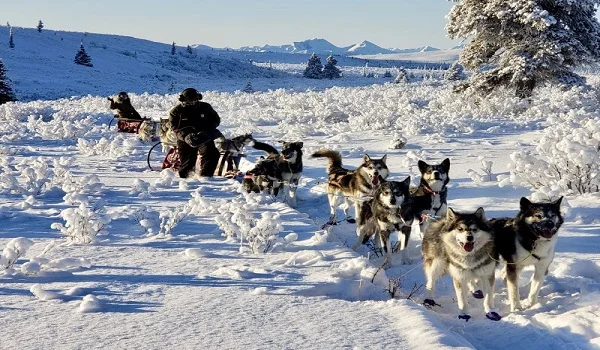 Alaska's North End Park is a stunning example of Alaska's pristine wilderness. This northern park is home to a wide range of topographies, from rugged mountains to pristine lakes and dense forests linked by a system of well-maintained, stairway-accessible pathways through the woods. This is a once-in-a-lifetime opportunity for nature lovers to experience spectacular surroundings. Tourists can enjoy many different activities, such as hiking, fishing, camping, and viewing native flora and animals. The park's remote location ensures guests will find peace and quiet, allowing them to reconnect with nature and forget the cares of the modern world. There are many fun things to do in Alaska, in North End park.
Address: 1346, Block H, Sector 57, Gurugram, Haryana 122413
Website: www.alaska.org/
12. FORT ABERCROMBIE STATE HISTORICAL PARK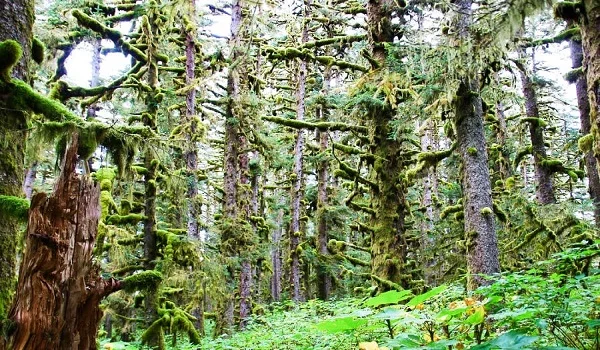 Fort Abercrombie State Historical Park is a state park located on Kodiak Island, Alaska, USA. The park features the remnants of a historic military fort that was built in the 1940s to protect Kodiak Island during World War II. The fort includes several bunkers, gun emplacements, and other structures that visitors can explore. The park also has a campground, picnic areas, and hiking trails that offer scenic views of the surrounding area. Visitors can learn about the history of the fort and the role it played in defending Kodiak Island by visiting the park's visitor center and museum.
Address: Miller Point, Kodiak, AK 99615, United States
Phone: +1 907-486-6339
Website: www.dnr.alaska.gov/
13. Kodiak Military History Museum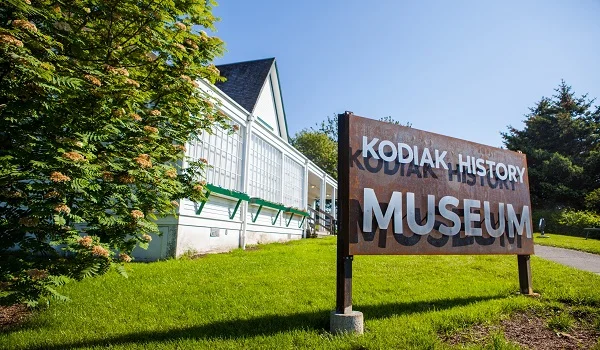 On the island of Kodiak, in the state of Alaska, United States, there is a museum known as the Kodiak Military History Museum. The island has been utilized as a military facility ever since World War II, and this exhibit highlights the island's rich military history. The museum contains exhibits and displays regarding the island's role in defending Alaska from an invasion by the Japanese during World War II. Additionally, the museum contains exhibits about the role that the island had in the conduct of military activities throughout the Cold War.
The museum also features a variety of military vehicles and equipment, such as a P-2V Neptune patrol aircraft from the United States Navy, an M5 Stuart tank from the United States Army, and a Russian T34 tank from the time period of World War II. The public is welcome to visit the museum, and there is no charge for admittance.
14. Buskin River State Park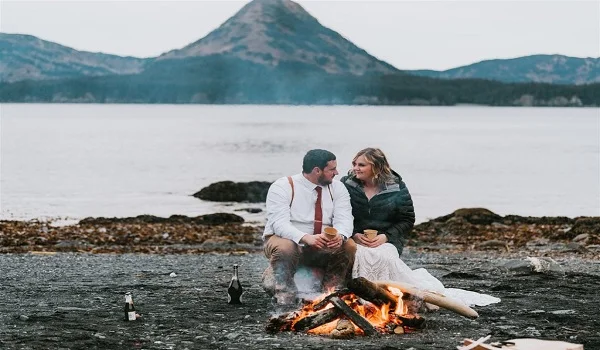 Buskin River State Recreation Site is a 49-acre state park located on Buskin River Road in Kodiak, Alaska. The park is known for its excellent salmon fishing opportunities, particularly for silver (coho) salmon during late summer and sockeye (red) salmon during the early fall. Visitors can also enjoy hiking, wildlife watching, picnicking, and camping in the park. There are 12 campsites with picnic tables, fire grates, and access to drinking water and vault toilets. The park also has a boat launch and fish-cleaning stations. There are plenty of fun things to do in Alaska, in Buskin river state park.
Address: 101 E Marine Way, Kodiak, AK 99615, United States
Phone: +1 907-486-5920
Website: www.alaska.org/
15. Petroglyph Beach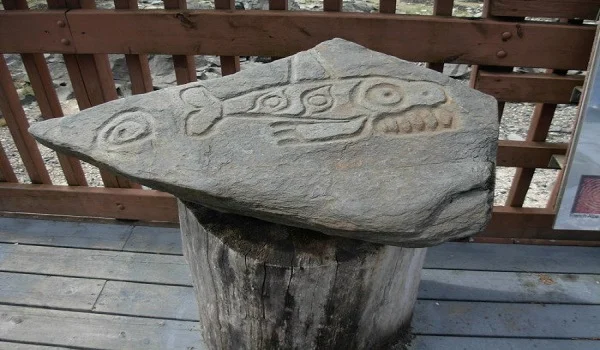 Petroglyph Beach is a historical site located in Wrangell, Alaska where you can find more than 40 petroglyphs or rock carvings made by Tlingit and Haida people in the past. These petroglyphs are thought to be around 8,000 years old and were carved into large rocks along the beach.
Visitors can reach Petroglyph Beach through a short trail from the parking area. It is important to note that these petroglyphs are considered sacred to the local indigenous people and should be respected accordingly. While visiting this site, it is recommended to avoid touching or damaging the petroglyphs and to take nothing but photos.
16. Red Onion Saloon,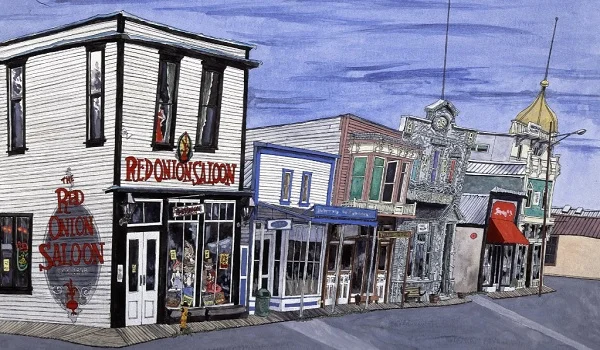 Skagway, Alaska is home to a bar and brothel with a colorful past: the Red Onion. It was constructed in 1897, at the height of the Klondike Gold Rush, and became a central meeting point for miners and prospectors. Popular with visitors, the Red Onion Saloon now houses a museum about the saloons and Skagway's history during the gold rush. Both the downstairs bar and the upper brothel are open to the public. The staff dresses the part, and the atmosphere is fantastic.
We made the most of our time in Skagway during an Alaska cruise stop by going there. We skipped the meal and instead sat at the bar to take in the ambiance and have some beer. Someone's enormous order of nachos caught my eye. The only time you'll have to pay is if you want to take a tour of the museum on the second floor. Excursions for Cruise Passengers at Land-Based Rates!
Address: 201 Broadway, Skagway, AK 99840, United States
Phone: +1 907-983-2222
Website: www.redonion1898.com/
17. Hubbard Glacier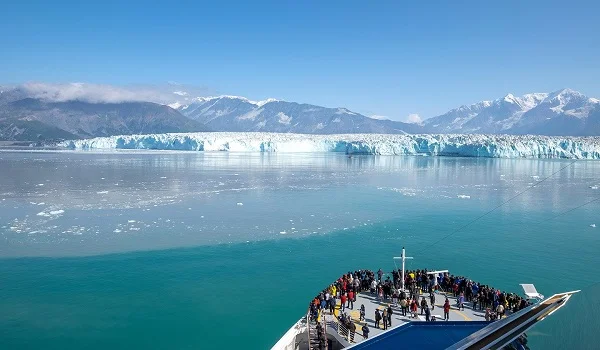 It is one of the largest tidewater glaciers in Alaska, measuring 76 miles in length and 6 miles in width at its terminal, and the Hubbard Glacier may be found in Alaska, in the United States. It was given his name in honor of Gardiner Hubbard, an American lawyer, and philanthropist who was instrumental in the founding of the National Geographic Society.
It is possible to get to the Hubbard Glacier either by boat or helicopter, making it a popular place for travelers to go while they are in Alaska. The glacier is well-known not only for its enormous size but also for its vigorous calving, which results in the formation of giant icebergs that may be seen floating in the bay that is close.
Website: www.alaska.org/
18. The Aurora Ice Museum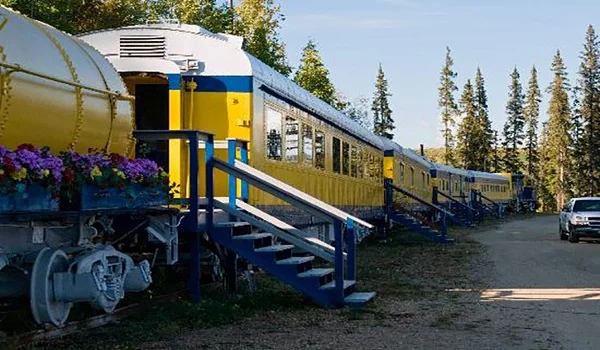 The Aurora Ice Museum which can be found in the United States close to Fairbanks in the state of Alaska, holds the title of the location with the largest year-round ice habitat in the world. It is made entirely of ice and features a variety of ice sculptures, as well as an ice bar and a movie theater that shows films on the Aurora Borealis. The Ice Museum is kept at a constant temperature of 25 degrees Fahrenheit (-4 degrees Celsius) to ensure that the ice sculptures are kept in the same form in which they were originally created. It is a well-known vacation spot, and visitors can go there any time they like during the entire year.
Address: 17600 Chena Hot Springs Rd, Fairbanks, AK 99712, United States
Phone: +1 907-451-8104
Website: www.chenahotsprings.com/
19. Hammer Museum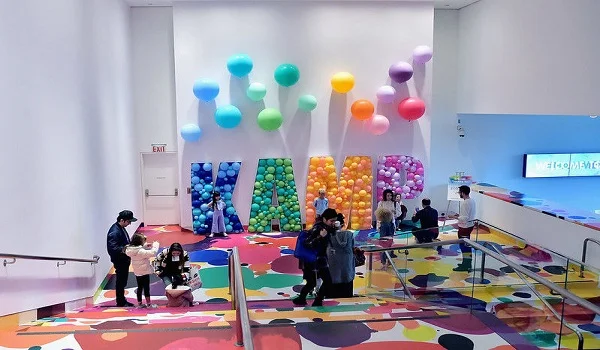 The Mendenhall Ice Caves are a collection of ice caves beneath the Mendenhall Glacier in the Mendenhall Valley near Juneau, Alaska, USA. These caverns are produced by glacial meltwater and sunshine that penetrates through the ice, resulting in magnificent blue and turquoise colors. They are a popular tourist site, although visiting them might be perilous due to the glacier's continuously shifting circumstances. It is critical to always go with a guide and to be well-equipped.
It's time to add "running around inside a glacier" to your list of must-do things in Alaska if it isn't already there. There is just a little window of opportunity for anyone with the courage to explore the Mendenhall Ice Caves to have an odd and otherworldly experience.
Address: 10899 Wilshire Blvd, Los Angeles, CA 90024, United States
Phone: +1 310-443-7000
Website: www.hammer.ucla.edu/
20. Totem Bight State Historical Park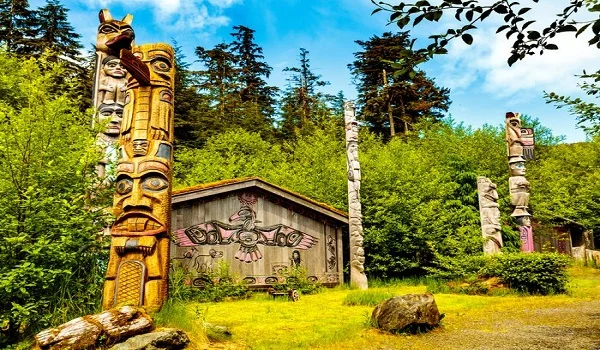 Totem Bight State Historical Park is a state park located in Ketchikan, Alaska in the United States. The park is known for its collection of totem poles, which were created by Tlingit and Haida people and were moved to the park from their original locations. The state's original peoples, who spread out across it in many tribes, should be recognized and honored for their contributions to the state's development. It features a reproduction of an indigenous village from the 1800s and more than a dozen totem poles that are life-size and painted. There are plenty of fun things to do in Alaska, in Totem Bight State Historical Park.
Totem Bight State Historical Park is an excellent destination for anyone curious about Native American culture. It will take viewers on a memorable emotional journey into the heart and soul of Alaska's indigenous people while also providing a visually stunning experience. The park also features a replica of a traditional clan house, hiking trails, and beach access. It is a popular destination for visitors interested in learning about Alaska Native cultures and history.
Address: 9883 N Tongass Hwy, Ketchikan, AK 99901, United States
Phone: +1 907-247-8574
Website: www.dnr.alaska.gov/