Top 20
Chinese Restaurants in USA
Chinese restaurants in the USA have been popular dining destinations in the United States for many decades, offering a wide range of dishes that are appealing to tourists, to visit and taste the mouth-watering food. In the early 19th CE exchange of goods and services between different countries began which leads to the transfer of food, culture, and many other traditions. At that time, some Chinese immigrants introduce some Chinese cuisines to the USA, and fortunately, Americans accepted Chinese food so fast, with the passing of time Chinese dishes become part of American cuisine.
Today, Chinese restaurants can be found in every major city and many smaller towns throughout the country, ranging from hole-in-the-wall mom-and-pop establishments to upscale fine dining establishments, Chinese restaurants are everywhere. So let's find the top best Chinese restaurants in the USA, with delicious food, mouth-watering smell, and an amazing environment.
you can also read our below articles related articles:-
Best Food! Chinese Restaurants In USA
With a wide variety of food, Chinese restaurants in the USA offer the traditional cuisine of China, they provide a range of vegetarian and vegan dishes, as well, as gluten-free options for customers with dietary restrictions. So here is the list of the top 20 Chinese restaurants in the USA you must try.
1. A Single Pebble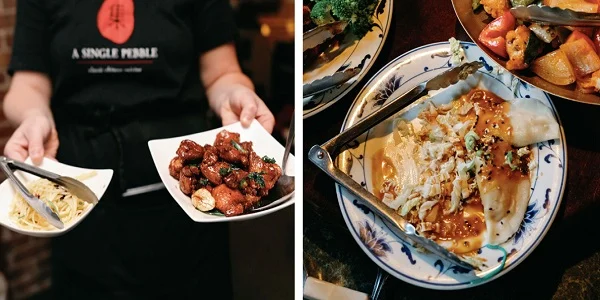 A single pebble in Burlington, Vermont is the best Chinese restaurant in the USA, and it quickly established its name in a favorite list of both locals and tourists. The restaurant serves authentic traditional Chinese food, with an emphasis on dim sum, and provides a one-of-a-kind eating experience. Here is the ritual of sharing the dishes so that everyone in the restaurant tastes the different dishes present on the menu. Smoked eel, dry-fried beans, scallion bread, crispy sesame beef, Shanghai-style soup dumplings, and Dan Dan noodles are just a few of the restaurant's mostly-ordered menu items.
If you are searching for something new and wonderful in Burlington (USA) then you must try A Single Pebble restaurant. It's one of the city's best Chinese restaurants thanks to its authentic food, warm service, and pleasant atmosphere.
Address:133 Bank St, Burlington, VT 05401
Phone: 802-865-5200
Hours: Tue-Sat 05:00 am to 09:00 pm (Sun/Mon Closed)
Website: https://asinglepebble.com/
2. Lao Sze Chuan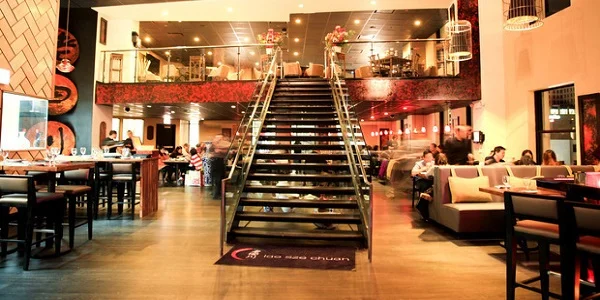 The Lao Sze Chuan Chinese Restaurant in Chicago, Illinois, is one of the best Chinese restaurants in the USA. The menu at this restaurant contains a variety of spicy and savory Szechuan food, which makes your experience memorable and authentic. Hot pots, seafood, noodles, vegetable dishes, meat, and dim sum are just some of the options available at the restaurant. Spicy fish fillet, mapo tofu, and the signature dry chili chicken are among the restaurant's best-selling foods. Garlic aubergine and boiled beef in chili sauce are two examples of less well-known but as tasty dishes that customers can order.
Lao Sze Chuan also has a warm and inviting atmosphere, with delicious cuisine, just because of the traditional Chinese interior and the well cooperative staff members. Chili chicken, Orange chicken, Chinese buffet, Mongolian beef, and wonton soup with its delicious, peppery broth are some of the most popular dishes. In conclusion, Lao Sze Chuan is the best restaurant in Chicago to try real Szechuan food.
3. Pei Wei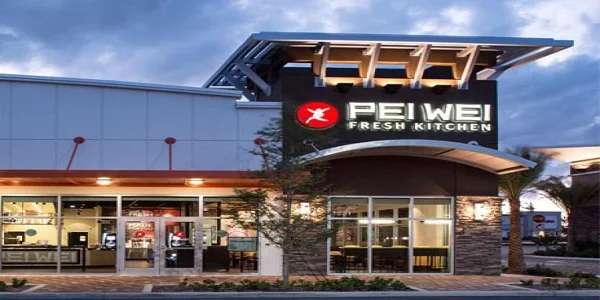 The American fast-casual restaurant chain Pei Wei takes its idea from Asia. Pei Wei has its franchises across the globe and around 119 locations in the US. this restaurant offers customized bowls, you can add salads, and sushi rolls, among other options, making it one of the best Chinese restaurants in the USA. Some of the most ordered items are Thai Dynamite Shrimp, General Tso's Chicken, and Korean BBQ Steak. Customers looking for fast-casual restaurants that don't skip on quality have found a new favorite in Pei Wei because of its commitment to using only the freshest ingredients in its made-to-order dishes.
Pad Thai, Coconut Curries, Teriyaki Chicken, and a Polynesian Poke bowl are some of the famous delicious Southeast Asian food dishes available at this restaurant. Florida, Texas, California, and Arizona are just a few of the states where you may find a Pei Wei. Pei Wei has many branches and they all have been decorated in their own unique way, with a touch of the modern world, Visit www.peiwei.com to find the restaurant closest to you.
Address: 1401 W Campbell Rd, Richardson, TX 75080, United States
Phone: +1 972-238-7399
Hours: Mon-Sun 11 am-09:00 pm
Website: order.peiwei.com
4. Din Tai Fung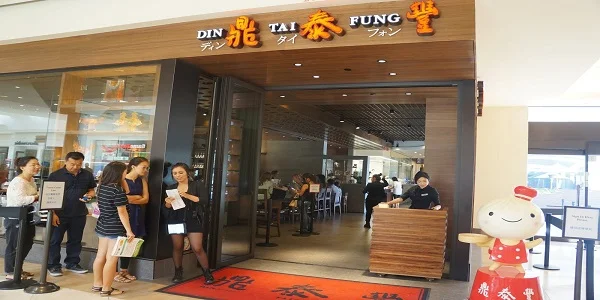 Din Tai Fung is one of the most popular Chinese restaurants in the USA and now has locations in several other countries also. The restaurant is known for its mouth-watering dumplings, which are made fresh on-site every day. The menu of the restaurant is filled with a variety of Chinese dishes such as soups, noodles, and rice dishes. The restaurant has a relaxed and casual atmosphere, with a touch of modern designs. In 1993 the restaurant comes in the list of top 10 restaurants in The New York Times Article.
The mouth-watering dishes at Din Tai Fung restaurant include Steamed Shrimp, Pork Xiao Long Bao, Pork Shao Mai, Fried Rice with Shrimp and Eggs, and Pork Wontons and Spicy Shrimp. Vegetarian options are also available, including Vegetable and Mushroom Dumplings and Sauteed String Beans with Garlic. Din Tai Fung is a great place to enjoy delicious Chinese cuisine with your family and friends in a welcoming environment.
Address: 177 Caruso Ave, Los Angeles, 91210
Phone: 818-551-5561
Hours: Mon–Fri 11 am–10 pm; Sat 10 am–10 pm; Sun 10 am–9 pm
Website: https://dintaifungusa.com/
5. Shanghai Dumpling King
Shanghai Dumpling King is one of the popular Chinese restaurants in the USA, located in San Francisco. Steamed dumplings are one of the famous dishes, which comes in various flavors such as pork, shrimp, and vegetable. Aside from the dumplings, the menu also includes a variety of other authentic Chinese dishes, including fried rice, stir-fried vegetables, noodle soups, and meat dishes. Popular dishes at Shanghai Dumpling King include the Xiao Long Bao, which is a juicy pork soup dumpling, the Spicy Beef Noodle Soup, and the Shanghai-Style Rice Cake.
The restaurant's interior is simple and casual, with wooden tables and chairs giving it the typical Chinese look. From the very beginning of the restaurant, it had a cozy and inviting atmosphere, perfect for a casual meal with friends or family. The Shanghai Dumpling King is a must-visit destination for those craving delicious and authentic Chinese food in San Francisco. The specialty at this restaurant is the steamed buns known as xiao long bao.
Address: 696 Monterey Blvd, San Francisco, CA 94127, United States
Phone: +1 415-585-1300
Hours: Mon-Sun 11:00 am – 2:30 pm & 4:30 pm – 9:00 pm (7 Days)
Website: http://shanghaidumplingkingmenu.com/
6. Duck House – Portland, Oregon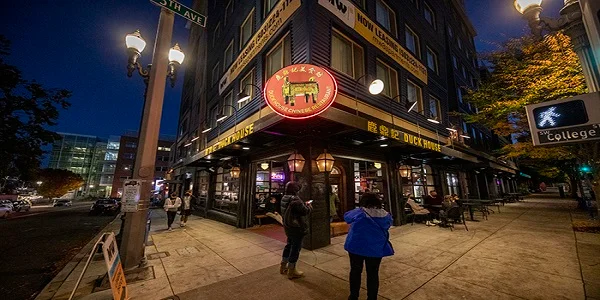 Portland, Oregon's Duck House, found in 1968, is the oldest Chinese restaurant in the US. Here Peking duck is served with thin pancakes, scallions, and hoisin sauce, this is the restaurant's reason for fame. here you can also find traditional Chinese including noodles, soups, and meat dishes in addition to the famous Peking Duck. A few of the most ordered items are Beef Chow Fun, Spicy Cumin Lamb, and MaPo Tofu.
The restaurant's decor is tasteful and contemporary, with modern furnishings and plenty of windows to get the natural light, making it one of the best Chinese restaurants in the USA. This place is perfect for Dinner, to visit with family, and also for a date because of its wonderful atmosphere. Duck House serves you tasty Chinese cuisine in its beautiful soothing environment. You must try Duck House in Portland for an unforgettable meal of authentic Chinese cuisine.
Address: 1968 SW 5th Ave, Portland, OR 97201, United States
Phone: +1 971-801-8888
Hours: Wed-Mon 11:00 am – 2:30 pm & 4:00 pm – 9:00 pm (Tue-Off)
Website: https://www.duckhousepdx.com/
7. Trey Yuen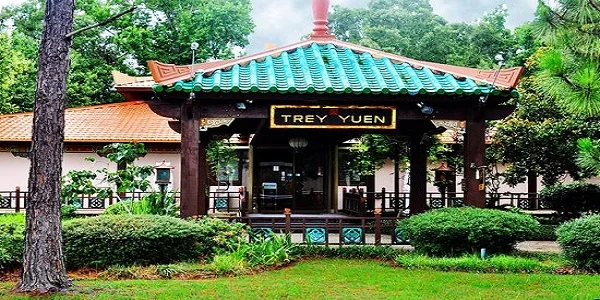 Trey Yuen is a Chinese eatery located in, Louisiana and is one of the best Chinese restaurants in the USA. This is Famous for both traditional as well as innovative takes on Chinese cuisine. The three most popular dishes are Trey Yuen's Spicy Hunan Chicken, Mongolian Beef, and Honey Walnut Shrimp., they also serve vegetarian options such as Sauteed Mixed Vegetables and Tofu and Broccoli in Garlic Sauce for their vegetarian customers. Here you can also enjoy koi ponds, pagodas, gardens, and a waterfall.
Trey Yuen features a sushi menu including rolls and sashimi in addition to its regular dishes. The restaurant's luxurious seating and elegant design provide an inviting and sophisticated atmosphere. The restaurant is famous for its delicious Chinese cuisine. Whether you're in the mood for authentic Chinese or something a bit more unique, Trey Yuen is the perfect destination. Photographic decor and yummy refreshments, make this cafe perfect for get-together dates with friends.
Address: 600 N Causeway Blvd, Mandeville, LA 70448
Phone: 985-626-4476
Hours: Tue-Sun 11:00 am – 2:00 pm & 4:30 pm – 8:00 pm (Sat 4-9 pm) (Sun 11:30 to 8 pm)
Website: https://www.treyyuen.com/
8. Sichuan Impression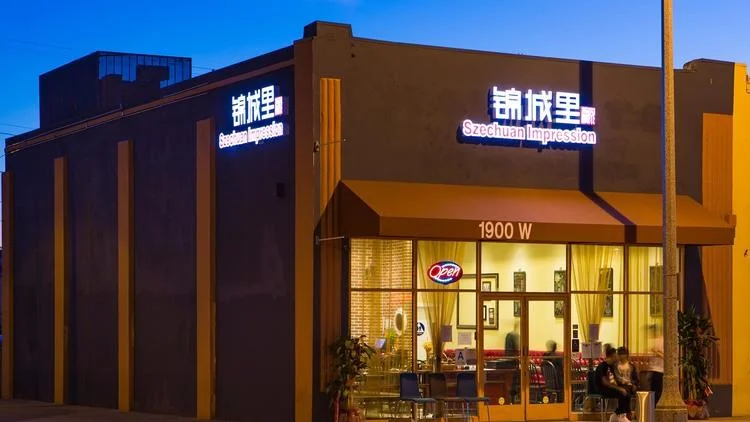 Sichuan Impression is one of the popular Chinese restaurants in the USA, located in Alhambra. The restaurant serves Sichuan-style cuisine, which is known for its bold flavors and spicy dishes. The menu here provides you with a variety of dishes, including hot pots, noodles, and stir-fried dishes. Some of the popular dishes you must try at the restaurant include Spicy Fish Stew, Mapo Tofu, and Boiled Beef in Chili Oil.
In addition to its spicy dishes, Sichuan Impression also offers a selection of non-spicy dishes for those who prefer mild flavors. The casual and modern atmosphere of the restaurant, with comfortable seating and stylish modern decor makes your experience much better. Overall, Sichuan Impression is a great place to experience the flavors of Chinese Sichuan cuisine in Alhambra. Whether you're a fan of spicy food or prefer mild flavors, there's something on the menu for everyone at this popular Chinese restaurant.
Address: 235 W Main St SuiteB, Alhambra, CA 91801, United States
Phone: +1 626-283-4622
Hours: Mon-Sun 11:30 am – 2:30 pm & 5:00 pm – 9:00 pm
Website: https://www.sichuanimpressions.com/
9. Ping Pang Pong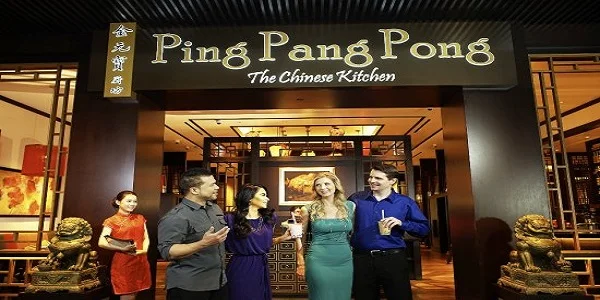 Ping Pang Pong is a popular Chinese restaurant located in Las Vegas, Nevada. The restaurant provides you the authentic Cantonese cuisine, with a long menu featuring a wide variety of dishes. Some of the popular dishes at Ping Pang Pong include the Dim Sum Platter, Barbecue Pork, and Salt and Pepper Squid. The restaurant also offers a selection of vegetarian and gluten-free options, including Vegetable Spring Rolls and Steamed Vegetarian Dumplings. if you are in Vegas and you wanna try the famous Chinese authentic food then go to the restaurant in the city.
Ping Pang Pong is an elegant and stylish restaurant, with wonderful decor and comfortable seating. The atmosphere is cozy and welcoming, making it an ideal place for a family dinner or a romantic night out. so without a doubt, Ping Pang Pong is a great restaurant that offers delicious Cantonese cuisine in Las Vegas. If you're in the area and looking for an authentic Chinese dining experience, be sure to check out Ping Pang Pong at the Gold Coast Hotel and Casino.
Address: 4000 W Flamingo Rd, Las Vegas, NV 89103, United States
Phone: +1 702-247-8136
Hours: Mon-Sun 10:00 am – 3:00 pm
Website: https://www.goldcoastcasino.com/dine/casual-dining/ping-pang-pong
10. Pekin Noodle Parlor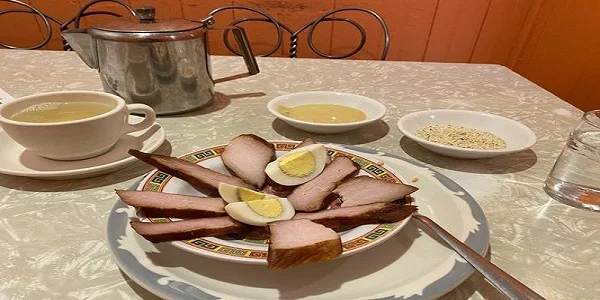 If you want to eat Chinese and you are in Montana, then you can never miss the best Chinese restaurant in Butte, Pekin Noodle Parlour. Established in 1911, making it the oldest Chinese restaurant in the USA. Egg Foo Young, Chop Suey, and Sweet and Sour Pork are just a few of the authentic Chinese dishes that can be found on the menu at Pekin Noodle Parlour. The hand-pulled noodles are used in Beef Noodle Soup and Mongolian Beef, which is the restaurant's specialty.
The restaurant follows the traditional and authentic decor from the years and with Chinese lanterns strung from the ceiling and wooden tables and chairs, this restaurant in Montana represents Chinese culture. Since it has such a warm and friendly vibe, all locals as well as visitors came here. In conclusion, Pekin Noodle Parlour is a fantastic choice for a special meal in Butte. It's a once-in-a-lifetime experience, as this Chinese restaurant is unlike any other due to its rich history and delicious food.
11. Sweet Home Cafe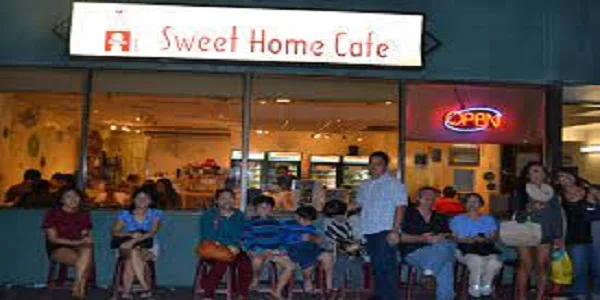 If you are in Honolulu, Hawaii, and craving Chinese food then you can never miss the lovely sweet home cafe. Whether you want to spend some time with friends, grab a bite to eat, or get some work done this will be the best place for you. lots of dishes including Sandwiches, salads, wraps, and breakfast foods like omelets and scallion pancakes can be found on the menu at Sweet Home Cafe. Lunch menu items include the restaurant's famous turkey and avocado sandwich, as well as the restaurant's characteristic chicken and pig katsu. Vegetarian and gluten-free diners will find plenty of options at this place.
Sweet Home Cafe is well-known, not just for its tasty meals, but also for its extensive menu of coffee and tea beverages such as Matcha latte and iced matcha, both popular beverages, which are available. Sweet Home Cafe is the best place to go whether you want a quick breakfast or a relaxing meal. Don't leave without tasting some of their delicious chocolate chip cookies or rich brownies.
12. HaiDiLao Hot Pot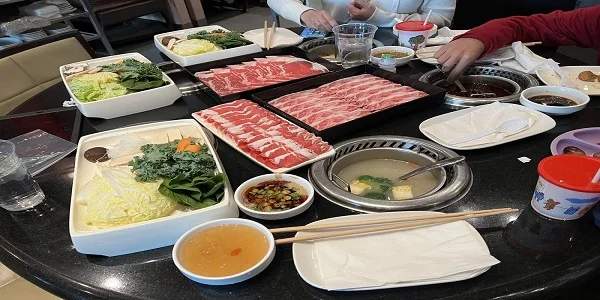 The HaiDiLao Hot Pot in Arcadia, California, is one of the best restaurants one can find. One of the most inviting things at the hotpot is that they are providing the customers with their own ingredients and allowing them to cook them in a broth at their own seats. All the basic ingredients you want for your hot pot, including meats, fish, vegetables, and noodles, can be found at HaiDiLao Hot Pot. Customers may find a broth that suits their taste, from spicy to tomato-based to mushroom-based, allowing them to personalize their hot pot experience.
Crispy pork belly, thinly sliced meats like beef, lamb, and pork, an abundance of seafood like prawns, scallops, and squid, spicy cucumbers, and even sweets like sesame paste and taro balls are some of the delicious appetizers available here at HaiDiLao Hot Pot. The restaurant's spacious and contemporary design makes for a relaxing meal out. Enjoy the dishes with your touch.
Address:400 S Baldwin Ave Suite 2015, Arcadia, CA 91007, United States
Phone:+1 626-445-7232
Hours: Mon-Sun 11:00 am to 10:30 pm
13. Nom Wah Tea Parlor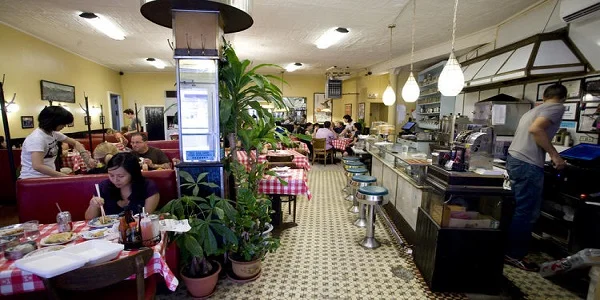 The classic dim sum restaurant Nom Wah Tea Parlour is located in New York. A lot of locals, as well as travelers, visit here to taste the authentic Chinese and Cantonese dim sum since 1920. Nom Wah Tea Parlour serves dim sum mainstays such as pork buns, prawn dumplings, and egg tarts. The classic 'OG' egg roll is made by combining Shaoxing wine, an egg pancake wrapper, veggies, and a small amount of the roll's filling is a mouth-watering dish here. There are also noodle and rice dishes offered, such as beef and vegetable stir-fry and prawn and egg fried rice.
Nom Wah Tea Parlour is also well-known for its oolong, green, and black teas. Customers can order popular bubble tea, which comes in a variety of tastes such as taro, matcha, and honeydew. Nom Wah Tea Parlour's warm and friendly atmosphere is created by traditional Chinese furnishings and booth seating. This is one of the most ideal spots you must try in new york Whether you're looking for a snack or a full dinner.
Address: 13 Doyers St, New York, NY 10013, United States
Phone: +1 212-962-6047
Hours: Thu-Mon 11:00 am to 09:00 pm (wed Closed)
Website: https://nomwah.com/
14. Sea Harbour Restaurant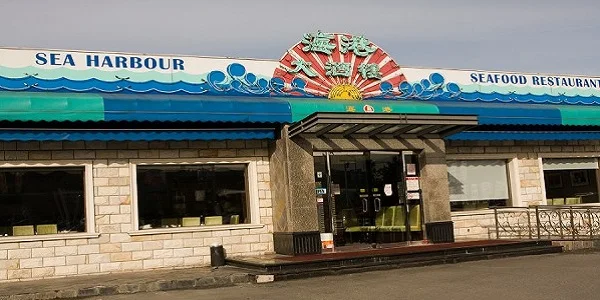 If you're in the Rosemead area and craving some authentic Chinese food, Sea Harbour Restaurant is your best place. from all over the world customers come to enjoy the restaurant's world-famous dim sum. With its sleek and beautiful design, comfortable seating, and refined decor this is among the most famous restaurants in the city. From dim sum to seafood to BBQ, the traditional Chinese fare at Sea Harbour Restaurant is second to none. Popular items on the menu include shrimp dumplings, roasted duck, pork buns, and crispy shrimp.
Reserve your table before to save yourself from the rush. And enjoy your eating with the tasty bao buns, black truffle shumai, and prawn dumplings.
15. Panda Express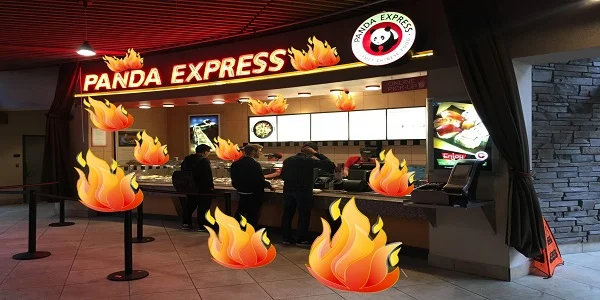 American Chinese food can be found at Panda Express, a fast-food restaurant brand. Open its door first in Glendale, California in 1983, but since then the restaurant grew, and now it has its foot in more than 2000 sites across the globe. The restaurant is known for its speedy service, reasonable rates, and distinctive cuisine. Orange Chicken, Beijing Beef, Kung Pao Chicken, and Honey Walnut Shrimp are just some of the popular options available at Panda Express.
A variety of dishes, including Chow Mein, Fried Rice, and Egg Rolls, are also available. Vegetarian and low-carb choices are also on the menu. The restaurant's striking panda logo and bold red and yellow signage are instantly recognizable. Customers can check the website or mobile app of Panda Express to identify the location nearest them and to see what times it is open.
Address: 561 N Glendale Ave, Glendale, CA 91206, United States
Phone: +1 818-241-5257
Hours: Opens 10:30 am- 8:00 pm
Website: https://www.pandaexpress.com/
16. Bd's Mongolian Grill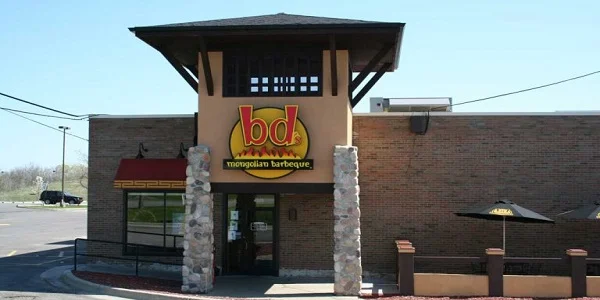 The American restaurant company Bd's Mongolian Grill is well-known for its one-of-a-kind menu and atmosphere. Customers at this restaurant may make their own stir-fries by choosing the items they want and seeing them cook on a huge grill. Here You may construct your own unique stir-fry by choosing from an extensive choice of sauces, seafood, vegetables, and meats. Beef and broccoli stir-fry, prawn and scallop stir-fry and vegetarian stir-fry are three of the restaurant's most well-known dishes.
The menu also includes starters, salads, and desserts, as well as drinks including beer, cocktails, and non-alcoholic drinks. Some of the sites where you can find Bd's Mongolian Grill are Michigan, Ohio, and Pennsylvania. If you want to know where the closest restaurant is located, it's advisable to check the website.
Address: 6242 Sawmill Rd, Columbus, OH 43017, United States
Phone: +1 614-798-8300
Hours: Opens 11 am, closes 09:00 pm to 10:00 pm
Website: https://locations.bdsgrill.com
17. Chinese Gourmet Express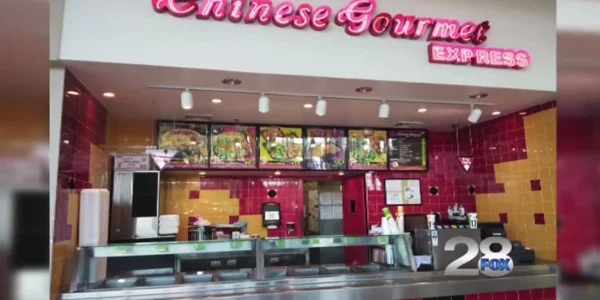 Chinese Gourmet Express USA is a fast-food restaurant, it has its chain around the United States. Fried rice, chow mein, and stir-fried vegetables are among the dishes available at the restaurant. Classic Chinese dishes such as Kung Pao chicken, orange chicken, and beef with broccoli are also available.
The staff at Chinese Gourmet Express USA is polite and supportive, offering diners prompt and dependable service. Chinese Gourmet Express USA is ideal for individuals who want a quick and great supper. It is a popular alternative for both busy professionals and students because of its convenient locations and low rates. Chinese Gourmet Express has approx 50 sites in the US.
18. HuHot Mongolian Grill
If you want an experience of making your own stir fry in the USA, then you must go for HuHot Mongolian Grill. It has 70 locations in more than 18 states and has quickly become a favorite among diners looking for a great meal out with friends and family. HuHot Mongolian Grill provides customers with a wide variety of fresh meats, vegetables, and sauces from which they can cook their own stir-fry.
If You want to make your meal more tasty then go with some of the restaurant's appetizers, salads, or sweets. Diners may unwind in the restaurant's comfortable, contemporary setting, thanks to its wide seating area and stylish decor. Fish, poultry, meat, meatballs, seafood, and pig sausage are all available if you want protein options. Customers can view the menu and identify the location closest to them on the official HuHot Mongolian Grill website.
Address: 10835 S State St, Sandy, UT 84070, United States
Phone: +1 801-572-2209
Hours: Opens 10 am
19. X'ian Famous Foods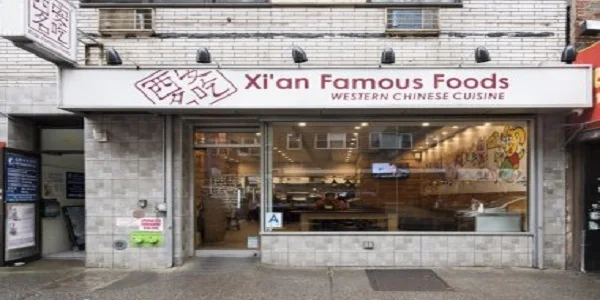 X'ian Famous Foods is a network of quick-service Chinese restaurants popular among the major cities of the US. The restaurant serves traditional Xi'an fare, which is distinguished by its strong, spicy flavors. Hand-pulled noodles, lamb skewers, and lamb burgers with spicy cumin sauce are just some of the options available at X'ian Famous Foods. if you are fond of spicy food then try the sizzling hot Spicy lamb noodle soup, with its soft hand-pulled noodles swimming in a thick and delicious broth.
The interior of the restaurant is very inviting, but the main focus of the restaurant is on the food. The staff is kind and welcoming and always supports the customers to choose the food. It has stores in Philadelphia and Washington, DC also.
Address: 328 E 78th St, New York, NY 10075, United States
Phone: +1 212-786-2068
Hours: Opens 11:30 am to 8:00 pm
Website: https://www.xianfoods.com/
20. Hakkasan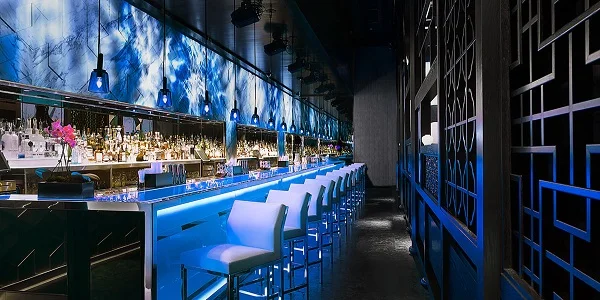 New York, Miami, and Las Vegas are just a few of the locales where you can find Hakkasan, it is one of the best Chinese restaurants in the USA, that has earned the batch of honors. It has earned a reputation as one of the world's finest Chinese dining experiences because of its sumptuous cuisine and refined atmosphere. The most famous offerings of Hakkasan are The crispy duck salad, the dim sum plate, and the wok-fried lobster with XO sauce. There is a large selection of alcoholic beverages available to pair with the restaurant's cuisine. For tasting the best Chinese food in the USA, go to this restaurant.
Address: 3799 S Las Vegas Blvd, Las Vegas, NV 89109, United States
Phone: +1 702-891-7888
Hours: Opens 5:30 pm
Website: hakkasan.com