Top 20
Indian Restaurants in Los Angeles
LA, the most populous city in the state of California and the second-most populous in the United States encompasses 2 lakh Indian immigrants approximately hence the number of best Indian restaurants in Los Angeles either in downtown or Santa Monica by quantity and quality is increasing as well as evolving day by day. If you want a spicy either medium or intense, the best Indian food in LA gives you exercise if you are in comfort foods most of the time.
Some are little, family-run spots while others are chic, complex eateries in the best parts of the town and they prepare all veg to non-veg dishes from north to south Indian foods, some have dishes from specific parts of India like their touch or fusion kinda cuisine.
In this blog, I prepared a list of the 20 best Indian restaurant in la for giving you an idea and either what are they famous for or some specific details that you won't know anywhere. Are they South Indian or North Indian, do they provide foods that are vegan or gluten-free so you can explore the Indian restaurants in Los Angeles California, and find your best restaurant according to your preference or liking.
you can also explore our other articles on the best Indian restaurants in USA
Indian restaurants in new jersey
Indian restaurants in Las Vegas
Best South Indian Restaurants in USA
Best Indian restaurants in Texas
1. Badmaash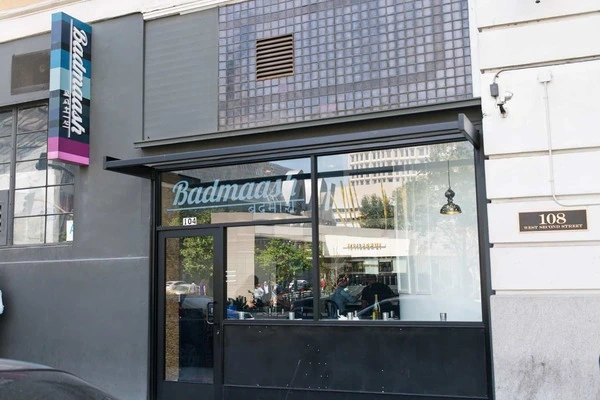 Are you looking for an Indian restaurant downtown la which serves traditional food in a modern way and serves fusion dishes? Look No More! Badmaash is the best pick for you. Their motto is "Eat like you are Indian", so don't be shy. Their owner Father Chef Pawan with their two sons Arjun and Nakul Mahendro created this restaurant which gives you a more London look instead of an LA ambiance wise.
You can see the neon Hindi sign of the restaurant from far away. There are dishes like chicken tikka poutine and chili cheese naan you don't get anywhere as this is their creation sort of a fusion like. No meal would be complete, however, without one of their poutines, which can be also topped with vegetarian-friendly channa masala.
Address: 108 W. 2nd Street, Downtown Los Angeles
Phone : (213) 221 – 7466
Opening Hours: Tue-Fri 11:30 AM – 3 PM • 5 PM – 10 PM, Sat-Sun 5 PM – 10 PM
2. Tumbi Craft Indian Chicken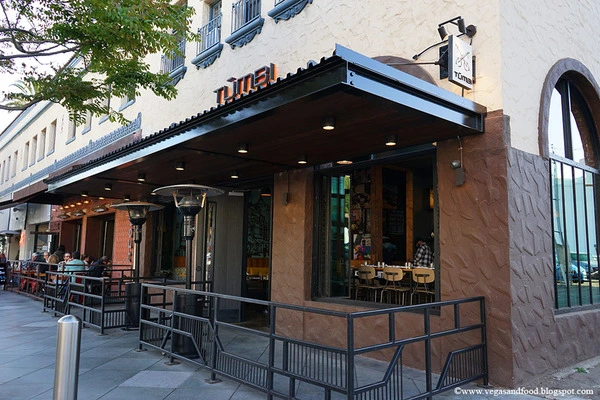 If you want to enjoy the sunset view with good dishes beside you to taste, Tumbi is the worth your time to check out as there is a private dining room for 14 people and an ocean-view patio. It offers food with a modern twist in an industrial-chic setting.
The best indian restaurants in Santa Monica serve some dishes that are from certain regions like Rajasthan, Goa, Afghanistan, New Delhi, and Pakistan like Pani Puri, Chicken Tikka, charbroiled salmon kebob, chana bhatura, and Spicy Kebabs including the not-to-be-missed Apricot Curry Patagonian Toothfish Masala.
Vegetarian options abound, including the massive Paper Dosa made with rice and lentils accompanied by fiery sambar and a duo of cooling chutneys. For Desserts they have unique—envision saffron panna cotta, deconstructed carrot halwa, "dessert dosa" served with creamy Nutella, the Chocomossa, fluffy fried samosas overflowing with rich chocolate. They have a selection of California beers and wines, which makes this a great place to have drinks before you eat the best Indian food in Los Angeles style.
Address: 115 Santa Monica Boulevard Santa Monica, CA 90401
Phone : (310) 829-7200
Opening Hours: Mon-Sun 4:00 – 10:00 PM
3. Spice Affair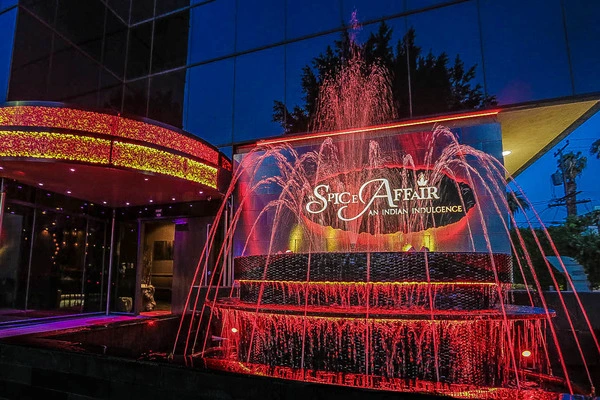 Want a non-traditional mixture of Indian spices, as well as contemporary interpretations of Californian cuisine using Indian spice, Spice affair Is the right place for you. In spice affair, Beverly hills offer luscious Indian dishes from an award-winning menu featuring a number of vegetarian, vegan, and gluten-free options. This upscale restaurant has a variety of sizzling dishes that often attract major Bollywood and Hollywood stars.
Address: 50 N. La Cienega Blvd., Ste. 120 (Wilshire Blvd.) Beverly Hills, CA 9021
Phone: 310-400-6800
Opening Hours: Mon-Sun 4:00 – 10:00 PM
4. Mayura Restaurant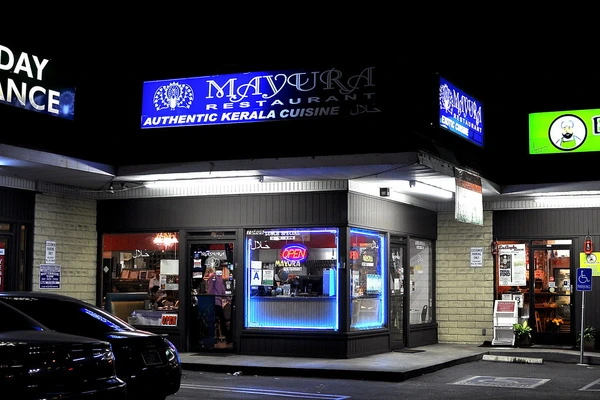 This South Indian Restaurant in Culver City is one that serves dishes that is heavy on spices and sour sauces. Mayura Restaurant's owner goes to India for 3 months to bring back spices from their town to serve their customer's dishes rich with cumin, coriander, turmeric, and cardamom. You think they do only veg but have a separate kitchen that serves non-veg like Chicken Tikka Masala, Tandoori Chicken, Lamb Vindaloo, and Goat Curry.
The south indian dishes like Doshas, Idli, Vadas, Puttu, Upma, and Uthappam – a pizza concept that features different toppings cooked into dosa better as well as serves north indian dishes like Palak Paneer, Aaloo Gobi, and Vegetable Korma. The interior gives a feel of indian family look restaurant and parking are easy to come by and there is outside seating too if that's what you like.
Address: 10406 Venice Blvd Culver City 90232
Phone: 310-559-9644
Opening Hours: Tue-Sun 11 am-10 pm
5. Cardamom Indian Cuisine
Do you like Grilled Chicken and Tandoori Machli( Marinated Fish) Cardamom is the right place for you as the fish coconut meen moilee is their signature dish. They serve dishes from all around the country but they specialize in southern indian dishes so you can expect unique flavors as they use herbs and spices. You can get private dining if you book ahead. As they have a long list of quality wines, with pairings offered by their co-owner Nasir Syed.
It prides itself on making every food item from fresh ingredients – there's nothing canned or frozen in its kitchen. Even their spices are bought whole and ground in-house for optimum freshness. Whether it's lunch or dinner, you'll find a variety of delectable meals ranging from fish tikka to royal biryani at moderate prices.
Address: 2327 Honolulu Ave, Montrose, CA 91020
Phone: 818-369-7170
Email: info@cardamomla.com
6. Mint Leaf Indian Cuisine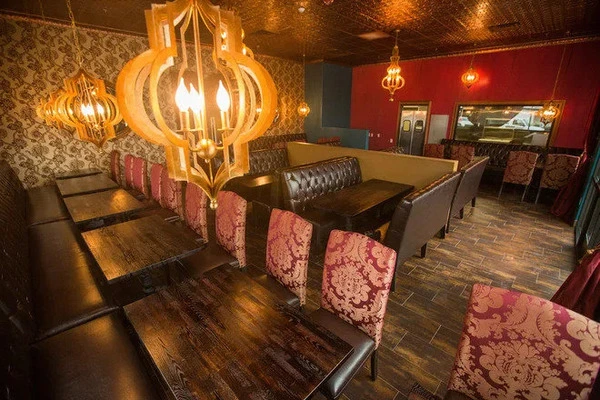 This restaurant offers fresh takes on classic dishes, including a robust vegetarian selection than traditional spots. Mint Leaf Indian Cuisine ambiance feels like a Mumbai diner with its golden lamps, dark leather banquettes, red tapestry chairs, and burnished wood floors. and the wall and seating style remind you of dining in a Jaipuri restaurant.
They have varieties of Naan (Garlic, Mozzarella, and Pine Nuts), Goan Salmon Curry, Chicken Vindaloo, and Shrimp Pakoras with mint sauce. In Dessert, You can have Sweet Carrot Halwa Pudding, mango ras malai, or a traditional kulfi (Indian ice cream). They use ingredients like kale, tofu, and corn to brighten up the sometimes tired regular suspects. Reservations are strongly recommended for normal days as well as weekends.
Address: 2535 East Washington Blvd. Altadena/Pasadena, California 91107
Phone: 626-460-8776
Email: mintleafpasadena@gmail.com
7. Electric Karma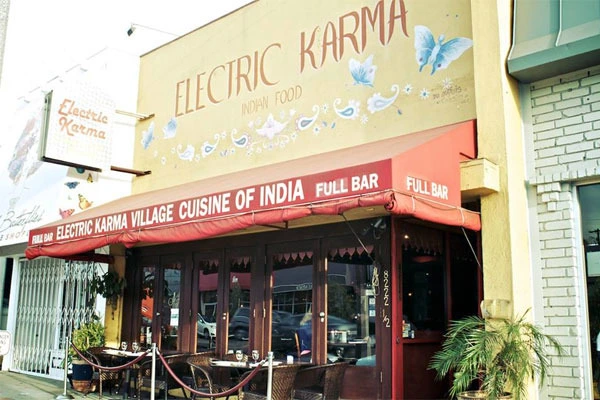 Are you looking for a date dinner with a romantic open-air courtyard and candle-lit dining room, Electric Karma got you there as it provides the ambiance that is perfect for all gatherings. Chef Paramjit Singh serves authentic Punjabi cuisine prepared with unconventional flair. At night, films of Bollywood stars are projected silently above the main dining room with house music making it ideal year-round for private gatherings, and special business occasions.
You can enjoy their vegetarian dishes like Samosas with chutney, masala dosa, sambar soup, cheese naan with mango chutney, palak paneer with tofu, spiced lentils, cauliflower, and chickpeas, and in non-veg you have Nirvana Chicken cooked in coconut curry, chicken frankies (a sort of tightly wrapped naan burrito), and masala dosa.
Address: 8222 W 3rd St, Los Angeles, CA 90048 (323) 653-2121
Email: electrickarmala@gmail.com
Opening Hours: Sun-Thu: 11:30 AM – 3:00 PM 4:30 PM – 10:00 PM, Fri-Sat: 11:30 AM – 3:00 PM 4:30 PM – 11:00 PM
8. Rajdhani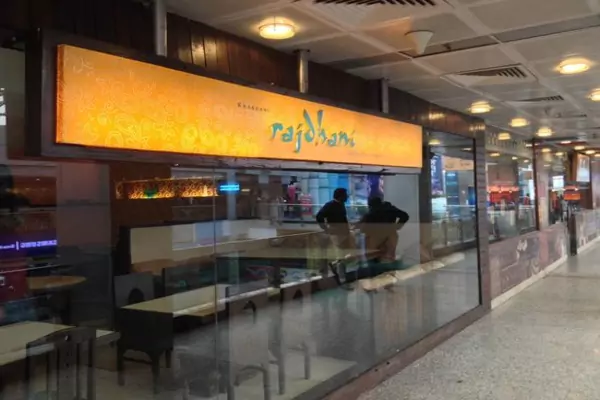 Rajdhani is not your "all you can eat" Indian food buffets, with row after row of chaffing dishes waiting for you to fill your plate rather they serve you their food second, third, or fourth time whenever they see your empty bowls until you don't think you can eat anymore. Here you receive a small portion of six different dishes that are meant to represent Ayurvedic nutrition balance. Despite being situated by the sea, the western Indian state is known for its vegetarian—not seafood—dishes, and Rajdhani is no exception.
They start with Crispy Papad and fresh Salad then steaming lentils and kadhi followed by two farsans, yellow dhokla then saabji after that hot soft roti, a fluffy puri, and spicy pickles, green minty chutney and sweet tamarind paste, two more rice dishes at last five desserts like rose ice cream topped with basil seeds or sugary balls of gulab jamun and it cost around $26. Keep this place in mind for a big weekday lunch—which ends at 2:45 pm—or a weekend dinner feast with friends who are down to sample whatever spice-rich specials the chef brings over.
Address: 18525 PIONEER BLVD, ARTESIA CA 90701
Phone: 562-402-9102
Email: INFO@RAJDHANIOFARTESIA.COM
Opening Hours: MONDAY: CLOSED, TUE–FRI: 11:30 AM–2:45 PM, SAT & SUN: 11:30 AM–7:45 PM
9. Samosa House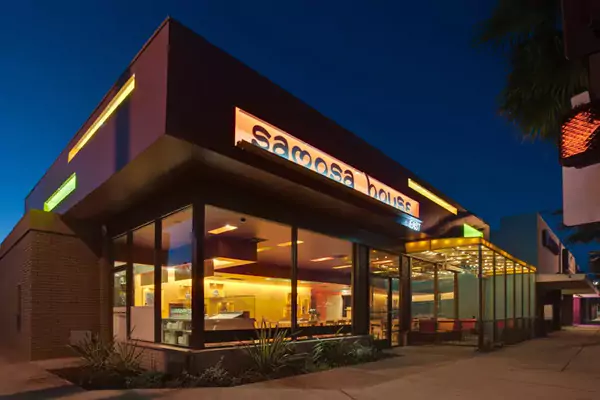 Starting as Bharat Bazaar as an Indian store market for all the things related to kitchens in Culver City has grown into a fantastic restaurant. Samosa House is a Veg restaurant that serves Samosas which are large and fried, tofu curry as well as they have a combo platter with three sides with rice, bread, and raita or soup and you can have mango lassi (a milkshake-like drink made with buttermilk) at last to change your taste.
They have four locations and in each store, they have a cafeteria-styled eatery that has its own rotation of specials but you have your favorite classics, one thing is new here as plates are sold by weight not by plate, and from their store you can buy Indian or Nepalese spices to take home for your cooking experiments. Whether it's a quick weekend get-together or a big fat Indian wedding, they also cater.
Address: 11510 W Washington Blvd Los Angeles, CA 90066
Phone: 310-398-6766
Opening Hours: Mon-Sun: 10.30 am to 9.30 pm
10. Al Watan Halal Tandoori Restaurant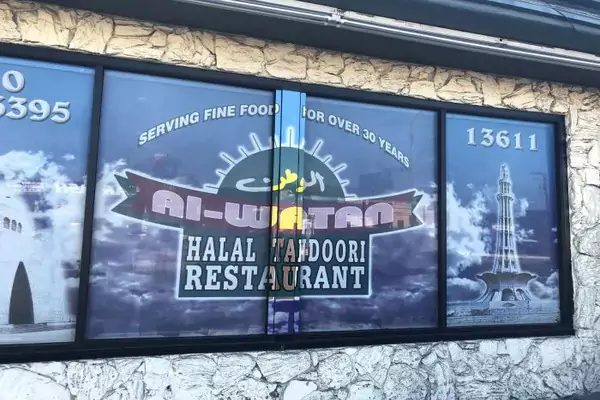 Al Watan is an Indian-Pakistani restaurant in the South Bay area doing business over 30 years. It specializes in offering traditional dishes with a modern and innovative blend-in. They have both dine-in and take-out options. Their Chef Chef Mohammed Mumtaz makes traditional dishes like lamb korma and goat karahi stir-fried with onions and tomatoes.
They have bread like roti, naan, paratha, and kulcha as well as veg foods like paneer tikka masala, palak paneer, and chana masala and all non-veg you think of from chicken, nihari to seafood like fish. They have desserts too like lassi, tea, Gulab jamun, Ras Malai and so more. Their family-oriented seating lends itself well to larger groups with children.
Address: 13619 Inglewood Avenue, Hawthorne, CA 90250
Phone: 310-644-6395
Opening Hours: Daily 11:00 AM – 9:30 PM
11. India's Grill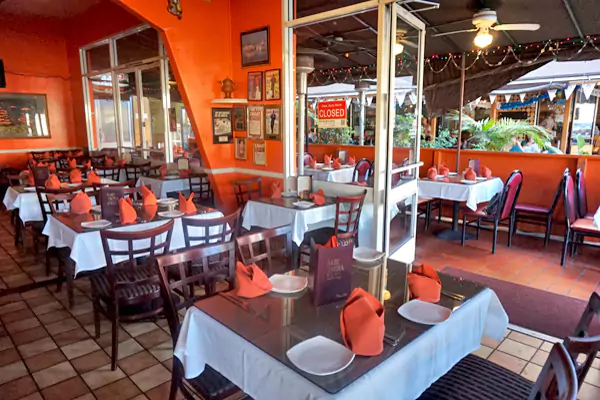 On their website India's Grill says that they offer food that is natural and freshly prepared daily on the premises with no additives or preservatives and they established itself as the favored restaurant of curry connoisseurs across Southern California. Being located at a mall meant that there was ample parking space. They have dishes you can order which range from mildly spicy to exceptionally hot.
Their menu has a vast range of food from veg to non-veg some which you may like are onion, chicken, or veggie pakora, paneer butter chicken, shrimp biryani, and paneer tikka masala with naan as they taste like homemade. For drinks, you can take your pick from a selection of sodas, yogurts, and teas, and if you are into alcohol then they have beers, red wine, and white wine.
Address: 428 South San Vicente Boulevard Los Angeles, CA 90048
Phone: 310-659-3903
Email: indiasgrillbeverlyhills@yahoo.com
12. Jaipur- Cuisine of India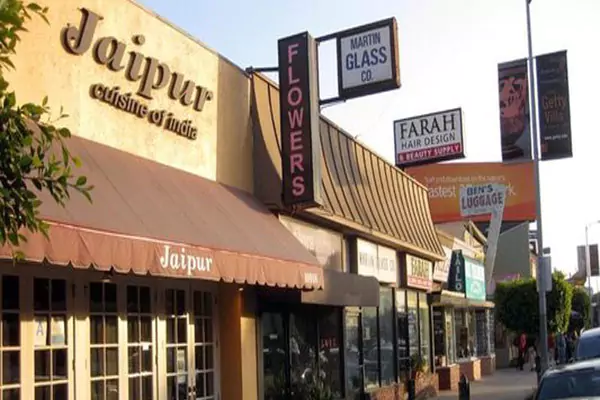 If you are looking for north indian food with Rajasthani touch and some dishes from this area of india, look no more Jaipur Cuisine of India is a great place to dine in, just make sure that make a plan for a movie and dine here at weekends.
They have a variety of entrees like Samosa, chaat, pakora, aloo tikki, roll with rice, and bread you can eat with either veg or non-veg dishes like vegetable kofta, bhindi, chana, karela, or chicken masala, lamb or seafood.
At last, you can have Desserts like pista kulfi or mango kulfi both are their specialties, or ras malai or you can have beverages like juice, lassi, tea or coffee. This restaurant's chef managed restaurants in Germany and Los Angeles for 15 years so you don't have to worry about taste and you can get a 10% discount for online pickup orders.
Address: 10916 W Pico Blvd, Los Angeles, CA 90064
Phone: 310-470-4994
13. Zam Zam market
Zam Zam Market is run by Pakistani immigrants who proudly bring their flavors and culture to this Desi-eating experience. Their menu consists of biryanis, nihari (Delhi Style), all chicken dishes like Chicken tikka, Chicken Biryani, and chicken tandoori, and lamb dishes like lamb biryani and lamb pulao. You can eat main dishes with regular or garlic naan or vegetable of the day or lentils as raita and salad come as complimentary.
You can have desserts like Gulab jamun and sweet rice pudding also known as kheer at last. In beverages, they have lassi, chai, and soft drinks. Call ahead to find out what's available that day. Recently the ownership has changed but the food is even better than before and The price and quantity were very reasonable.
Address: 13649 Inglewood Avenue, Hawthorne, CA, United States, California
Phone: 310-978-1927
Opening Hours: Mon: Closed, Tue-Sun: 11 AM – 10 PM
14. Anarbagh Indian Restaurant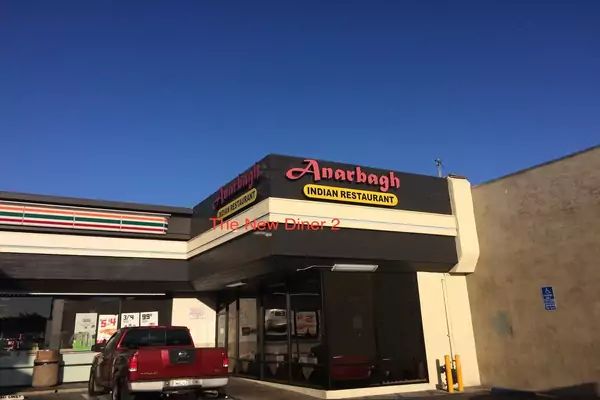 Looking for a restaurant for family dinner, Anarbagh Indian Restaurant provides the coziest and warm environment for family dinners. They serve both north and south indian foods as their chef have 17 years of experience in the art of preparing delicious dishes and are experts in mixing the right spices and ingredients needed for the exquisite flavor and aroma that wrap you in a delicious and amazing experience that keeps you coming back for more.
They offer all 3 services casual dine-in, takeout, and delivery for close to three decades. They have tikka, pakora, kabab, chicken, lamb, and seafood. They have a chef's special too and condiments in which chutney and pickles are offered and from a spicy lamb vindaloo to sizzling platters of tandoori chicken.
Address: 4656 Franklin Ave, Los Angeles, CA 90027
Phone: 323-660-8800
Email: anarbaghla@gmail.com
Opening Hours: Monday: 11:00 am – 10:00 pm, Tue – Sun: 2:00 pm – 10:00 pm
15. Anarkali Indian Restaurant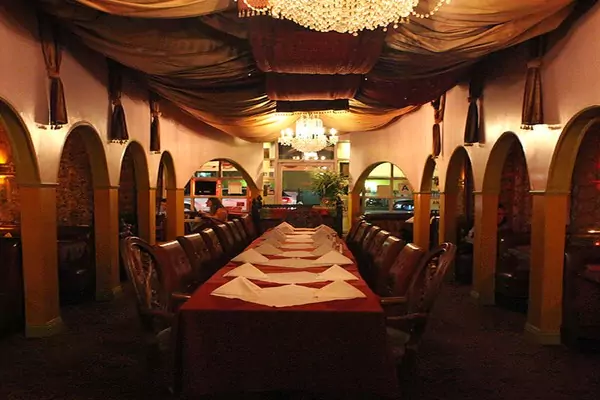 This restaurant is famous for one of the oldest LA's dining restaurants. Anarkali Indian Restaurant's beautiful interiors feel like a royal indian home as it fits with the high-end part of the Melrose Avenue location, LA. The restaurant is family owned and they serve some of the best curry dishes as well as vegetarian and non-vegetarian indian delicacies.
On their website, they said that their goal is to deliver homelike hospitality and they take pride in their ability to discover the most unique flavors from different regions of India and Bangladesh. They have a big menu containing appetizers, vegetarian, masala, coconut curry, jalfrezi, korma, curry, bhuna, vindaloo, mushroom curry, tandoori, rice and biryani, bread, soups, salad, desserts, drinks, and condiments sections so you will take a time to make an order. They also offer a lunch buffet on weekdays. Anarkali Indian Restaurant is open for lunch and dinner.
Address: 7013 Melrose Ave, Los Angeles, CA 90038
Phone: 323-934-6488
Email: anarkali-la@hotmail.com
Opening Hours: Sunday – Thursday: 11:00 am – 11:00 pm, Fri-Sat: 11:00 am – 11:30 pm
16. India's Restaurant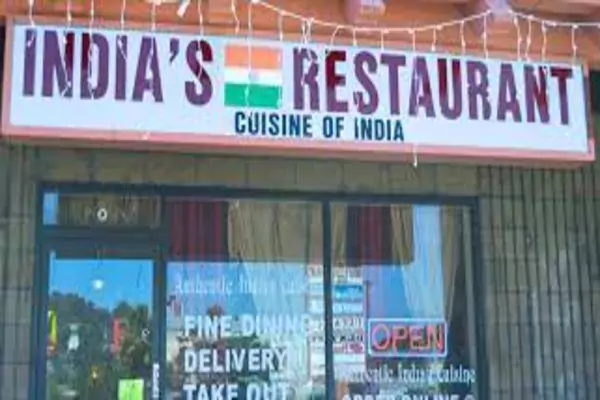 India's Restaurant motto is to provide fresh and rich nutrients foods so the customer's satisfaction and their health can be taken care of. But when you go to their restaurant you can observe they had taken care of the hygiene too as the restaurant is clean as well as their washroom. You will like their regular naan, chicken tikka masala, Steamed Basmati rice, and Goat Vindaloo.
In their buffet, you don't see that much quantity like other restaurants but you will be impressed with the quality, but if you are looking for spicy foods you are in the wrong place their foods are not that spicy and you can have fun eating in the outdoor seating area if the weather is clear and gorgeous.
Address: 4366 Fountain Ave, Los Angeles, CA 90029
Phone: 323-912-9230
Opening Hours: Mon-Sun: 11:00 am – 1:00 am
17. Pijja Palace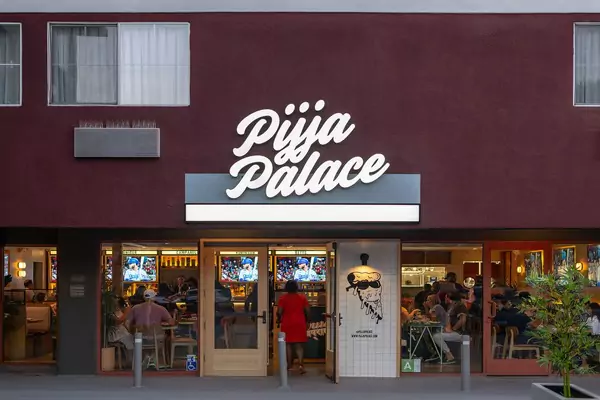 Pizza Palace owner said that when he was 7 years old, the lord told him to open a restaurant and this is that restaurant. Until now, This is a newcomer to LA restaurants with a totally different concept than the typical indian restaurants in LA. The owner has taken the pub's favorites and put an indian spin on them to make it totally unique. The dining space has a more modern vibe and lighter color palette than your typical sports bar and there are three giant flatscreen TVs on each wall showing any sporting match you could imagine.
You won't even mind as raucous LA sports fans cheer on their favorite teams playing on multiple TVs with okra fries seasoned with chili powder and lemon in their hand. Thin-crust pizzas come topped with saag gravy, stinger chiles, or baingan jawa fry, a deep-fried eggplant dish made with mustard oil. Wings are doused in masala and Kashmiri red chilis. But Pizzas are one of the hot favorite food items here with a variety of cocktails, wines, and other drinks to go with the delicacies.
Address: 2711 West Sunset Blvd, Los Angeles, CA 90026
Opening Hours: Mon-Sun: 6:00 am – 12:00 am
18. Annapurna Cuisine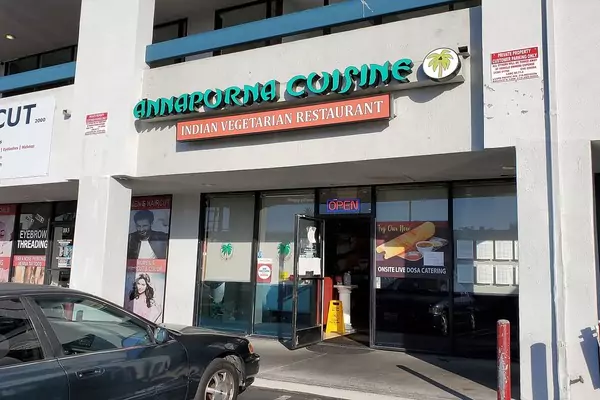 Annapurna Cuisine is one of the best south indian restaurants in a modern setting that have a very minimum line waiting time and good hygiene. The location of the restaurant is the basic mall spot but you come for the vast selection of food, not the atmosphere. It offers reasonably priced indian dishes, which you can enjoy while watching bollywood movies or sports on its giant plasma tv.
As dosa with chutneys or sambar is a popular choice for visiting diners but you can also look for their specialties cooked in Kadhai.The other dishes like uthappams, breads including many flavors of naan, grilled buns, and multi-layered versions filled with butter and garbanzo beans. For desserts carrot halwa, mango-flavored lassi, a rose milkshake, or buttermilk seasoned with chili, salt, and cilantro.
Address:10200 Venice Blvd., Culver City, CA 90232
Phone: (310) 204-5500
Email: contact.annapurnacuisine@gmail.com
19. Bombay Beach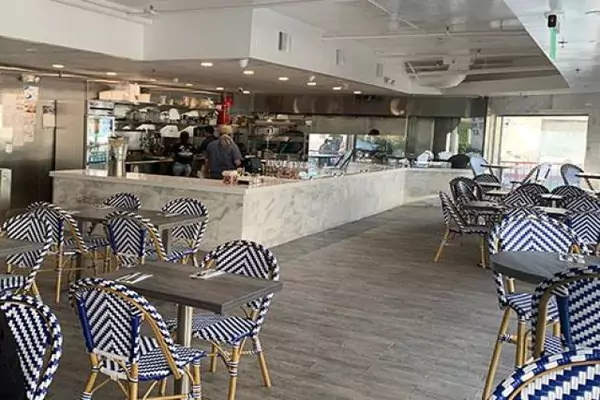 Bombay Beach is not your typical indian buffet restaurant as their owner said: "Not your typical buffet.". In their word, the definition of the best Indian food in Los Angeles is a restaurant that cooks like Nani and their restaurant is just a modern style to this homestyle indian cooking with a very clean and California vibe.
If you are looking for unbeatable food flavors of Aamchi Mumbai in LA, Bombay Beach is the right place for you. Their Part-time chefs Angat and Gurpreet Gaada proudly serve specialties like vegan tikka masala, chicken pizza in Indian style, and the popular vada pav. In addition to their chef's specialties, it may be the best indian food for los angeles taco fans also don't forget to try their delicacies like Rotini pasta, tikka tacos, samosas, chicken karahi, mixed baked veggies, and pani puri.
Address: 1338 W 7th St Los Angeles, CA 90017
Phone: 213-481-6632
Opening Hours: Mon: Closed , Tue – Sun: 11:00 am–2:40 pm 5:00 pm–9:40 pm
20. Jay Bharat restaurant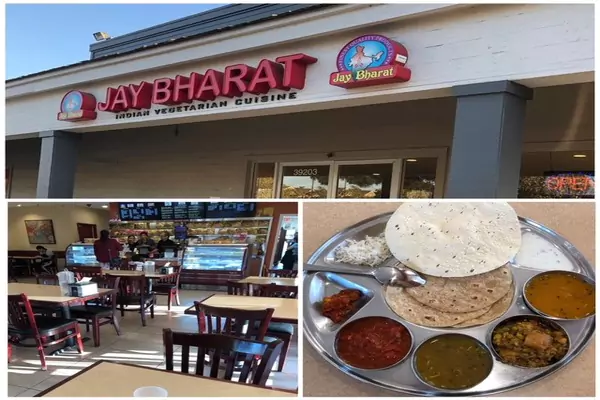 Started as a seller of traditional Indian Snacks store first become a culinary haven for mouth-watering Indian sweets then Jay Bharat restaurant that offered a small yet fulfilling south indian( everyday vegetarian Gujarati cuisine) menu that reflected the traditional flavors of a village-style Indian meal.
They serve food that contains no preservatives as they solely adhere to traditional recipes, relying solely on refrigeration or freezing to extend the shelf life of their food. Their excellent selection of chaat—street food snacks that range from filled, deep-fried puris to khasta kachori, a type of crispy, flaky pastry stuffed with lentils and mung beans are very loved by diners. They have all options dine, takeout, and order. In the Lunch and Dinner specials section, they have thalis or puri/roti sabzi and different varieties of dosa with beverages like falooda and lassi.
Address: 18701 Pioneer Blvd, Artesia, CA 90701
Phone: 562-924-3310
Opening Hours: Tue–Thu: 11 am–8 pm, Fri–Sun: 11 am–8:30 pm
Conclusion
Some are expensive and make you feel like royal with their ambiance and service and some provide best foods in affordable price having all options either dine-in, takeout and order online. Most of the eateries provide lunch and dinner buffets at a reasonable price. Some restaurants provide Wine either beers, red wine, or white wine with your meal or a non-alcohol beverage like lassi.
I also mentioned some South Indian restaurants if you are pure vegetarian or want a gluten-free option due to your dietary restriction.