Top 20
Best South Indian Restaurants in USA
Because of their diverse flavors and varieties, the best South Indian restaurants in USA are in the most demand. Their delicious food, exquisite presentation, impeccable services, and affordable prices along with incredible ambiance, provide a remarkable dining experience to their guests, these reasons make South Indian restaurants one of the best in the USA.
Their cooking style and the ingredient such as rice, vegetables, fruits, coconut, and spices, including cinnamon, cardamom, nutmeg, and clover used while preparing food, All of these features of these restaurants encourage people to try South Indian dishes.
If you looking for the best South Indian restaurants that are available in the different states of USA, Here is the list of 20 such restaurants that we have prepared for South Indian food lovers.
You can also read:
20 Best Indian Restaurants In USA
20 Best Punjabi Restaurants In USA
20 Best Pakistani Restaurants in Texas
Indian Restaurants In New Jersey
20 Best South Indian Restaurants in USA
Greenwich Ave, New York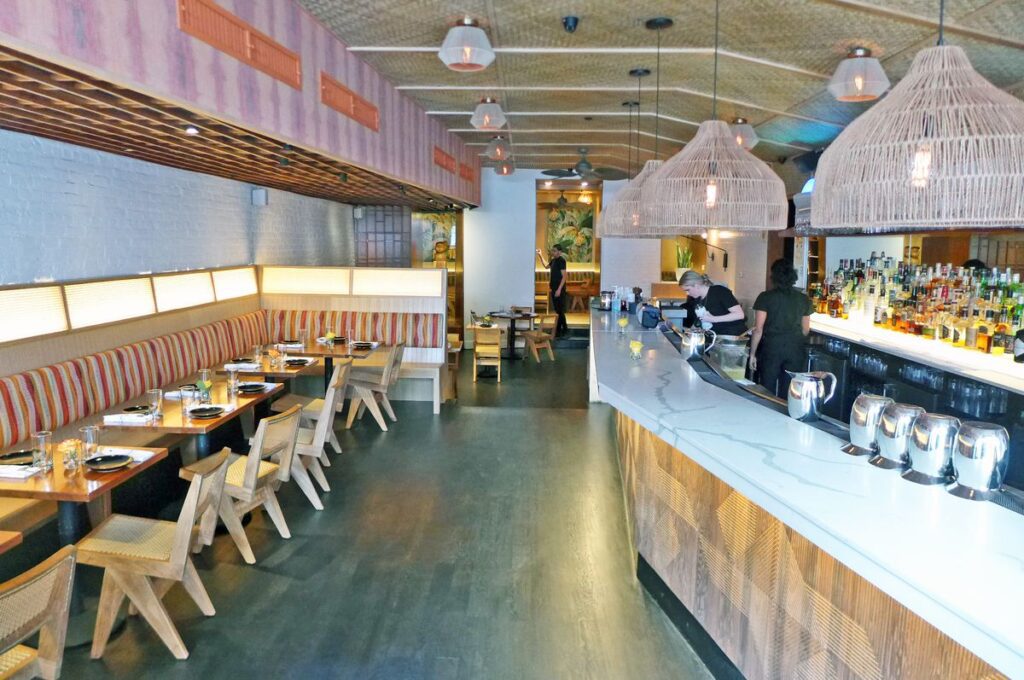 Semma located in New York City's (NYC) Greenwich Avenue is home to a conventional Southern Indian cuisine that is only available in the local households. In 2022, it was the only restaurant that earned a Michelin star due to its high-quality food and stand out as one of the best South Indian restaurants in USA. Chef Vijay Kumar and his team have created one of the menus for the guests that is difficult to find even in India.
Breaking the mold of Indian cuisine across the country, they provide their guests with delectable dishes with explosive flavors and regional ingredients. At Seema, you don't get served good food, in fact, you get served great food in a stylish space with a classical wooden table West Village Charm.
The great thing about the menu is that it is quite varied and it offers a range of south Indian food items such as a crispy uttapam filled with seasonal root vegetables, crunchy, chili-flecked Mangalorean cauliflower, and a masala-potato-filled gunpowder dosa, Seasonal Uttappam, Attu Kari Sukka, and Kanyakumari Nandu Masala. The restaurant which prides itself on being a traditional South Indian one is a worth visit.
Address: 60 Greenwich Ave, New York, NY 10011
Burlingame, California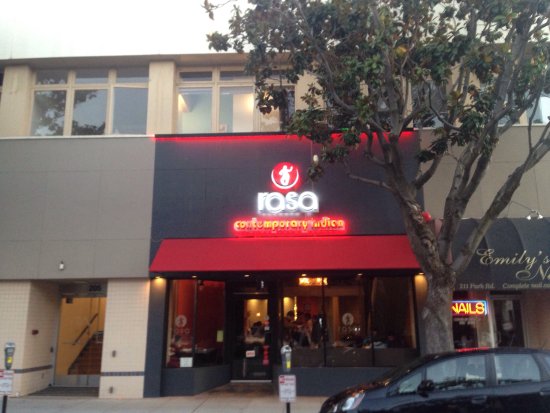 Rasa located in Burlingame, California was founded by the owner Ajay Walia and Chef de Cuisine Vijay Kumar to change the perception of Americans about Indian foods which are thought casual and take-out food by most foreigners. Rasa one of the best South Indian Restaurants in USA has provided new heights to South Indian cuisine maintaining sustainable ingredients and the sophisticated, and traditional integrity of the Indian flavor.
The Michelin star awarded Restaurant has been remarked as "The Bay Area's Best Indian Restaurant " by the San Francisco Chronicle food critic Michael Bauer. The owner Walia who explored the up and down India's coast in order to craft the best menu for the Rasa guests stated that "We have collected plenty of ideas for our recipes that are not going to last for a very long time."
To maintain freshness, Chef Kumar always prefers to buy fresh, sustainable ingredients, and organic produce from the Burlingame farmers market and looks for sustainable seafood and free-range meats from local farms.
Their menu lists a range of delicious-sounding items such as butter chicken, dosa Indian-inspired grain, meat, and veggie bowls with a long list of classic South Indian sides. Despite its own style, each dish is served with a unique depth of flavor and with a vibrant pop of color.
Address: 209 Park Rd, Burlingame, CA 94010
Nationwide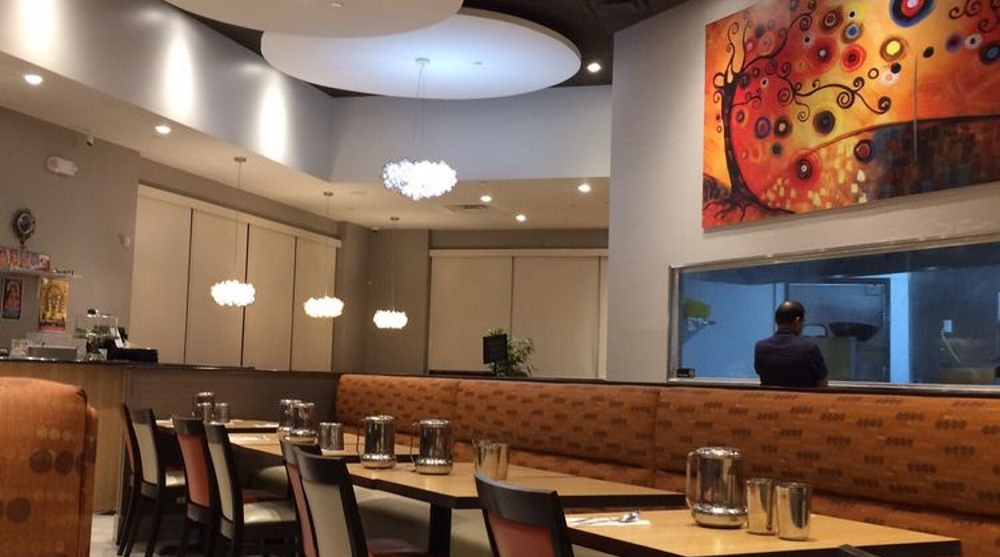 Founded in 1981 by P. Rajagopal, Saravanaa Bhavan the largest chain of Indian restaurants in the world has made the world taste vegetarian South Indian food. With the help of 81 locations outside India, Saravanaa Bhavan has been serving up quality vegetarian South Indian meals on a daily basis.
Ever since the launch of this endeavor, the team of Sarvana has been the favorite among the locals as well as visitors by providing them with traditional South Indian cuisine and lunch buffets, making every dish with quality ingredients brought from multiple locations in America including Texas, New York, California, and New Jersey.
With a laid-back atmosphere and quality food, Saravanaa is one of the favored and best south Indian restaurants in USA providing a range of south Indian food such as the country's best dosas, idli, and vada. Besides masala dosa, other options are also available such as masala dosa filled with spiced potatoes, cheese, and onions dosa, and dry nuts & raisins, or paneer dosa.
For those who have sweet tooth, sweets items are also available such as badam halwa (ground almond cooked with honey and butter) or gulab jamun (milk and cheese balls soaked in syrup and rose water). Be sure to visit Saravanaa Bhavan, if you are in the mood to taste delicious South Indian food.
4. Udupi Palace
Valencia St, San Francisco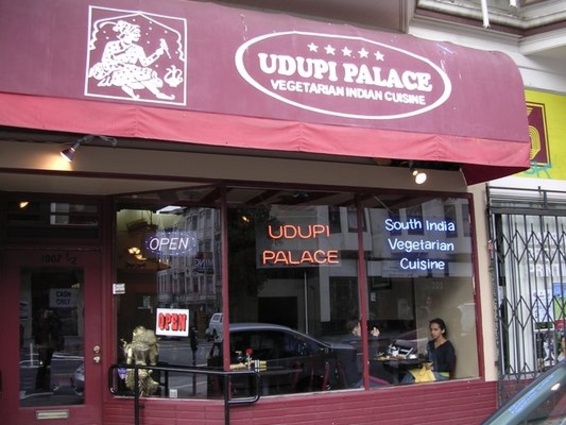 The Udupi Palace located in San Francisco has become the cornerstone of the South Indian cuisine in the town. The chef and the owner of the restaurant with experience of cooking over 20 years always enjoy serving their guests by offering authentic regional South Indian and North Indian, Vegetarian cuisine. They never compromise the taste, quality, and flavors of fine Indian cuisine while serving their guests making sure they have a great experience regarding our services.
They are determined to upgrade their services every now and then. They are making every effort to convince the foreigner that Indian cuisine is not all about just curries and naan. To give a memorable dining experience, they provide first-timers and South Indian cuisine lovers with soft spongy Idlies, Uthappams, and Dosas complimented with authentic homemade Sambhar.
People can enjoy several traditional South Indian dishes such as idly, samosa, uthappam, thali, curries, and sweet puri. Besides they have special pastries filled with potatoes, yogurt, and mint in a casual and inviting atmosphere. It is one of the best South Indian Restaurants in USA.
Address: 1007 Valencia St, San Francisco, CA 94110, Phone: 415-970-8000
5. Kochi Indian Cuisine
Hightstown, New Jersey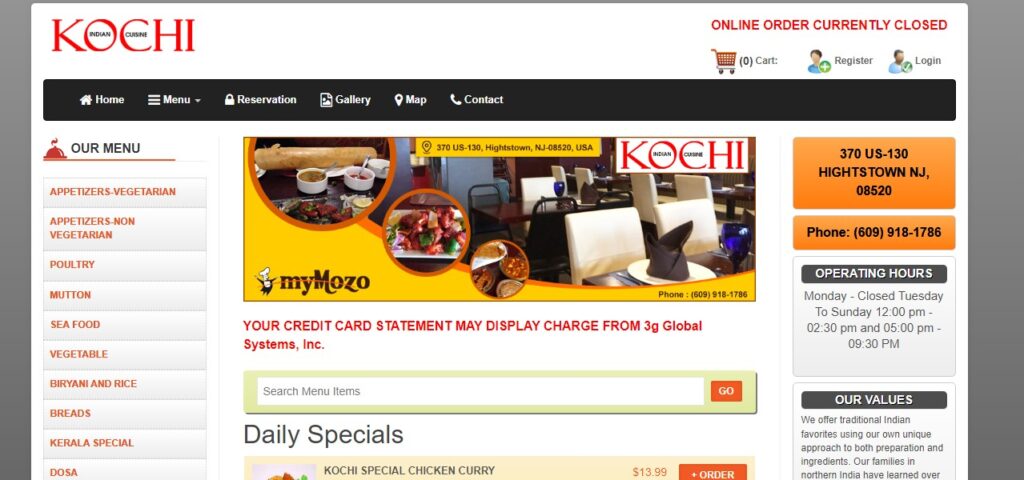 Kochi Indian Cuisine is a traditional Kerala-style Indian joint in New Jersey. When it comes to one of the top South Indian restaurants in USA, Kochi Indian is a must-try. With quality South Indian food and a relaxed and polished atmosphere, this Indian restaurant has become the gem of the town and is considered the most popular joint among locals and tourists alike.
The owner and the partners of the restaurant Matt and Tom belong to different parts of India, Matt comes from the North and Tom comes from South India. Matt is an alumnus of the Institute of Hotel Management and Catering Technology in Nagpur, India and Tom is from Cornell University's School of Hotel Management. They have opened this restaurant with the objective that is to create a unique fusion of North Indian and South Indian Cuisines focusing on Kerala and Chettinad cooking.
Creating Indian food with love and the best possible ingredients, Kochi Indian Cuisine serves its clients every dish with warm service from the friendly staff. Their menu lists a range of delicious-sounding items such as Kochi special chicken curry, vegetable kurma, and chicken biryani. Be sure to try their Kerala chicken curry with coconut milk and their delightful daal makhani.
Address: 370 US-130, Hightstown, NJ 08520
6. Paper Dosa
Santa Fe, New Mexico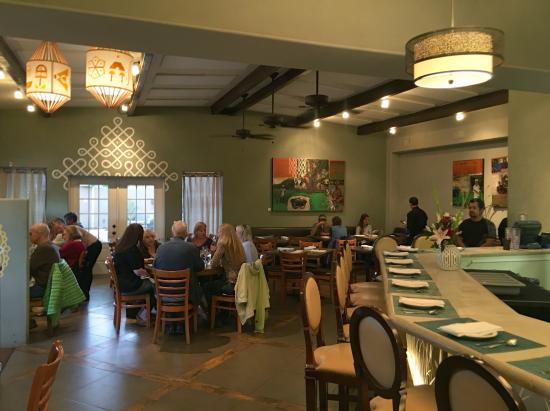 Paper Dosa located in Santa Fe', New Mexico specializes in offering South Indian cuisine. Boasting many flavors, ethnicities, and placid atmospheres, this Indian joint has been serving dedicatedly to its visitors all of its amazing dishes from the Rasam fire broth to the Kovai chicken curry.
Paper Dosa, one of the best South Indian Restaurants in USA, is owned by chef Paulraj Karuppasamy and his wife and business partner, Nellie Tischler. As chef Paulraj belongs to Tamil Nadu, India, and his partner Nellie is from Santa Fe. together they opened this restaurant with a mission to provide the public with fresh, seasonal, and genuine South Indian cuisine.
There is also a variety of dishes inspired by South Indian food on the menu such as rice, lentils, spices, herbs, and coconut, Paper Dosa. whatever this joint provides is pure vegetarian and gluten-free except for one appetizer (Behl Puri) and one dessert (Gulab Jamun).
In starting, this restaurant was a catering business and a pop-up restaurant in the Santa Fe vicinity. Later seeing its popularity, it was converted into a sit-down restaurant, and since then it has been popular among food enthusiasts.
Address: 551 W Cordova Rd Santa Fe, NM 87505
7. Tiffin Asha
Portland, Oregon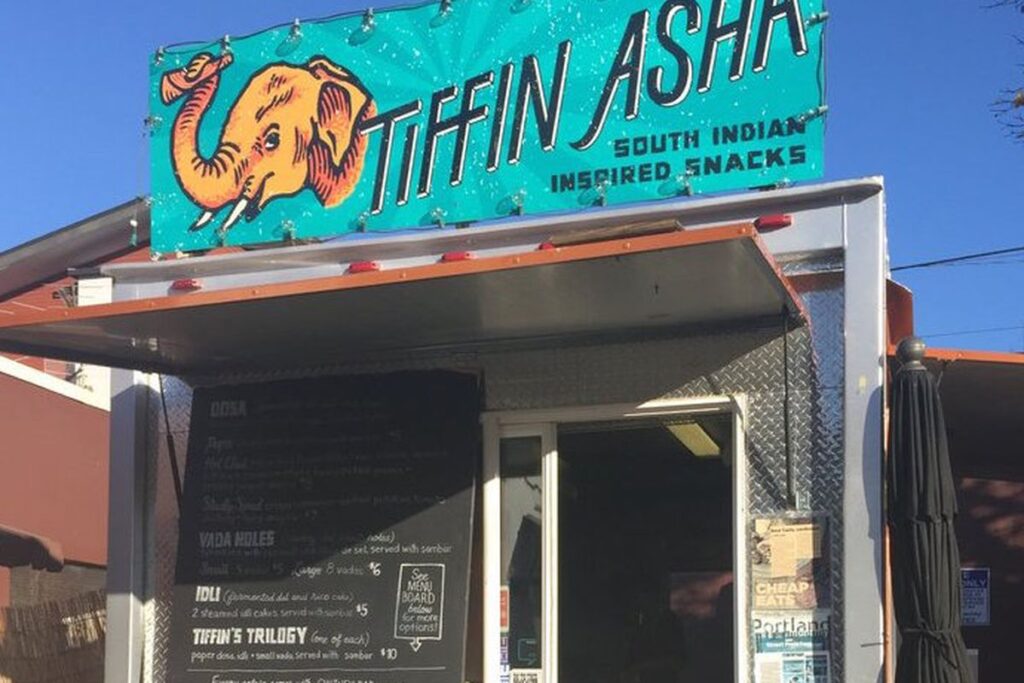 Tiffin Asha located in Portland, Oregon is not only one of the best South Indian restaurants in USA but also one of the best restaurants in the country. Run by Chef Elizabeth Golay and his wife Sheila Bommakanti, Both are dedicated to providing some of the best South Indian dishes in USA.
As per chef Elizabeth Golay that he started to love South Indian cuisine after meeting and falling in love with Sheila Bommakanti, a civil rights attorney from South India. As per chef Elizabeth Golay that he started to love South Indian cuisine after meeting and falling in love with Sheila Bommakanti, a civil rights attorney from South India. In the beginning, Tiffin Asha was just a food cart run by Elizabeth in 2013 but later in 2017, with the help of his wife, he turned the Tiffin Asha into a full-fledged restaurant.
Their south Indian dishes imbued the Indian tradition and flavor with the local ingredient to enhance the flavor of the dishes. Try their idli fries, crispy curry leaf offered with curried ketchup.
You might be full, but you cannot skip kulfi (a South Asian ice cream made with milk and cream) in huckleberry-rose compote. Their gun powders such as red, white, green, or black powders made with spices and lentils are very popular. Be sure to try their delicious Hot Chick Dosa (chicken pakora with black cardamom-infused honey, pickled kale, and creamy yogurt cheese) or Studly Spud (Yukon gold potatoes with tomato chutney and peppers).
Address:1670 NE Killingsworth St, Portland, OR 97211 Vernon, Northeast Portland
8. Biju's Little Curry Shop
Denver, Colorado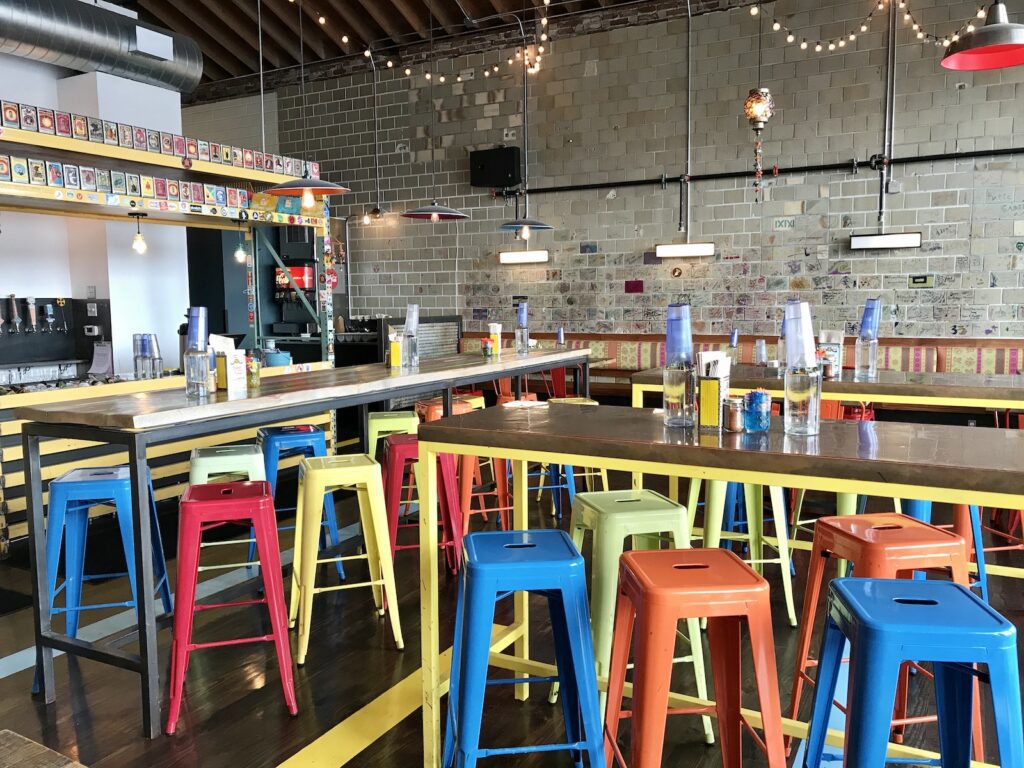 Biju's Little Curry Shop in Denver, Colorado is the best choice for individuals who enjoy sophisticated dining which is at its finest. It is considered one of the most popular restaurants with a South Indian-inspired menu among locals and tourists. Considered a must-visit restaurant for anyone who's enthusiastic about South Indian food in Colorado, Biju's Little is worth visiting for food enthusiasts.
Biju's Little offers authentic South Indian dishes such as masala beef stewed with garlic and ginger, and X-Hot Vindaloo Chicken. but the hidden gem on the menu is the restaurant' staple ingredient; all the south Indian dishes bowls are served with fresh curry leaves blended with spices and chile peppers to enhance the flavor. Options that are available for the visitors are many such as beef, chicken, and vegetarian options. This is one of the best South Indian Restaurants in USA.
Address: 4279 Tennyson St, Denver, CO 80212
9. Dosa by Dosa
Oakland, California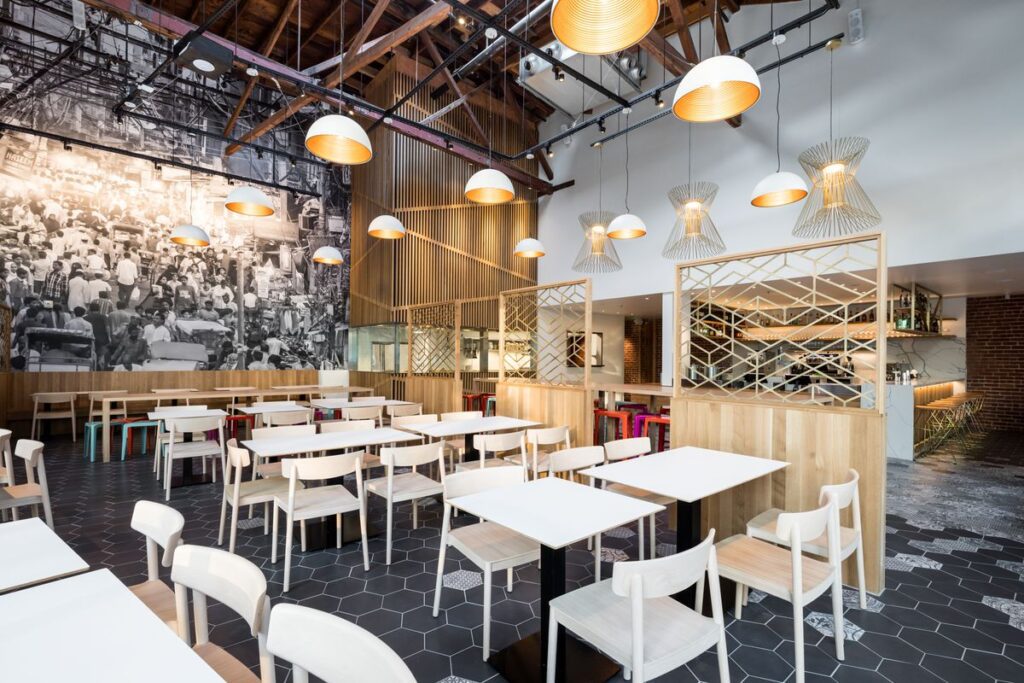 Dosa by Dosa located in Oakland, California is one of the most favored restaurants among Dosa lovers. With style, passion, and respect for the Indian heritage, they serve their star dish which is a south Indian Dosa made from lentils and rice flour. Dosa by Dosa bagged Michelin awards for twelve consecutive years this achievement proves the supreme quality of food. Founded in 2017, this Indian Joint has brought regionally-inspired vegetarian South Indian food and beverages to the USA and is now recognized as one of the best South Indian restaurants in USA.
Visitors to the restaurant can expect to find south Indian dishes on the menu such as Salads made from coconut, kale, and mung beans; street wraps, made from a grilled roti stuffed with fillings like prawns cooked in coconut milk and fresh curry leaves; butternut squash daal with plain or lemon rice south Indian classic. And one of its meatier fares is creamy butter chicken.
Address: 2301 Broadway, Oakland, CA 94612
10. Mayura Indian Restaurant
Venice Blvd., Culver City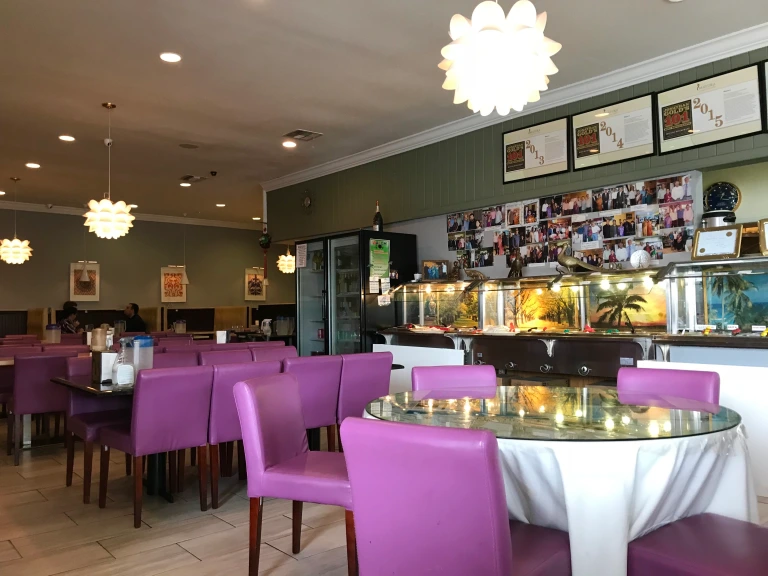 Mayura Indian Restaurant in culver city provides you with great service and innovative delicious meals in a laid-back atmosphere. If you are planning to have "Authentic South Indian cuisine" with something special to eat in relaxed surroundings, Mayura, one of the best South Indian restaurants in USA, is the place for you. As we know Mayura, in Sanskrit, means peacock which is the symbol of elegance and grace so Mayura's team is determined to provide the best Indian food with elegance and grace.
At Mayura, Food is served in a celebration manner adding some extra magic that ensures delight and happiness to the visitor's sense of taste. Their chefs are trained to cook traditional South Indian meals using fresh ingredients. They have separate kitchens for both vegetarian and non-vegetarian visitors who can choose any option available.
Their menu includes a variety of dishes such as rice dishes, beverages, soups, lunch, dinner specials, vegetarian, non-vegetarian, fresh seafood, bread, sweet, and side orders creating everything from fresh vegetables and meats. Visit and delight yourself with classic Indian food at Mayura Indian restaurant.
Address: 10406 Venice Blvd., Culver City, CA 90232, United States
11. Ganesh Temple Canteen
New York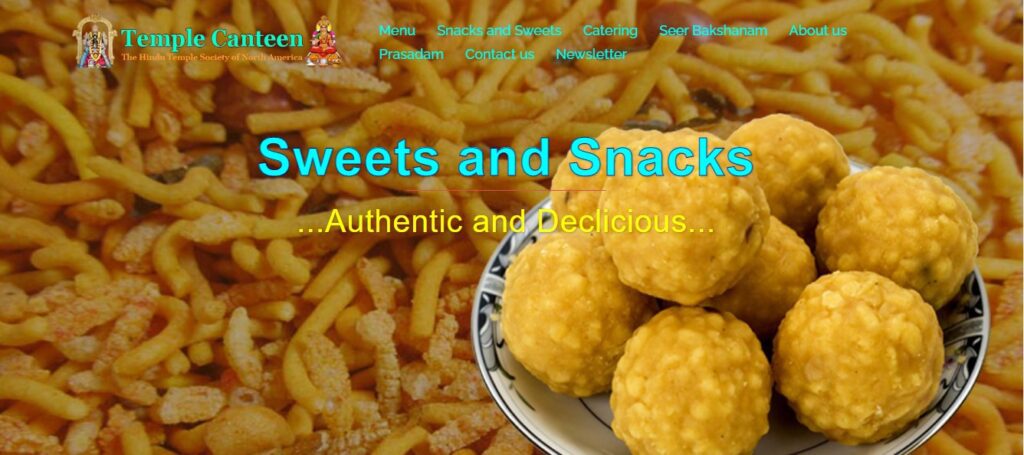 If you are looking for some of the best, most authentic food, and the best dosas in New York, then head on to suburban Flushing and the Hindu Temple Society of North America, also known as the Ganesh Temple Canteen one of the best south Indian restaurants in USA.
This temple canteen was started in 1993 with the aim to make naivedyam, or food offerings for deities. In no time, it became so popular and grew rapidly that they had to shift it to a bigger location in the temple's community center in 1998. The canteen is very popular among the devotees for its authentic South Indian food.
Here visitors can enjoy the traditional flavor and taste of idli, vada pav, upma, and a variety of dosas such as pondicherry masala dosas, and ghee masala dosas.
Address:143-09 Holly Ave Flushing, NY 11355
12. Dosa Grill
North Brunswick, New Jersey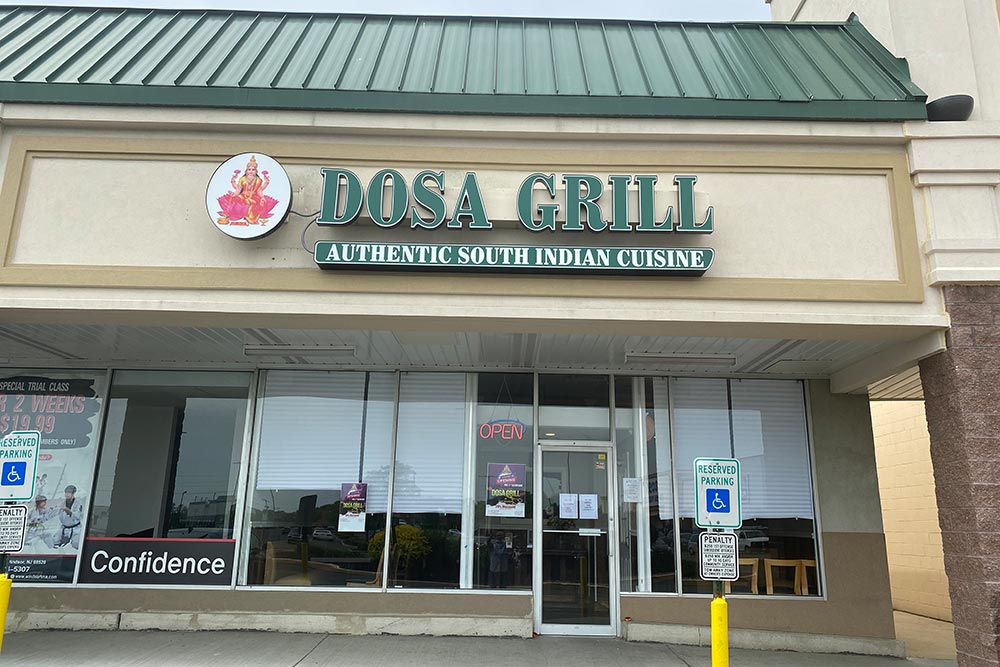 Located in North Brunswick, New Jersey, Dosa Grill has been providing the best dining and catering services with authentic flavors of north and south Indian fares without sacrificing the taste and flavors of fine Indian Cuisine. Maintaining complete consistency in its fine quality and taste and hospitality for almost 20 years, Dosa grill has earned the title of an iconic restaurant in New Jersey.
Having a unique taste of gluten-free food always cooked freshly, their guests enjoy authentic Indian food in an inviting ambiance. when it comes to the variety of food at Dosa grill, we have a vast list of South Indian food such as idli (steamed rice cakes) with sambar and chutney, dahi vada (deep-fried lentils covered in a thick yogurt), samosas, papdi chaat, and bhel puris, and their special dosas like paneer dosa (filled with paneer cheese) or the Andhra special dosa (filled with spices, onions, and potatoes).
It is one of the top South Indian Restaurants in USA.
Address: 1980 NJ-27 #3, North Brunswick Township, NJ 08902
13. Godavari
Tampa, USA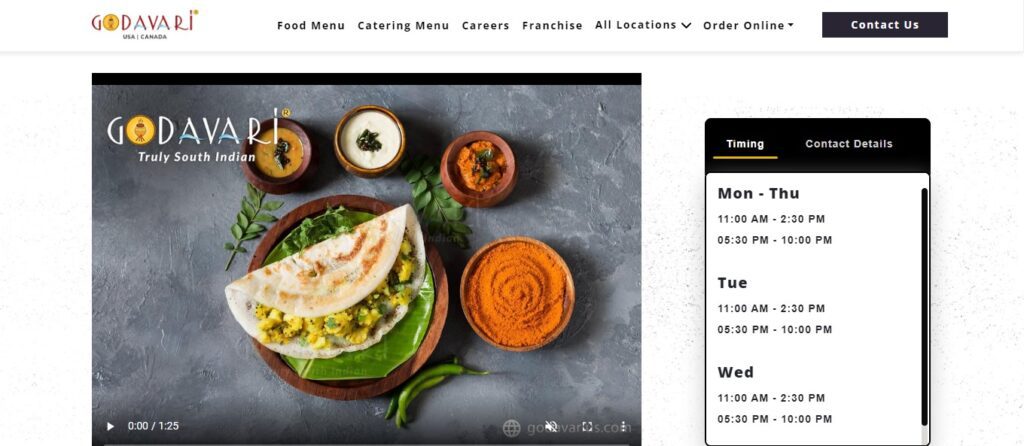 Nothing beats delicious food. If you want to enjoy great service and special delicious Indian food in USA, Godavari Indian Restaurant is the best choice for you. From multiple locations in USA, Godavari serves its guests authentic South Indian food and claims to be for sure one of the best South Indian restaurants in USA. In contrast to the conventional approach to the food industry, Team Godavari has been using advanced techniques to build its brand, maintain the quality of its food and serve its guests.
At Godavari, they always strive to serve food that is no less than homemade food. Their unique blending of spices and classic recipes is something that makes their clients visit it again and again. Their menu lists a range of South Indian items such as Biryani, Dosas, and of course their Chicken Marsala. Every weekend they arrange a buffet for the guests. People can avail of their services at weddings, and special events and enjoy the flavors of Godavari's food.
Address: 1251 E Fowler Ave B2, Tampa, FL 33612,
14. KUMAR'S HOUSTON
Houston, USA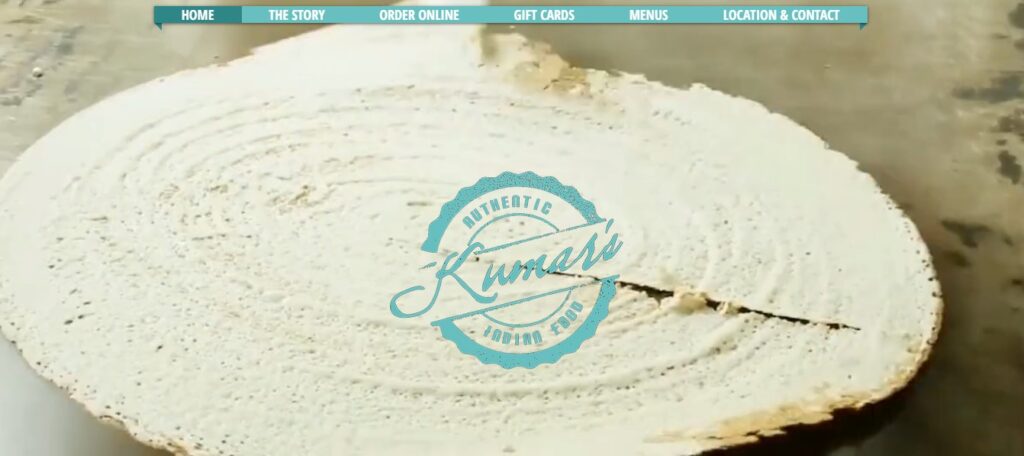 Located in Houston, Kumar's has brought vegetarian South Indian meals to USA. the meal is served right away at the guest table on a banana leaf. Kumar's plain decor and the casual setting provide it with a laid-back atmosphere.
The joint serves its guests freshly prepared dishes along with the local ingredient to emulate the flavor of the dishes. Nothing can compare to our Mega Meals, for our guests it is the best feast ever. Indulge in our weekend's treats at their finest. Come with your gang of friends with whom you want to share our South Indian special thali. Our menu consists of Goat bone and spicy tomato soup for the main course. Entrées feature chicken, fish, and other dishes in various sauces with a side of rice or naan.
Apart from these, vegan and vegetarian-friendly options along with desserts available at Kumar's. It also gives its services to parties, corporate functions, and other occasions. The guests can use their services of home delivery and takeout if they are willing to eat their food at home. This is one of the prominent South Indian Restaurants in USA.
Address: 8383 Westheimer Rd #168, Houston, TX 77063, United States
15. Chennai Dosa Corner
Pioneer Blvd, Artesia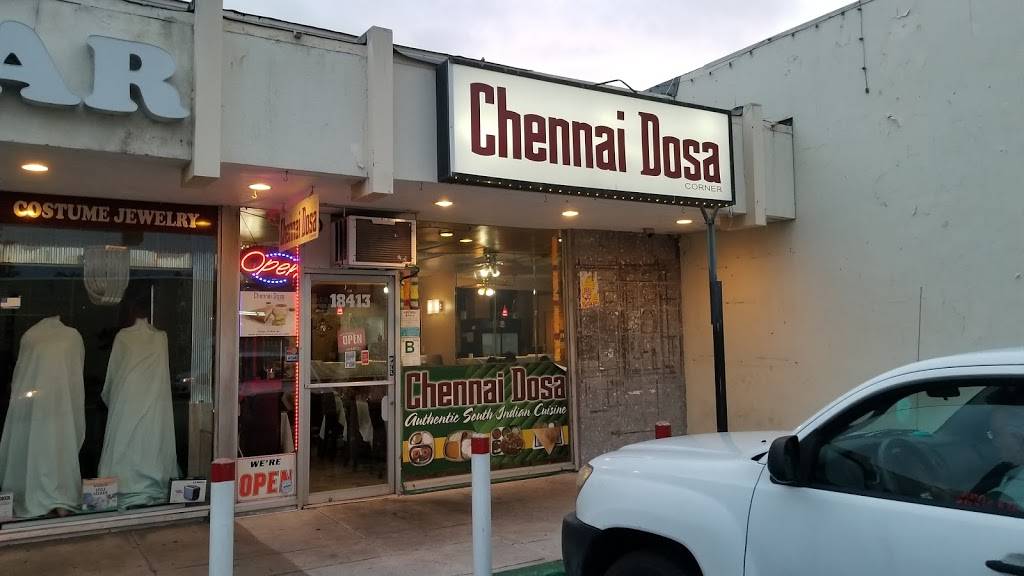 Located in Pioneer Boulevard in Artesia called Little India, Chennai Dosa Corner was started with the objective to serve exquisite South Indian cuisine. with great ambiance, exquisite presentation, excellent service, and exceptional food at affordable prices, guests can experience and relish great authentic Indian Dishes. All the guests can enjoy the natural taste of India imbued with extremely rich nutrients served at the Chennai Dosa Corner, one of the best South Indian restaurants in USA.
Each dish at the restaurant reflects the Indian flavor and tradition along with the local ingredient to enhance the flavor of the dishes. Sham Itheek owner of the restaurant has opened this 10-seat shoebox-shaped restaurant on the line of quick service shops in the cities.
Chennai Dosa Corner like its name serves mouth-watering idli and piping hot dosa with sambar and chutney. There is also a range of dosas like egg-filled dosas, semolina-based rava dosas, dosas enfolding melted paneer cheese, extra-large family dosas, and — especially for kids — plain dosas folded into the conical shape of witch's hats.
Address: 18413 Pioneer Blvd, Artesia, CA 90701
16. Woodlands
Westborough, Massachusetts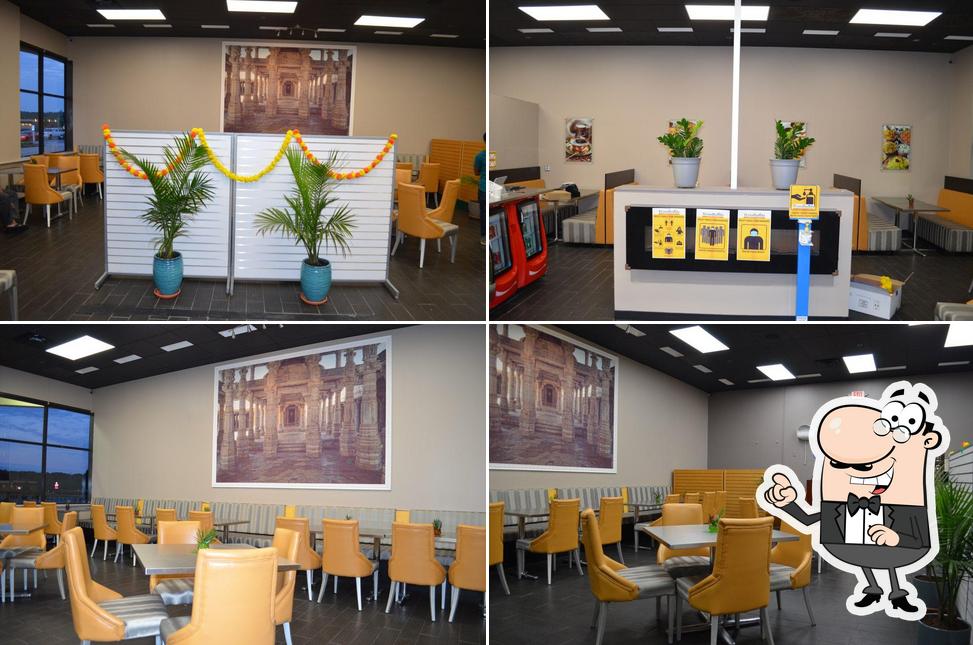 Woodlands is one of the Pure vegetarian South Indian restaurants in USA. it can be considered one of the most popular restaurants among both locals and tourists alike. It is one of the growing food chains in the Northeastern part of USA, striving to provide an authentic and unique taste first time ever to visitors and food lovers in and around Northeastern states.
The owner and his team are determined to bring back authentic Indian food & classic Indian vegetarian food taste to the foreign land. We provide our customers with a unique combination of South Indian food and North Indian vegetarian food flavors with innovative styles. Our menu is based on a mantra which is being different and thinking differently and we try to bring the same factor into our dishes.
Presently, Indian food has become one of the fastest-growing cuisines in the world. South Indian Cuisine is a combination of more ground masalas, which includes coconut, red chilies, coriander, whole spices, mustard & curry leaves play a major role. Each dish of the restaurant provides complete nutrition, minimizing cravings and balancing the appetite and digestion.
Address: 290 Turnpike Rd Suite 180, Westborough, MA 01581- ph. (508) 366-9000
17. Kalpasi Indian Cuisine
Northern Virginia, USA
Kalpasi a Southern Indian Cuisine in Northern Virginia is considered one of the spiciest and the most aromatic in the Town. its use of a variety of spices is prevalent among the locals as well as tourists.
Providing the freshest and most delicious dishes take-out, it is the best Chettinad cuisine in the town and comes among the top south Indian restaurants in USA. We serve lunch and dinner which are hot and pungent with fresh ground masalas. Boasting a warm atmosphere with a vast dining area, this restaurant is best in traditional Southern Indian delicacies featuring a full-service bar.
They deal in only halal meats certified by Halal Food Authority and don't add monosodium Glutamate (MSG) to any of our dishes. Vegetarian, Non-Vegetarian, and Gluten Free choices are available for the customer for their convenience at Kalpasi Indian Cuisine. Some of their must-try are kothu paratha, paneer tikka masala, and appam. They also provide catering services.
Address: 13055 Worldgate Drive, Herndon, VA, United States, 20170
18. Swagath Gourmet
Edison, New Jersey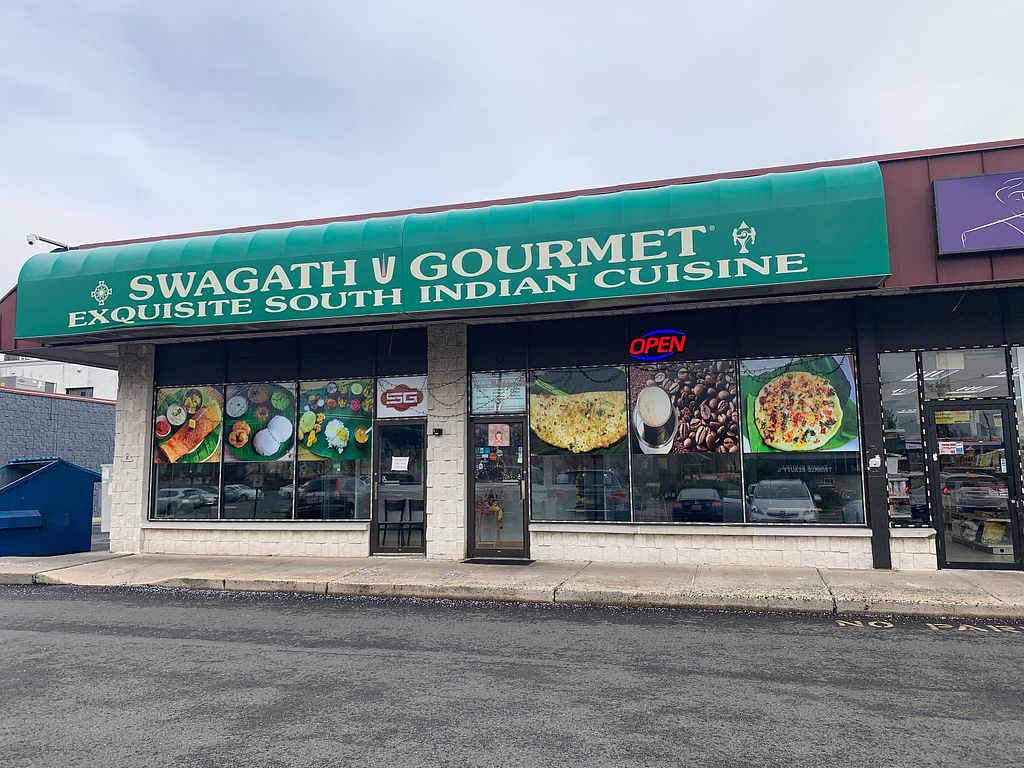 Swagath Gourmet (USA) was established in 1988 by the Iyengar family who hails from Mysore, Karnataka, India. They opened this restaurant with a vision to serve the Indians as well as Americans by providing them with authentic South Indian Vegetarian dishes. It has been two decades since Gourmet started this restaurant business in a foreign land. During this long journey while serving their customer they never compromised their food quality, and they are recognized for their quality in the town.
This Indian fare provides not only tasty tikkas and comforting curries but also include all kind of South Indian delicacies that are less spiced and good for those with softer palates.
Swagath Gourmet's South Indian specialties such as rava onion masala dosa, medu vada, bisibele bhaat, or the Mysore thali. The menu includes all kinds of Gujarathi, Punjabi, and South Indian, snacks/spices, desserts, and beverages. It is considered one of the best South Indian Restaurants in USA.
Address: 1700 Oak Tree Rd #17, Edison, NJ 08820
19. Amma's Kitchen
Edison, New Jersey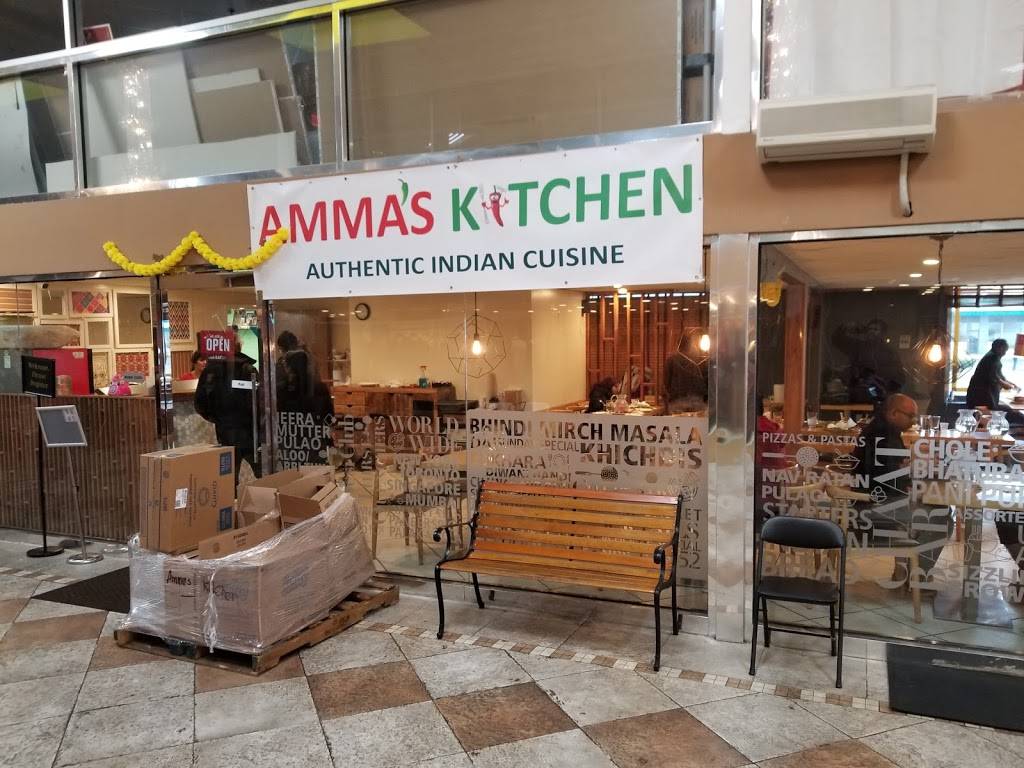 Amma's Kitchen located in Edison, New Jersey, has come a long way in providing superb South Indian cuisine to the locals as well as tourists in New Jersey. Due to its low-cost concepts, the restaurant is quite popular among Edison citizens and has become one of the best South Indian Restaurants in USA.
The team of this venture is dedicated to serving traditional classic favorites and original new dishes that ingrained south Indian flavors and besides, they don't compromise on the quality and taste of the food. The staff of Amma's Kitchen is very supportive and always ready to guide their indecisive guests who are not familiar with South Indian cuisine.
The ownership and staff at Amma's create all the dishes to provide the utmost satisfaction to their guests in any case. At Amma's Kitchen one can have a South Indian thali for just 1 American dollar, Can you Imagine? Among their dishes are which you can try here including Chicken kothu, parotta with chicken curry, and Mysore dosa. In Amm's Kitchen, all the Spicy South Indian food is prepared from Chick Pea Flour, Pea Flour, Rice Flour, and other natural spices.
Address: 1700 Oak Tree Road, Edison, New Jersey, United States, 8820
20. Aamar Indian Cuisine
Atlanta, USA
When it comes to one of the top South Indian restaurants in USA, Aamar Indian Cuisine is a must-try. With excellent South Indian Cuisine, outstanding services, and friendly staff, Aamar Indian Cuisine has become the cornerstone among Atlanta's residents as well as outsider food lovers. What Aamar is serving is its modern interpretation of South Indian cuisine using high-quality fresh ingredients.
Amar Indian Cuisine's dishes reflect the culture and flavors of Indian food in an atmosphere that is genuinely relaxing. In order to provide a relaxed and welcoming experience they have converted their style of courtly dining to sublime art. Whether you are celebrating a special occasion or creating new memories with your families or loved ones, Aamar Indian Cuisine is the place for you.
Aamar Indian Cuisine's Menu offers authentic dishes such as Appetizers- Vegetable Samosas (2 Pieces), Vegetable Pakoras (4 Pieces), Chicken Wings Aamar Style (6 Pieces), Soups- Mulligatawny Soup, Coconut Soup, Chef Specials- Chicken Tikka Masala, Butter Chicken, Lamb Tikka Masala, Vegetarian Specialties- Niramish (Assorted vegetable curry with carrots, green peas, cauliflower, green beans, zucchini, chickpeas, etc.), Aloo Gobi, Tarka Daal, Chaana Bhaji, Desserts- Firni, Laal-Mohon, Beverages- Mango Lassi, Mango Juice, Diet Coke, etc.
Address: 100 Luckie St NW Atlanta, GA 30303, (404) 257-6959