Top 20
Fun Things To Do In Virginia Beach
Virginia Beach, a beautiful coastal city with 38 miles of shoreline and amazing family attractions, is located at the convergence of the Chesapeake Bay and the Atlantic Ocean.
Spending a vacation at Virginia Beach is considered to be an ideal beach escape as it serves its visitors with sand, seafood, marine life, and lots of exciting entertainment. It is up to the visitors that he is able to find valuable spare time to enjoy live music, eat fresh seafood, and wander along the Atlantic Ocean, viewing the unmatched scenic beauty of the ocean.
There are a number of fun things to Do in Virginia Beach that make Virginia Beach a great destination for tourists to spend a relaxing holiday and also to be the factors that attract tourists again and again. No matter, if you are coming alone or with family or with your friends' group, this place is the right destination to spend a vacation.
Here is the list of the top 20 cool and fun things to do in Virginia Beach for you to make the most of your time in this cool East Coast city.
you can also explore more fun things and activities of other states of USA, by clicking below:
20 Fun Things to Do in Indiana
20 Fun Things to Do in Florida
20 Fun Things to Do in New York
1. Race the tracks at Motor World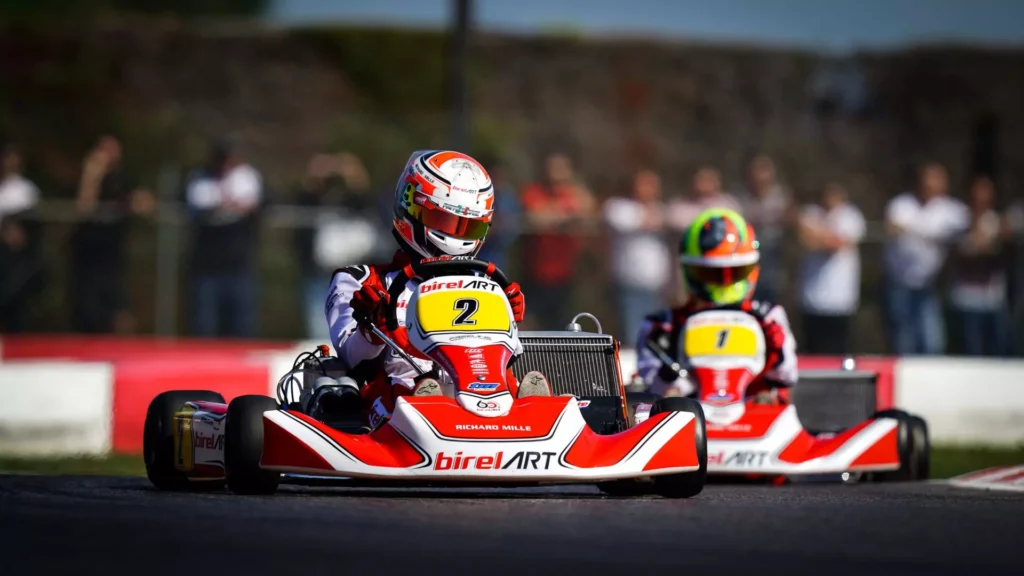 Virginia Beach offers several thrilling and fun things to do In Virginia Beach for fun enthusiasts, the motor world is one of them where you can spend your day while racing and go-karting on the track. There is no age bar, fun and excitement are available for all ages at the motor world, a special place for car and race enthusiasts.
On the East Coast, It has the largest go-kart complex as it possesses ten go-kart tracks, fourteen different styles of go-karts, 250 total karts, bumper boats, kiddie attractions, an arcade, games, cuisine, and more.
After enjoying your race, if you feel tired there are other things for your enjoyment as you can amuse yourself at the amusement park, for kids there are kid-friendly rides, get on the heart-pounding Skycoaster and win the bumper boat battle to experience the thrills.
Address: 700 S Birdneck Rd, Virginia Beach, VA 23451, United States
Phone: +1 757-422-6419
Website: www.vbmotorworld.com
2. Get close to nature on a kayaking tour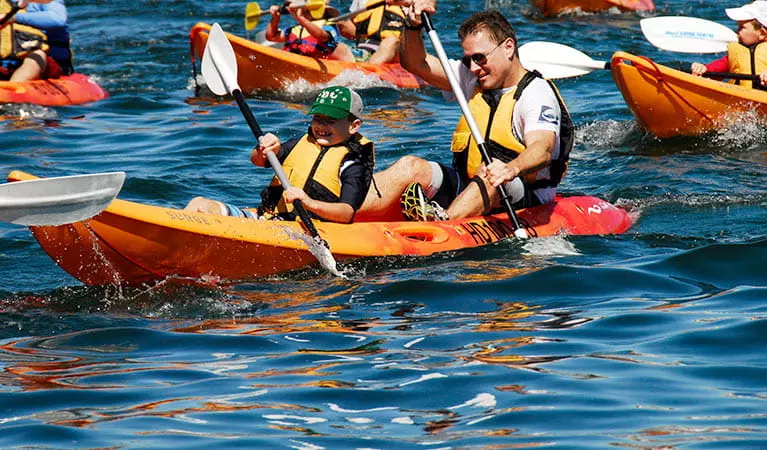 If you wish to cherish your vacation in a different way, there are many fun things to do in Virginia Beach. Go kayaking might be a better option, especially at the time of sunset when you can watch the captivating beauty of the sea as the day slowly becomes the night.
In search of adventure, Go deep into the clear ocean using your paddle blades, you may come across some interesting seabirds and wild dolphins leaping over the seas playfully.
There is a wide range of kayaking trips throughout different waterways, and tours are specially planned and created to provide our clients with an adventure that is genuinely instructive, thrilling, and memorable. There are different kinds of tours for everyone.No prior kayaking knowledge is required.
3. Explore False Cape, State Park while hiking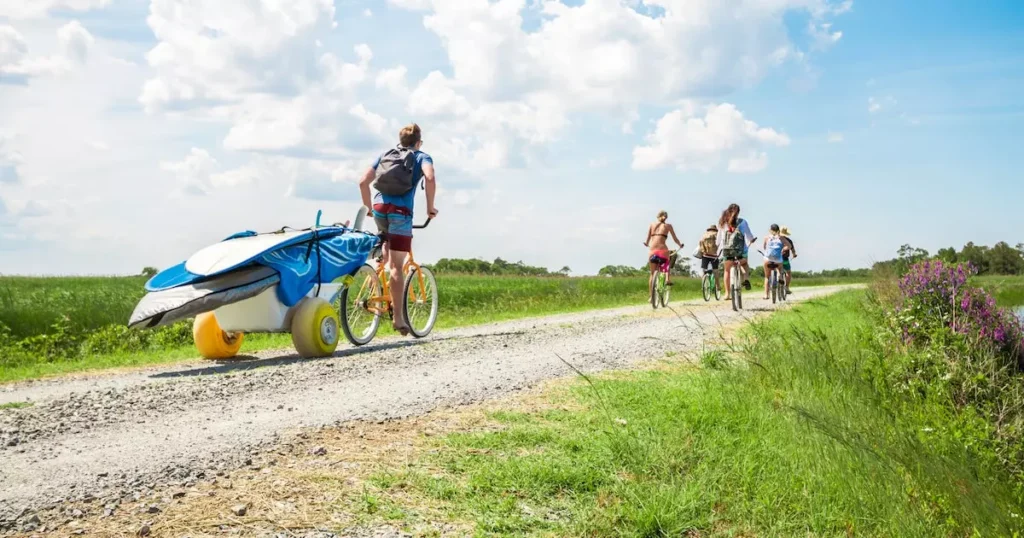 False Cape, State Park is one of the still existing wilderness places in Virginia Beach. Providing several options for cool things to do in Virginia Beach, the park offers visitors the opportunity to explore nature. Pursuing the adventure here, you can explore the forest trails, go seashell hunting on the beach, or sail in a kayak while looking for wildlife. If you feel tired of walking, you can use a tram trip to explore the wilderness.
There are so many other activities that False Cape offers to its visitors such as wildlife excursions, kayak excursions, bird watching, astronomy programs, environmental education programs, and rustic camping along with field tours and so forth.
4. Take A Flight In A War Plane At The Military Aviation Museum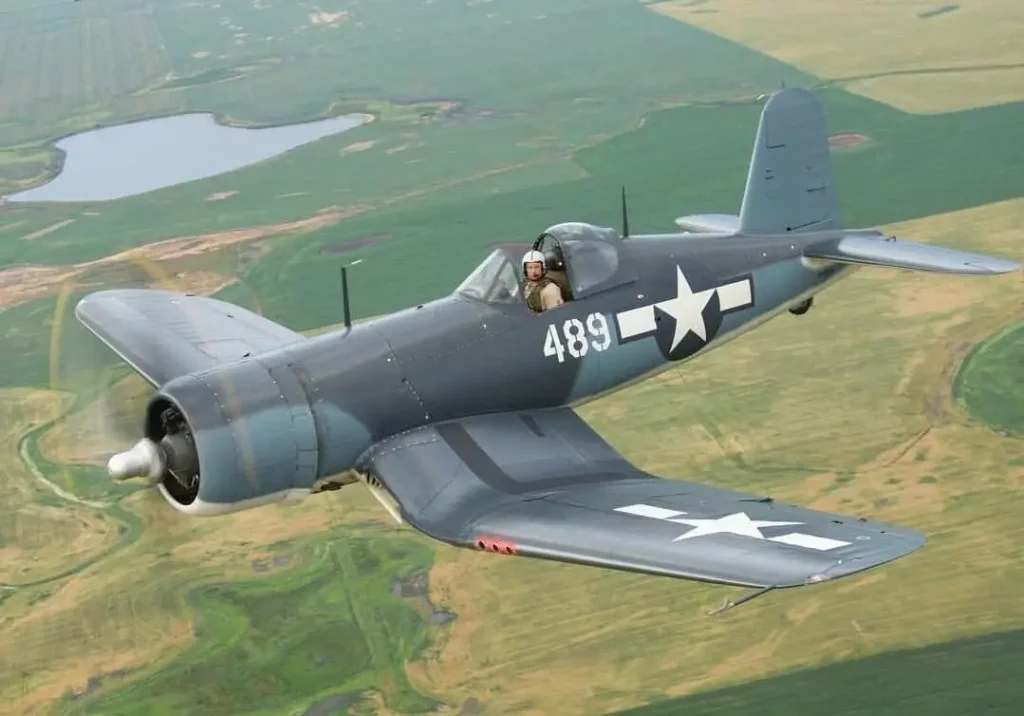 If you're looking for the best adventure on your Virginia Beach vacation, there is one must-try option which is a flight ride in a warplane at the Military Aviation Museum. It will provide you with the best adventure of your life.
The Military Aviation Museum in Virginia Beach is home to hundreds of vintage aircraft from World Wars I and II. here visitors can visit the museum and educate themselves about the history of World Wars; they can also take a flight with an actual pilot and watch the different perspectives of Virginia Beach from the above. Unquestionably, this is considered to be among Virginia Beach's top fun activities.
The museum performs live demonstrations of the aircraft through twice-yearly airshows in addition to maintaining and restoring the vehicles.
Address: 1341 Princess Anne Rd, Virginia Beach, VA 23457, United States
Phone: +1 757-721-7767
Website: www.militaryaviationmuseum.com
5. Go Scuba diving with Lynnhaven Dive Center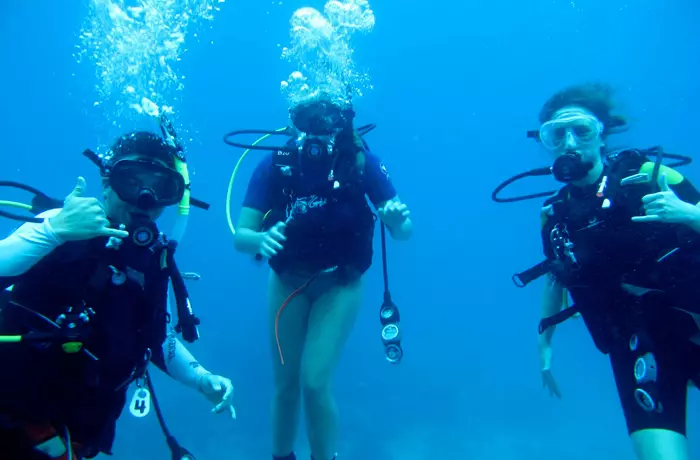 Head to Lynnhaven Dive Center for scuba diving, if you are looking for exciting fun things to do in Virginia Beach. There are many wonderful quarries and lakes in Virginia for both certified divers and those who are learning scuba diving.
Not all of us get the chance to explore the beauty of the ocean, but if you are a scuba diver, snorkel, and scuba diving learner, you get to explore the undersea world safely.
Scuba diving provides you with a chance to closely watch the shipwrecks while floating over the "Graveyard of the Atlantic" and observe turtles and rays searching the seafloor for food.
Address: 1413 N Great Neck Rd, Virginia Beach, VA 23454, United States
Phone: +1 757-481-7949
Website: www.ldcscuba.com
6. Catch a game or play at the Virginia Beach Sportsplex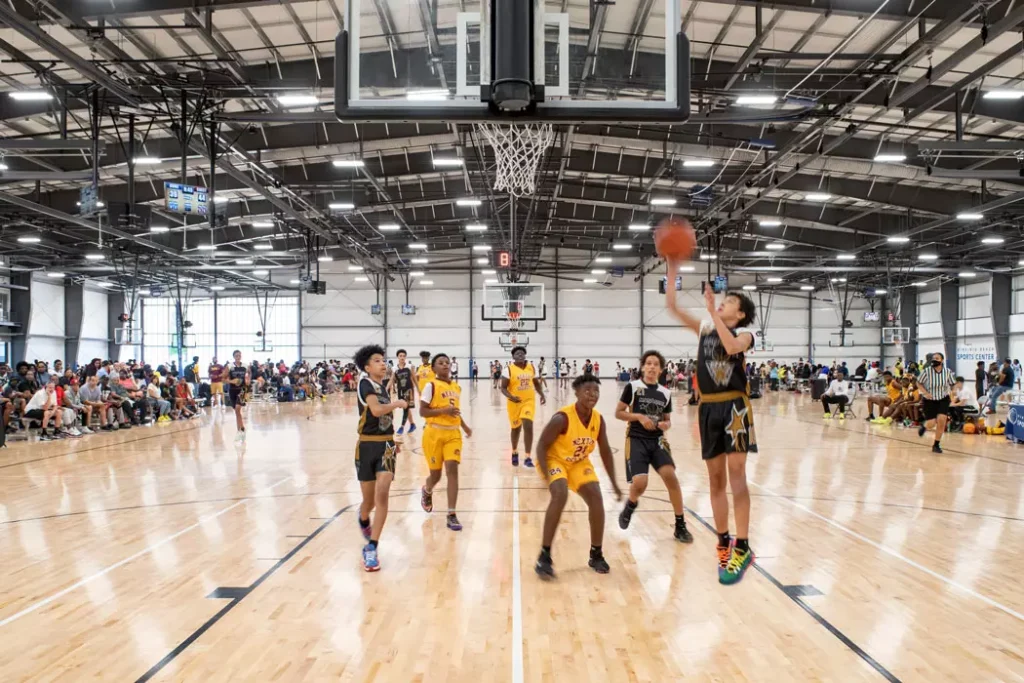 You can visit the Virginia Beach Field House if you are in search of some best things to do in Virginia Beach and play a game inside their facilities or watch an exciting football game or other tournaments at The Virginia Beach Sportsplex.
There are no restricted parameters as far as size, skill, and age are concerned. Everyone can enjoy themselves by participating in the games. This stunning venue is famous for hosting a number of sporting events and competitions. Besides these games, the famous Virginia Beach Boardwalk, restaurants, and sea-face lodging are just a few steps away from the venue.
Address: 1045 19th St, Virginia Beach, VA 23451, United States
Phone: +1 757-937-4571
Website: www.vbsportscenter.com
7. Ride a pony at Hunt Club Farm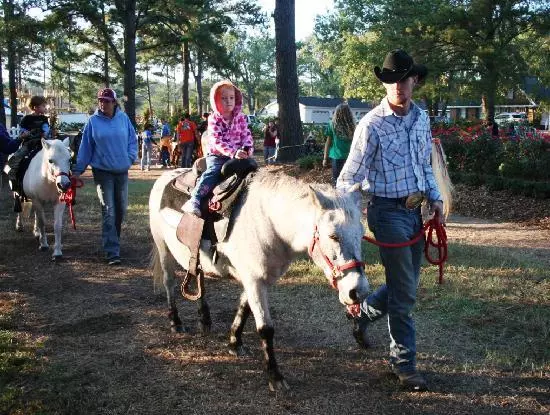 In Virginia Beach, there is no place like Hunt Club Farm as far as Fun activities are concerned. it offers a number of fun activities for Kids of all ages. Apart from that you can make yourself aware of Virginia Beach's agricultural background. They rear a variety of animals such as goats, chickens, cows, sheep, donkeys, llamas, and pigs at their petting farm, you can make them your friend. while exploring the BirdWalk Aviary, you get to engage with parakeets.
The magnificent TreeWalk Adventure offers pony rides to the kids and other fun activities to entertain its visitors which places it among one of the most famous places in Virginia. At Hunt Club Farm, we strive to make your experience a memorable one by providing activities for people of all ages and different socioeconomic backgrounds.
They also hold entertaining events like the Harvest Fair, Haunted Hunt Club Farm, and Easter Egg Hunt besides having a fantastic Farm Market. Additionally, the farm can be used to organize private events like birthday parties.
Address: 2388 London Bridge Rd, Virginia Beach, VA 23456, United States
Phone: +1 757-427-9520
Website: www.huntclubfarm.com
8. Zoom along the coast by jet ski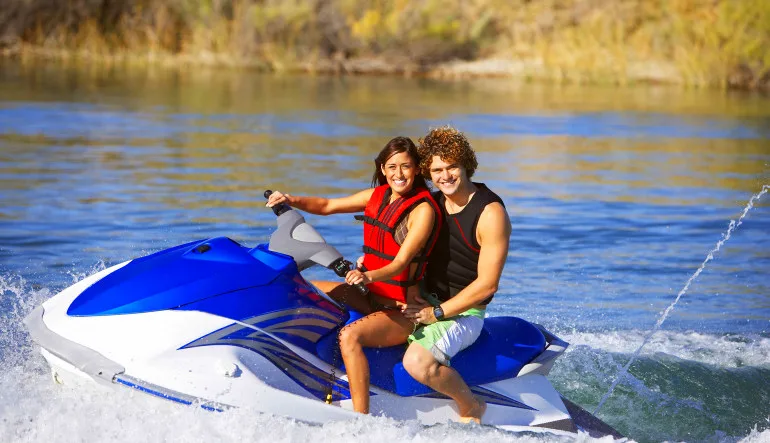 As Virginis Beach is the hub of fun things, it has something or the other to offer to its visitors regardless of their size and age. Jet skiing is one of the famous things to do in Virginia Beach.
You can have fun riding a jet ski and exploring the water in Virginia Beach. You can find nothing more enjoyable than taking a jet ski through the surf, you just need to hold on tight while riding a jet ski into the waves and it will surely give you the highest level of excitement.
Along the ride, you will encounter pleasing views of Virginia Beach and its wildlife. If you are fortunate you may watch a dolphin. No prior riding experience is necessary, and you can ride alone or with a friend.
9. Cool off at Ocean Breeze Waterpark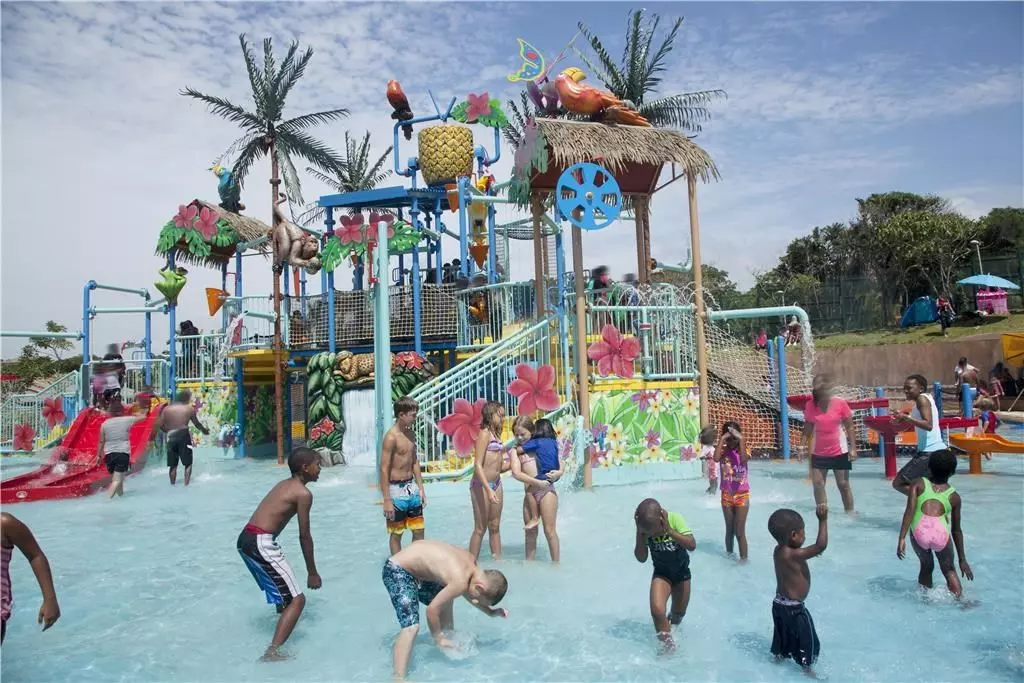 Besides relieving yourself from the hot summer, you can have lots of fun things to do in Virginia Beach's water parks. Water Parks in Virginia Beach are very famous among folks as well as tourists of Virginia Beach.
At Ocean Breeze Waterpark, when you float down the adventure river passing through the secret coves and cascading waterfalls, you achieve a relaxing experience. Younger explorers scream with delight as they splash about Hook's Lagoon, where pirate ships and water cannons may be found. When anyone slides down the flumes at Ocean Breeze Waterpark, it makes them scream with joy.
Ocean Breeze Waterpark a family-friendly destination is just two miles away from the south of Virginia Beach's oceanfront. It provides its visitors with more than 30 slides and attractions such as a million-gallon wave pool, the monstrous 4 slides of Neptune's Revenge complex, and a pirate-themed water playground for the littlest Buccaneers.
10. Ride rollercoasters at Busch Gardens in Williamsburg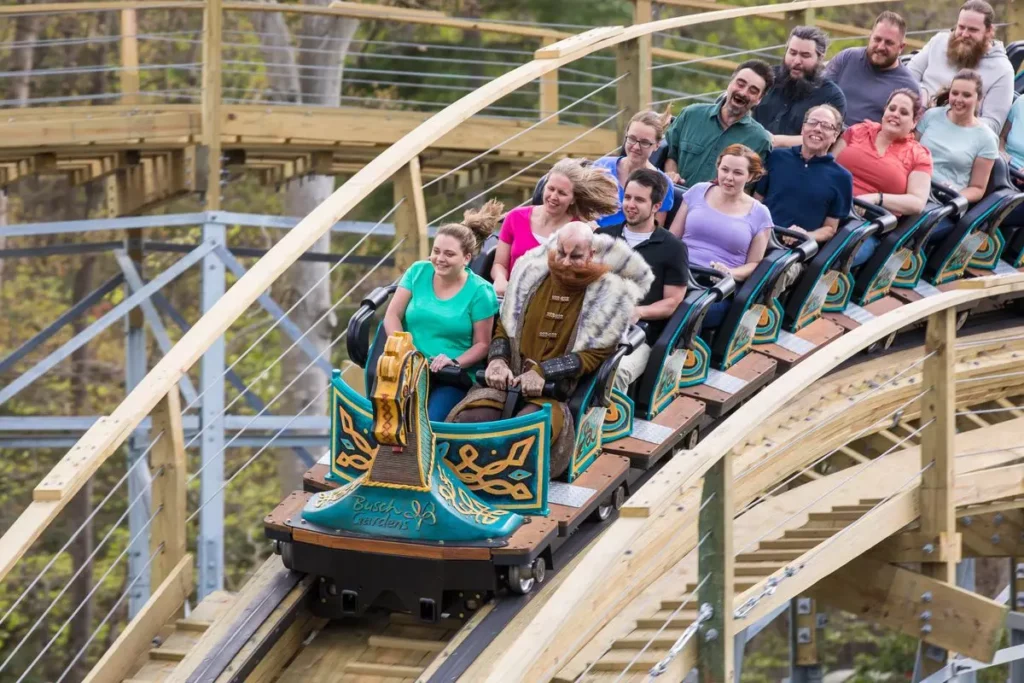 Ride rollercoasters at Busch Gardens in Williamsburg are one of the most thrilling and fun things to do in Virginia Beach. Busch Gardens in Williamsburg is home to an exciting array of electrifying rides. With loop-the-loops and high-log flumes, the rollercoasters make you scream with joy introducing the world of Pleasure.
The Alpengeist coaster, and more, at Busch Gardens Williamsburg providing visitors with heart-pounding thrill experiences, take them on a journey of historic Europe. Some of the attractions at this theme park that you must see include the Land of Dragons, the Loch Ness Monster, and the Oktoberfest beer hall. At the on-site, genuine Italian restaurant, indulge in great food. At Busch Gardens, you may see live performances and other entertainment.
Address: 1 Busch Gardens Blvd, Williamsburg, VA 23185, United States
Phone: +1 757-229-4386
Website: www.buschgardens.com
11. Go whale watching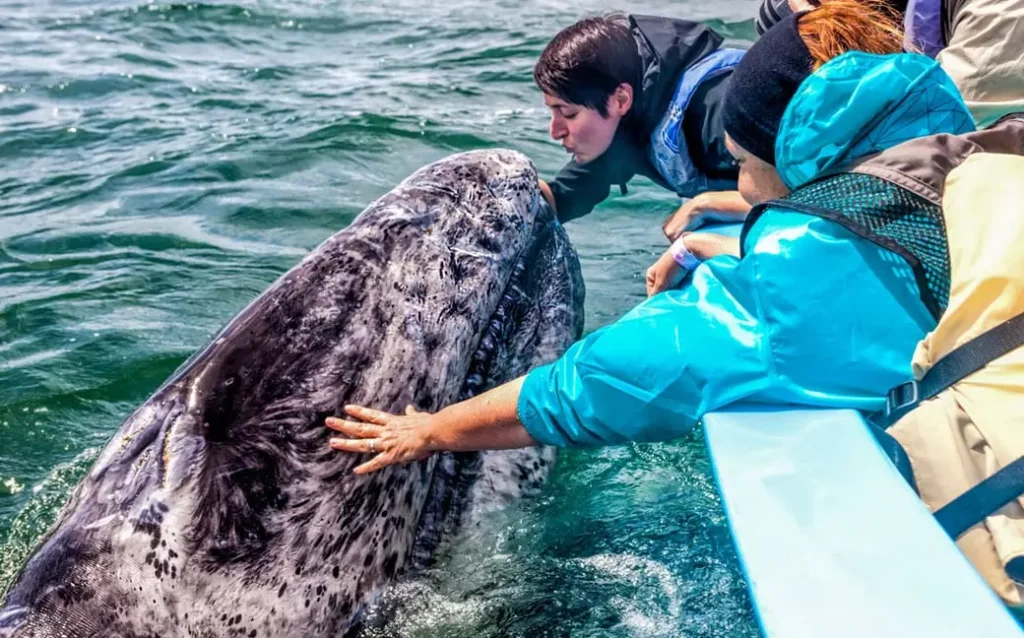 One of the most thrilling activities and fun things to do in Virginia Beach is whale watching, with the help of boat trips you can go deep into the world of these gentle giants. You can have fun with your family and friends while watching their spectacular displays as they slap their flippers and even breach the water's surface. You can take the help of an onboard naturalist to know more about their amusing behaviors' significance.
The best time to give visit these giants is in winter as they move south from Canada and New England to the warmer Atlantic Ocean waters. So, whale watching off the coast of Virginia Beach has been among the top winter activities in the Mid-Atlantic. Moreover, The Virginia Beach coastline has a lot of sights and activities to offer.
12. Grooving on the Live music at Elevation 27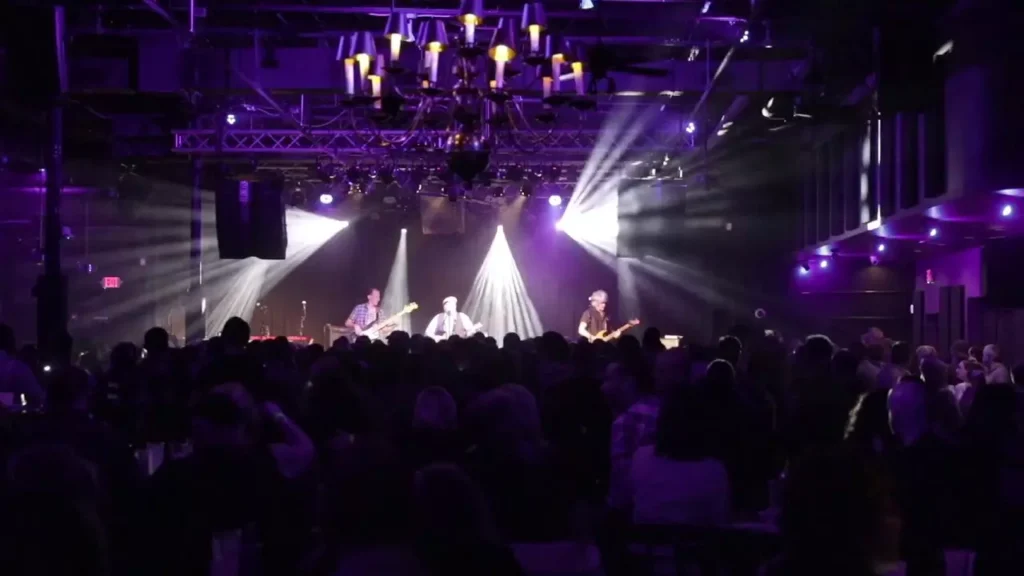 In Virginia Beach's Hilltop neighborhood, Elevation 27 is the famous place where locals go to hear live music. Elevation 27 is very famous among music enthusiasts and for them, it is one of the best fun things to do in Virginia Beach. The reason behind its name Elevation 27 is that it is 27 feet above sea level.
Here visitors and music lovers can enjoy the magnificent sound system, big auditorium, and chef-created meal all at one place of many performers' favorite locations, including the Rolling Stones.
There are only a few spots such as Elevation 27 which provide the guarantee of hearing perfection for both performers and fans. Moreover, it boasts a recording studio, a floating stage, the best sound system in Virginia, an upgraded interior, and theatrical curtains.
Address: Elevation 27, 600 Nevan Road, Virginia Beach, VA 23451
Phone: (757) 716-4028
Website: www.elevation27.com
13. Soar like a bird on a parasailing mission
While visiting Virginia Beach, you can engage yourself in a foray of thrilling watersports such as skimming over waves on a jet ski or taking a leisurely paddle. But Parasailing is one of a few fun activities which are capable to provide you with a bird's eye perspective of Virginia Beach.
Through Parasailing, you get the chance to experience exhilaration, excitement, and high-flying thrills. With the help of a speed boat, you soar high above the water around 100 feet in the air from where you can clearly observe the local landmarks, the Atlantic coast, and even dolphins.
As you parasail around the breathtaking Virginia Beach coastline, You'll experience amazing views of Virginia Beach from your high perspective point experiencing the thrill of pure excitement through your body.
14. Solve riddles on a scavenger game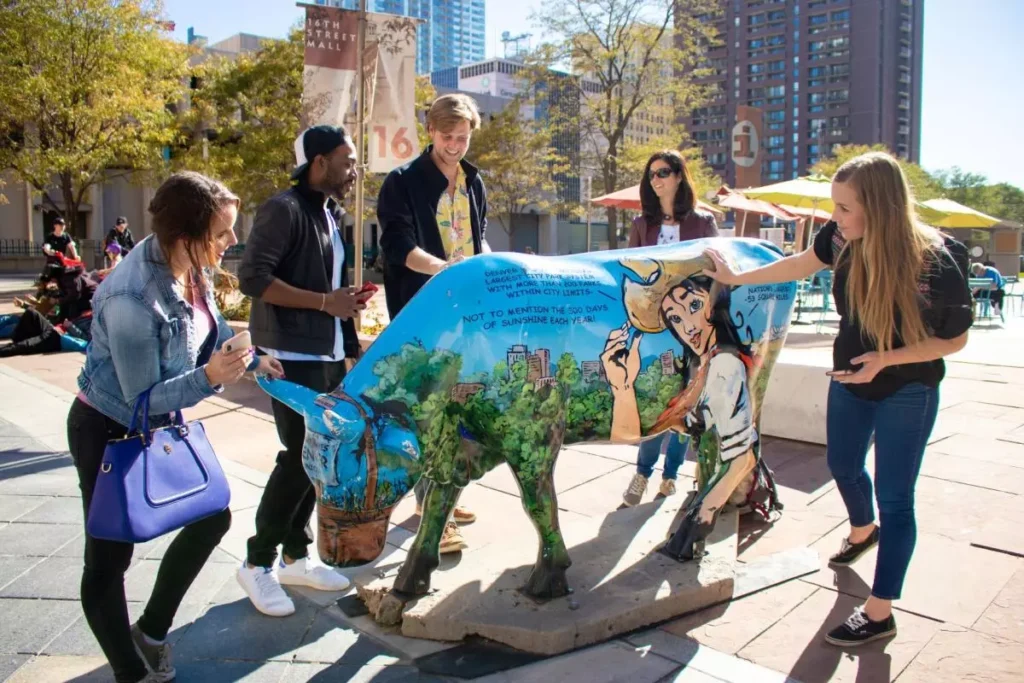 Scavenger games help you explore and enhance your detective skills as you try to solve the puzzles. In this game, you get the chance to solve mysterious puzzles and follow cryptic hints to some of the city's most famous attractions.
The organizers of the game prepare a list of specific items for the participants who try to collect or complete everything on the list, typically without spending any money. A scavenger hunt is a game where participants attempt to collect or complete everything on the list, typically without spending any money. Participants typically work in small teams.
Scavenger hunts game is very beneficial for Children as they can learn to solve problems in a practical way. To make themselves remember the lesson better, they must play the game physically and use the teaching techniques that their parents or teachers have taught them. Scavenger hunts games can be modified according to a child's skills and interests.
15. Take on the AdventureWorks wetland zip line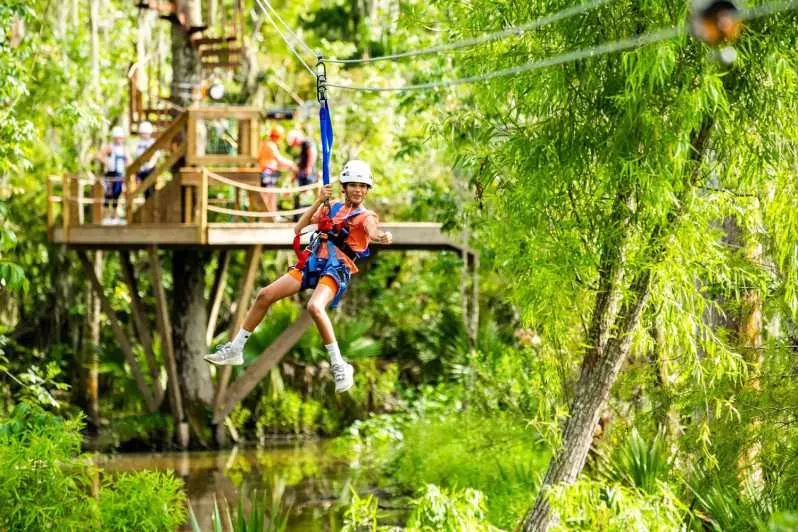 The wetland zip line is the best way to explore the stunning coastal wetlands from a height above the forest floor providing you with a different perspective and the thrill of flying through the treetops. Viewing wetlands from above is among the best fun things to do in Virginia Beach.
This 90-minute zipline wetland tour makes you soar over the varied forest habitat from towers 80 feet in the air as you move downwards the lines that can be up to 1200 feet long.
If you want to explore the mix of adventure and sightseeing of the distinctive wetlands habitat without wading through the swamp. this is a fantastic activity for groups of friends and families to enjoy the Wetland Zip Tour in a special way. Come for the challenge, pleasure, and beauty of nature.
Address: 1304 Prosperity Rd, Virginia Beach, VA 23451, United States
Phone: +1 757-216-9891
Website: www.adventureworks.com
16. Go Surfing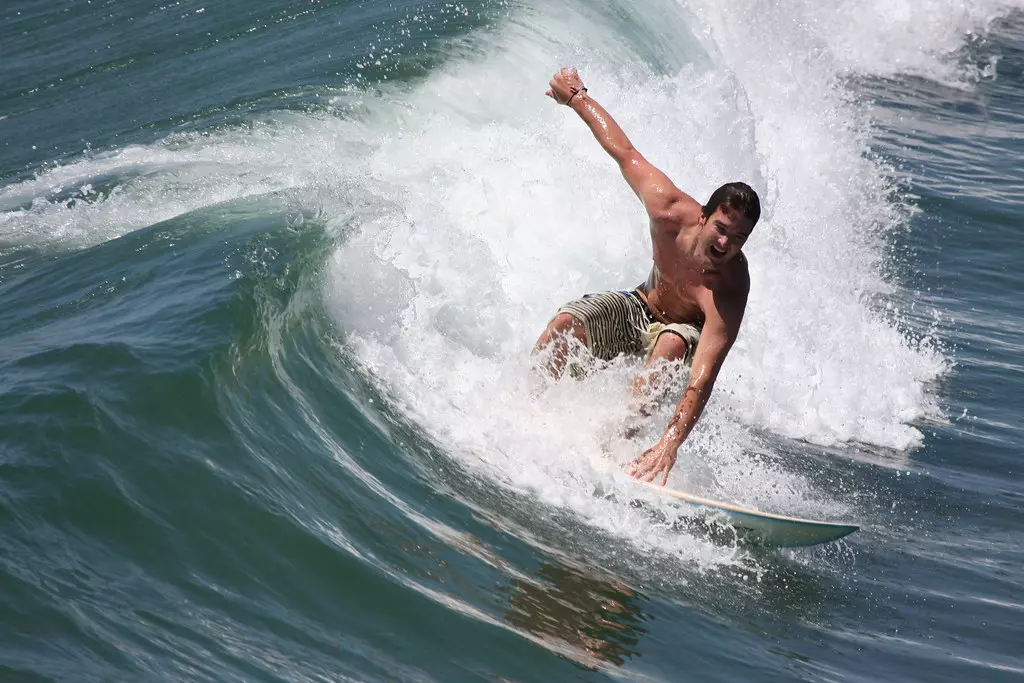 It's one of the top fun things to do in Virginia Beach for thrill and water sports enthusiasts. Croatan Beach, situated in Virginia Beach, is one of the state's most well-liked surfing beaches.
The most thrilling activity in Virginia Beach for beginners is to play with the waves and learn how to surf right here on the sand. Before entering the water to practice surfing, they will receive instruction from their knowledgeable teachers.
The company will offer you the board, wetsuit/rashguard, and all other essential gear so that nothing can restrict you to learn the dream of your life even if you don't have your own board.
17. Hang fast at Virginia Beach Rock Gym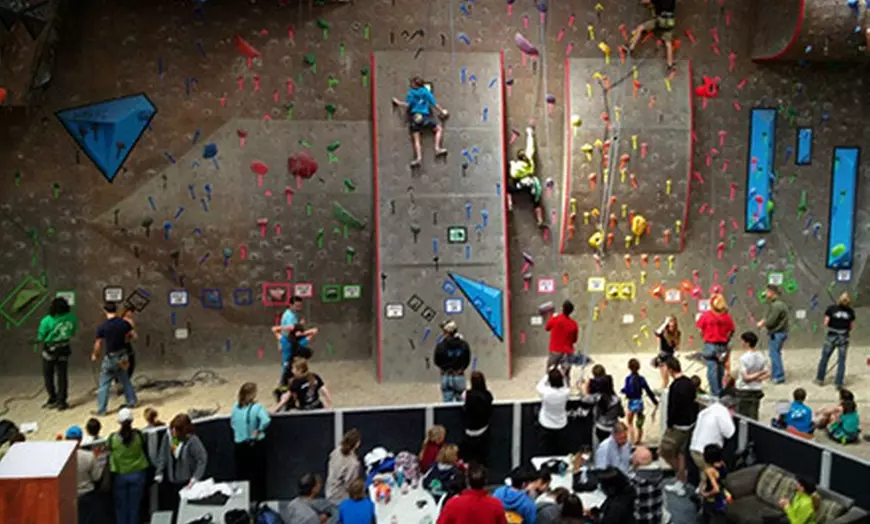 If you are a Rock climbing enthusiast, we have a magnificent one of the fun things to do in Virginia Beach. There is a Virginia Beach Rock Gym an indoor sports complex located in Virginia Beach provides the facility of rock climbing for the climbing enthusiast where they can fulfill their desire of climbing.
They also provide a beginner course for the one who wants to learn rock climbing and find what skill a rock climber requires to climb the mountain. It offers all the necessary components required for rock climbing which involves vertical walls, overhangs, and crash pads.
Auto Belay, Top Rope, and Lead Climbing are part of Rope climbing, another activity available at their Virginia Beach facility. In addition to rock climbing, the sports complex also provides its visitors with other facilities such as equipment rentals, climbing instruction, regularly scheduled yoga and fitness programs, and an amazing team as well as instructors who are available there to help you learn the basics or more advance prowess needed for the rock climbing.
18, Spend A Day Among Nature at the Lake Lawson and Lake Smith Natural Area
The fun doesn't always mean a heart-pounding or thrilling experience; sometimes you can have fun just by spending a day in a peaceful manner or embracing the natural atmosphere. That's why the Lake Lawson and Lake Smith Natural Areas are considered to be such locations where travelers can have fun in a peaceful manner. It is located in Virginia Beach and spans around 42 acres with over 12,000 feet of beach to explore.
This beautiful Lake Lawson and Lake Smith Natural Area is greatly famous for its wide range of activities for the visitors such as boating, canoeing, hiking paths, fishing piers, and kayaking opportunities. Its bald eagle nest off the lake is worth seeing. So in my view, it is the right place to have fun peacefully away from the noisy city.
19. Work up a sweat at DEFY Trampoline Park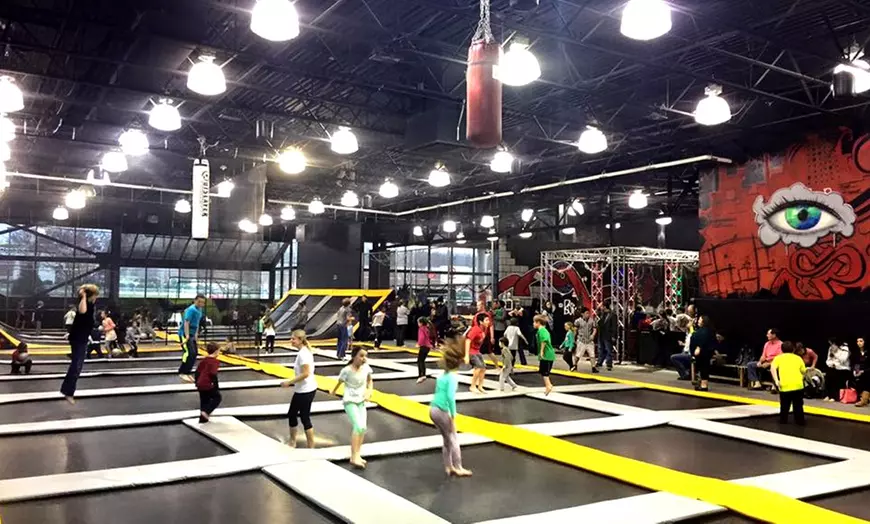 Trampoline parks can be a good option if you are really in the mood to have fun on your weekends with your family. It rates tops among the citizens and tourists alike of Virginia Beach as one of the top fun things to do in Virginia Beach.
In Virginia Beach, The DEFY trampoline park in Chesapeake is the right place to burn your energy and show your prowess while having fun with your family. It is an indoor playground with Over 10,000 square feet of connected trampolines, aerial silks, basketball, open jump, foam pits, and other various challenges.
You can check if you are able to maintain your balance on the battle beams. It is great fun playing basketball on the springy basketball courts. On weekends It is filled with unique occasions such as club nights, '80s nights, and hip-hop nights, along with KidJump and Family Nights specially designed for young visitors.
Address: 825 Greenbrier Cir, Chesapeake, VA 23320, United States
Phone: +1 757-296-2001
Website: www.defy.com
20. Go indoor skydiving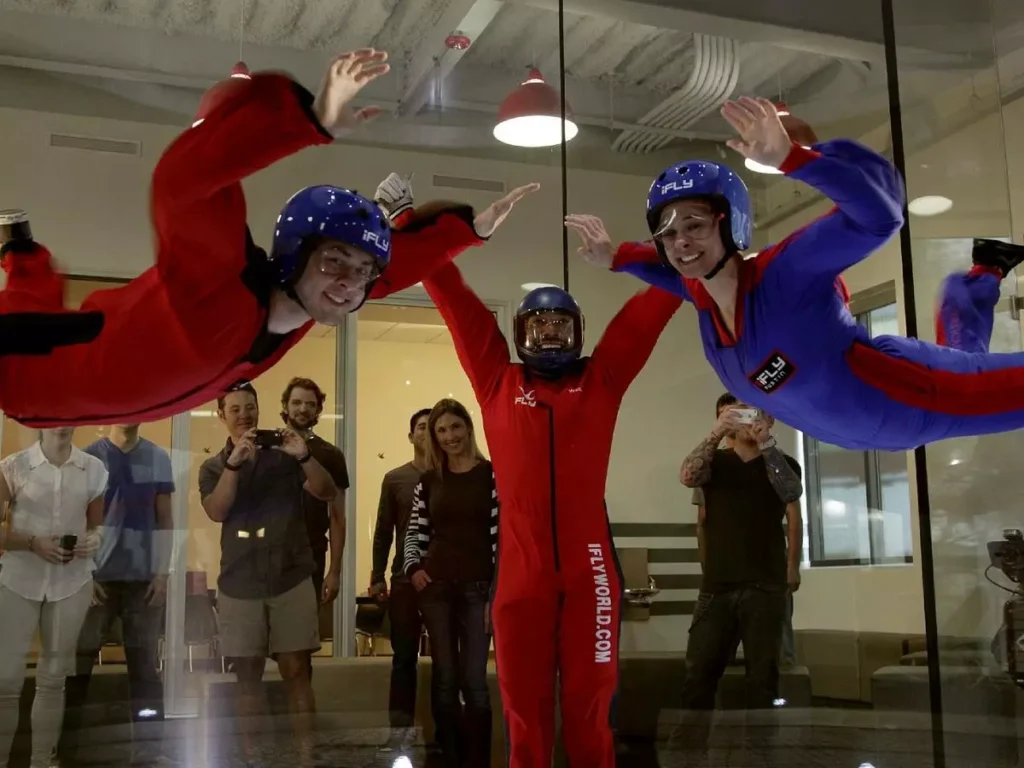 Indoor skydiving is one of the best fun things to do in Virginia Beach and it is so famous fun thing in the USA that you can find it in most of the big states of USA. In indoor skydiving, you get the opportunity to experience the thrill of free falling without jumping off of a plane. Besides being less dangerous, this activity provides you with the excitement of real skydiving. For a long time, it has been one of the most popular cool activities in Virginia Beach for thrill enthusiasts.
At IFLY, They use four strong fans with 1100 horsepower to create a cushion of air on which you can float. It provides you with the most fantastic feeling of being alone without attaching anything. In addition to providing corporate events and birthday parties, IFLY also provides educational and team-building programs.
Address: 2412 Pacific Ave, Virginia Beach, VA 23451, United States
Phone: +1 757-754-4359
Website: www.iflyworld.com