Top 20
Fun Things to Do in Florida
Florida the sunshine state offers a wide variety of unique entertaining activities. Travelers to the state can find an abundant number of Fun things to do in Florida. It is unlike any other state in the United States as it has year-round beaches, famous theme parks home to an abundance of wildlife, glistening golden sands of the Panhandle, and Miami, the Cuban-infused party capital that never sleeps.
For visitors who want to escape the winter cold and the summer heat on beaches, this tourist location having something for every age group is the ideal getaway. Geographically speaking, it is a piece of land made up of 1700 little islands.
Walt Disney World in Florida is one of the most well-known resorts. It is also famous for being the site of the first communication satellite launch by NASA. Let's look at some of the most unique things to do in Florida that can be completed in a single day.
20 Fun Things To Do In Florida
We have compiled a list of the top Fun things to do in Florida to help you decide which activities in the state will make your trip amazing and memorable for the rest of your life. Let's explore!
you can also explore more fun things and activities of other states of USA, by clicking below:
20 Fun Things to Do in New York
1. Have Fun at the Underwater Music Festival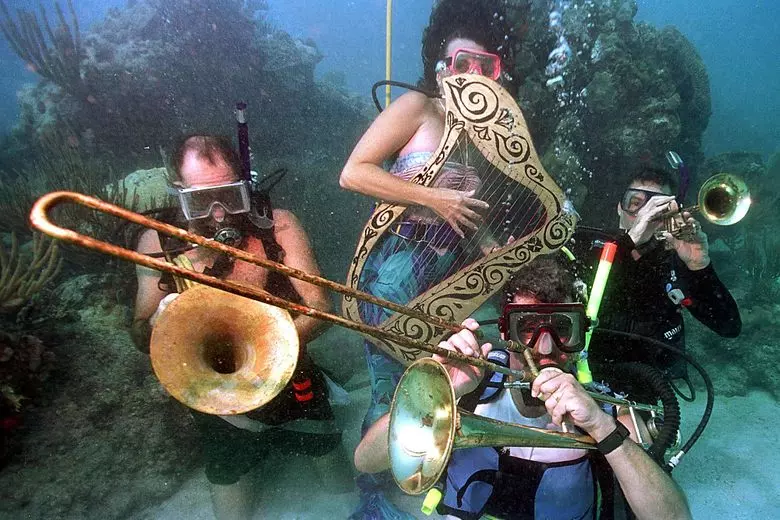 Providing a completely new meaning, Underwater Music Festival has become one of the most favorite fun things to do in Florida among Divers and musicians. They arrive at the Florida Keys every year for the "Underwater Music Festival to experience a unique subaquatic musical festival.
To promote coral preservation, Bill Becker created this underwater music event. Here, mermaids and musician-divers perform using instruments made by local artist August Powers while a pre-selected radio mix is transmitted live from underwater speakers. In the past, instruments have included a "Fluke-a-Lele," a "sea-phan flute," and a "trom-bonefish."
In order to take pleasure in the music from below, Hundreds of divers and snorkelers have gathered for the event at Looe Key Reef, which is a section of the only living coral barrier reef in North America, for the past 25 years.
2. Go On A Dolphin Cruise In Fort Myers Beach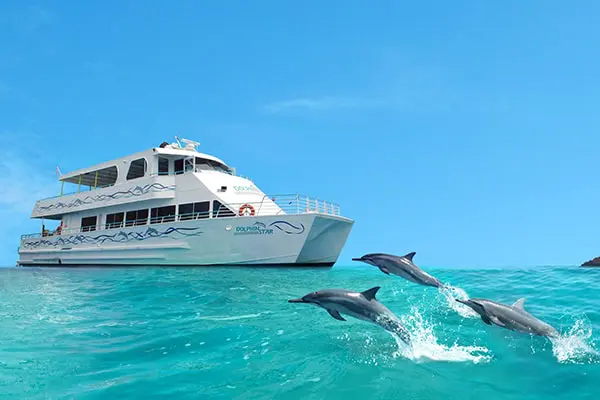 Explore Fort Myers Beach as well as the neighboring islands, where you can enjoy luxury waterfront houses, dolphins, and other marine species while relaxing and taking in the spectacular views of the sunset. while cruising with your friends, you can enjoy sipping wine and having beer, or cocktails from your personal bartender.
You can explore the magnificent view of the live dolphins while listening to an insightful commentary provided by a professional naturalist. In a bid to see the greatest number of dolphins, your skipper guides you around the water and teaches you about the aquatic life in the area, viewing dolphins waking up around your boat.
You can take this journey alone or with a companion. This is one of the most entertaining activities and fun things to do in Florida. The tour is kid-friendly as well as wheelchair-accessible. With other beachside attractions, you receive a one-and-a-half-hour dolphin sighting tour.
Address: 4765 Estero Blvd, Fort Myers Beach, FL 33931, USA
3. Take a day Tour of Miami City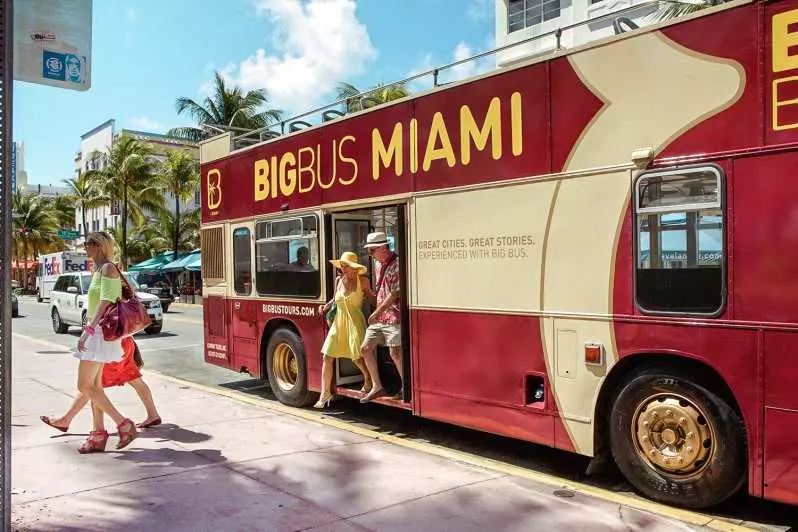 Miami is one of the renowned tourist destinations providing its visitor with a number of fun things to do in Florida. In addition to taking a walking tour of Miami's many attractions, such as its museums and gardens, visitors should also take an open-top city tour to get a sense of the city's atmosphere. It is Miami's warm climate that makes open-top city tours entertaining and pleasant featuring some of the most distinctive sights of the city.
This insightful tour offers an opportunity to browse Miami's various architectural styles, from the more historic Coconut Grove to the contemporary high-rise structures along with the financial district, Key Biscayne, and Little Havana, giving visitors a new perspective on the city.
If You are interested in exploring the natural side, you can board the boat at Bayside in order to visit Millionaire's Row, Star Island, Hibiscus Island, Palm Island, Venetian Island, and Fischer Island.
Address: 305 Lincoln Rd, Miami Beach, FL 33139, USA
4. Visit ICON Park to ride the wheel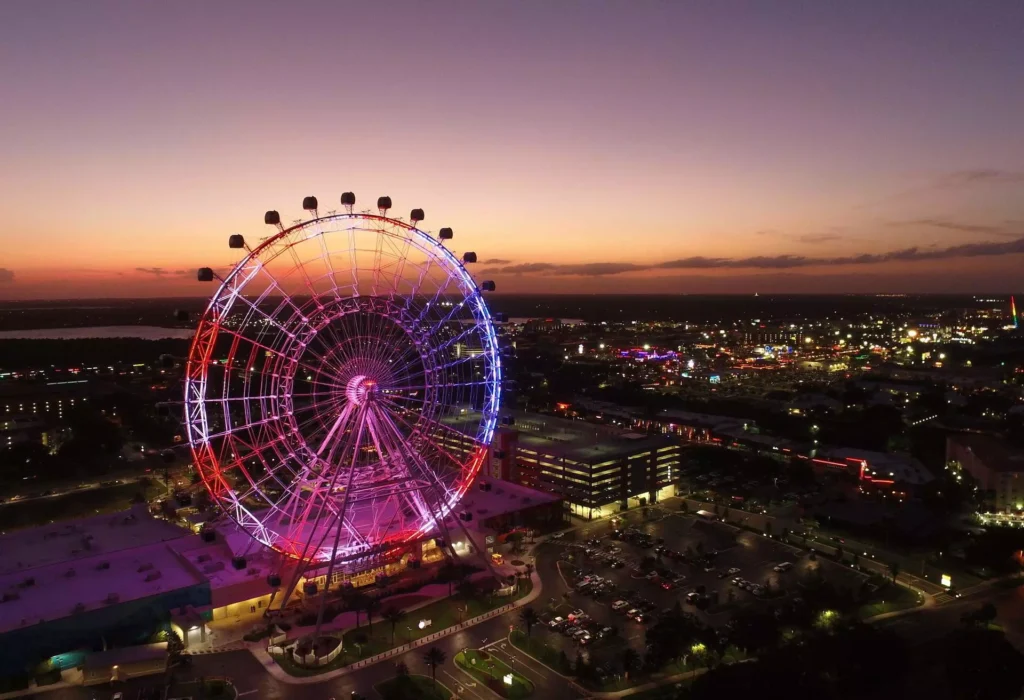 There is no better way to spend your vacation or end your night on the town than with a ride on The Wheel at ICON Park. This magnificent 400-foot-tall Observation wheel provides its riders with an unparalleled view of Orlando. With the help of this wheel, You can view Orlando's breathtaking skyline while taking in the sights from the top of this magnificent observation wheel.
The following attractions, as seen from the comfort of their capsule, are popular among The Wheel's customers:
Big Sandlake and Little Sandlake are seen from the top of The Wheel.
Visit Downtown Orlando, the renowned Amway Centre, all of International Drive, the Kennedy Space Centre, Legoland, and many other attractions.
From the top of The Wheel, you can see Hogwarts, the Incredible Hulk coaster, Volcano Bay, and the site of the brand-new Epic Universe theme park.
The Wheel is the best way to start or end your trip, with rides starting at just $28.99 per person each ride.
Address: Orlando, FL 32819, United States
Phone: +1 407-601-7907
Website: www.iconparkorlando.com
5. Plan to go on a Hulk Coaster ride at Universal Studios Florida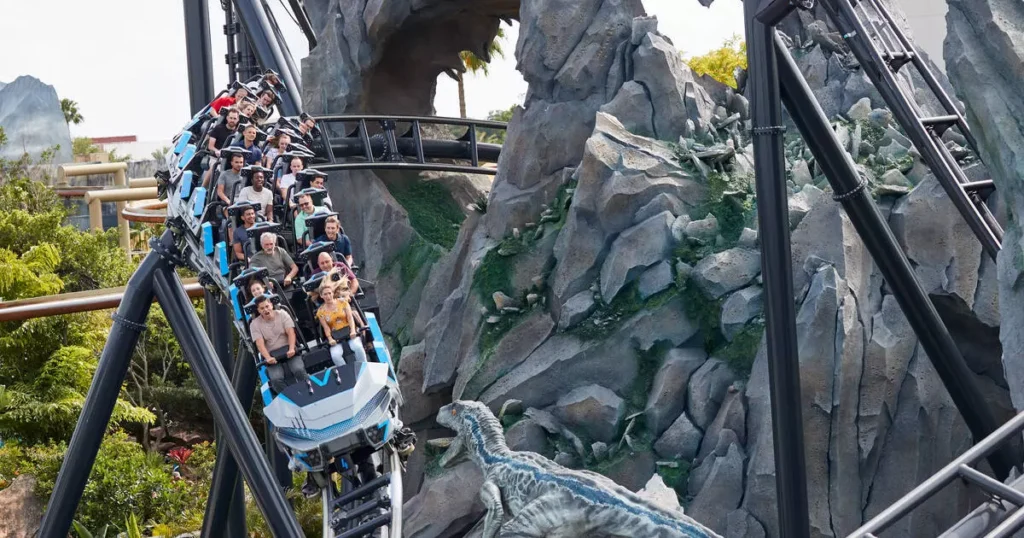 If you love the silver screen, There is no better place to spend your weekend than Universal Studios, From Harry Potter and The Simpsons to Shrek, Jurassic Park, and Despicable Me, you'll find yourself totally lost in your favorite films as you explore every aspect carefully recreated by some passionate movie lovers.
You'll have a number of entertainment options such as life-size replicas of some of the world's most popular movie characters and rides like the Incredible Hulk Coaster and Harry Potter and the Forbidden Journey along with beloved park attractions like Revenge of the Mummy.
Additionally, Due to its lazy rivers, raft rides, body slides, and the nearby Volcano Bay, it is an ideal sight for cooling off on hot Florida days.
Around the Park, there are numerous places to eat. Within the Park, there are more than 25 different dining establishments. Unsurprisingly, there is plenty of fantastic family-friendly lodging right on the doorstep of Universal Studios.
Address: 6000 Universal Blvd, Orlando, FL 32819, United States
Phone: +1 407-363-8000
Website: www.universalorlando.com
6. Take selfies at Madame Tussauds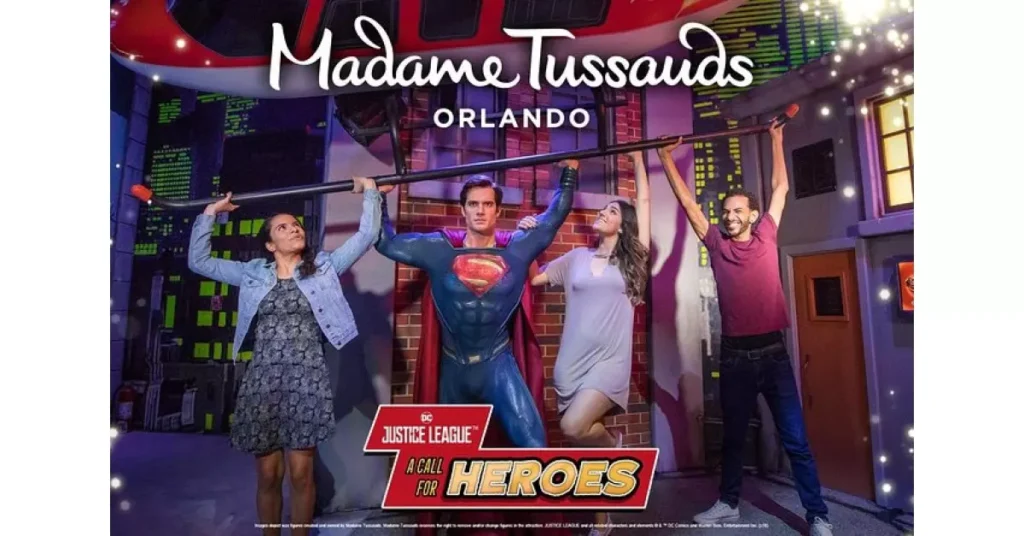 Tussauds, situated in the ICON ParkTM complex along International Drive, is a quick and easy complement to any day of visiting the city. There are a wide variety of international hotel chains nearby Madame Tussauds. You can get here by walking if you stay at one of these hotels.
Also, aside from theme parks, there is a number of other awesome fun things to do in Florida, as this wonderful and slightly odd institution demonstrates. At Madame Tussauds, You get to explore a world of splendor, celebrity, and glitz. While visiting it, you can see the wax replicas of world leaders, movie greats, and pop stars that remarkably look real. A duplicate of Pitbull, a popular rap artist from Florida, is also on display at the wax museum chain's Orlando facility.
Albert Einstein, Neil Armstrong, Walt Disney, and Martin Luther King Jr. are just a few of the notable figures you may find in the History & Leaders section. One of the most popular kinds of entertainment here is music. A number of well-known musicians, including Ricky Martin, Elvis Presley, Justin Bieber, Katy Perry, Taylor Swift, and others, will be on stage.
Very young children can enter the museum for free, and it is open every day.
Address: 8387 International Dr, Orlando, FL 32819, United States
Phone: +1 855-450-0581
Website: www.madametussauds.com
7. Give a visit to Amazing Animals at Busch Gardens Safari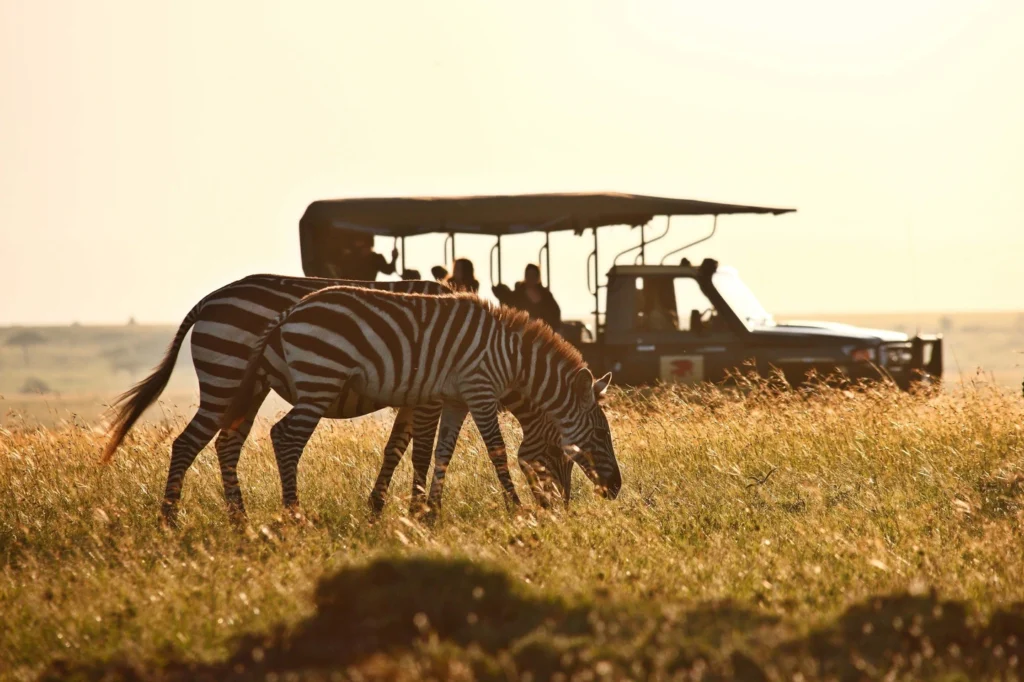 If you are looking for fun things to do in Florida, visit Busch Gardens Tampa Bay which is the perfect location for a family vacation, and provides a number of fun activities such as top-notch thrill coasters, live entertainment, and more than 12,000 animals. A whole area of the park is devoted to Sesame Street, and it is filled with amusing shows and small rides that amuse visitors of all ages.
It's also a fantastic location to see animals of all kinds. You may get up close and personal with magnificent wildlife on the Serengeti Safari, an exclusive park experience, and learn about them from the experienced Busch Gardens personnel.
Busch Gardens in Tampa, Florida, is well-known for its thrilling rides, such as the new Cobra's Curse and Falcon's Fury. On Cheetah Hunt, you can race like a cheetah or take on the 335-foot Falcon's Fury drop tower.
Address: 10165 McKinley Dr, Tampa, FL 33612, United States
Phone: +1 813-884-4386
Website: www.buschgardens.com
8. Spend the day having close contact with animals at Lowry Park's ZooTampa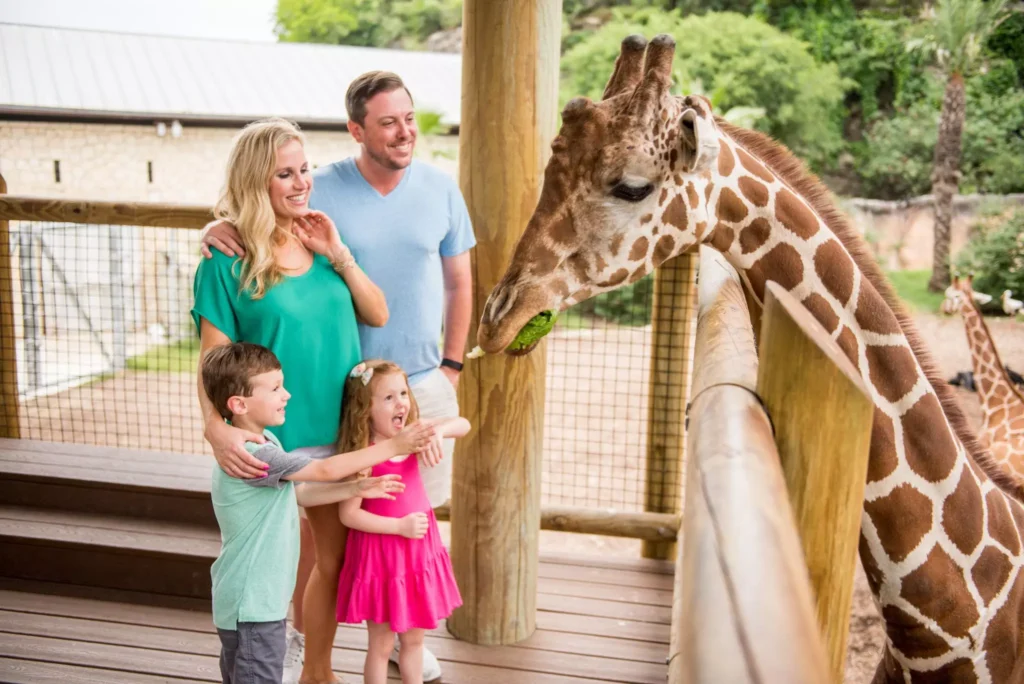 One of the most popular locations for the family-friendly trip is ZooTampa, an oasis of all living things, large and small, hairy and scaley. Your trip to ZooTampa will surely be one of the most memorable fun things to do in Florida.
At Zoo Tampa, you can enjoy rides and games like the Tasmanian Tiger Coaster, have close contact with animals, and stay for the nightlife as it has its own amusement park on the premises. They are also known for organizing frequent events like comedy nights and special seasonal shows like Halloween's Creatures of the Night.
Witnessing wildlife unlike anywhere else, you can come close to a Florida panther that has been rescued. Roaring Springs is a wonderful family water adventure that may be reached by strolling down a shady boardwalk past native birds, alligators, bears, and other Florida wildlife. After that, observe exotic and fascinating fauna from Australia, Africa, and Asia. and much more.
Address: 1101 W Sligh Ave, Tampa, FL 33604, United States
Phone: +1 813-935-8552
Website: www.zootampa.com
9. Step into the world of aquatic animals at Clearwater Marine Aquarium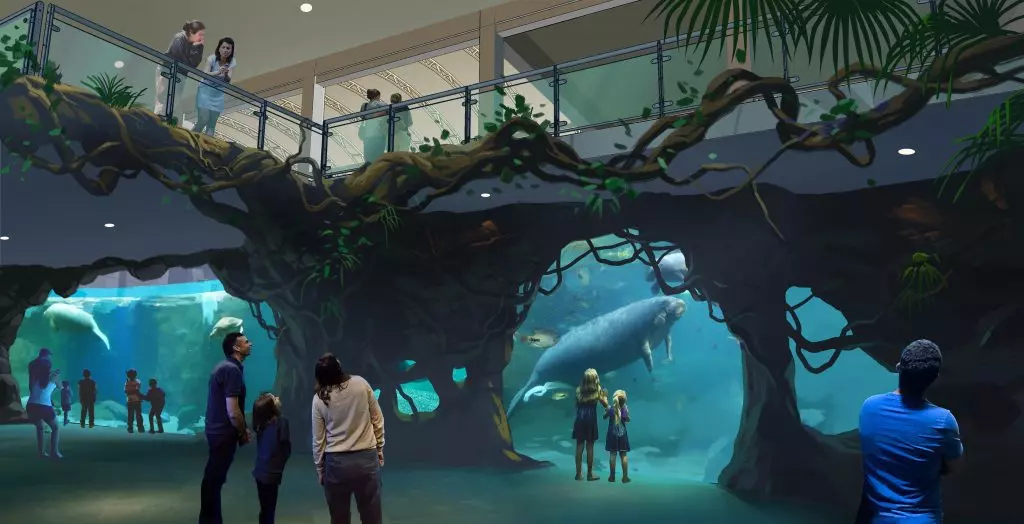 With the help of research, education, and the rescue, treatment, and release of marine species, the Clearwater Aquatic Aquarium aims to restore and preserve the aquatic environment.
We are more than simply a collection of tanks full of colorful fish as we provide our visitors with an insightful and touching experience that is suitable for all ages. It was founded with a strong desire to teach the general public about the significance of animal rehabilitation and rescue.
Children are fascinated by the touch tanks where they may get up close and personal with starfish and other friendly sea creatures. Dolphins, otters, and sharks are also a favorite among the visitors.
We also offer guided tours, boat rides, and educational workshops to enhance our visitors' experience.
Address: 249 Windward Passage, Clearwater, FL 33767
Phone: 727-441-1790
Website: www.cmaquarium.com
10. Learn a thing or two at the Phillip and Patricia Frost Museum of Science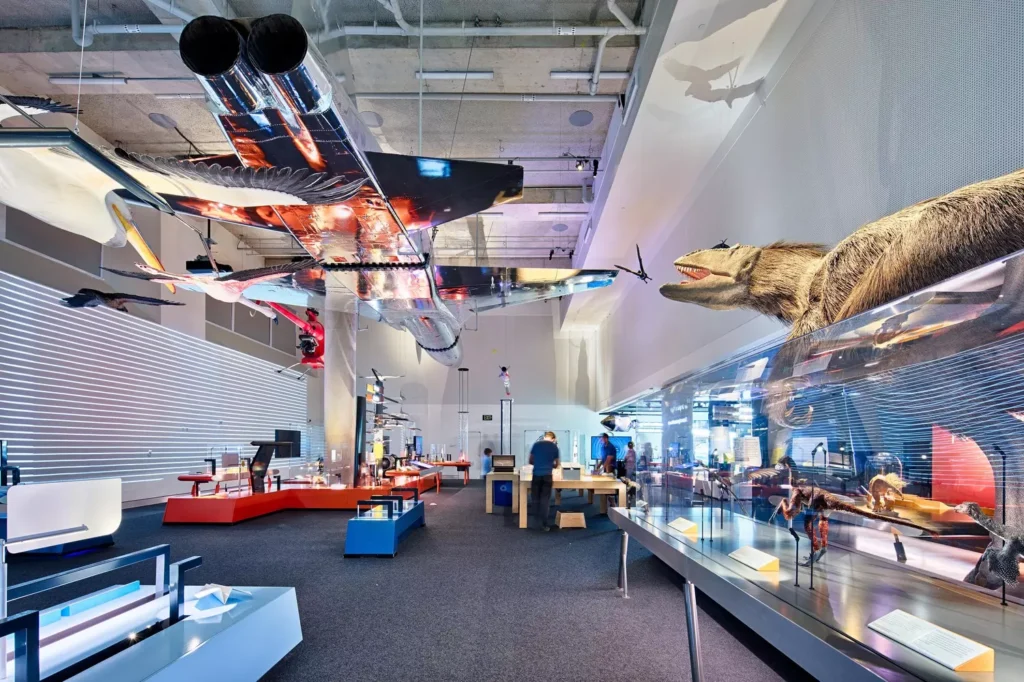 For one of the most fun things to do in Florida, visit The Phillip and Patricia Frost Museum of Science which combines three different types of attractions into one. It distinguishes itself from its competitors because of the wide range of services it provides. With its enormous high-definition screen, the planetarium provides astronomy fans with an instructive tour of the cosmos. Visitors can entertain themselves with a variety of light performances.
Visitors are taken from Florida's Everglades to the depths of the Atlantic Ocean via the museum's three-level aquarium. There are ongoing temporary exhibitions for all ages that will astound visitors with their interactive displays, in addition to permanent exhibits on topics like space exploration, biodiversity, ocean conservation, and global warming. Furthermore, The Phillip and Patricia Frost Museum of Science is one of Miami's best museums for tourists visiting Florida.
Address: 1101 Biscayne Blvd, Miami, FL 33132, United States
Phone: +1 305-434-9600
Website: www.frostscience.com
11. Shop, hang out, or just stroll around Ocean Drive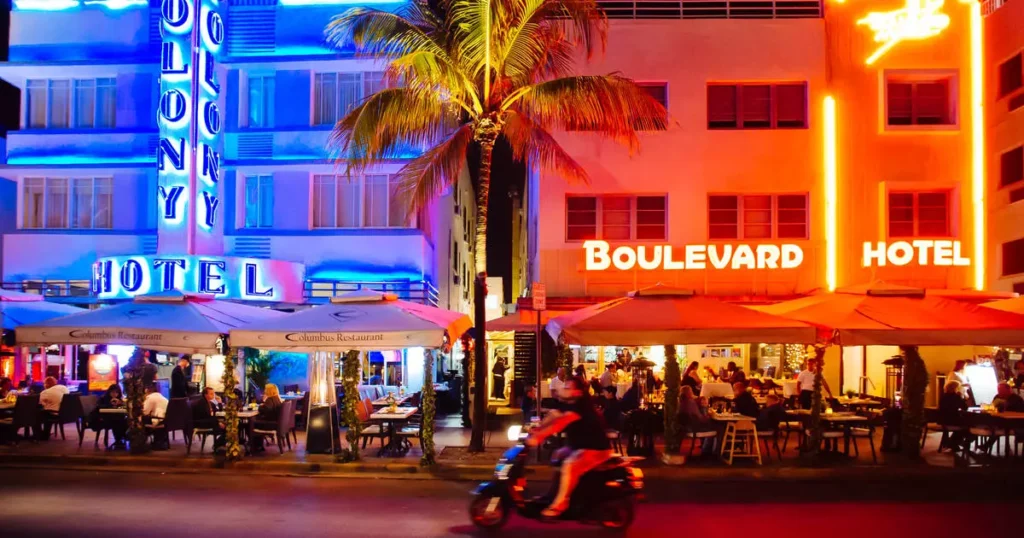 Miami's infamous beachfront street is packed with stylish hotels, exciting cocktail bars (Nikki Beach is usually a good time), souvenir and clothing stores, and a range of restaurants, routinely attracting foodies, socialites, and the thirstiest of travelers. Additionally, there is always live entertainment and a festival going on because the popular street is close to the main Miami beaches.
Many of the hotels and restaurants/bars on Ocean Drive have been prominently featured in a number of films and other forms of media, making them the area's most well-known landmarks. One of the most well-known is the 1939 Colony Hotel, dubbed the most photographed art deco lodging. On Ocean Drive, there are nightclubs where you may dance the night away and bar hop.
you may enjoy the sunshine just behind the park on the well-known South Beach. The stretch of retail shops next to Lincoln is the place to go if you enjoy shopping, while art fans will enjoy the street's pastel-hued buildings.
Address: Ocean Dr, Miami Beach, FL 33139
12. Spend a sunny day at Disney's animal kingdom theme park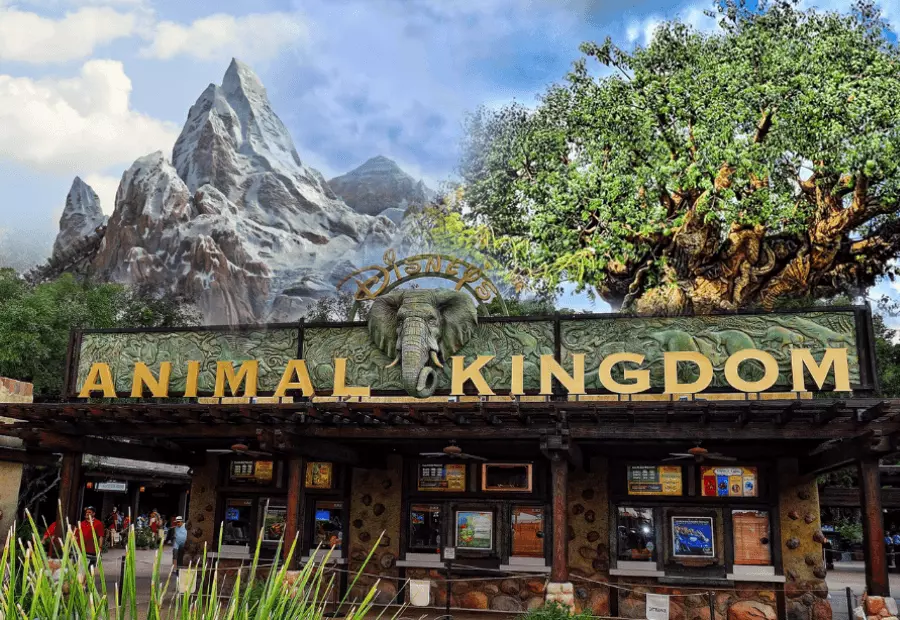 Disney's Animal Kingdom Park one of the biggest animal theme parks in the world provides its visitors with the most exotic animals as well as thrilling adventures. Besides being home to more than 2,000 animals from 300 different species, the park is meant to fulfill Walt Disney's commitment to conservation by taking care of animals, providing education, and conducting research.
It showcases the rainforests, African savannas, and Asian jungles in an immersive educational scenario that is especially aimed at young children and families, illustrating the beauty of the natural world and the human relationship with animals in a fun and original way.
They provide animal lovers with the opportunity to visit all the backstage wonderment and you can also find out how the 1,500 animals are fed in the Animal Nutrition Centre, where more than four tonnes of food are processed and prepared.
Address: 2901 Osceola Pkwy, Lake Buena Vista, FL 32830, United States
Phone: +1 407-939-5277
Website: www.disneyworld.com
13. Find some thrill at Everglades Airboat Tour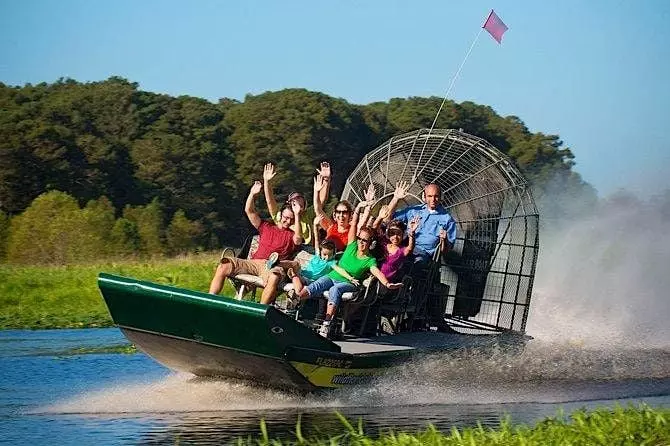 If you're seeking fun things to do in Florida, you must experience Everglades Airboat Tours, a distinctive landscape, which is home to a variety of local species, including panthers, alligators, and snakes. Going on a trip in an airboat under the guidance of a knowledgeable captain through the swamps is one of the best ways to explore the diverse wildlife one will discover on one of our Everglades boat tours.
The fact that there are not many places in the US where you can ride an airboat makes it really one of the special Florida pastimes. The boats move quickly, so keep a watch out for fascinating wildlife.
Address: Miami, United States
14. Head to Mallory Square, Key West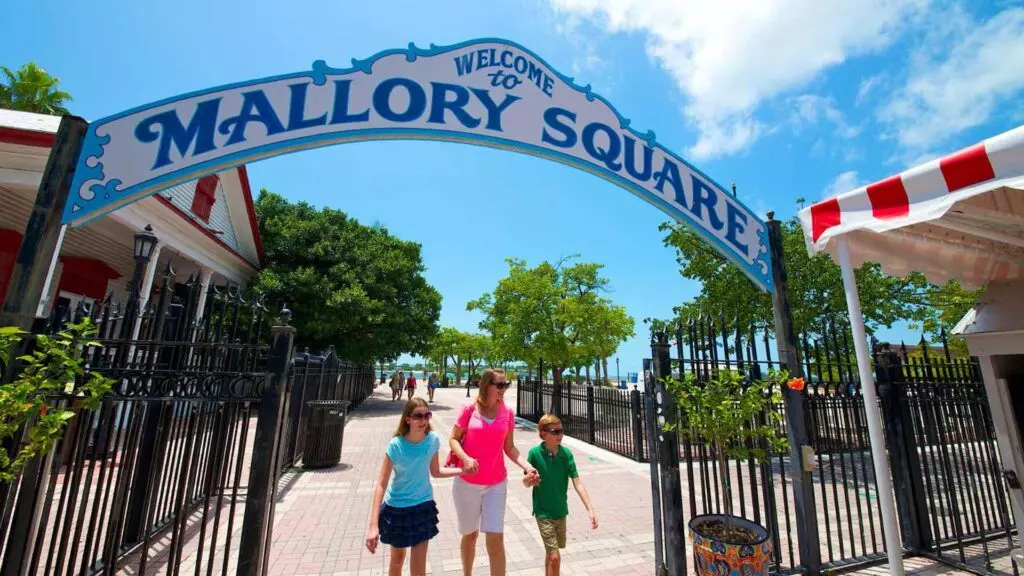 Key West is known for being a laid-back destination. Key West has many locations where you can do this, but none are as well-known as Mallory Square where the fun starts as the sun sets. Each evening, the area fills up with tourists and locals who are eager to enjoy the beautiful sunset while sipping a cold beverage.
Before heading to the renowned beach bars in the hopes of realizing their Jimmy Buffett fantasies, folks can enjoy the natural beauty of the sunset parties as the sun sets over the sparkling seas of the Florida Keys.
Mallory Square, one special place set on the historic waterfront, is home to shops, restaurants, and many of the island's most popular attractions. We recommend you come for the day and stay into the night as There's always something for the tourist in Mallory Square.
Address: 400 Wall St, Key West, FL 33040-6633
Website: www.mallorysquare.com
15. Find some serenity at Wynwood Art District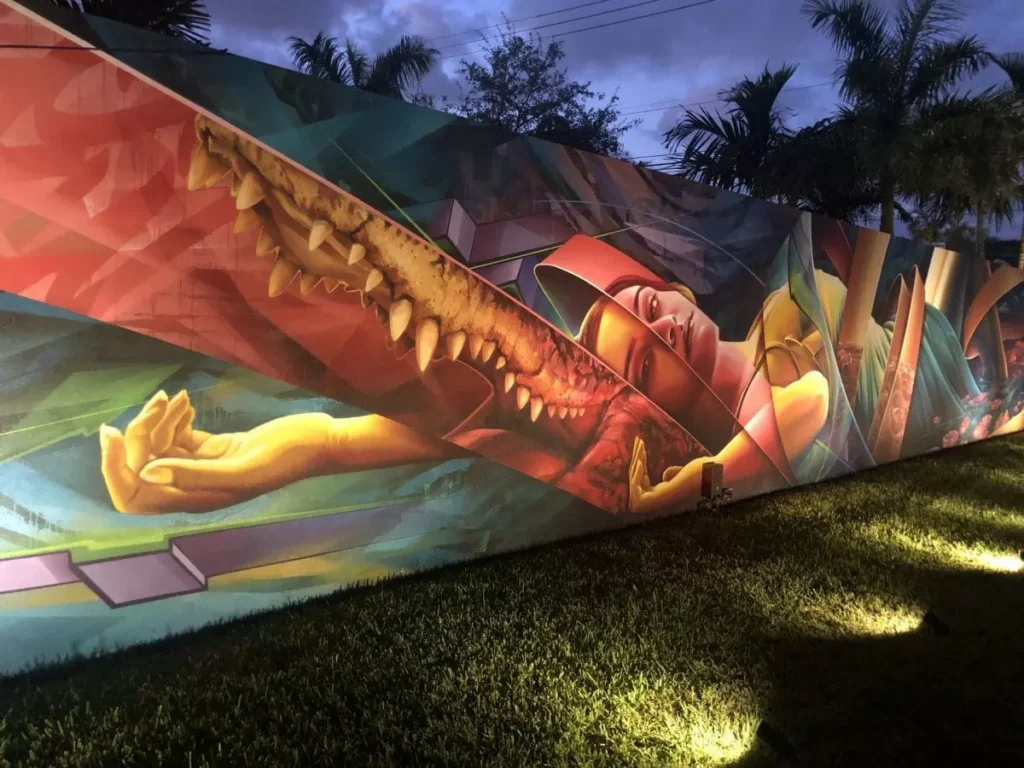 For one of the most fun things to do in Florida, head to the famous Wynwood art district which is one of the off-the-beaten-path in Miami with Great galleries, restaurants, and Impressive graffiti all over the street walls.
Wynwood, one of Miami's modern neighborhoods, is undoubtedly one of Florida's most vibrant centers for art and culture. The Wynwood Walls, commonly referred to as the district's colorful murals that adorn the exteriors of substantial buildings are well recognized.
Some of the most active street artists in the world have exhibited in this outdoor museum. Additional places which are a must-visit after the sun sets include smaller art galleries, craft breweries, shops, bistros, and bars in the neighborhood.
16. Spend a day with kids at LEGOLAND Florida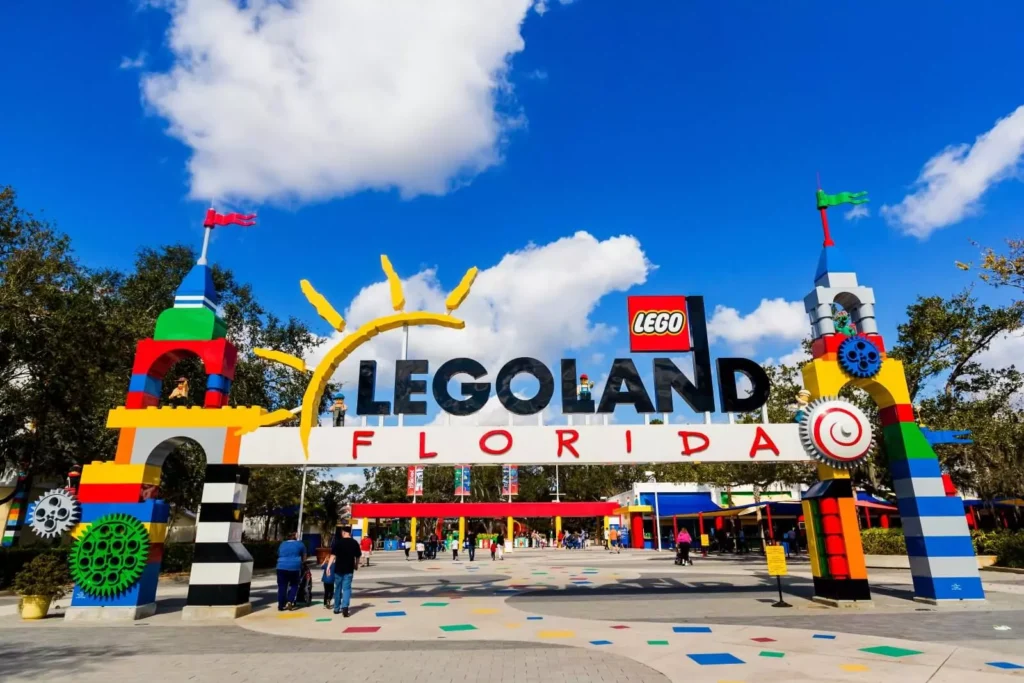 LEGOLAND Florida truly is a wonderful theme park for younger kids, as well as for adults too. It is a wonderful experience exploring all the builds, enjoying the Lego story, and seeing the children enjoy themselves.
LEGOLAND Florida is difficult to avoid visiting if you're traveling with young children. In addition to a delightful water park where visitors can cool off from the Florida heat, the lovely theme park offers a variety of rides and attractions which are suitable for kids of all ages.
A brand-new Peppa Pig Theme Park based on the well-known children's television program Peppa Pig will also soon be opened at LEGOLAND. One of the three LEGOLAND Florida resorts is a great place to unwind after a day of riding rides and spotting favorite LEGO characters; they're all family-friendly based on LEGO-themed.
17. Exlore the Some of Florida's best street food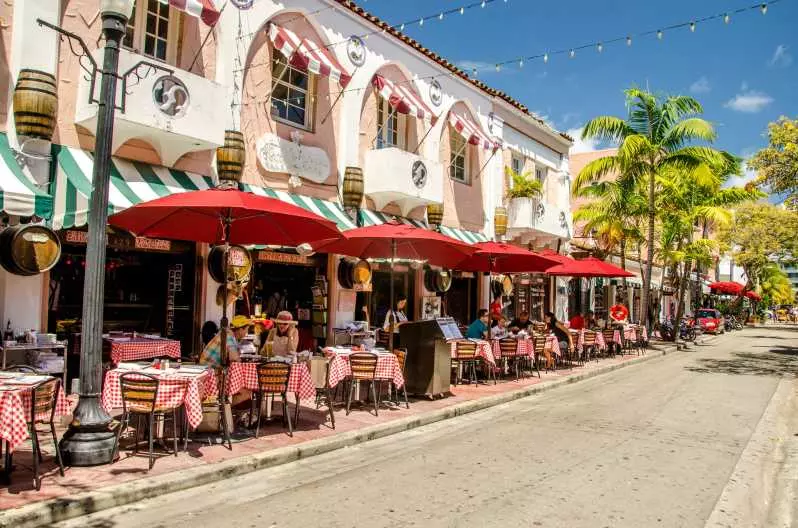 A food walk might be a fantastic way to spend your last day if you were looking for fun things to do in Florida in December. While exploring Little Havana's historic sites, you can enjoy some of Florida's best street food.
From your coffee to a full lunch, everything is prepared in a traditional Cuban manner. While you eat, the guide will tell you about the interesting stories behind each exceptional dish. Along with meeting local artists, you can see how cigars are manufactured.
The entire tour involves cuisine, a stroll through Little Havana and its neighborhood, tasting menus from at least five different restaurants, visiting several artists, and an expert guide. To ensure everyone involving, this excursion is typically led in small groups.
Address: Agustin Gainza Arts And Tavern, 1652 SW 8th St, Miami, FL 33135, USA
18. Wander around the Historic District of St. Augustine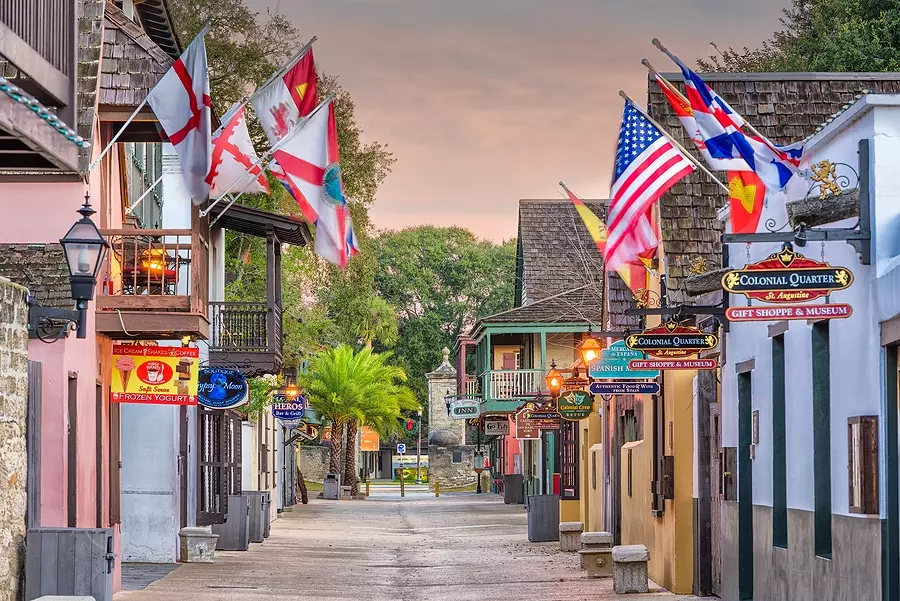 In terms of history, St. Augustine is the most well-endowed city in the United States. Besides Old school buildings and a Spanish village, Other sights can be seen in the lovely downtown streets of the historic district. A lot of the older structures of St. Augustine have been turned into stores and eateries, which are especially enjoyable to visit on hot summer days. The Castillo de San Marcos, a Spanish fort, is located across the street from the historic neighborhood. Here, visitors get a chance to observe war reenactments and tour the fort to get a sense of what life was like in St. Augustine when it was established.
19. Take a day trip to South Beach, Miami, neighborhood guide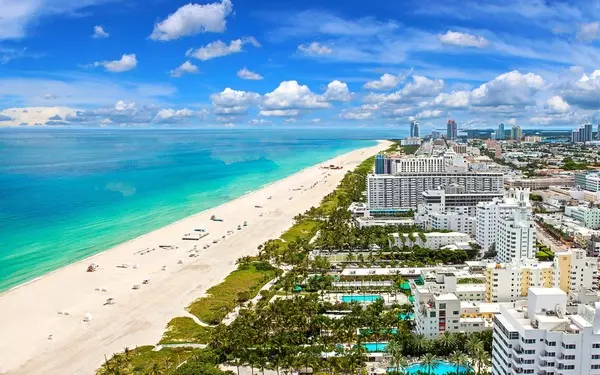 South Beach is often on visitors' minds when they visit Miami. And how could anyone blame them? South Beach is home to glitzy beaches, exotic resorts, and crazy nightlife. Additionally, you can find the top eateries, bars, sights to see, and activities in Miami's most famous neighborhood. The glamour of the island has been portrayed well in shows and films. Compared to its modest coastlines, South Beach is significantly deeper and more intriguing.
Tourists always love to explore the interiors of the top resorts, boutique hotels, and restaurants located in the city. there are a number of activities you can engage yourselves in when you require a little rest, such as shopping at the top South Beach boutiques, visiting museums, and dancing the night away if you're feeling adventurous. There are a tonne of things to do at South Beach.
20. See what's on at the Pirate & Treasure Museum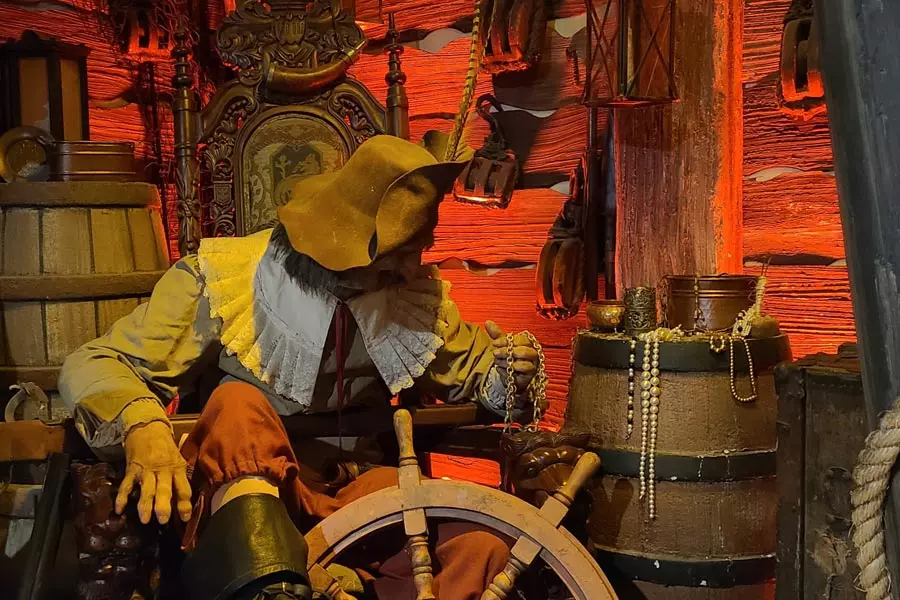 The St. Augustine's Pirate and Treasure Museum, established by well-known entrepreneur Pat Croce, is home to one of the world's largest and most genuine collections of pirate artifacts. The museum has a collection of stolen goods with 48 distinct exhibit rooms.
The exhibits provide you with the history of this cruel profession, showcasing several pirate weapons, mounds of wealth, facts about each buccaneer's life, and writing and art representing these feared fortune-hunters.
One of only two genuine Jolly Roger flags still in existence, Blackbeard's blunderbuss, money from his flagship the Queen Anne's Revenge, and Thomas Tew's original treasure box—the only legitimate pirate treasure chest ever discovered—are among its many treasures.
Address: 12 S Castillo Dr, St. Augustine, FL 32084, United States
Phone: +1 904-819-1444
Website: www.thepiratemuseum.com