Top 20
Fun Things To Do In Myrtle Beach
Myrtle Beach is a popular vacation destination which is known for its beautiful beaches, amusement parks, and vibrant nightlife. Myrtle Beach attracts millions of visitors every year from around the world. This is because they get various fun activities here to choose from. The first and foremost thing to do here is to explore the 60 miles long beautiful coastline where visitors can enjoy and spend their day sunbathing, enjoying various water sports and swimming and many more.
If you want a break from the sand then you go to one of the amusement parks such as the Family Kingdom Amusement Park of Myrtle Beach Boardwalk. In these amusement parks, you can enjoy thrilling rides, try delicious food, and can play different games. For kids and animal lovers, you can visit Zoo and Myrtle Beach Safari, a 50-acre wildlife preserve that is home to many exotic animals like elephants, tigers, lions, and many others. Here you can have a close encounter with these animals. Myrtle Beach is also known for its vibrant nightlife, you can explore many different nightclubs, bars, and many live music performance venues. It offers endless options of fun things to do in Myrtle Beach.
You can also read…
1. Enjoy Parasailing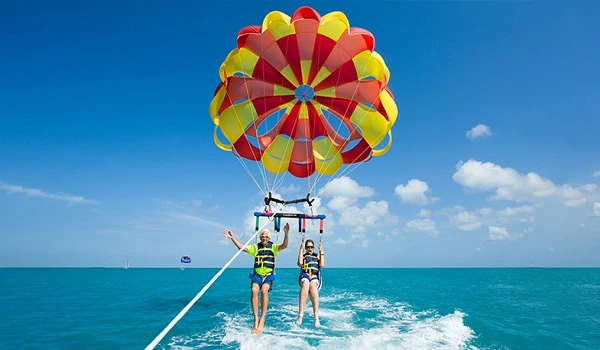 Parasailing is one of the fun things to do in Myrtle Beach. It lets you fly through the air with the greatest ease. Parasailing captains at Myrtle Beach have made it easy for visitors to fly like a bird in the sky. It gives an amazingly beautiful view of the beach and the sea from the sky. The area boat captains and crew slowly and safely launch you upward, tied tightly behind the boat when you go parasailing in Myrtle Beach. The harness gives confidence of safety to the visitor which helps them enjoy the unmatched view and feel the thrill.
2. Take on a Kayaking tour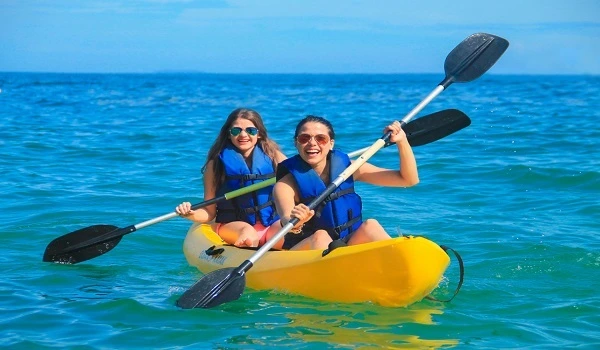 To experience the relaxation and wildlife of the water bodies and rivers of Myrtle Beach, you can go kayaking which is one of the fun things to do in Myrtle Beach. It is a sturdy and unsinkable kayak on which you sit, that pumps your blood with an adrenaline-filled rush of navigating the navigators in the ocean surf. Whether you go for the first time or the 100th time, it always excites you and gives you a thrill. Kayaking in Myrtle Beach is a great, affordable, and exciting activity for visitors, you can do it both on inland waterways and out on the ocean.
Address: 1249 Vera Rd, North Myrtle Beach
Phone: (843) 882-7487
Website: www.rivr.info.com
3. Have fun while Paddleboarding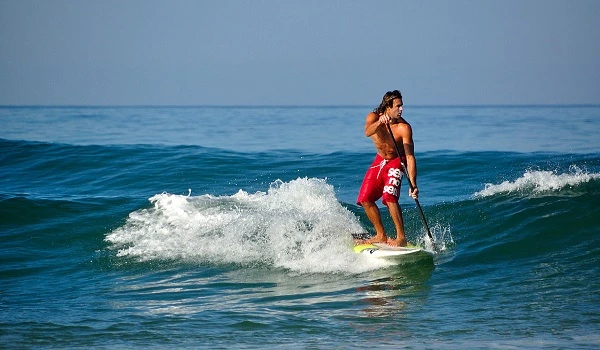 Have fun while Paddleboarding
Paddleboarding is an adventurous outdoor activity you can do during your Myrtle Beach vacations. It is a great way to explore the rivers and ocean while getting exercise. Standup paddleboarding is one of the fun things to do in Myrtle Beach and becoming a popular pastime. People of every age can do paddleboarding and experience fun and adventure and enjoy the beautiful scenic view and wide spaces of Myrtle Beach. In paddleboarding, participant stands on the floating paddleboard and uses a paddle to propel themselves through the water.
4. Get on a Jet Ski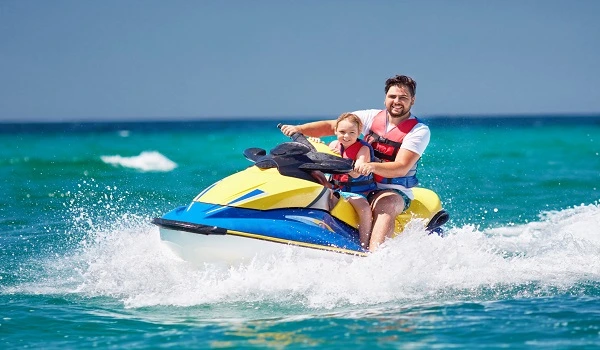 Jetskiing is one of the fun things to do in Myrtle Beach. It is very fun, safe, and fast when operated responsibly. It is small enough for a single rider and big enough for four riders. Modern jet skis are very responsive and maneuverable. Jetskiing in the water shoars of Myrtle Beach is a very exciting and unique experience as these jet skis force water through a rocket-styled nozzle that pushes the jet ski through the water with remarkable speed, control, and efficiency. Many different jetski rental companies provide jetskiing in Myrtle Beach and many jetski lovers can be seen here, especially in warmer months.
5. Enjoy Horseback Riding experience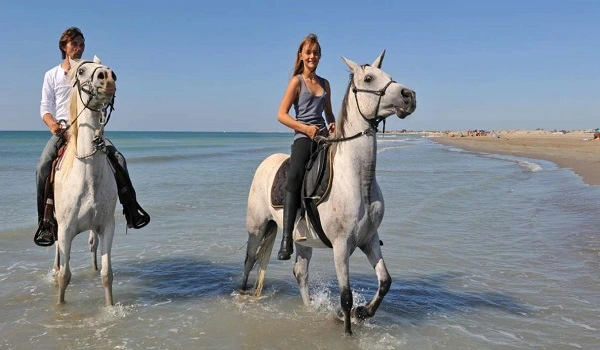 Horseback riding on the Grand Strand is an absolute pleasure. Riding on the back of the noble, loyal, patient, and strong animal is known to millions and it is also one of the fun things to do in Myrtle Beach. The relaxation of moving steadily and slowly along the coast and oceanfront is a perfect example of living in the moment. You can enjoy many beautiful views, and see unique birds, and plants from the back of the horse along the riverside. You can find many businesses which offer short trail rides, and overnight adventures with well-trained horses at Myrtle Beach.
Address: 5800 Little River Neck Rd, North Myrtle Beach,
Phone: (843) 249-2989
6. Explore Zoos & Wildlife Attractions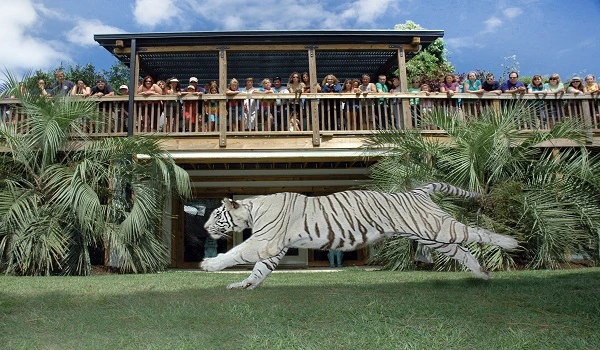 Seeing wild animals at the zoo with family is another level of thrill. This is one of the fun things to do in Myrtle Beach. At Myrtle Beach Zoo, you can see animals that you might not have seen ever before in your life. You will get to see animals like Ligers, Tigers, alligators, elephants and many more. This will give a unique experience as you will get a real picture of real wildlife and exotic animals that calls Grand Strand, Myrtle Beach home. Spending a day at this Zoo is completely a fun thing to do.
Address: 4898 South Highway 17, North Myrtle Beach,
Phone: (843) 361-4552
7. Witness high speed at Zip Lines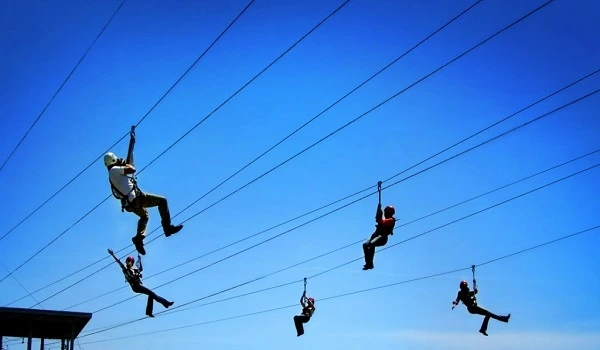 If you are fond of scenic beauty and adventure as well, then you can go for Zip lines made especially for you at the Grand Strand, Myrtle Beach. There are many beautiful sights to see at Myrtle Beach and there are a lot of different ways to see them too, Zip line is one of them. It is one of the fun things to do in Myrtle Beach for enjoying the picture-perfect and mesmerizing views with adventure from the sky. You can clock in, push off, and let go as gravity glides you down safely through the air to the other end of the line.
Address: 1313 Celebrity Cir, Myrtle Beach
Phone: (843) 448-7627
8. Thrilling roller coaster ride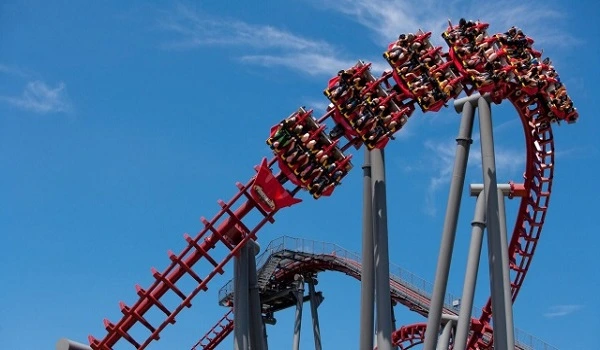 Roller coasters are a gem for fun and thrill-loving people. It is an integral part of Myrtle Beach vacations. It lets to inject adventure and rush up the adrenaline in their blood which makes the visitors super excited. This is a place where you can let your screams, and laughter out freely.
It starts from mounting tension while you go up on the track before the big and scary sudden drop, the drop itself, and the twists and turns afterward, roller coaster at Myrtle Beach is an absolutely exciting and safe way for families and friends to enjoy. It is one of the fun thing things to do in Myrtle Beach for adults.
9. Ride the iconic SkyWheel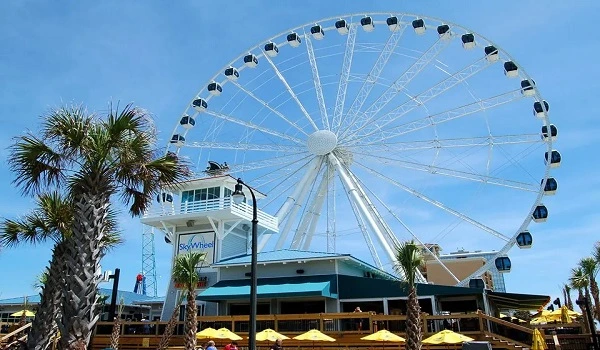 SkyWheel is a 187-foot Ferris wheel that made its debut in 2011 at Myrtle Beach. It lights up the night sky with its flashing bursts of colors. It has almost 42 glass-windowed gondolas, which are completely temperature controlled and come in handy during winters and summers. Six people can ride in a gondola at a time. While taking a ride, you got to see an amazing view of Myrtle Beach and the oceans when you reach the top. Along with that, it gives an amazing and adventurous experience. It is one of the fun things to do in Myrtle Beach with family.
Address: 1110 N. Ocean Blvd., Myrtle Beach
Phone: (843) 839-9200
Website: www.skywheelmb.com
10. Myrtle Beach Boat Tours & Cruises
Hopping on a boat or a cruise and taking a tour to see the beauty of water is a new experience. There is no shortage of places to cruise at Myrtle Beach. Boating tours are a very relaxing and exciting journey. You can observe pods of dolphins and sea turtles swimming by you and you can enjoy late-day sunlight against the horizon. You can paddle your way to a private oasis to get a close look at local wildlife and spend the night on a secluded island after your tour. This is one of the fun affordable things to do in Myrtle Beach and a dream for adventure seekers.
11. Go to Escape Rooms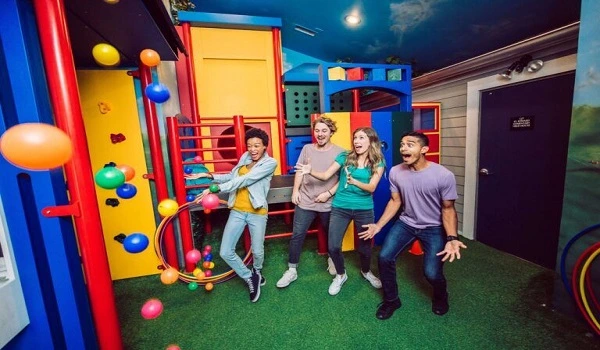 Escape Rooms are the new and unique sensation in Myrtle Beach. Escape Rooms are also known as "Break Out Rooms", it is a very interactive attraction for visitors as they are given a scenario and they must solve a series of puzzles within a given set of time in order to escape and come out of the room they are in. Each and every attraction gives a different experience to the visitors. Some of them give common scenarios like cracking a bank vault, finding hidden treasure, escaping a serial killer, and much more. It is one of the fun things to do in Myrtle for kids and families.
12. Race with friends at Broadway Prix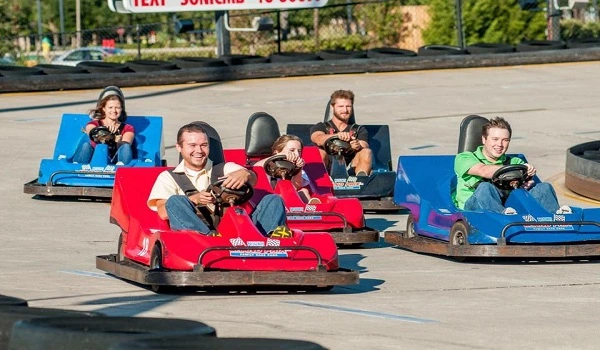 Go for Broadway Race those in search of a good time will find it in Myrtle Beach, where they can enjoy classic amusement park rides and activities like go-kart racing. If you like to compete with your friends, you will love go-kart racing. You and your loved ones can race over seven different courses to determine who is the best driver. Feel the rush of adrenaline as the wind whips through your hair and enjoy the thrill of this exciting attraction. Go-karting in North Myrtle Beach at the Myrtle Beach Grand Prix is a blast. It is one of the fun things to do in Myrtle Beach for adults.
13. Talk to the skies in a helicopter tour
Especially for those who want to fly like a bird in the sky, helicopter rides are available at Myrtle Beach. Experienced helicopter pilots will give you a tour and you can enjoy the beautiful bird's eye view of the coast and landscape of the Grand Strand. The tour is available in different affordable packages and you can also customize your ideal tour. The helicopter ride is one of the fun things to do in Myrtle Beach for families. Passengers of every age are allowed and the experience and dedicated staff ensures the passenger's security and safety and makes the ride memorable with fun.
14. Go for Fishing at the Piers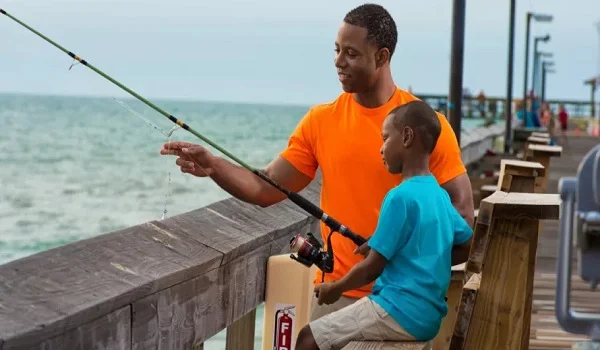 There are abundant activities available at Grand Strand and fishing is one of the fun things to do in Myrtle Beach. It is the most lasting memory that has changed a little over generations. The area is home to a number of large fishing piers on the beach. The piers available at Myrtle Beach are well-constructed and family-friendly. They offer fishing gear, live bait, open-air restaurants, and many other facilities which make the fishing experience more fun and unforgettable. You can have complete live entertainment as it is very exciting to catch fish and once you are able to catch one, it gives an amazing winner feeling.
Address: 9700 Kings Road, Myrtle Beach
Phone: 843-497-6486
15. Experience the fun of Camping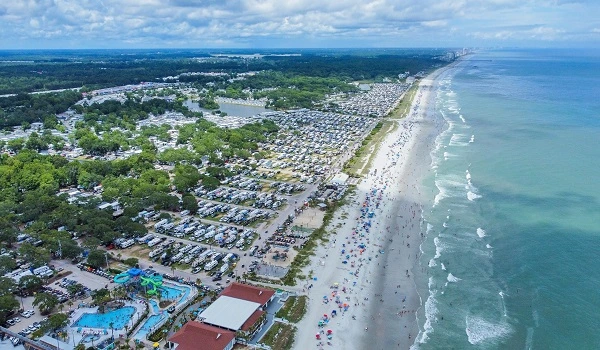 Apart from kayaking, parasailing, etc, camping is also a great outdoor activity and one of the fun things to do with family in Myrtle Beach. While considering joy, fun, and family bonding, you can do camping at different parks or Myrtle Beach with your loved ones. Whether you go for a rough tent with a sleeping bag or a glamour camp with TV, kitchen and comfortable bed, You will be close to nature, lying in among the forests with beautiful views. There are many amazing compounds in Myrtle Beach which provides budget-friendly resort facilities in the woods.
Address: 6001 South Kings Highway, Myrtle Beach
Phone: 800-876-4099
Website: www.oceanlakes.com
16. Fun at Trampoline Parks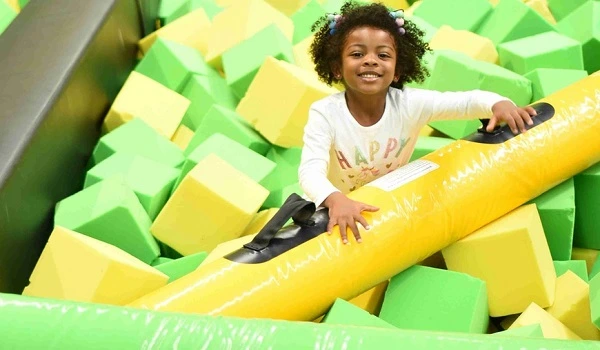 Many Myrtle Beach visitors come for beaches and sunshine. But, if they want some indoor fun, there are many indoor trampoline parks available in Myrtle Beach. It is a different type of adventure and fun other than beaches. Trampoline parks in Myrtle Beach provides actions that everyone in the family can enjoy, From massive slides to high flying ziplines, trampoline dodgeball courts, slam dunk courts, a ninja warrior course, foam pits, climbing wall etc, there is never a dull moment at these Trampoline parks.It is one of the fun things to do in Myrtle beach with kids and family.
Address: 2200 North Oak Street, Myrtle Beach
Phone: (843) 242-3264
Website: www.skyzone.com
17. Explore Myrtle Beach Boardwalk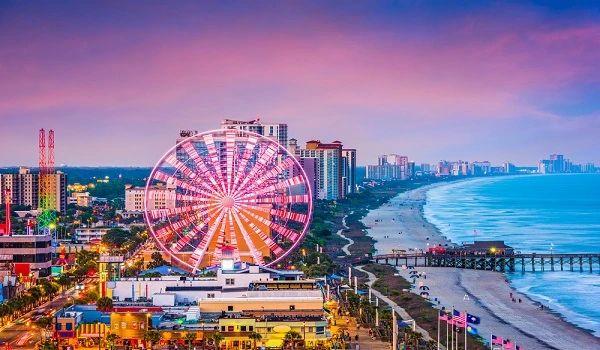 Exploring Boardway is one of the fun things to do in Myrtle Beach. It is a hub of famous attractions like hotels, shops, food, and many other interesting things. Its iconic oceanfront eatery is known for its delicious seafood and sushi, along with that, it also serves tasty land food also. Visitors can enjoy their food with breathtaking ocean views and have fun. Myrtle Beach Boardway is a family-friendly destination that offers many entertaining activities like concerts, street performances, new year's Eve celebrations, and many more.
18. Go tubing with River Island Adventures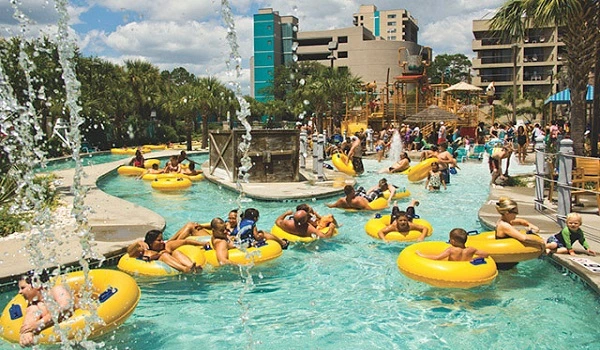 Myrtle Beach is full of fun activities. If you are a thrill-loving person and want to combine some relaxation along with thrill, then you can go tubing in Myrtle Beach, It is a very popular outdoor activity which lets you soak in the sun as you zip through the water and wind the hair with a tube in a beautiful river. You can enjoy the beautiful scenery of the river while sitting and relaxing in the tube. Tubing is one of the fun things to do in Myrtle Beach with family.
Address: 8201 Marina Pkwy, Myrtle Beach
Phone: 843-839-2999
19. Ride the waterslides at Myrtle Waves Water Park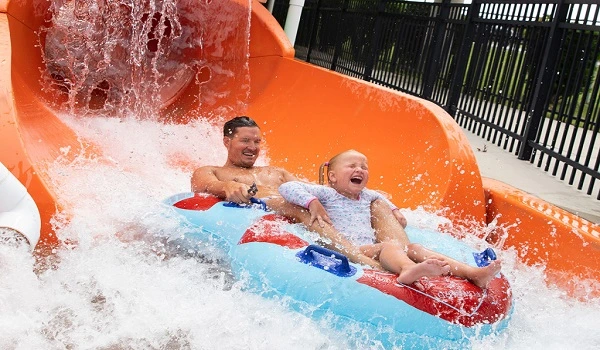 For visitors who are thrill seekers and looking for vertical drop slides and a chiller craving a wave pool, Myrtle Beach water park is a perfect destination for you. There are many exciting twisting and turning slides and water slides like thunderbolt speed slide, turbo twister, super chute, riptide rockets, etc. that will make you feel out of the world. You will never forgot the time spend here with family and friends. You should definitely try night flight as long as you are not afraid of the dark. It is one of the fun things to do in Myrtle beach with family and friends.
20. Meet the dinosaurs at Dino Park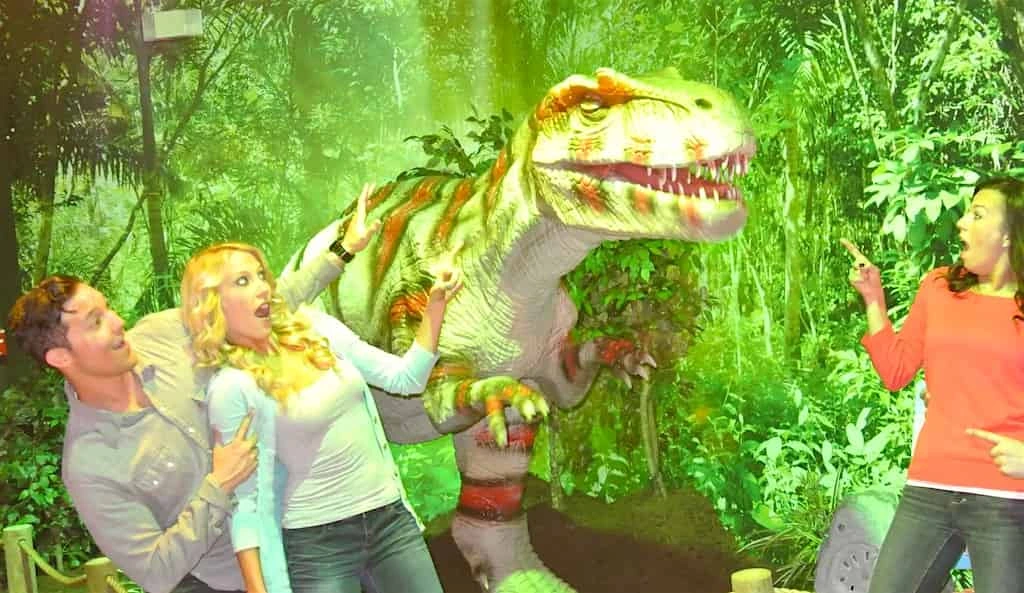 Dino Park is a perfect destination for you if you want to combine great fun with tons of education. From stuffed toy dinosaurs to figures and pens, there are lots of different types of amazing gifts available for your kids to delight them and remember the moments spent in the Dino Park Museum. It is one of the fun things to do in Myrtle Beach with family as it offers real life size animatronic figures which bring fun and excitement. Apart from that, it also gives the visitors the ability to explore lots of other activities like shopping venues, restaurants, etc
Address: 1112 Celebrity Circle, Myrtle Beach
Phone: 843-808-9619
Website: www.dinoparkmb.com