Top 20
Fun Things To Do In San Diego
In this article, you will learn some of the best fun things to do in San Diego. Being a city on the Pacific coast of California, San Diego is widely known for its beaches, warm climate, clubs, bars, etc. There are various fun things to do in San Diego. San Diego invites you to take a step outside your comfort zone and explore new unique activities. It does not matter whether you are native or not, San Diego will not be going to disappoint you and always offer an exciting experience for their visitors.
If you are interested to know some other things to do in other areas. Click the link below:
Keep reading to explore some of the fun things to do in San Diego:
1. Have Full Enjoyment In San Diego Zoo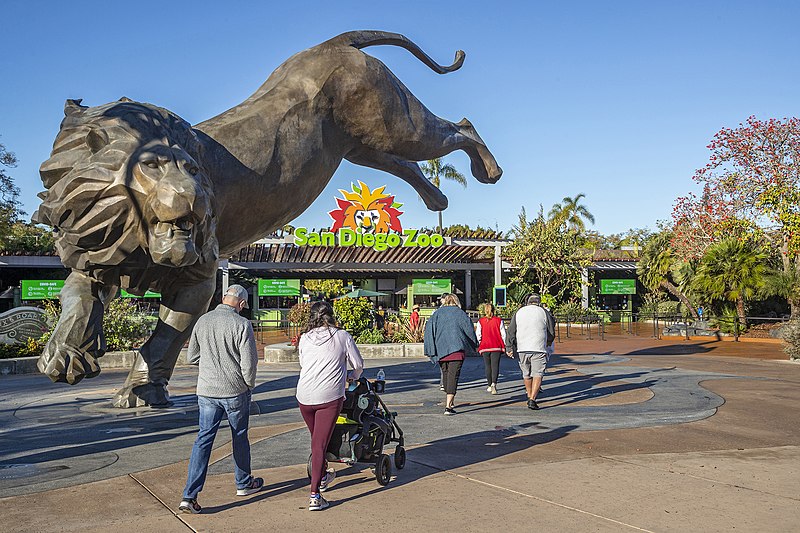 San Diego Zoo is an amazing zoo to explore wild animals such as lions, kolas, pandas, elephants, etc. Here you can grab your camera and can take amazing pictures of these creatures.
San Diego Zoo is also part of the campaign to protect endangered species worldwide. So, here you can not only get the chance to connect with the wild animals but you can become part of the campaign for saving the animal's life. Zoo provides additional free parking. A free Shuttle is available directly to the entrance from the inspirational point parking lot at Presidents Way.

2. Taking An Experience Of a Hot Air Balloon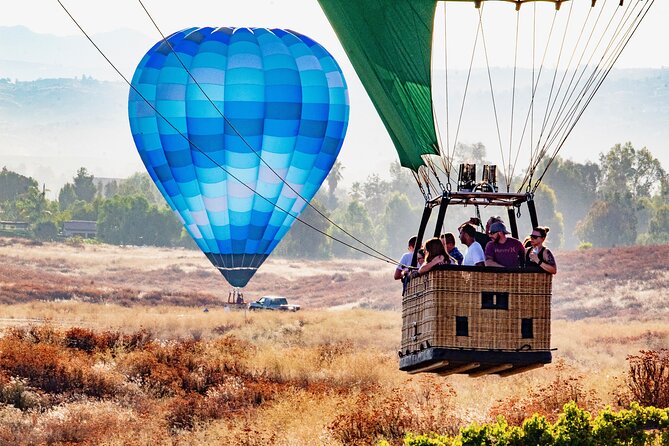 Take your loved one on an exciting air balloon tour, where you can see real beauty from the sky. No matter whether you are traveling first time or not, it's sure that you going to have an amazing experience. Here you feel relief, peaceful at 2,000 feet above the ground and you can even get the chance to see a bird's-eye view of the Pacific coastline and southern California.

3. Let's Try This Escape Game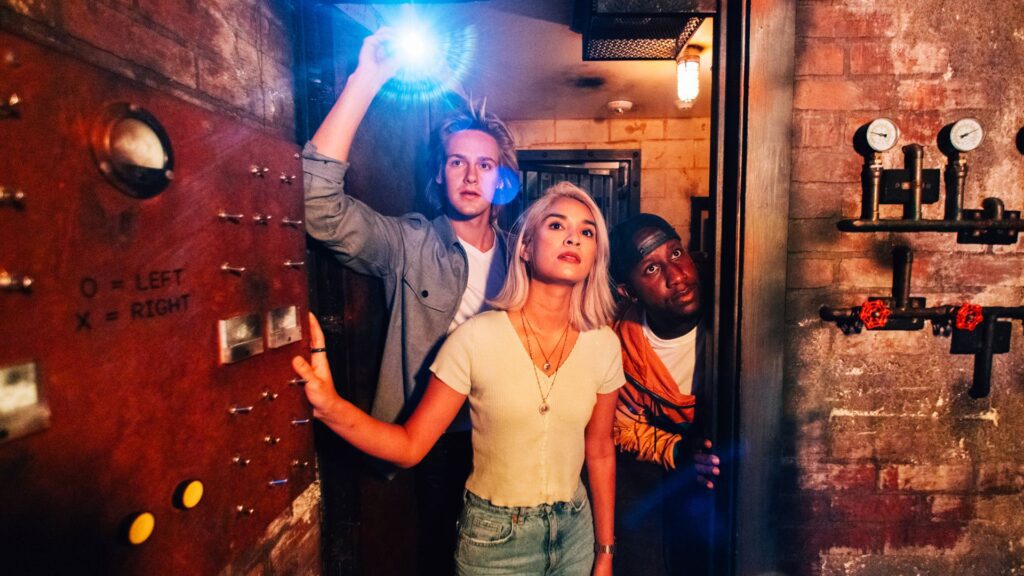 If you love puzzles and challenges then The Escape Game in San Diego which was located in the vibrant Gaslamp neighborhood is the right place to have fun things to do in San Diego. On this escape room, you will go on an adventure journey, you will get multiple rooms to explore and they provide 4 San Diego escape rooms at all skill levels. 4 San Diego escape rooms are Prison Break, The Depths, Special Ops: Mysterious Market, and Gold Rush. It doesn't matter which escape room you choose but one thing is for sure that you'll definitely have a blast.

4. Watch a Star Wars Parody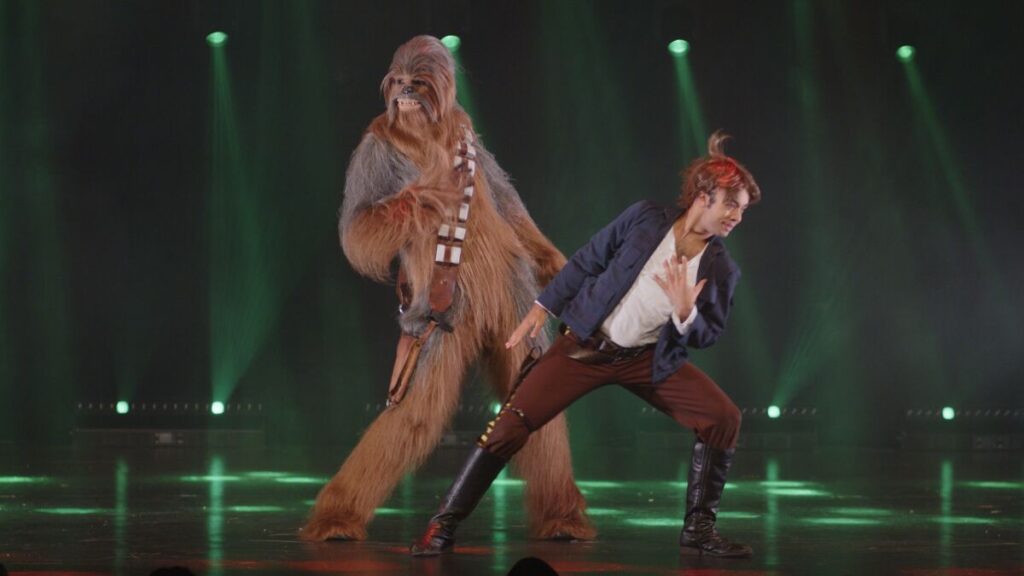 Empire Strips Back in San Diego contain a dangerously seductive Boba Fett, sexy stormtroopers, a lady-like Skywalker, and many more. There is an age limit of a person that is a minimum of 18 years. Here you will get the chance to watch every classic character of the movie such as Star Wars. Yes, you heard right Star Wars. So every Star Wars fan, this is the show that you can't miss. Here you will see some of the most memorable and impressive live performances.

5. Pleasure At Coronado Beach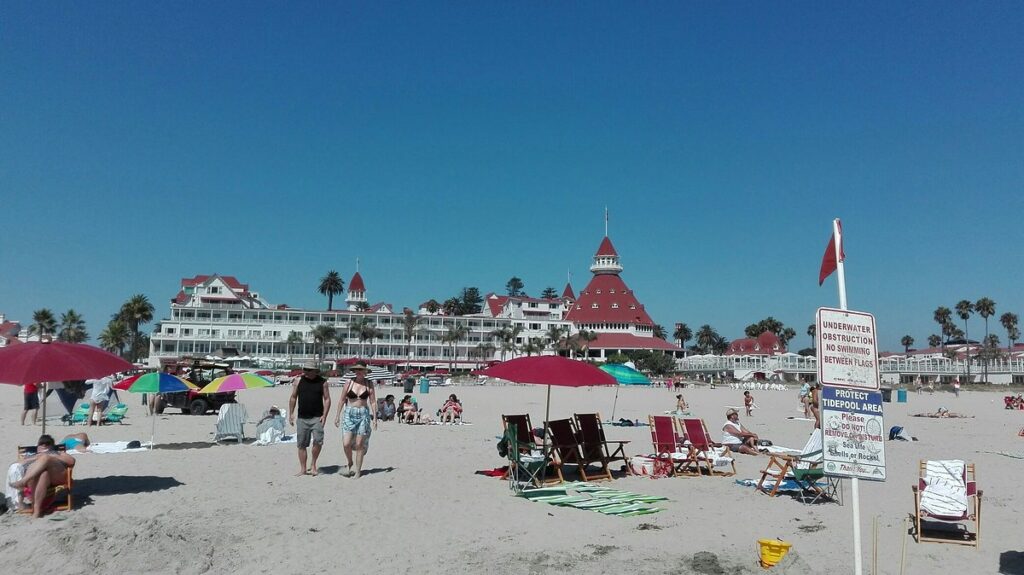 Coronado Beach runs along ocean boulevard and near Hotel del Coronado at the southern end. Coronado Beach is a host to a range of amazing beachfront events all year long. The 1.5-mile long sandy beach serves as heaven for those who want to enjoy sunbathing, swimming, skimboarding, and surfing. It is perfectly suitable for families who want to spend the whole day here, and a lifeguard is also available here all the time.

6. Have a Ride at La Jolla Underwater Park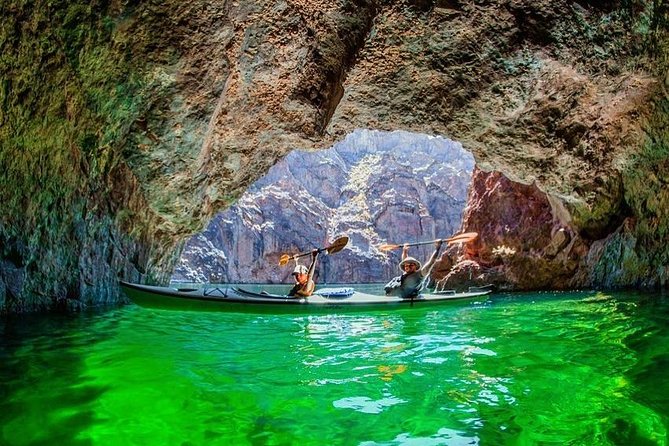 La Jolla Underwater Park will give you a unique experience, here you will get a chance to do kayakers glide through the water, snorkeling, paddleboarding, etc. This park is created in 1970 by the city of San Diego. It is divided into 2 parts: Marine Life Refuge and Ecological Reserve. Ecological reserves comprise a total of 6,000 acres, but many of it is secured from human intervention so that marine wildlife such as sea lions and seals should b safe in their habitats.

7. Enjoy This Exciting Journey Of Indoor Skydiving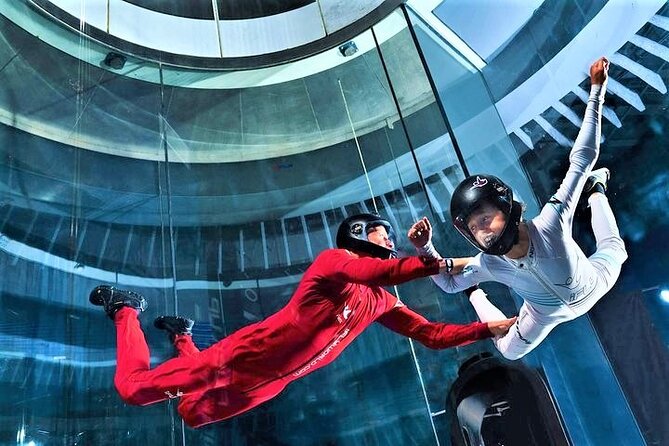 If want to do skydiving but have a fear to jump from a plane, then no need to worry because your dream of skydiving can be fulfilled here. iFly San Diego gonna complete your dream by providing indoor skydiving. Here you will feel a real experience of skydiving even without the fright of actual freefall. This indoor skydiving is friendly activity perfectly suitable for kids' birthday parties, team building, corporate events, and even more.

8. Torrey Pines Golf Course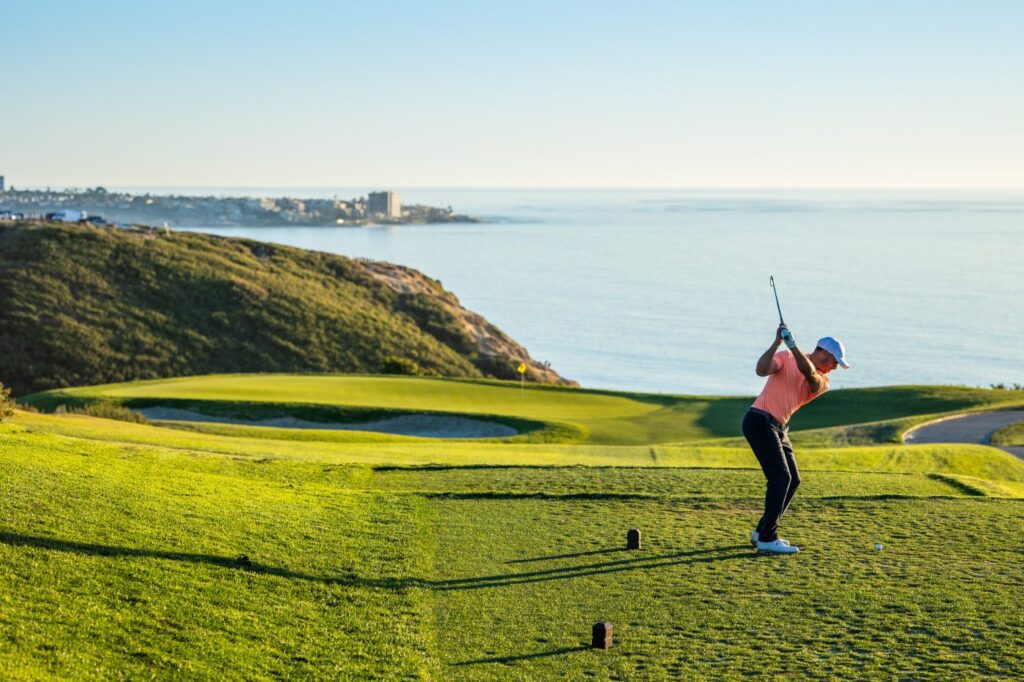 20 minutes away from San Diego Downtown, Torrey Pines Golf Course is a 36-hole municipal golf facility which was located on the west coast of the united states. It is one of the premier golf destinations in the US. Here you will get everything as a player or spectator and you can get the best opportunity to test your skills.

9. View Some Digital Art Exhibitions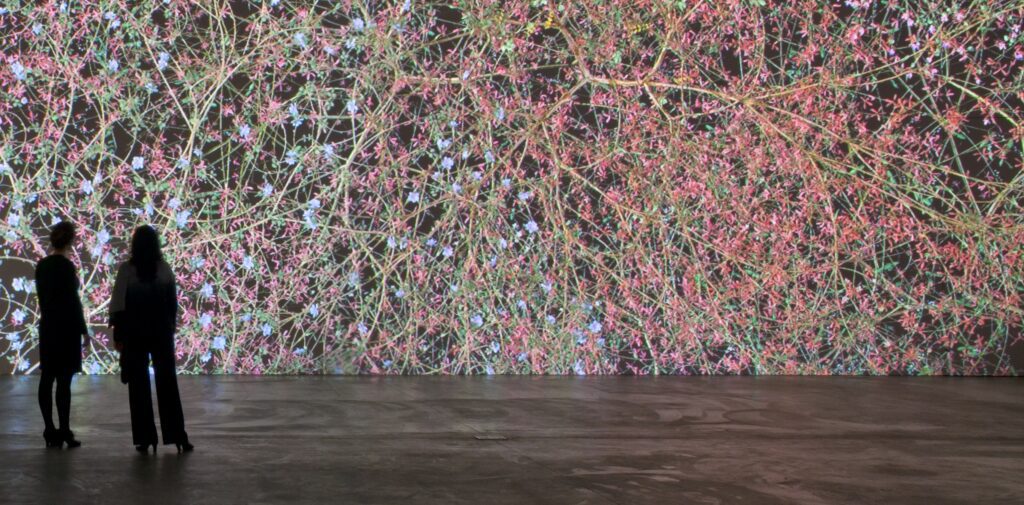 If you have a desire to have visual masterpieces, then there are plenty of digital art exhibitions available in San Diego such as the Money exhibit, Van Gogh, Klimt's, and Rene Magritte. Here you can explore the works done by some of history's great creators in an innovative and immersive environment.
10.Fleet Science Center Will Take You a Journey of Science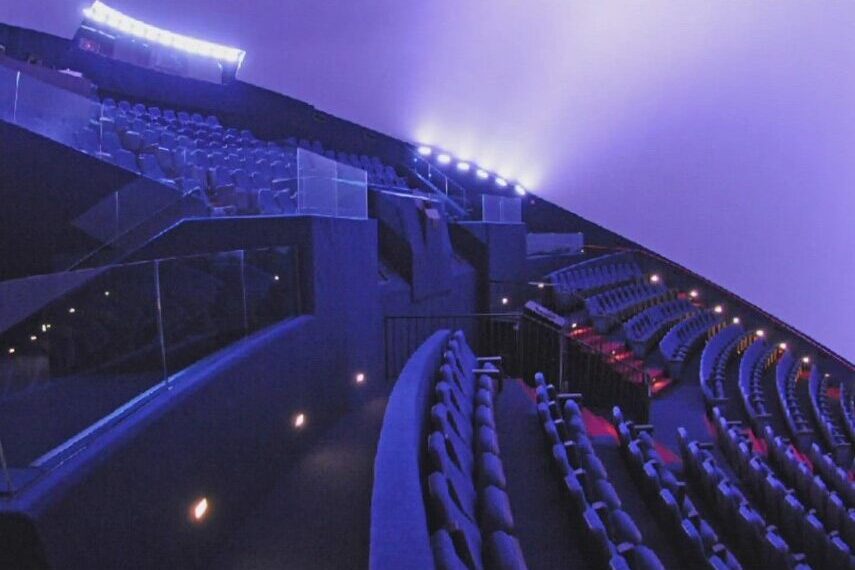 If you are interested in science, then Fleet Science Center is an ideal place where you can take your family & friend and can investigate all kinds of exciting science. Located in Balboa Park, Fleet Science Center is the world's first IMAX Dome, where you will get serious learning in an interactive funny way.
Having more than 100 interactive displays, they gonna take you on a complete journey of the wonder of science from the human body to outer space.

11. Take a Real Feel Of Jurrasic Park At Dinos Alive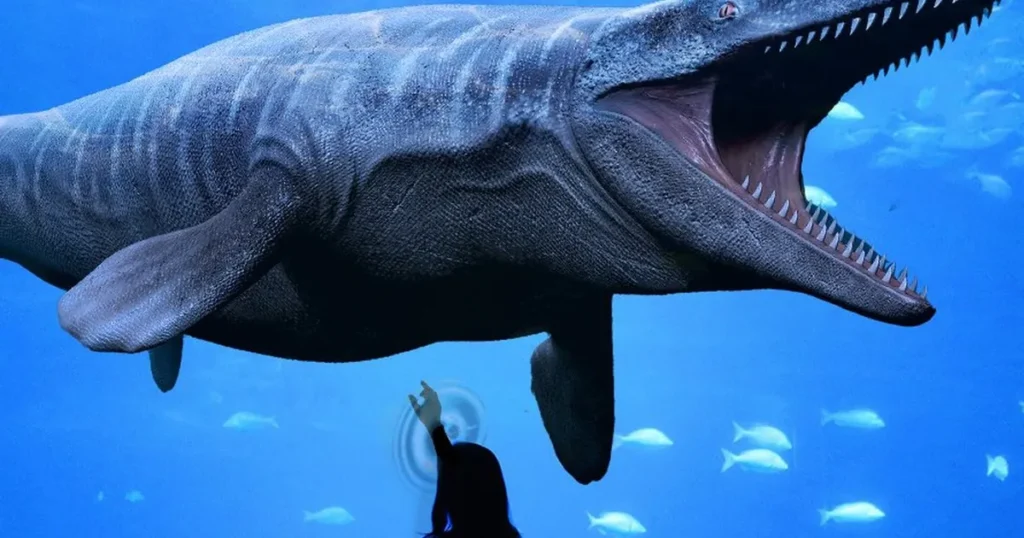 If you are a fan of Jurrasic Park, then you must visit Dinos Alive, where you will get a real feel of watching dinosaurs. It's really gonna be one of the most fun things to do in San Diego. Standing in front of the shadow of the largest creatures that ruled the earth, really going to have a thrilling experience. You'll get a chance to view over 80 life-sized specimens of both famous and lesser-known species including T-Rex, Velociraptor, Suchomimus, and Stegosaurus.

12. Views Of San Diego On A Thrilling Helicopter Tour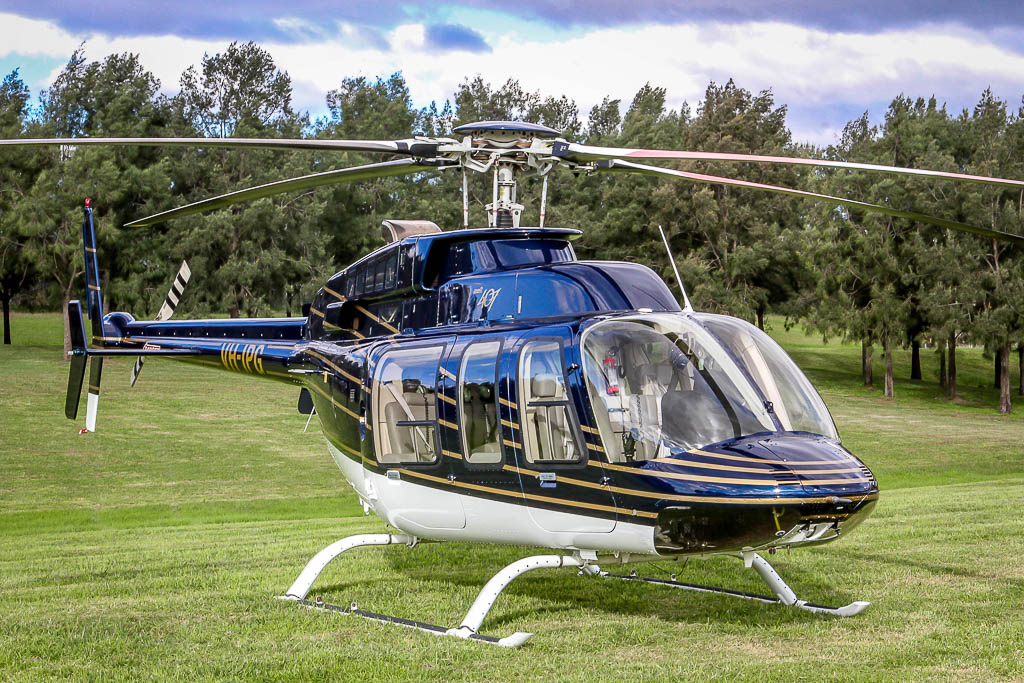 Doing sightseeing with corporate helicopters is one of the most fun things to do in San Diego. From the helicopter, you will get the chance to view the city from the sky, fly past Ocean Beach pier and even get close to sights such as Del Mar
Racetrack and SeaWorld. From 30 minutes flight to a 1-hour flight that s includes the highlight of San Diego, Lake Hodges, Fairbanks Ranch, and Miramar Air Station.

13. Flyboarding( Feel like Iron Man)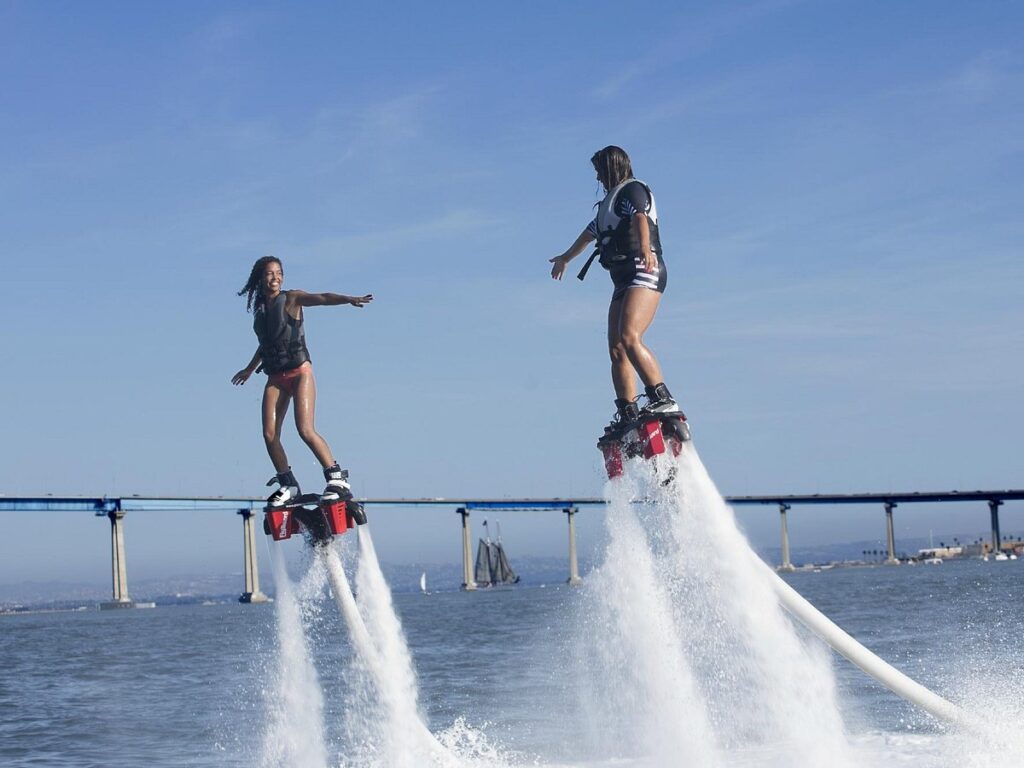 Flyboarding is one of the most exciting and fun things to do in San Diego. It is really unique way to have a thrilling experience by rising 50 feet above the water.
Locally owned and operated boat rental facility, Mission Bay Sportcenter offer a full fleet of watersports rentals including powerboat, jet skier, etc. Here, 1st- a timer can easily learn some basics of flyboarding within 3 minutes to 10 minutes and it will take a proper 30-minute flight to learn the basic and advanced techniques to reach a maximum height of 20 feet. They even provide jet boards that take 60 minutes to fly and can even practice advanced jet board skills.
14. View the live Show At Humphreys Concerts By The Bay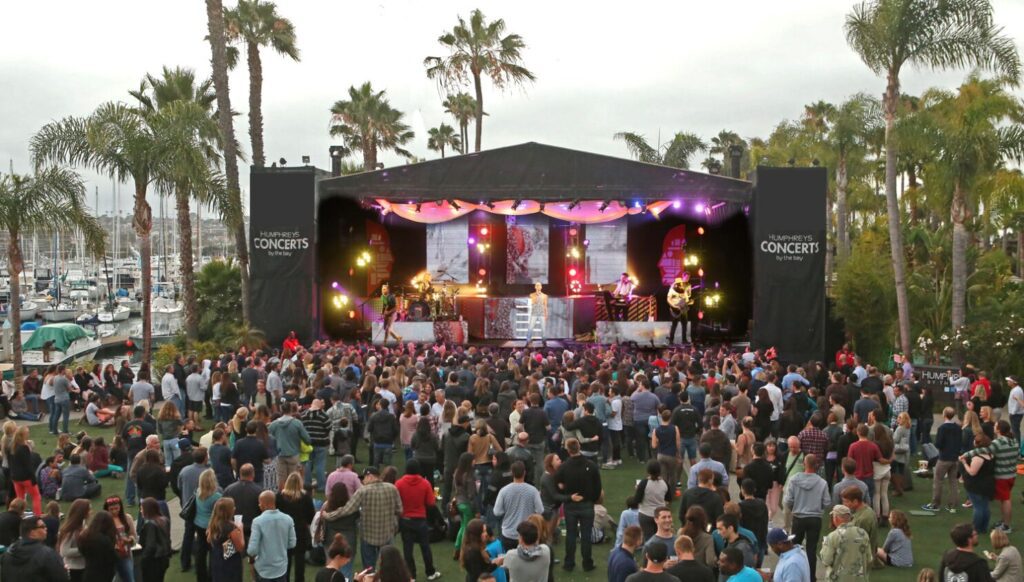 Humphreys Concerts By The Bay is located on shelter island is a summer tradition for the last 40 years. Some of the biggest names showcasing this concert in the music industry are Jackson Browne, Bob Dylan, Willie Nelson, and Stevie Wonder. The duration of this concert is From April to October, therefore you can easily watch your favorite artist to perform.
15. Visit Disneyland!- Fantasy Place on Earth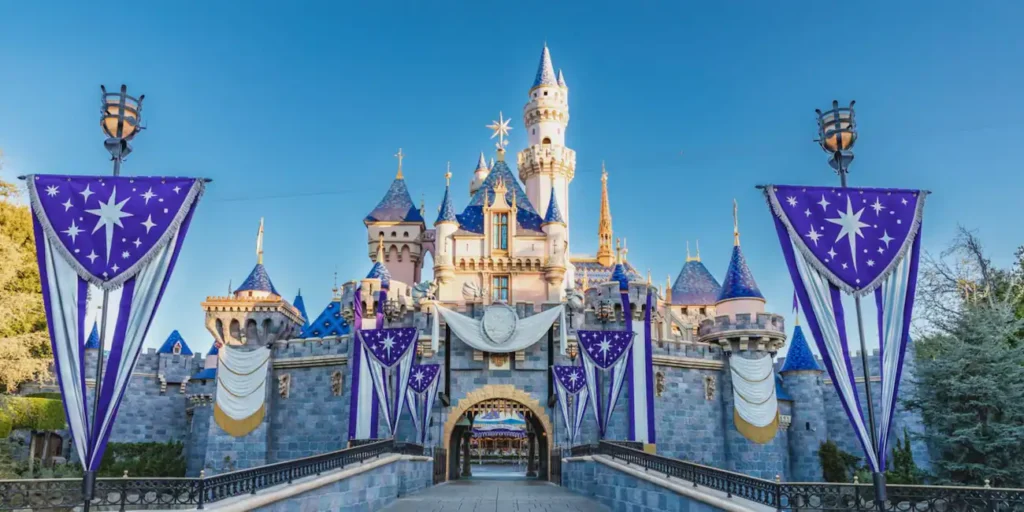 90 minutes away from downtown San Diego, Disneyland Resort is the most famous and popular theme park. Disneyland Park has enchanting kingdoms where you can meet your favorite characters from Disney Stories. Here you can enjoy and can do exciting fighting battles of resistance groups of "Star Wars" or even escape captivity at "Pirates of the Caribbean.

16. Try Your Luck On Horse Racing At Del Mar Racetrack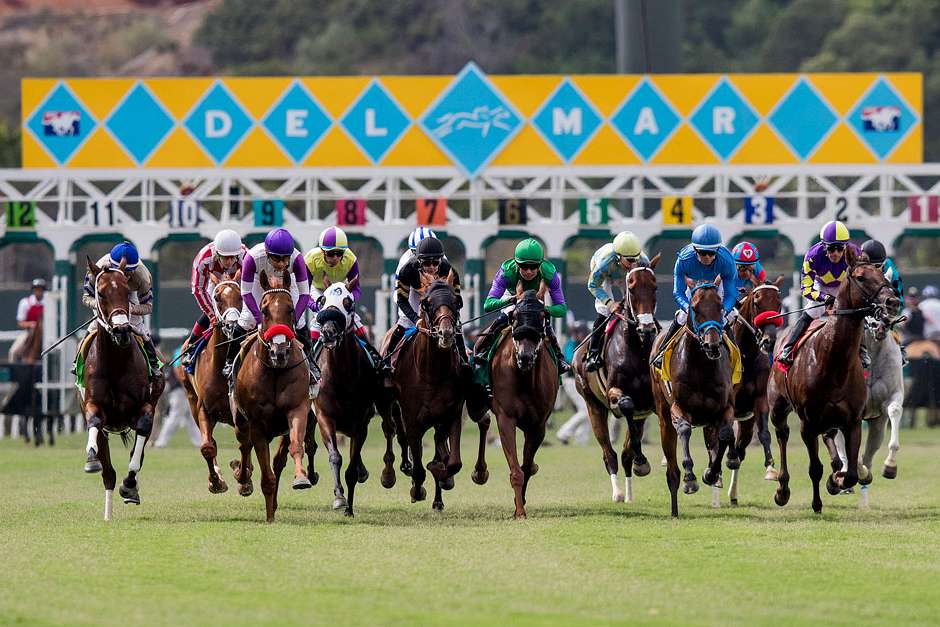 If you are a true fan of horse racing, then you must visit Del Mar Racetrack is the home of regular racing. Thousands of visitors come here to watch horse racing. The event at Del Mar runs from Wednesday to Sunday, typically from the mid of July to early September. Del Mar Racetrack have the nation's top racehorses, trainer, and jockeys You can also put a bet on your favorite horse.

17. View San Diego Symphony's Performance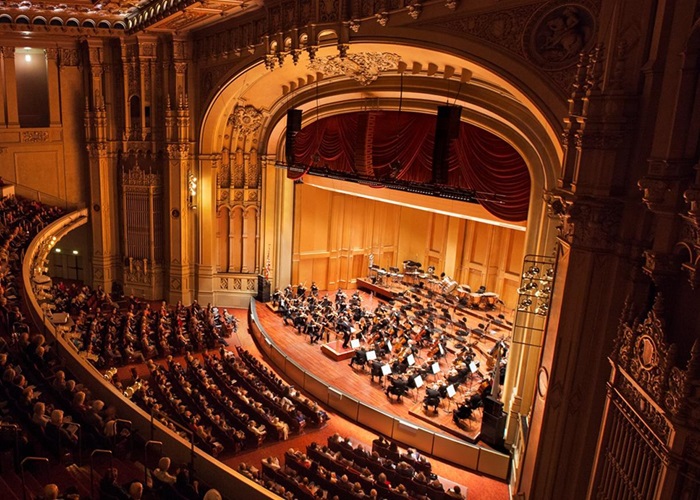 You can attend San Diego Symphony (an American symphony orchestra). Being one of the finest classical music venues in California, It contains more than 30 classical music performances starting from winter to the end of spring. Performed at Copley Symphony Hall situated in Jacobs Music Center, the orchestra plays over the city and neighboring areas. Having talented musicians, and wonderful acoustics, this awesome theater is a must-visit place for people who love classical music.

18. Enjoy Rooftop Cinema Club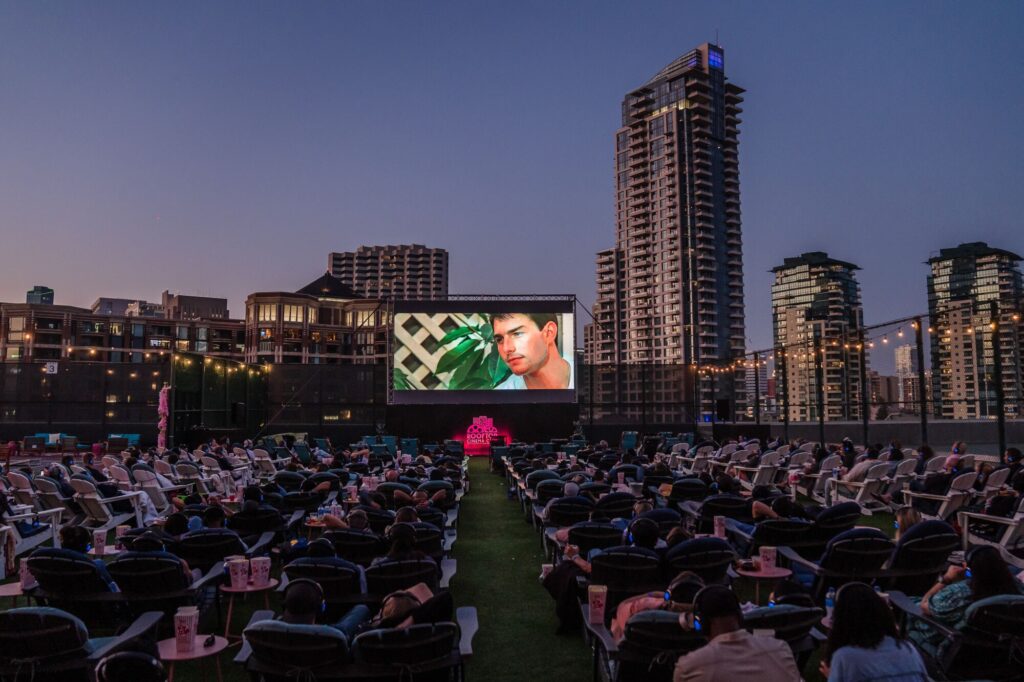 If you are fond of watching movies then Rooftop Cinema in San Diego gives you a totally unique experience of seeing movies an outdoor one with a magnificent wide view. Rooftop Cinema Club's aim is to share and celebrate great films.
You can watch n number of movies, whether classic, cult, romantic, comedy, etc. You can book your ticket on the website of Rooftop Cinema Club and enjoy the movie with your loved ones.

19. Party Night Away At Gaslamp Quarter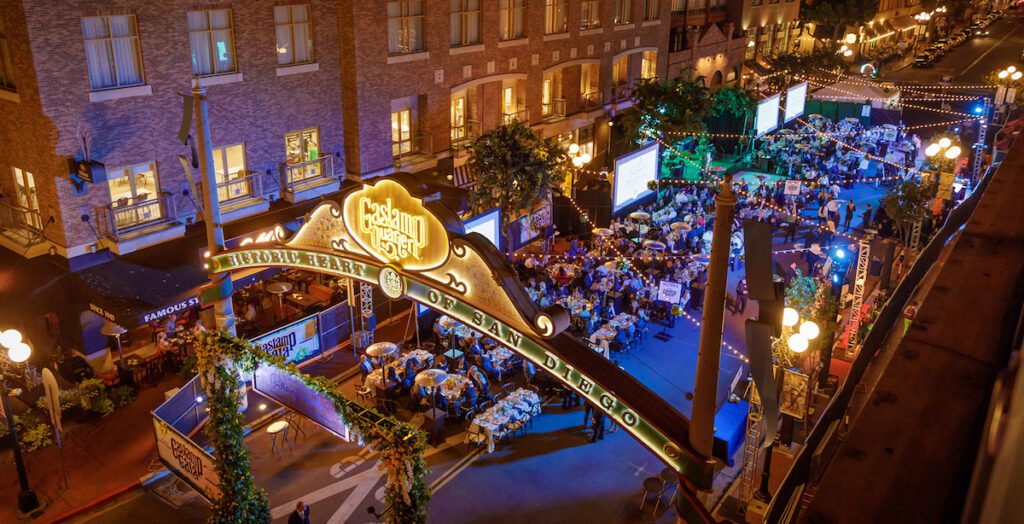 Hanging out with a friend at a night-out pub is one of the fun things to do in San Diego. From here comes Gaslamp Quarter widely known for its nightlife venues, and awesome abundance of entertainment sites. Bars, clubs, and cocktails attract many young crowds, on the other hand, Balboa theaters have various programs of comedy, drama, and music.

20. Most Entertaining World Acts At Viejas Arena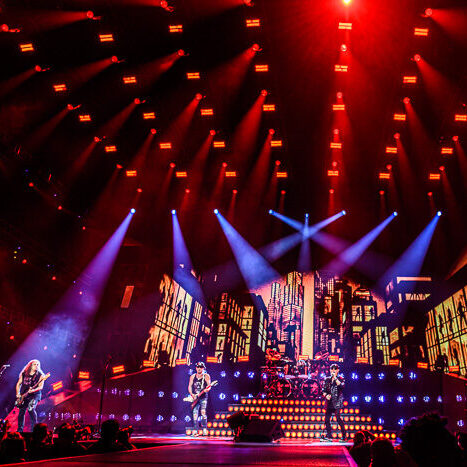 Being of the most admirable sports and music areas, Viejas Arena's old Aztec bowl has a capacity of 12,000 people, and the venue is quite large enough to accommodate the big star. For the last few years, Viejas Arena hosted many wonderful concerts as well as wrestling events. For sure, here you will get pop to hip hop and even more a full exciting night out in the city.