Top 20
Accounting Firms In Pennsylvania
At present accounting firms in Pennsylvania as well as for the rest of the world have become an essential part of any kind of business as well as our economic system. Companies both small and large face difficulty while managing their finance effectively that's why they require someone who can manage them.
If any company or individual uses the services of accounting firms, they will be more committed to your business and able to manage the company's financial flow to minimize expenses.
An accounting firm provides professional accounting services ranging from simple bookkeeping to accounting, cash flow, budgeting, and financial consulting. These services are the backbone of any company and play an important role in helping them grow and remain profitable.
The top 20 accounting firms in Pennsylvania which have been explored below can help any business survive by offering various services regarding accounting and taxation.
In addition, you can also explore our other articles on top accounting firms of other states of USA such as:
Top 20 Accounting Firms In Florida
Top 20 Accounting Firms In Illinois
1. Gift CPAs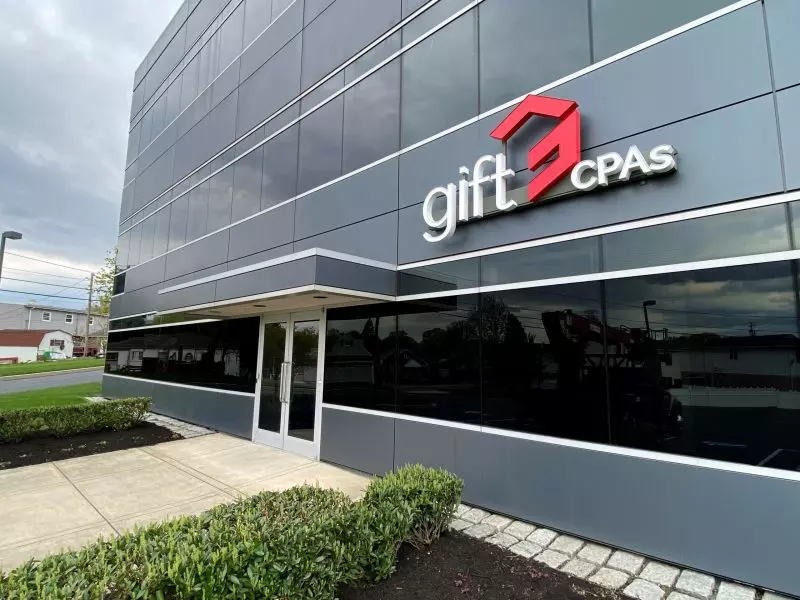 Since the day of its foundation in 1984, Gift CPAs, one of the top accounting firms in Pennsylvania, has been providing support regarding accounting and taxation to individuals and small businesses in Pennsylvania.
Gift CPAs is a firm of small business advisers and strategy makers that helps owners of small businesses as well as individuals with day-to-day operations and planning for potential future business growth. We feel proud to support small businesses since they serve as the foundation of our local, national, and international economies.
Regardless of the problems that you are having in your company, Gift CPAs are determined to help you resolve those issues, and accomplish your business goals. We offer a foray of services such as Accounting & Bookkeeping, Tax Preparation & Planning, Business & Financial Consulting, New Startup Consulting, Nonprofit Accounting, and Automotive Service Assistance.
Website: www.giftcpas.com
Address: 1205 Manor Dr, Ste 100, Mechanicsburg, PA 17055
Tel: 717-766-3555
Email: N/A
2. Sisterson & Co.
Sisterson & Co. comprises a group of 14 people who deal in accounting and taxation for individuals and businesses and is also considered a top accounting firm in Pennsylvania. For more than 95 years, the firm has grown organically and built a culture that keeps focusing especially on client care. Sisterson partners and employees always believe in collaboration to provide our clients with the best possible service regarding accounting and taxation along with administrative or technical matters.
By blending effective technical skills and personalized service, Sisterson's customer service culture has changed over the years into a magnificent one. Our practice areas are Audit & Assurance, Tax, and Advisory which we provide to different industries such as employee benefit plans, energy & related industries, individuals & trusts, manufacturing & distribution, not-for-profit, private investment companies, real estate & development, start-ups & technology.
Website: www.sisterson.com
Address: Sisterson & Co. LLP, 310 Grant Street, Suite 2100, Pittsburgh, PA 15219
Tel: 412.281.2025
Email: info@sisterson.com
3. Jebran & Abraham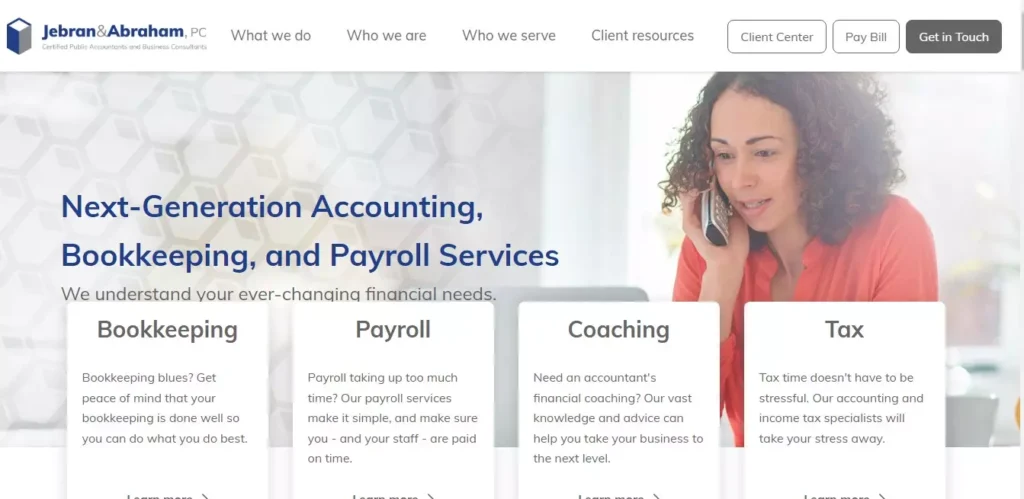 Established in 2003 by Charlie Jebran who is the Managing Shareholder of Jebran & Abraham, P.C., has over 30 years of experience in accounting and tax preparation, Jebran & Abraham, PC is a modern CPA firm equipped with innovative technology that provides business owners the freedom to focus on their businesses by handling their day-to-day business operations and complicated issues related to finance.
Jebran & Abraham, PC is one of the top accounting firms in Pennsylvania which aim to help our clients save money on taxes, prepare their financial statements, and help you create a budget to name a few. No matter what sort of services related to finance you require, you can rely on us for our expert insight and financial representation.
Website: www.jebrancpas.com
Address: 350 E. Butler Avenue, Suite 202, New Britain, PA 18901
Tel: (267) 477-1061
Email: c.jebran@jebrancpas.com
4. Tilghman Accounting + Tax Solutions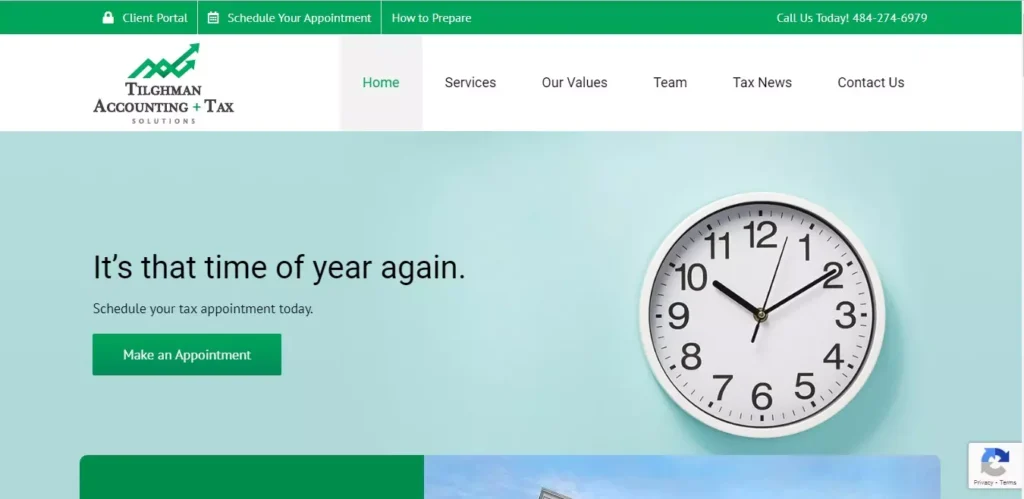 Tilghman Accounting + Tax Solutions is a Certified Public Accountant firm with a difference. For more than 28 years, It has been serving Allentown, Bethlehem, Easton, Lehigh Valley, and beyond by providing services and solutions related to accounting and taxation. By providing our clients with a range of professional and individual business services and solutions, we help them run and manage their businesses and lives effectively and smoothly.
We use innovative modern technology to serve perfection but not at the cost of our client's interest. We are intended to be responsible persons in society by holding a good standard of integrity and honesty which will genuinely have a positive effect on our clients' success. We offer a number of services such as accounting, bookkeeping, payroll service, individual tax preparation, business tax preparation, business consultation, sales and use tax returns, and QuickBooks Pro advisor to mention a few.
Website: www.tilghtax.com
Address: 3021 College Heights Blvd., Allentown, PA 18104
Tel: 484-274-6979
Email: N/A
5. Morey, Nee, Buck & Oswald, LLC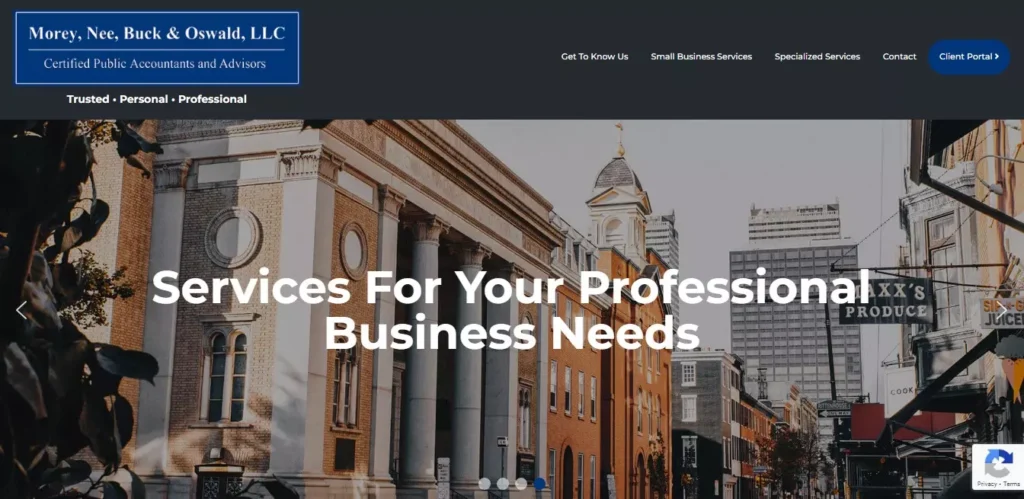 Morey, Nee, Buck & Oswald, LLC, Certified Public Accountants, Bookkeepers, and Consultants, is an Accounting firm in Bethlehem, the greater Philadelphia area, and Somerville, NJ which has been providing to individuals and business firms proactive and cost-effective accounting, tax, and advice services since its inception.
Our team of accountants who are experienced with effective tax strategy, accounting, and business advice is committed to raising the growth, richness, and success of our clients. They always strive to enhance the financial status of individuals, businesses, trusts, and non-profits across Pennsylvania. We provide a foray of services to offer such as traditional accounting services (bookkeeping, bill pay, tax planning & preparation).
In addition, other services are estate concerns, litigation – divorce; partnership disputes; lost profits, merger & acquisition, buy-sell agreements, business planning, financing, and bankruptcy.
Website: www.moreycpa.com
Address: 2571 Baglyos Circle, Suite B20, Bethlehem, PA 18020
Tel: (610) 882-1000
Email: areinert@moreycpa.com
6. SD Associates PC
SD Associates is a full-service accounting and business consulting firm based in Philadelphia that provides services to clients throughout the Delaware Valley. When it comes to accounting and tax planning services for organizations, our firm services are innovative, proactive, and cost-effective.
SD Associates aims to deliver its service while maintaining a high level of professionalism and transparency without letting its clients compromise their time and money. We take satisfaction in supporting our clients in effectively resolving corporate tax issues quickly.
The team of our company has extensive knowledge of professional tax regulations and can assist your company using all benefits of available financial opportunities. SD Associates a top accounting firm in Pennsylvania can help any business by providing various services such as tax services, tax planning, attestation services, accounting services, business services, and consultation.
Website: www.sdaccounting.com
Address: 300 Yorktown Plaza, Elkins Park, PA 19027
Tel: 215.874.8450
Email: info@sdaccounting.com
7. The Neve Group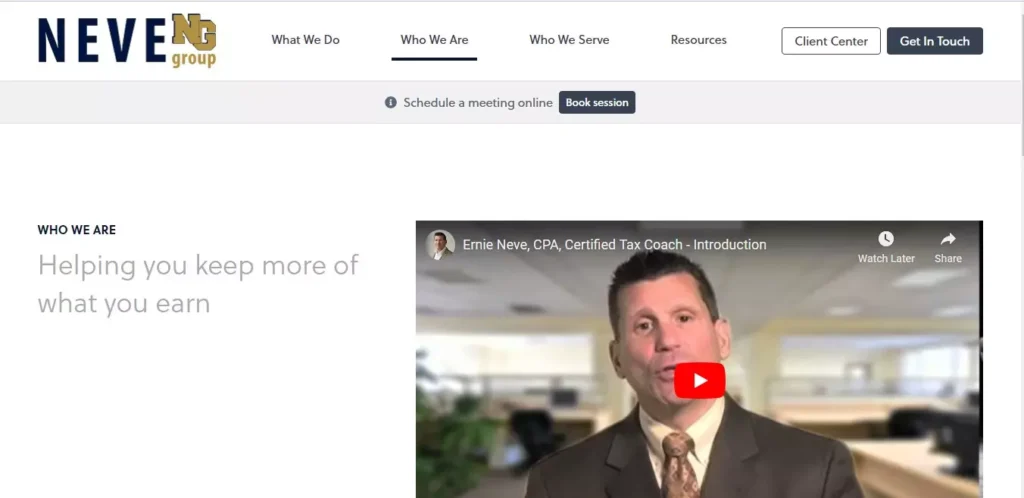 The Neve Group was Founded in 1995 by Ernie the firm's Chief Value Officer who has gained over 20 years of experience as a Business Consultant, Outsourced CFO, Forensic Accountant, and Business Valuator. The firm, one of the top accounting firms in Pennsylvania, has been providing support regarding accounting and taxation to individuals and small businesses.
We offer the base along with the required services that you need to expand your business and achieve your goal. Being tax experts in the field of finance, we can help you make profits and maintain it for your company. We provide all the awareness and insightful opinions that our clients require to make wise business decisions.
The Neve Group's professional services include Account reconciliation, Advice, Tax, Payroll, and Bookkeeping.
Website: www.nevegroup.com
Address: 1000 Germantown Pike, Suite C-5, Plymouth Meeting, PA 19462
Tel: (610) 278-8400
Email: eneve@nevegroup.com
8. Brown's Advisory & Accounting Firm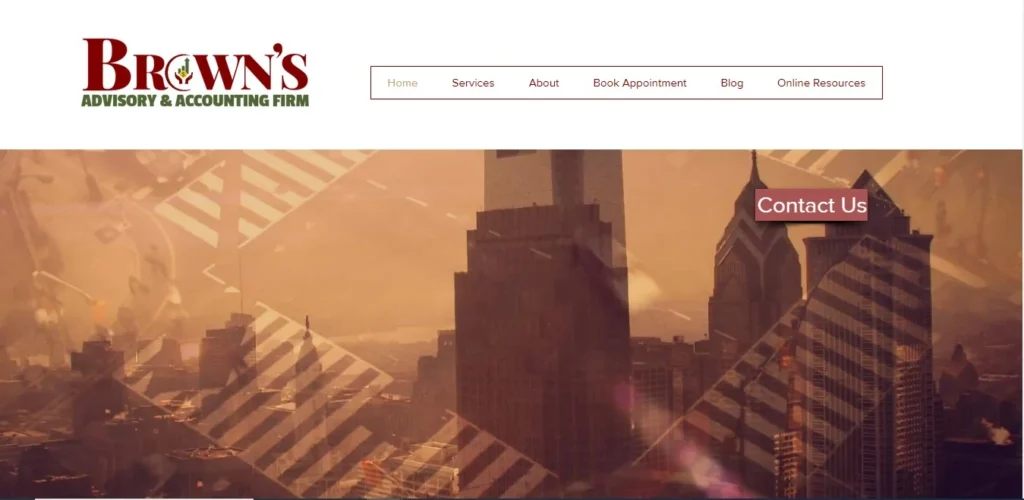 Brown's Advisory & Accounting Firm is a full-service accounting firm with offices in Philadelphia, PA, and Atlanta, GA, and is also considered one of the top accounting firms in Pennsylvania. We have a team of experts in accounting and taxation who has been providing a broad range of services for small and large enterprises and individuals with various financial backgrounds.
We created the firm with the objective that is to help each of our customers with the information, advice, and tools whatever help related to finance they need to maintain their businesses successfully and financially. Brown's Advisory & Accounting Firm takes every step in employing an extensive approach to enhance the output and experience of our business partners.
When it comes to providing services, we offer services that include tax preparation services (Individuals, Businesses, and Non-Profits Organizations), Bookkeeping, accounting, consultation, and Coaching.
Website: www.brownsfca.com
Address: 1635 Market Street #1600, Philadelphia, PA 19103
Tel: 215-717-8293
Email: info@brownsfca.com
9. Rosenberg Accountancy
Rosenberg Accounting based in Pennsylvania is in the field of accounting and taxation and has been providing services for years. Our best accountants in the town are professionals and specialists in their respective fields and always strive for details and strategic thinking so as to provide our clients with comprehensive tax and financial management counseling.
Jon Rosenberg the owner of the company gives personal attention to every client and evaluates every work personally with respect to each client's particular needs, situation, and possibilities. Jon possesses years of experience in a wide range of business sectors, including real estate, web development, wholesale and retail, hospitality, professional practices, etc.
Services: tax return preparation and business accounting, financial statements for banks and investors, QuickBooks set-up and maintenance, start-up consultations, business-plan vetting, new business formation help, payroll services, IRS problem resolution, and audit representation.
Website: www.rosenbergaccountancy.com
Address: 6425 Living Place, Suite 200, Pittsburgh, PA 15206
Tel: (412) 628-8096
Email: jon@rosenbergaccountancy.com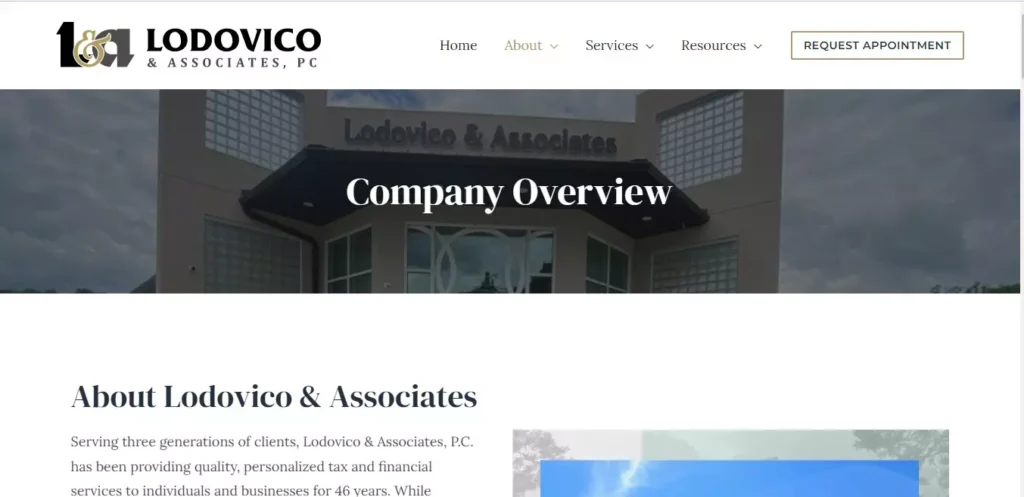 Lodovico & Associates Pc is known to be a full-service accounting firm in Pennsylvania. It has been providing individuals and businesses with quality, individualized tax, and financial services for 46 years. We are committed to helping our clients achieve their financial goals by taking advantage of every tax advantage available.
We have expanded over services in order to offer accounting services to a wide range of customers, and companies while maintaining its root in offering customized care for each client. In the eastern part of Pittsburgh, in places like Murrysville, Forest Hills, Penn Hills, Monroeville, and nearby cities, we are one of the top tax professionals specializing in tax-saving techniques, tax law concerns, laws, and regulations for people and families.
Our services which are customized to serve you best are individual tax services, tax planning services, financial and retirement tax planning, real estate tax appeals, and tax audit representation.
Website: www.lodovicotaxpros.com
Address: 3723 William Penn Highway, Murrysville, PA 15668
Tel: 724.325.1099
Email: N/A
11. Schreckengaust Associates CPAs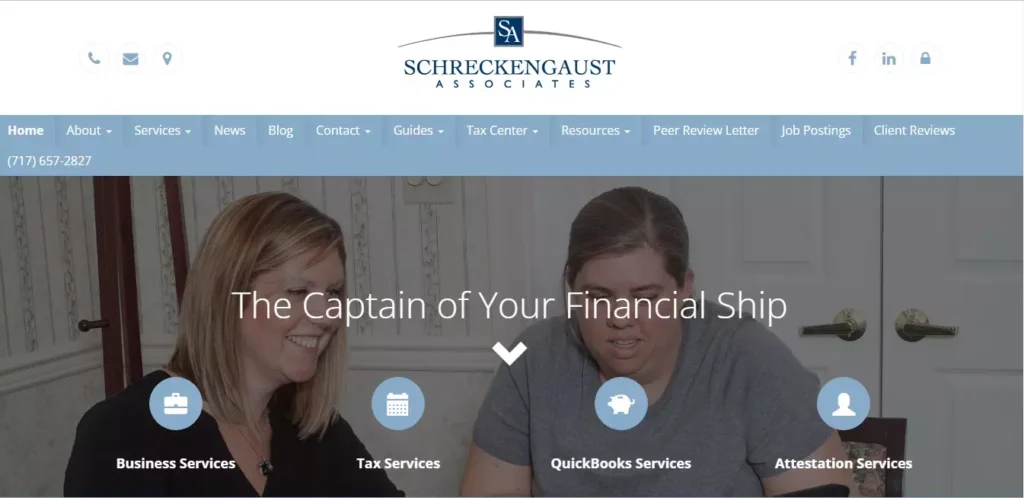 Schreckengaust Associates CPAs is one of the certified public accounting firms, that offers a wide range of accounting, bookkeeping, and tax preparation services to provide individuals and businesses with all of their accounting requirements. Schreckengaust Associates CPAs in Harrisburg are dedicated to giving the best and most effective customer service while serving throughout Harrisburg, Mechanicsburg, and Camp Hill. Each of our clients receives thorough personal attention from our experts.
Our knowledgeable staff members always strive to update with the ever-changing tax code and regulations so that they could assist you in saving money by providing tax benefits.
Schreckengaust Associates CPAs services are attestation services(audits, review, compilation, agreed-upon procedures), business services(small business accounting, payroll, part-time CFO services, new business formation), tax services(tax preparation, tax planning, tax problems)
Website: www.cascpa.net
Address: 4460 Linglestown Road, Harrisburg, PA 17112
Tel: (717) 657-2827
Email: info@cascpa.net
12. Baratz & Associates, PA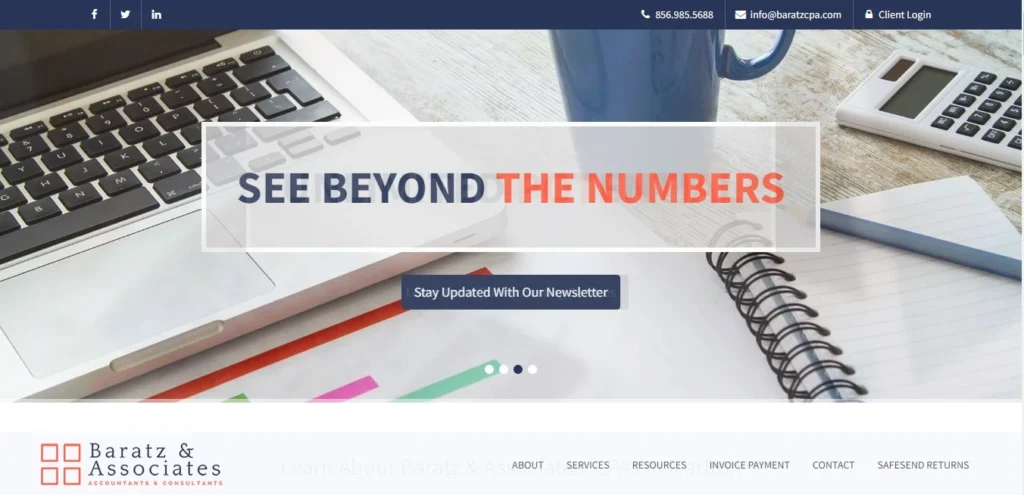 Since its inception in 1982, Baratz & Associates, PA, has been providing a number of services regarding accounting and taxation to entrepreneurs, executives, and self-employed professionals. Our Company always tries to provide personal and comprehensive service by employing a proactive approach to the financial issues related to our clients and their businesses.
The Baratz & Associates, P.A. accountants, and other staff related to finance are experts in their respective fields due to their vast experience in various fields such as taxation, accounting, and company finance.
We provide lots of other services other than tax returns and financial statements in order to help clients enhance cash flow, earnings, and asset usage. We offer a full range of services like tax planning and preparation, business consulting and valuations, litigation and forensic accounting, audits, mergers and acquisitions, small business financial planning, estate planning, and healthcare consulting.
Website: www.baratzcpa.com
Address: 4B Eves Drive. Suite 100, Marlton, NJ 08053
Tel: 856.985.5688
Email: info@baratzcpa.com
13. SYNERGY ENTER PRIZE – LLC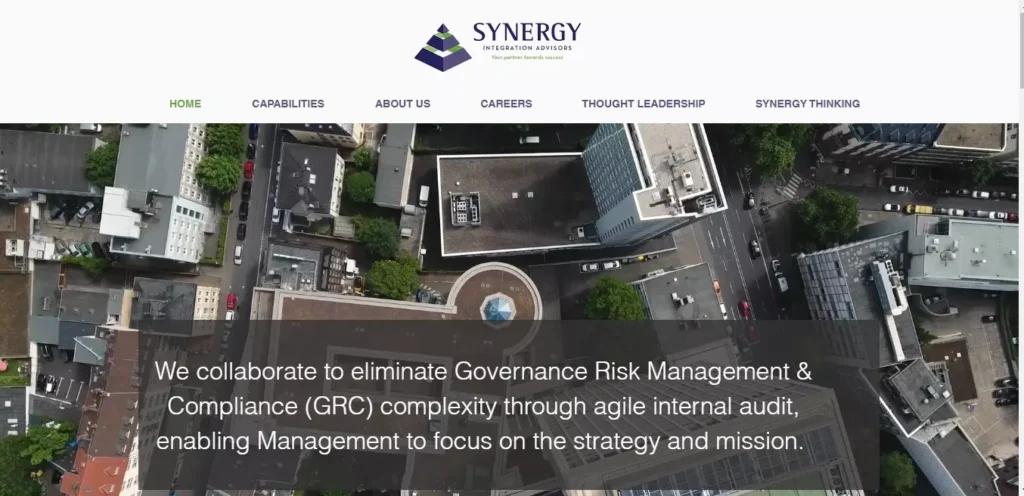 Synergy EnterPrize, LLC is a fast-growing consulting firm that has been providing its services in the field of internal audit co-sourcing and internal audit outsourcing. Using the help of Certified Internal Auditors, Certified Public Accountants, Certified Information Systems Auditors, and Certified Government Accountants, we help our clients employ Internal Audit Value Chain (IAVC) solutions that have been customized to improve clients' businesses strategy and their priorities to overcome the impediments.
Our Staff works in collaboration to make sure the success of our business partners and is devoted to sustaining the highest standards of professionalism and integrity.
Website: www.synergy-ia.com
Address: 1150 First Ave King of Prussia, PA United States 19406
Tel: +1.215.279.1440
Email: N/A
14. Tax Relief Advocates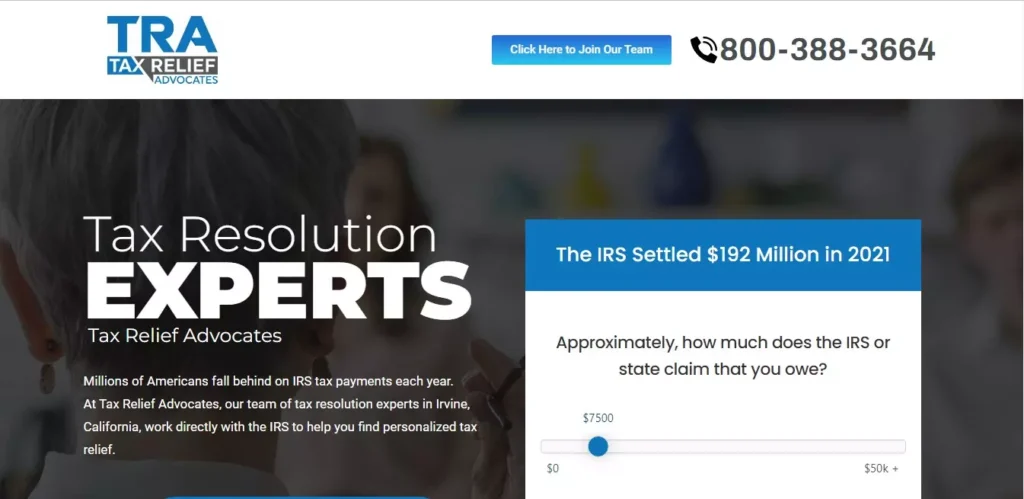 Tax Relief Advocates created in 2016 is a full-service accounting firm that has been serving communities by providing services related to accounting and taxation. It provides help to our clients whether it is individuals or business firms in their complicated tax issues. In order to resolve the unpaid tax debt and avoid the same in the future, the Tax Relief Advocates team of experts always builds a customized plan.
In addition, we also help our clients by providing assistance for tax audits, debt reduction, and outstanding debt along with bank fines. As a tax firm, our services are not expensive, they are available at a minimal cost. We are committed to providing our clients with the best tax resolution at Tax Relief Advocates.
Website: www.tra.com
Address: 16808 Armstrong Ave Ste 215 Irvine, CA 92606
Tel: (833) 564-7844
Email: ClientCare@TRA.com
15. Amro Azazi, CPA, PC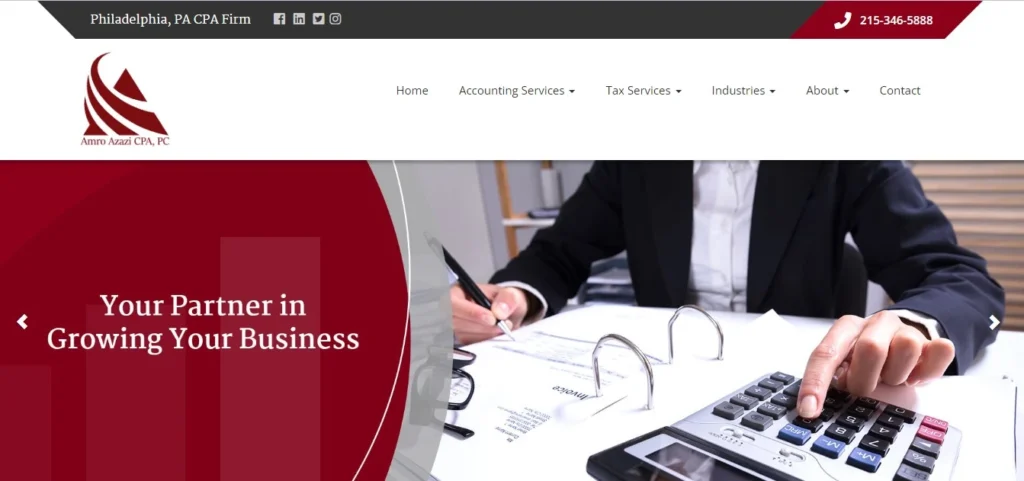 Amro Azazi, CPA, PC is a well-known accounting firm that has been providing its services in the community helping them resolve their tax and accounting issues. it manages income tax preparation for company owners and individuals and submits consumers' tax files using the online platform.
We have a team of skilled and experienced accountants who create tax strategies with a view to minimizing tax liabilities and boosting revenues for the clients' companies. We are among the top accounting firms in Pennsylvania that provide advanced accounting services and tax consultation for all sorts of businesses from start-ups and entrepreneurs to well-established corporations. Amro Azazi, CPA, PC also provides timely and accurate income tax preparation for both business owners and individuals.
Website: www.amroazazi.com
Address: 1302 Cottman Ave, Philadelphia, PA 19111
Tel: 215-346-5888
Email: info@amroazazi.com
16. Steven J Fromm & Associates, PC
Steven J Fromm & Associates, PC, a Pennsylvania-based one of the top accounting firms, has been offering thorough tax planning and preparation for individuals, small enterprises, corporations, LLCs, trusts, and estates based on their specific financial requirements in a time-bound fashion.
We develop legal documents with the help of our valuable active client's input and participation to achieve their unique and specialized objectives regarding income tax, business, retirement, and wealth transfer. Our valuable clients rely on us because of our strong, practical advice in terms of accounting and taxation, helping them save money and taxes, and handle their specific financial problems in an efficient, and comprehensive manner.
Our services regarding taxation are estate attorney services( estate planning, estate, and trust tax return preparation), tax attorney services(tax attorney representation: IRS, tax help for non-filers, tax planning services, tax consulting for businesses, tax preparation), tax and estate attorney retirement services (retirement planning, pension planning).
Website: www.sjfpc.com
Address: 1420 Walnut Street, Suite 300, Philadelphia, PA 19102
Tel: 215-735-2336
Email: sjfpc@comcast.net
17. Holsinger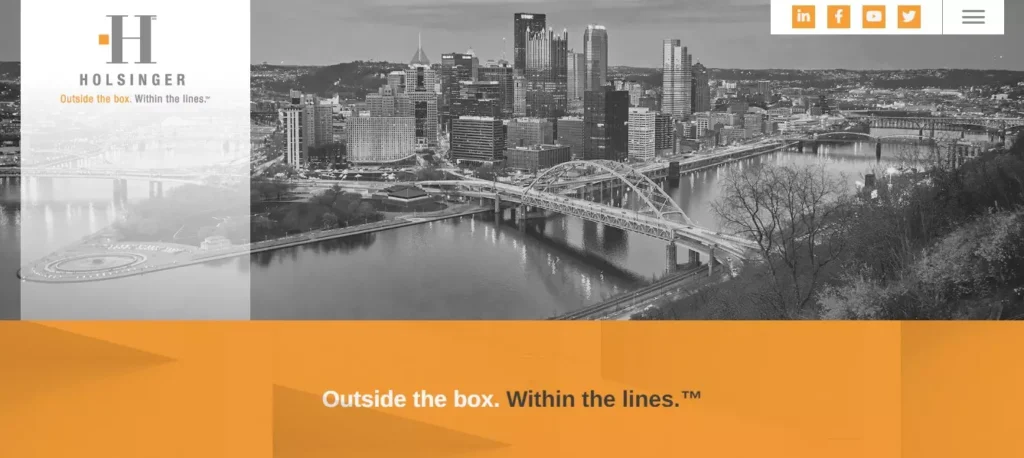 Holsinger is a well-known CPA firm in Pennsylvania which is entirely committed to being the best firm possible and providing the best services possible in the area. Because of our dedicated staff of experts in finance, Our clients always keep coming back to us for our services and never give up on us.
We always remain in contact with all our clients we serve which enables us to understand our clients' current situation and they can be served according to their present condition. All of our accounting and taxation services are completely flexible, this is why we are able to provide you with absolutely what you need at competitive pricing.
In order to fulfill the needs of your business, we offer a number of services such as taxation, management consultation, business solutions, family office services, audit & assurance services, mergers & acquisitions, and payroll services.
Website: www.thinkholsinger.com
Address: 117 VIP Drive, Suite 220, Wexford, PA 15090
Tel: 724.934.4880
Email: N/A
18. Findon & Associates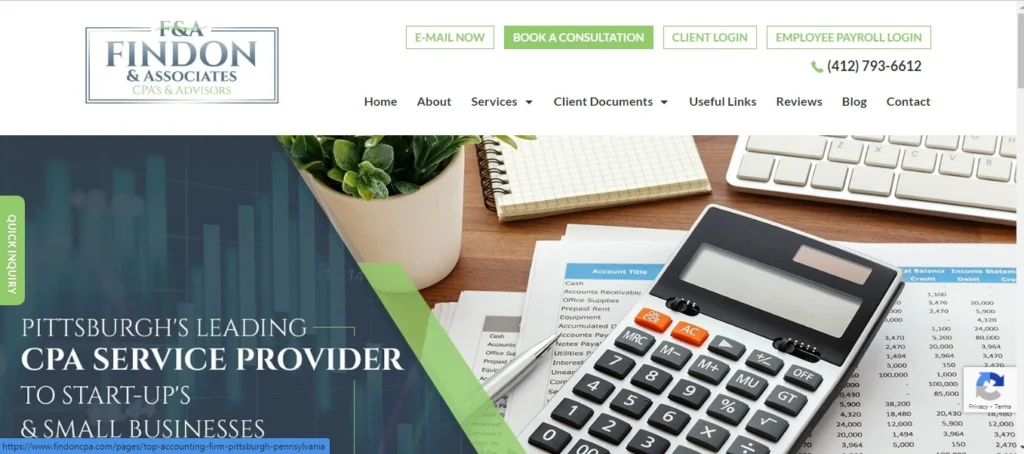 Findon & Associates, CPAs & Advisers is a full-service among the top accounting firms in Pennsylvania with clients in Pittsburgh, New Kensington, Murrysville, Export, Shaler Township, Pennsylvania, and many more. We always remain passionate about providing our clients with excellent, optimal services and counseling for a variety of business and financial requirements.
By offering a broad range of expert services along with resources, experience, and personnel to address all of your financial concerns, Findon & Associates has continued to expand since the day of our foundation. We work with a diverse range of people, businesses, and partnerships.
Our main services meeting the specific demands of our clients are accounting, tax preparation, payroll administration, and business consulting.
Website: www.findoncpa.com
Address: 12013 Frankstown Rd, Pittsburgh, PA 15235
Tel: (412) 793-6612
Email: hfindon@findoncpa.com
19. Parker Tax Service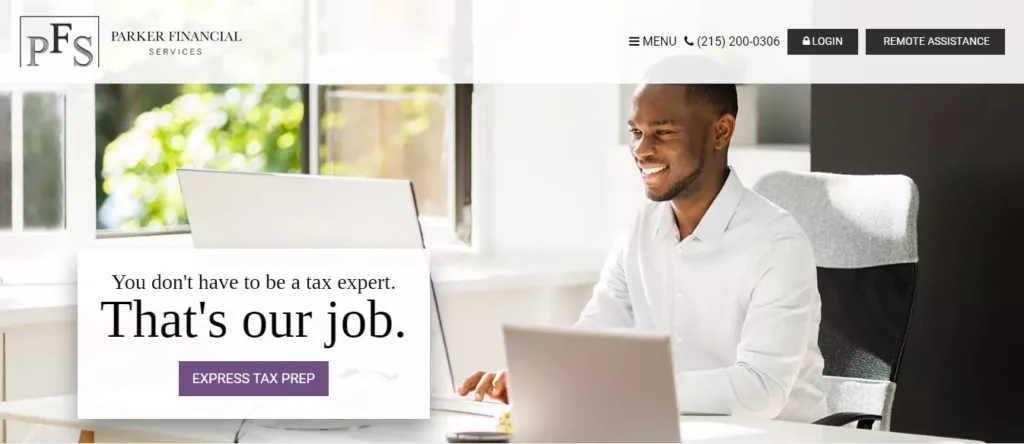 Parker Tax Service located in Philadelphia is one of the top accounting firms in Pennsylvania that offers a range of tax services to individuals and business owners. With our three fundamental values named professionalism, responsiveness, and excellence, We provide exceptional service to our clients helping them resolve their tax and accounting issues. Our best team with the knowledge, experience, and enthusiasm provides close personal and professional attention, setting us apart from other firms in the region.
Offering complete financial services, We make sure that every client benefits from the experience of our whole firm, and the high standards we have made for ourselves are reflected in our firm's services.
Our financial services include but are not limited to Individual Tax Preparation, Business Tax Preparation, Bookkeeping Services, Accounting Services, Tax Planning, Business Coaching, Startups, and QuickBooks Services.
Website: www.lesstax123.com
Address: 6703 Germantown Avenue, Suite 220, Philadelphia, PA 19119
Tel: (215) 200-0306
Email: info@lesstax123.com
20. Financial GPS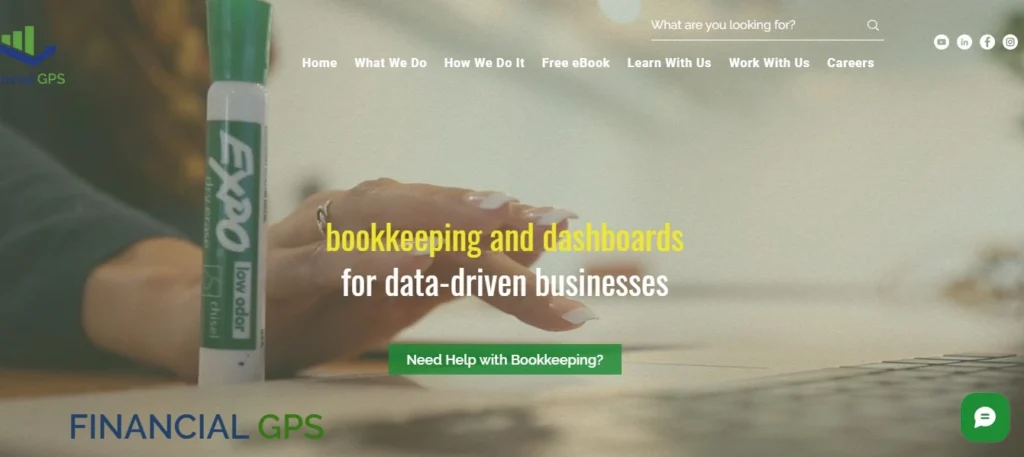 Financial GPS is an accounting firm that has been designed to help small businesses. With the help of our years of experience and knowledge, we have the ability to take your business to the next level.
Financial GPS is an accounting firm that has been designed to help small businesses. With the help of our years of experience and knowledge, we have the ability to take your business to the next level.
We help our clients connect their accounts to QuickBooks Online and also categorize all of your transactions to keep your accounting clean, accurate, and ready for taxes. Our Professional Payroll Specialists always take care of Payroll Processing as its regulations are complicated, tedious, and confusing for employers.
Website: www.financialgps.co
Address: 227 New Street, Philadelphia, PA United States, 19106
Tel: (866) 726-7767
Email: hello@FinancialGPS.co
All the above-mentioned Top 20 Accounting Firms In Pennsylvania are excellent business consulting firms that provide a wide range of services related to accounting and taxation aiming at helping businesses improve their performance and achieve their goal.
These companies are well-equipped to support businesses as well as individuals in every aspect of their growth as they have years of experience in strategy consulting, accounting, finance, and operations.