Top 20
Places To Visit In Florida
As we all know Florida is one of the famous destinations to visit in the United States. So in this blog, we are going to discuss some of the best places to visit in Florida for couples as well as for family and friends.
Florida is based between the Atlantic Ocean and the Gulf of Mexico. Florida is not only famous for their awesome beaches, fishing, and diving but also for the diverse wildlife and for both above and below water. There are many things to do in Florida, So visiting Florida is not a bad idea for your vacation.
So here is the list of the top most charming as well as special places to visit in Florida:
Top Places To Visit In Florida
1. Tampa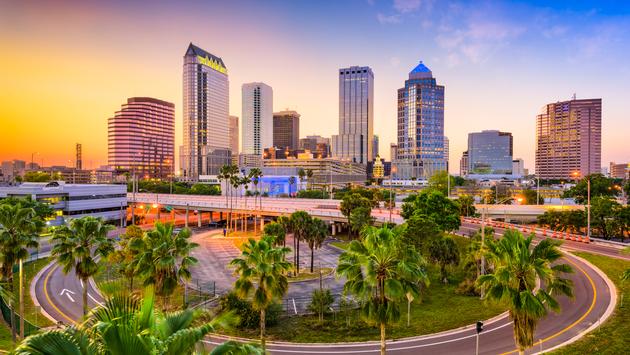 Situated on Tampa Bay on Florida's gulf coast, Tampa is a modern business hub and also very famous for its museums as well as for other cultural offerings. Tampa International Airport is the nearest airport to Tampa.
Things to do in Tampa :
Busch Garden Tampa is a world-renowned amusement park that offers visitors a wide variety of fun activities and adventures.
Tampa Waterbike Company gives an opportunity to visitors to view Tampa from the water on peddle-drive waterbikes.
Not a clue adventure offers a range of guided outdoor activities such as hiking, fishing, camping, and so on.
2. Clearwater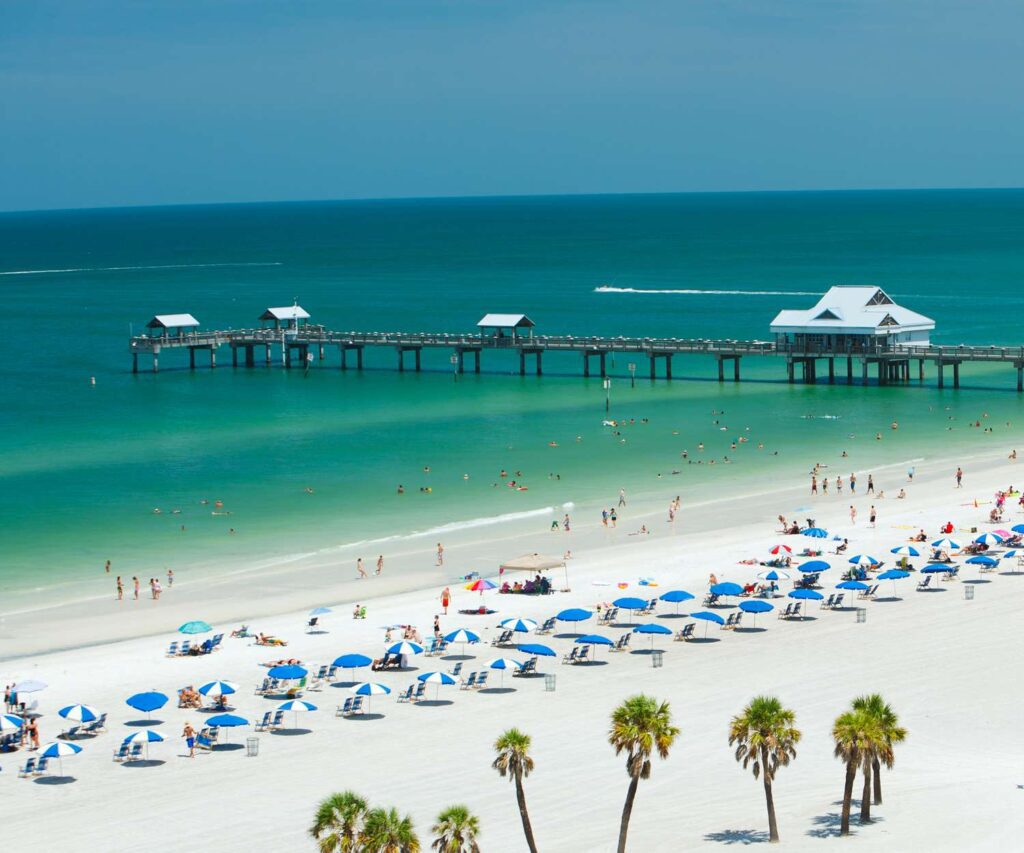 Clearwater is a popular holiday destination which is located between the Gulf of Mexico and Tampa Bay, northwest of St. Petersburg. Tampa International Airport is the nearest airport which is only 20 miles away from Clearwater.
Things to do in Clearwater:
Down South Kite and Paddle's experienced guides give the tourist the best time of their life. Visitors can ride the wind with a kiteboard, also a new fast-growing sport that combines surfing, sailing, and wakeboarding.
Tourists get the chance to encounter with bottle-nosed dolphins. A 3.5-hour fun sightseeing tour of clearwater's harbor is offered, where a visitor enjoys a smooth ride aboard with their 40-foot excursion boat.
Cliff Stephens park is a lovely 44-acre green oasis that includes a number of paved trails for hiking, biking, inline skating, Frisbee golf, etc.
3. Miami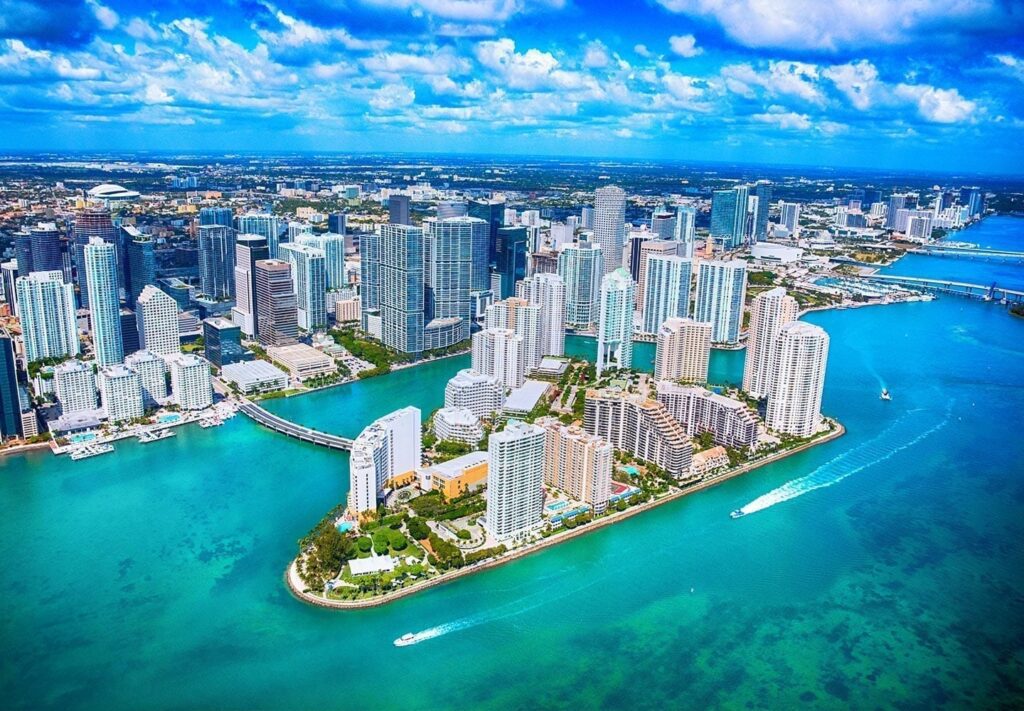 Whenever it comes to the best places to visit in Flordia, Miami should always be on your top priority list. Miami is mostly known for its sizzling nightlife and Latin culture. It is located in southeastern Florida off the coast of the Atlantic Ocean and Miami International Airport is the nearest airport to Miami.
Things to do in Miami:
South Beach of Miami is described as the "hottest spot" in Miami. Exploring the south beach of Miami is one of the best things to do there.
The Zoological Wildlife Foundation (ZWF) is a zoo that educates its visitors about rare and endangered animal species in both captivity and the wild. Here Visitors can interact with some of the animals, such as feeding camels, lemurs, toucans, etc.
Painting with a twist is an awesome way to spend the evening learning how to paint with step-by-step instruction in the art of painting in a friendly environment under the guidance of an expert.
4. Naples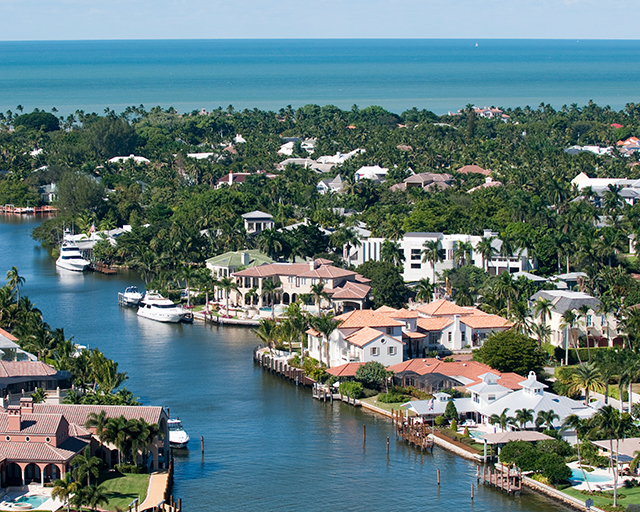 Based in southwest Florida on the Gulf of Mexico, Naples is an awesome destination that attracts many tourists with its fantastic white sandy beaches. Southwest Florida International Airport (RSW) is the nearest airport which is a 30-mile drive, located east of Fort Myers. Naples has a mix of elegant houses and awesome luxury resorts.
Things to do in Naples:
Many visitors come to Naples to visit Revs Institute for Automotive Research to see hundred of the most significant cars built between 1896 and 1995.
The Bird Gardens of Naples provides the opportunity for visitors to view various birds. Visitors to the garden are allowed to enjoy 2 hours guided tour of the facility and get the chance to interact with more than 300 birds around the world.
In Delnor-Wiggins Pass State Park many visitors can enjoy miles of magnificent views of the Gulf of Mexico, watch the flocks of shorebirds and other wildlife that call the beach home, snorkel near the colorful reef, hike along the beach, and so on.
5. Key West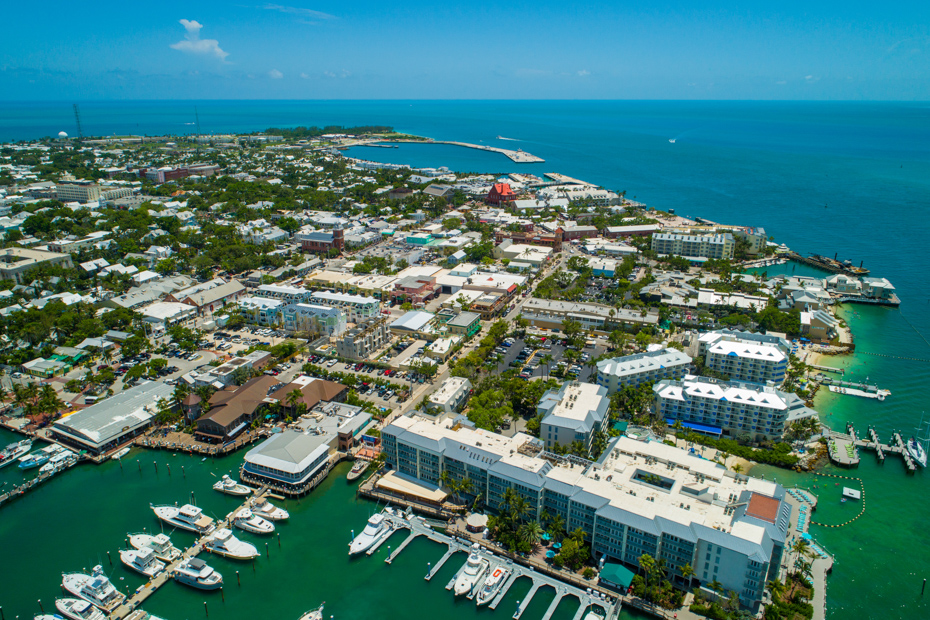 Key West is the westernmost American inhabited island, which always comes in the list of must-visited places in Florida. The closest airport to key west, Florida is Key International Airport, which is 2 miles away from the center of Key West, Florida. In Key West, Duval Street is one of the main tourist areas, with souvenir shops, home to boutiques, restaurants, and even some historic homes.

Some of the city's top attractions include a shipwreck museum and the Key West Aquarium. Key West is also known as a popular cruise ship port, where full of entertainment options are available.
Things to do in Key West:
Hundred of tourists gather in Mallory Square, where they can see the beautiful sunset and can also enjoy exhibits of arts and crafts and can view the street performers such as clowns, jugglers, etc.
The key west garden is free and open to the public club and attracts the attention of many tourists. The main goal of this garden club is to teach people related to tropical gardening.
There are many activities in key west that can be experienced from the water such as enjoying Sunset cruises, dolphin watching, island hopping and camping, sandbar trips, fishing, lobstering, bird watching, etc.
6. Destin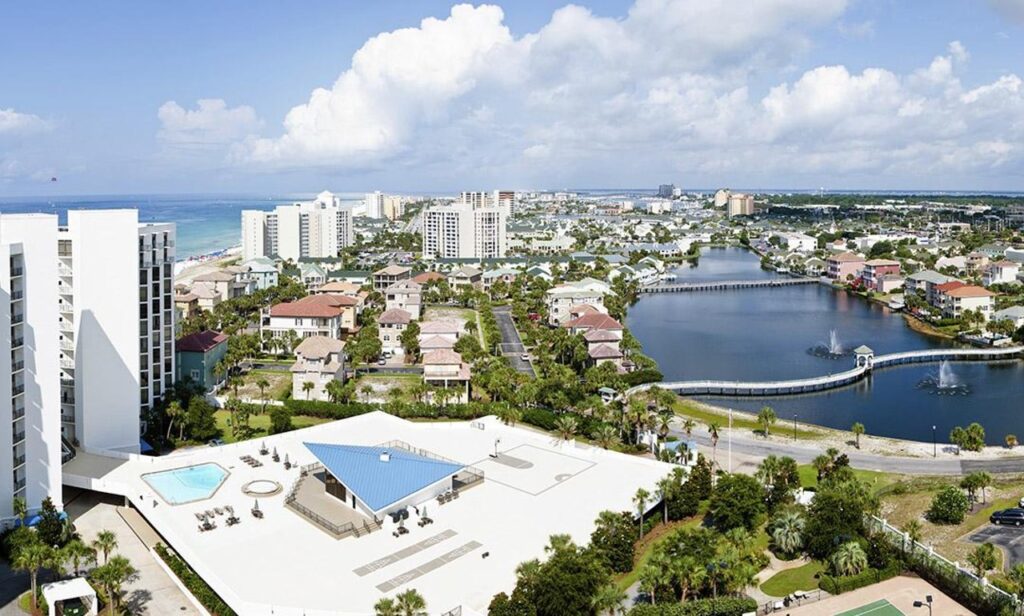 Destin is a quite famous vacation spot in Florida and is also known as the "World Luckiest Fishing Village".Destin-Fort Walton Beach Airport is the closest airport to Destin. Destin is known for their beautiful beaches, wonderful fishing, and a number of excellent golf courses.
Things to do in Destin:
Many tourists visit the village of Baytowne wharf which is open to the public and is home to a wide range of eateries, boutiques, and nightlife.
Destin commons is an outdoor shopping center that provides a wide range of both local and national retail stores.
Flipper's Adventures provides many awesome activities including dolphin sightseeing, snorkeling, and firework or sunset cruises
7. Pensacola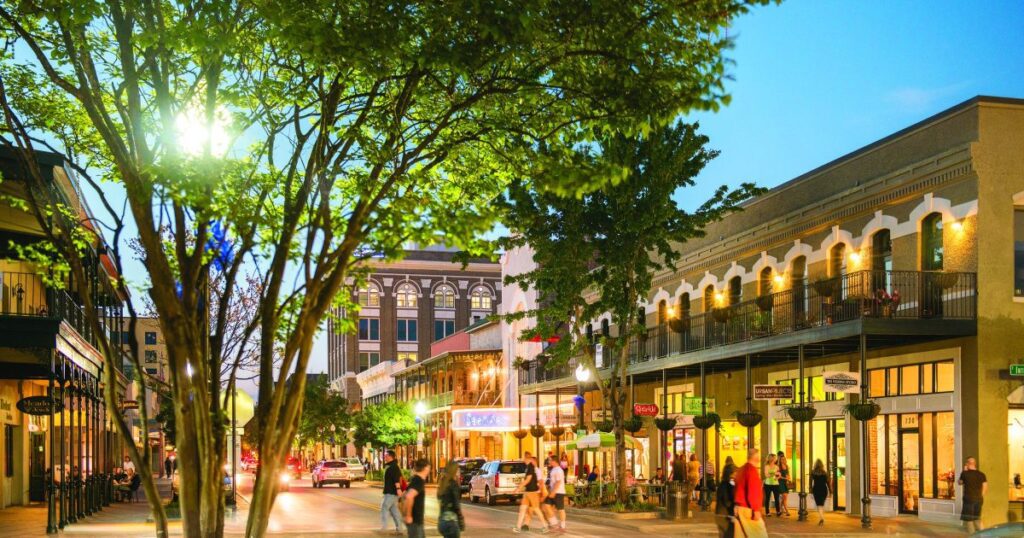 Pensacola is located in the western part of Florida and is also known as "the city of five flags". Pensacola offers a historic beauty to their tourist and provides a guided walking tour through the city so that visitors can view the cultural and historical sites. Pensacola International Airport is the nearest airport, which is 6 miles from the center of Pensacola, Florida.
Things to do in Pensacola:
Visitors can enjoy condor sailing adventures which offer 2-hour cruises aboard and a rare condor racing trimaran that is one of only twenty-one in the world.
Only FAA-approved aerial tour in Pensacola, Gulf Coast Air Tours offers 2 amazing tours: the Romantic Sunset Champagne Tour and the Shark Patrol The Romantic Sunset Champagne tour.
The gulf of Mexico is full of wrecked ships and also a downed biplane, and there is still much to explore underwater: a tugboat, the U.S.S. Oriskany, an American aircraft carrier measuring over 900 feet in length, coal barges, a merchant ship, and a 19th-century wooden schooner.
8. Florida Keys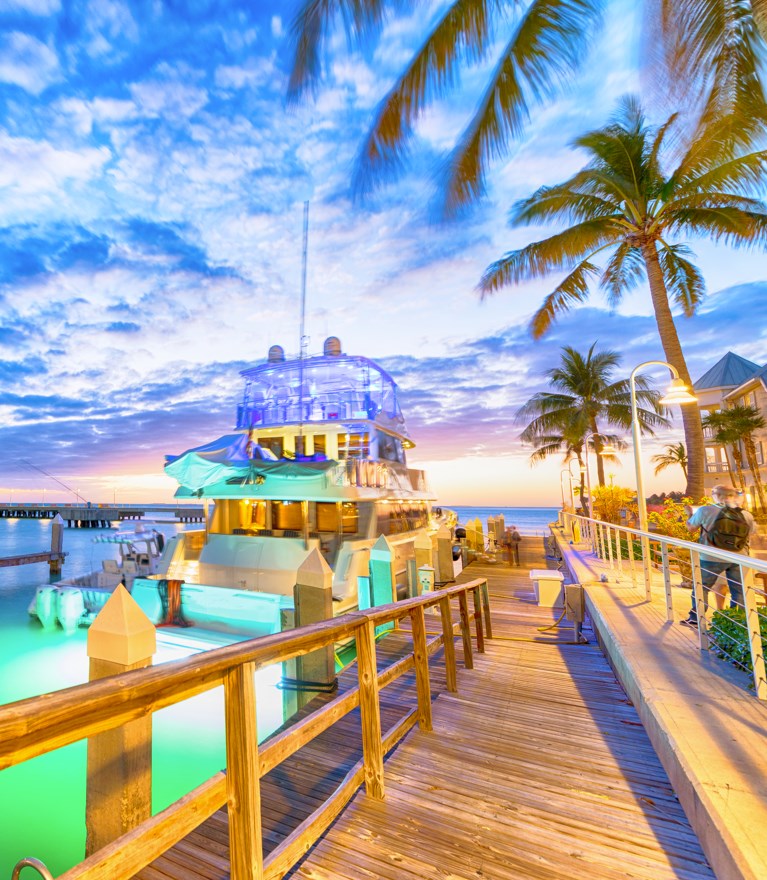 Florida key is a tropical island that is situated 120 miles from the southern tip of Florida between the Gulf of Mexico and the Atlantic Ocean. Florida keys are the best place to visit in Florida for couples as well as for families. Florida Keys Marathon International Airport is the nearest airport to Florida keys.
Things to do in Florida key:
Dolphins Plus Bayside on Key Largo gives you the chance to do swimming with dolphins. The visitor will get a 30-minute boat ride through the backcountry, where they will be instructed on how to behave in presence of dolphins.
You can visit Bahia honda state park in Florida which offers a peaceful location to relax, surrounded by awesome beaches, and wonderful wildlife.
In Florida key, you can charter a boat and can do fishing, diving, or snorkeling, and can explore the mysterious mangroves, colorful streets, etc.
9. Fort Lauderdale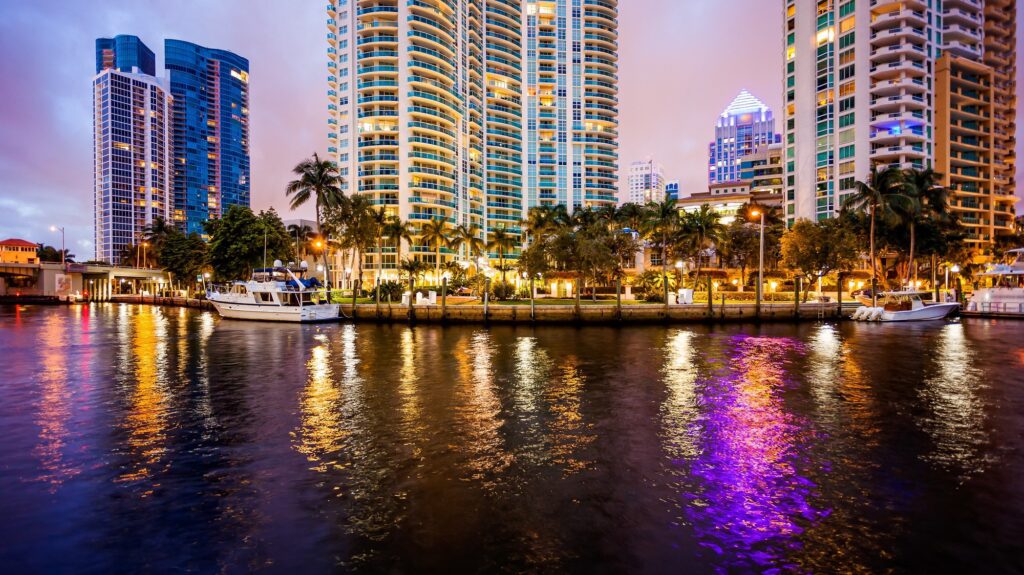 Fort Lauderdale is located 28 miles north of Miami on the southeastern coast of Florida.
It is a well-known destination that is famous for its beaches as well as for picturesque boating canals. Fort Lauderdale International Airport and Fort Lauderdale Executive Airport are the nearest airports to central Fort Lauderdale.
Things to do in Fort Lauderdale:
Fort Lauderdale Beach Park offers exciting fun to the people. The park features picnic areas with tables as well as grills for cooking, clean restroom, outdoor shower, etc.
Bluefoot Pirate Adventures along Fort Lauderdale's intercostal waterways provide exciting fun cruises for all age groups.
In Florida, you can explore the strip, a long, wide promenade that runs along with the ocean and is lined with posh outdoor restaurants, fancy boutiques, luxury hotels as well as lively bars.
10. Fort Myers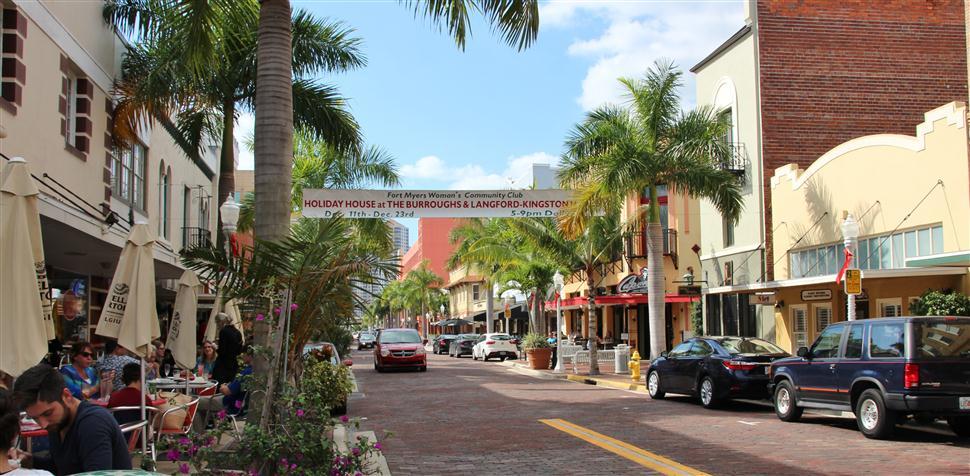 Modern commercial center, a gateway to sunny southwest Florida, Fort Myers is an awesome place that attracts many tourists to its lovely beaches. Fort Myers SW Florida International airport is closest to Fort Myer which is 13.06 miles from it.
Things to do in Fort Myers:
Many tourists come here to do kayaking, snorkeling, and swimming, and can even relax on the sand.
You can take a tour of Davis Art Museum or can heads towards lakes regional park to ride a miniature train.
You can even take a guided tour of Edison and ford's winter estates, where Thomas Alva Edison, as well as Henry Ford, spend their winters on the banks of the Caloosahatchee River.
11. Gainesville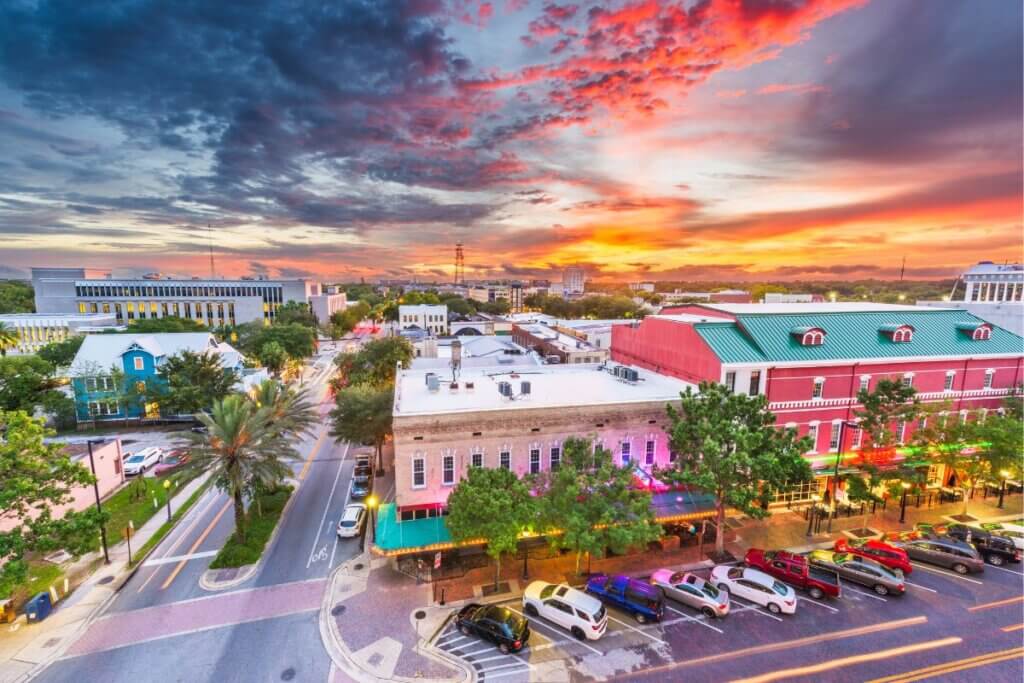 Wonderful town with a huge campus of the University of Florida, Gainesville is the largest city in north-central Florida, which is a 90-minute drive from Jacksonville and Orlando. More than 30 miles of hiking and biking trails where visitors can view birds, bison, or wild horses.
Gainesville Regional Airport (GNV) and Orlando International Airport are the nearest airports.
Things to do in Gainesville:
You can visit the cade museum in Gainesville, which offers an educational program aimed at stimulating young minds. It also offers very popular weekly field trips so that the visitor can explore hands-on experiments in a real laboratory setting.
Kanapaha Botanical Garden offers visitors to view 24 major horticultural collections. The best time to visit here is in spring and you can even enjoy magical moonlight walk in the month of May.
You can head toward the Morningside Nature Center, which covers more than 200 acres of pine savannah, encompassing a great network of walking and hiking trails.
12. Jacksonville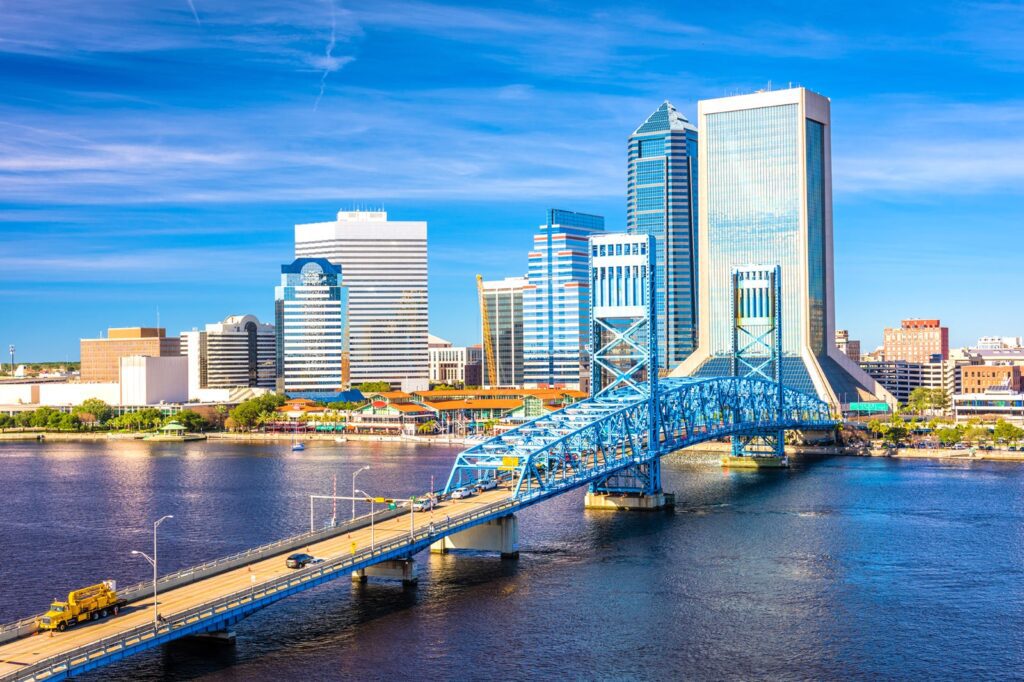 Jacksonville is a major seaport city in northeastern Florida, at the point where St. John's River joins the Atlantic Ocean. The nearby barrier island of Jacksonville and its awesome beaches are an ideal places for swimming, surfing, and snorkeling. The nearest airport to Jacksonville is Jacksonville International Airport (JAX).
Things to do in Jacksonville:
Many visitors come here to attend Cummer Museum of Art which host one of the great art collection in Southeast.
You go to Southbank Riverwalk to enjoy the wealth of lunch dining options, and also a variety of nightlife options of buzzing bars as well as elegant lounges.
Jacksonville Zoo and Gardens comes under the top tourist attraction in Jacksonville, which features a unique walking safari where you can view the zoo's 2,000 animals and 1,000 exotic plant species.
13. Orlando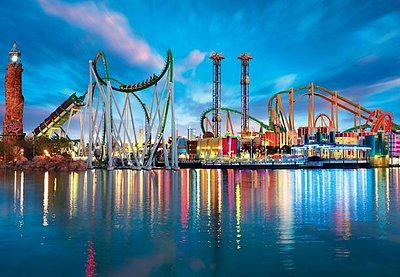 Known as the World Theme Disney World, Orlando is a great city to visit. Orlando has Walt Disney World, which features a Universal Orlando with Universal Studios and Islands of Adventure, Magic Kingdom and Epcot, and the Wizarding World of Harry Potter and so on. Orlando (MCO) Airport which is 8.6 miles is the nearest airport to Orlando.
Things to do in Orlando:
Discovery Cove provides a one-of-a-kind marine experience to its visitors, where they can interact with sea animals, walk on the ocean floor, and even feed tropical birds.
Many people visit the magical kingdom park to explore various things. Such as watching musical parades featuring beloved Disney characters, browsing the Disney – theme boutiques as well as their shops
Universal's Islands of Adventure is best for people to have an epic adventure. From heart-stopping rides to tummy-turning roller coast, where visitors will get a very unique experience.
14. Panama City Beach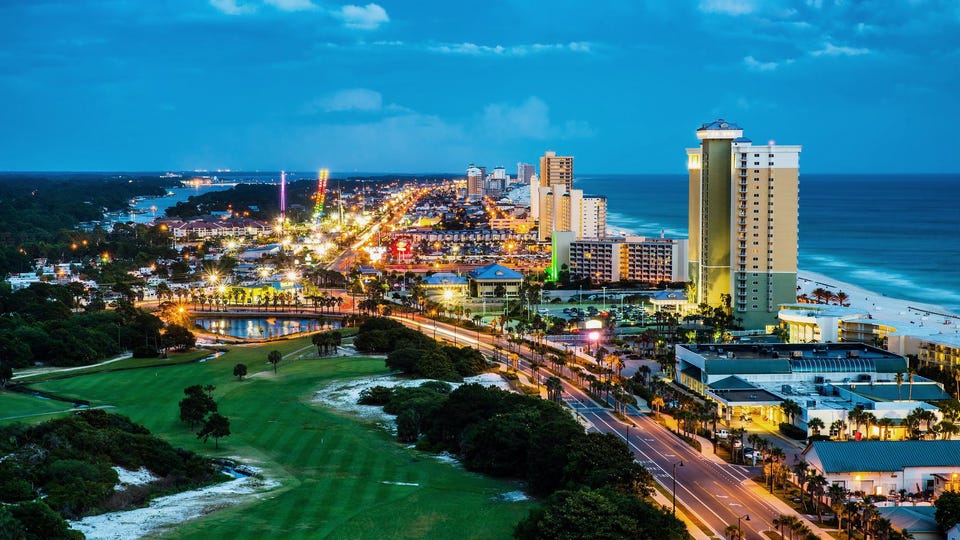 Panama City Beach is a lovely coastal town on the Gulf of Mexico in northwestern Florida, which is known for its amazing beaches and also for their rich nightlife. It is one of the places to visit in Florida during spring break. The closest airport here is Panama City NW Florida Beaches.
Things to do in Panama City Beach:
You can go to Gulf World Marine Park with your family, where you get the chance to swim with dolphins
In the Museum of Man, visitors get the chance to climb through a submarine and get to know about the weird and wonderful techniques which ancient divers used for breathing and staying underwater.
Shipwreck Island Waterpark is an activity-filled aquatics park, where you can battle the waves in the 500,000-gallon wave pool, a high free-fall slide, drop from the tree top drop, and so on.
15.Everglade National Park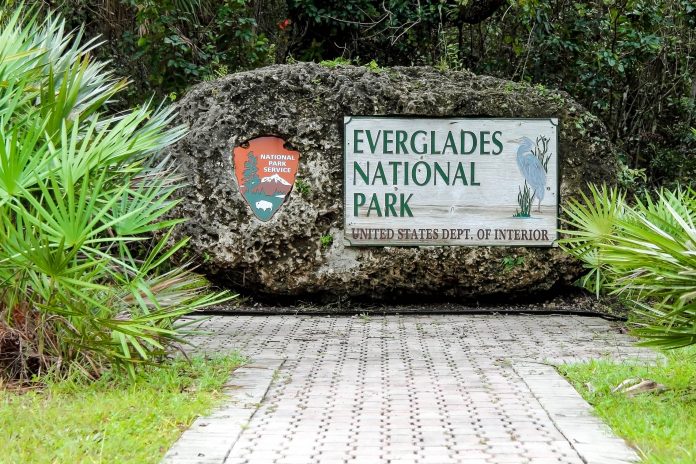 Everglades is one of the largest subtropical wild areas in the state, which is located on the southern tip of Florida. It consists of pine flatwoods, coastal mangroves, and sawgrass marshes which provide a home to hundreds of species of animals. Miami International Airport (MIA) is 34 miles from the everglades, which makes it the nearest airport for flying to the park.
Things to do in Everglade National Park:
You can take a quiet walk along one of many boardwalk trails to experience the real beauty of the Everglades.
Visitors can take boat guided tour of Florida Bay, or even a tram ride through a fascinating shark valley.
16. Sanibel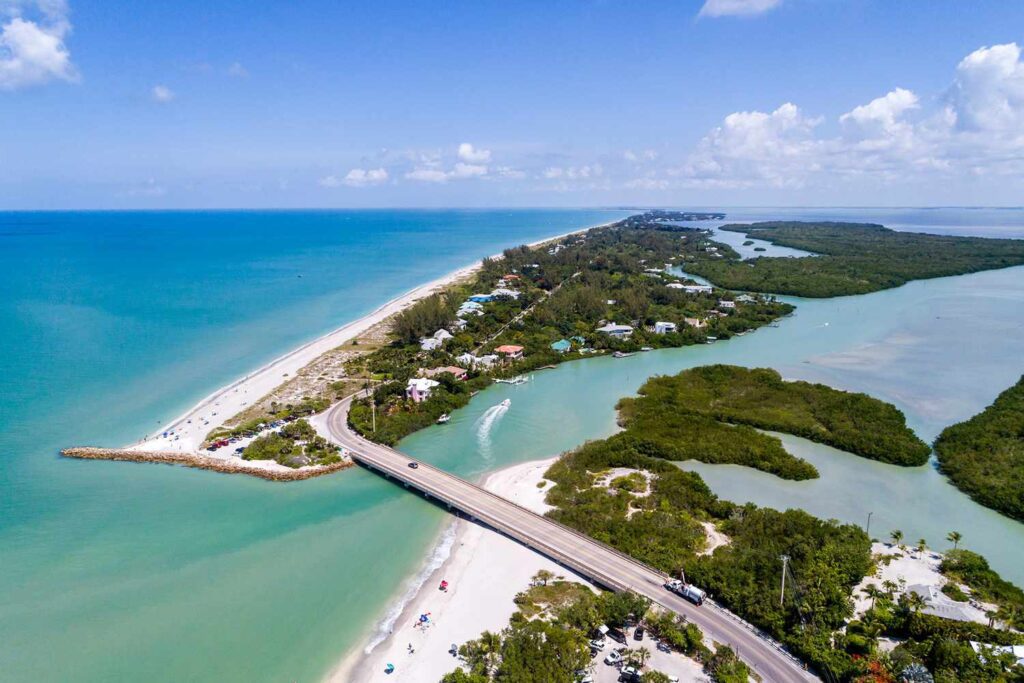 A lush green island on the Florida Gulf of Mexico, Sanibel is surrounded by awesome beaches and many luxury resorts. It is also known for its breathtaking sunsets, historic lighthouses, and a number of shells that provide endless joy to visitors. The Southwest Florida International Airport is the closest one to Sanibel Island in the region.
Things to do in Sanibel:
J.N. (Ding) Darling National Wildlife Refuge gives the chance to their visitors to view 245 different species of birds in the refuge, and can also see the endangered mild-natured giant manatees and 30 other species of mammals.
If want to know about the shell you collect whether it is Colorful, pretty, mysterious, small, or big from the beaches of Sanibel then Bailey-Matthews National Shell Museum is the best place to visit.
In the big arts center, you can enjoy jazz, classical, pop, folk, and western concerts, along with concerts showcasing many other genres of music.
17. Sarasota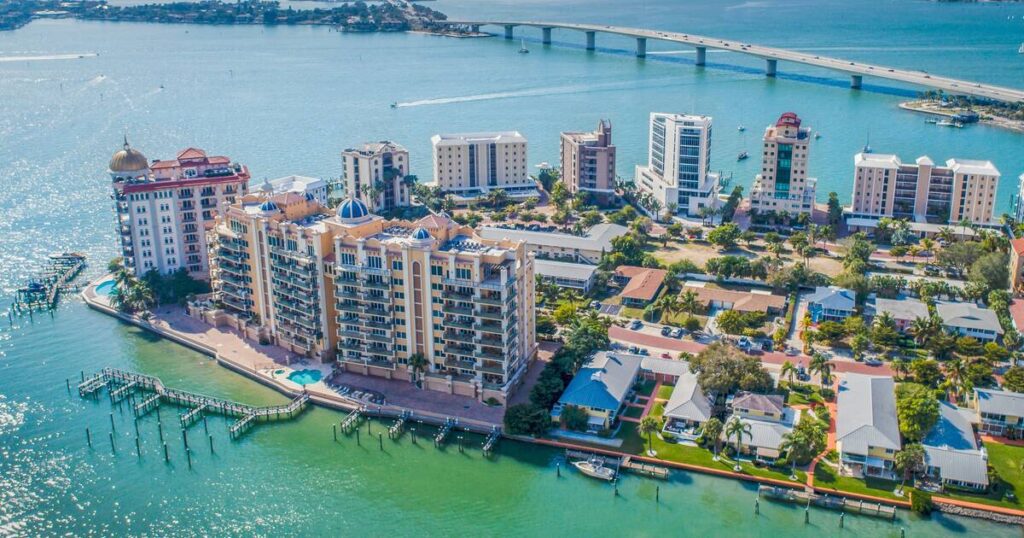 Sarasota is a modern city, which is very famous for winter home of the Ringling Brothers Circus. The downtown area of Sarasota is equipped with plenty of sidewalks, making the city extremely walkable. Have great restaurants as well as craft coffee shops, which make this a great city to hang out with your friends. Sarasota-Bradenton International Airport is the closest airport to the city of Sarasota.
Things to do in Sarasota:
Based on South Palm Avenue bordering Sarasota Bay, Marie Selby Botanical Gardens attract many tourists. Here Visitors can view more than 20 different habitats such as live oaks, mangroves, bamboo, and so on.
You can visit Mote Marine Laboratory, where you get the chance to view sharks, manatees, sea turtles, and 100 other marine animals.
Van Wezel Performing Arts Hall is the best place for visitors to enjoy dance, music, comedy, and theatre performance.
18. St. George Island

St.George Island is an amazing 22-mile barrier island in the Gulf Of Mexico. It offers uncrowded beaches which are best suitable for the family to enjoy and relax. No high rises anywhere on this untouched island. The airport nearest to St.Georde Island is Tallahassee Regional Airport.
Things to do on St.George Island:
Visitors can do fishing, swimming as well as can do paddle in the clear gulf water to shelling, and castle-building, and can relax on the sugar-white sand.
St.George Island features a 6-mile paved path that parallels gulf beach drive, the island's main road. The visitor can ride all the way to St.George Island state park, where they can do hiking trails and explore its peaceful dunes, forest, etc.
St. George Island showcases a variety of live music in several venues, which catch the attention of many tourists.
19. St. Augustine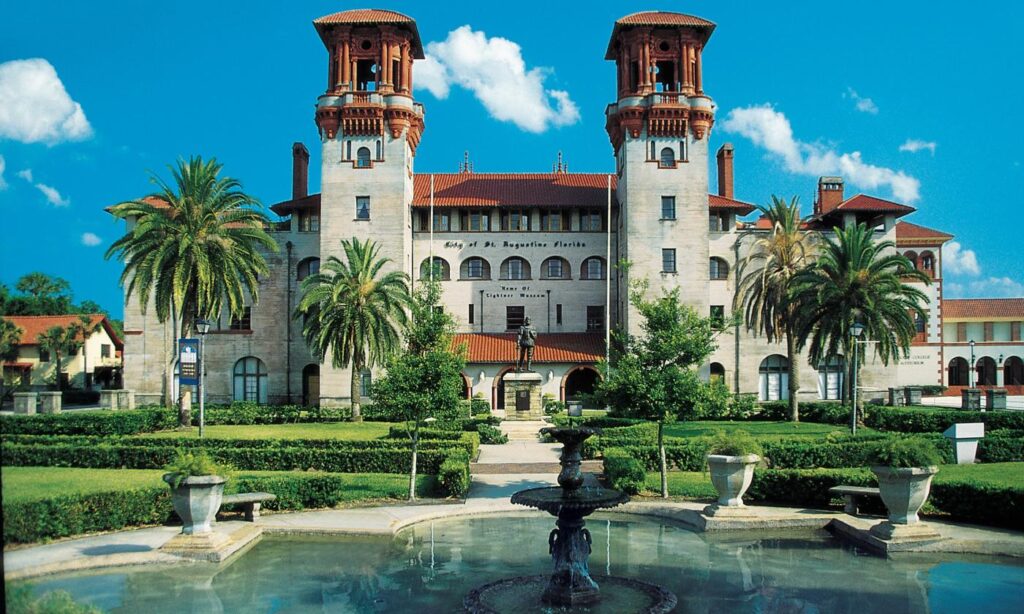 St.Augustine is known as the "oldest city" in the States, located on Florida's northeast coast. It has one of the most magnificent beaches, with fine white sand. Some of the famous beaches of St.Augustine are Augustine Beach and Crescent Beach. Jacksonville International Airport (JAX) is the nearest airport, which is approximately 50 minutes north of St. Augustine.

Things to do in St.Augustine:
Castillo de San Marcos is one of the most popular St. Augustine attractions. It is a national monument covered with beautiful green spaces. Visitors can explore the fort's casements, view the exhibition of weapons, or watch actors in period costumes who offer demonstrations of historical weapons.
Anastasia State Park gonna take you to a totally different world of pristine beaches, ancient dunes, tidal marshes, and dense mangroves. Visitors here can do swimming, beachcombing, and hiking.
Visitors can visit the old city and can explore the city, which is full of historic landmarks like the Castillo de San Marcos, museums like the Lightner Museum, bars, cafes, inns, and shops.
20. St.Peterburg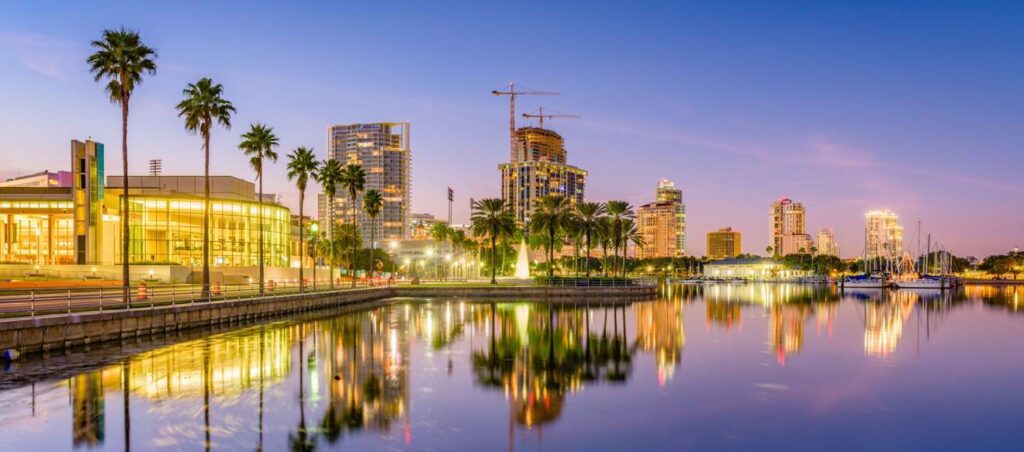 Located on the peninsula between Tampa bay and the Gulf of Mexico, St.Petersburg is a modern city, also known as Sunshine City because of its permanent pleasant weather. Apart from its awesome beaches, the city is also famous for its great golf courses and fishing charters. Clearwater International Airport is the closest airport, which is 13 miles away from it.
Things to do in St.Peterburg:
You can visit the Dali Museum, which has the largest collection of Dali's works in the US with 96 oil paintings, book works, original drawings, etc.
The Moren Arts center shows the artworks of local, national, and international artist, and even offer a wide range of art education-based programs for children, student, and adults.
The Sunken Gardens wonderful place for visitors to visit with their families. It offers a guided garden tour and also special horticultural programs throughout the year.
Conclusion
So, here we have seen the top places to visit in Florida. These are some of the awesome places to enjoy, chill and relax. No matter which of the above location you choose to visit, but one thing is sure you are not going to regret your decision. Because all these are amazing locations, you can choose any of the locations as per your preference.